Search Engine Optimization – or "SEO" — is simply a requirement for businesses who want to show up prominently as potential customers search online for the products or services they offer. For example, when a pipe bursts and they need a speedy repair, most consumers will grab their phones, execute a quick Google search, and call one of the plumber listings from the first page. To say that you need to be there is an understatement. But the reality is that it takes a lot of work to get there. For many plumbers, search engine optimization is a thorn in their side, but it's non-negotiable in today's market.
Let's take a look at some of the more frustrating aspects of SEO that we hear from many of our clients. We'll explain the source of some plumbing search engine optimization best-practices to encourage your efforts and help you feel better about the time you're investing in this area of your marketing strategy. We promise: it's all worth it!
Domain Age Matters for SEO
If you create a brand new website this week, you will be disappointed if you expect that same plumbing webpage to start dominating the search rankings right away. There are no tricks to make that happen (and if you're promised otherwise, you should grasp your wallet and run). It's a fact: the age of your domain name — or site address — matters in determining how authoritative and reliable is your website. Google uses this information, among many other variables, to determine which results will best serve users as they search. That's ultimately the desire of Google (and other search engines): to deliver what the user wants.
This doesn't mean that you're forever doomed to stay a dozen pages deep on the SERPs, however. Plumbing companies can use PPC Advertising to help get a boost in visibility until their organic SEO is reaping the benefits and their website is moving on up. Another opportunity for gaining traction when your domain is still young is to buy plumbing leads, also known as "PPL." This allows you to leverage a lead partner whose site is established and performing well to generate calls for you.
The most important takeaway, though, if you don't have an established domain: DON'T WAIT!
What If I Have An Old Plumbing Domain Name, But The Web Design Is Terrible?
If you have an old domain tied to a barren website that isn't serving your business, there is no need to throw it out. Capitalize on the age of your existing domain name, even if it's only a few years old. That's older than brand new! An expert web design team can help breathe new life into your legacy site with a fresh redesign. Incorporating new content that is rich with plumbing keywords will help get Google's attention (in the good way), and an optimized code base and schema will make your listings look too impressive to pass up.
Organic Search Engine Optimization Takes Time
While it may take no time at all from your plumbing website's launch for Google's spiders to index your content, it may take some time for all the well-developed elements of your internet marketing strategy to pay off. Because you can't rely on paid ads like PPC, PPL, or even social media marketing forever — they're not cheap, after all — think of organic search engine optimization for your plumbing business as what will payoff long-term.
Content that is rich, meaningful, and constantly added to your web design is what will really start to establish your web presence as legitimate and valuable to the internet. As I mentioned earlier, search engines want to return hits that meet the user need. The goal is to promote (on the first few pages of SERPs) plumbing websites that seem optimal in terms of user experience. This includes things like:
Clean code and enhanced schema
Contact information that is prominently displayed (and NAP consistency across web pages)
Prompt site loading
Relevant blogs and page content for plumbing services that is properly mapped
Having all of these elements in play is absolutely vital for an effective SEO strategy for plumbers, but because there are many additional variables to consider, they can't ensure immediate success.
Remember that whole section about domain age? Yup, that's a factor you can't deny. Another company with the same rich optimization as you will take the top spot if their domain has a decade on yours, all other things equal. And we know that can be frustrating, which is why an internet marketing approach that invests heavily in organic SEO for long-term domination, coupled with upfront paid lead generation via ads and social media marketing, will help your business flourish.
No one thing will get the job done, but it all adds up!
PPC Advertising Shows Up First on SERPs
Pay-Per-Click advertising is an avenue I've mentioned for seeing speedy results while your organic SEO for plumbing services is marinating in the interwebs. And while it's a great option for those with younger domain names or recently revamped web designs, it can be frustrating on the flip side to see a handful of ads dominating the top portion of SERPs when your website is looming in the organic search results. You've made it to Page 1 — Woohoo! — but you're losing that prime spot to ads from competitors. Bummer, right?
Here's something to keep in mind: modern consumers aren't dummies. They know those are ads. The listings are displayed with an icon that clearly states, "Ad." See for yourself: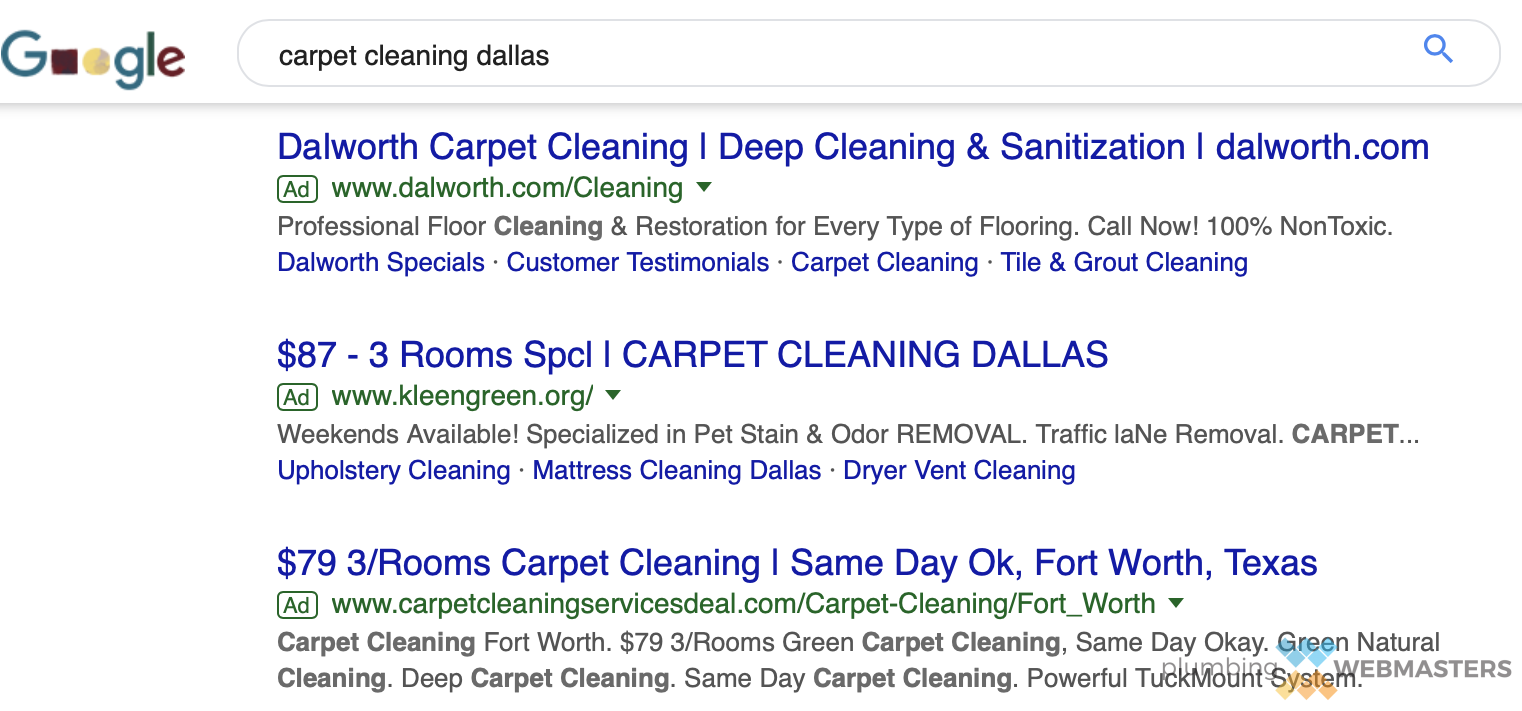 Sample Google SERP excerpt showing PPC Advertising
We're used to being marketed to, 24/7, in a myriad of different ways. We can identify when something is ostensibly an advertisement, trying to sell us something, and the preference is overwhelmingly in favor of a more subtle approach (i.e. organic search engine optimization).
In an emergency, admittedly, these listings may get the priority click-throughs or phone calls for expediency sake. (And that's why they can be valuable for plumbing SEO; emergencies happen in your field!) But for non-emergent service searches, most users will scroll past these and start evaluating their click-throughs when they hit the organic search results (those that don't display with "Ad").
So all the groundwork you laid per my previous point still pays off: Organic search engine optimization works and will help you get value from your web marketing efforts long after you've paid for it.
Reviews Weigh Heavily for SEO…And You Can't Control Those
Oh, online reviews. They're great and they're awful. Many home and commercial service providers have a love-hate relationship with online reviews, and it's no wonder. Those most elated and most aggravated will typically be the loudest, which can make your star ratings associated with reviews look far more skewed than seems fair.
I'm going to offer another dose of reality: viewers get that. They are accustomed to unrealistic Amazon reviews and to exceedingly picky Yelp! reviews. The modern consumer is savvy and can take a crappy review with a grain of salt when it's clear that the reviewer is totally off-base in their response (or flat out crazy).
Unfortunately, though, these reviews — even the crazy ones — count toward your SEO. Google takes into consideration the ratings on Google Reviews before displaying search results, so even if you have a majority of high ratings, only having a handful can hurt you if even one bad one comes through. This is where obtaining many reviews from customers is so incredibly important! A search engine optimization partner who specializes in plumbing services (like us) can help you implement some elegant techniques for requesting and capturing more online reviews to bolster your score with Google.
How Do I Handle Negative Reviews on My Plumbing Websites?
Whether you're dealing with a critical online review via your Google My Business page or a social media page such as Facebook, the key is to remain professional and brief. Don't indulge an argument, but you also needn't grovel in response. Acknowledge the issue as you understand it, take action when it makes sense to logically (in other words, not just for the sake of the review, but to improve your company or team in general), and move on.
Even a one-star review can be redeemed in the eyes of a potential client when they see a calm and collected response that demonstrates the service experience you truly provide. In fact, sites like Yelp! have even gone as far as to hide reviews that seemed skewed or suspect. So give your viewers some credit and don't lose too much sleep over a few bad eggs. Focus on getting those pleased-as-punch clients to sing your praises online!
Websites Need On-going Attention to Rank Well on Google
Launching a high-performing plumbing website isn't a one-time thing. It takes a lot of time at the onset, but it's also going to require ongoing love to keep performing. This can make any busy business owner groan, thinking about adding extra hours to your plate for something you didn't exactly sign up for. But here's the great news: you don't have to do it!
The companies who invest in plumbing search engine optimization are going to see their sites — including their primary webpage and social media pages — dominate the search rankings. We have hundreds of successful clients who see their phone calls increase significantly over time, usually prompting them into a whole new level of business, because they have focused their marketing efforts toward ongoing maintenance and development of their plumbing web design and SEO. This means keeping the code and schema fresh, adding quality content every single month, managing citations across the internet, and so much more.
Remember: your website is a 24/7 opportunity to reach potential clients. Because of the nature of the work you do, they need to have access to your plumbing services at all hours. (I don't have to explain to you that frozen pipes don't usually wait for business hours to burst.) Stay relevant and stay active in the search engine optimization for plumbers arena by handing off this task to experts to manage on your behalf. You focus on that frosty pipe; we got the rest.