Search Engine Optimization – or "SEO for plumbers" — is a marketing tactic for businesses that want to show up prominently as potential customers search online for their products or services. For example, when a pipe bursts and needs a speedy repair, most consumers will grab their phones, execute a quick Google search, and call one of the plumber listings from Google's first page.
Unfortunately, getting top rankings takes a lot of work, especially for newer companies and websites. As a result, search engine optimization is a nuisance for many plumbers, but it's critical in today's market.
Prospective clients often tell us about their most frustrating experience with SEO. Whether they had a lousy agency or their website didn't perform well, the entire process can be frustrating for business owners.
So first, let's look at some of the more frustrating aspects of SEO. Then, we'll explain the source of some SEO best practices to encourage your efforts for a successful marketing strategy. We promise: it's all worth it!
Here are five of the most frustrating aspects of SEO for plumbers.
1) Domain Age Matters for SEO
Brand-new domains rarely rank well on Google search. Moreover, as algorithms have advanced, ranking with a brand-new domain is almost impossible. There is no magic bullet to make a new website suddenly appear on page one of Google search results.
Most websites take about six months to secure prominent rankings on SERPs. For plumbers looking to get clients fast, waiting to appear on search results is a frustrating experience. 
Patience is a virtue in SEO. While it's easy to invest all of your budgets into immediate returns like PPC advertising, or Facebook Ads, the long-term payoff of SEO is incredible. Once you stop running ads, your leads disappear.
If you properly execute SEO, you can enjoy the benefits throughout your business lifespan. The residual lead generation impact produces the best ROI compared to other digital marketing strategies.

What About Old Domains With Terrible Designs?
Aged domains with low-quality designs can benefit greatly from SEO. A website redesign and SEO overhaul can boost rankings quickly and generate leads immediately. Of course, some prerequisites still exist, such as the site being indexed by Google, and having a topically relevant name and homepage. Still, robust web design and SEO can quickly rehabilitate an older plumbing domain with lousy rankings.
2) Organic Search Engine Optimization Takes Time
With a proper sitemap and site structure, Google will crawl your content quickly, but it still takes time to appear on search results. We mentioned that brand-new domains would take up to six months to appear prominently on results. Even existing domains with SEO overhauls may take a couple of weeks to show up correctly.
Waiting for the process to take place is frustrating for plumbing companies who want leads fast. You can't rely on paid ads or social media marketing forever, so SEO will eventually serve as your #1 source for online customers.
Publishing topical, meaningful content on your web design starts to establish your web presence. As mentioned earlier, search engines want to return hits that meet the user's needs. Therefore, their goal is to promote plumbing websites that provide a good user experience.
Your website should load fast, be easy to navigate and provide users with the information they seek. Still, waiting can be frustrating, so an internet marketing approach that invests heavily in organic SEO for long-term domination and upfront paid lead generation via ads and social media will help your business flourish.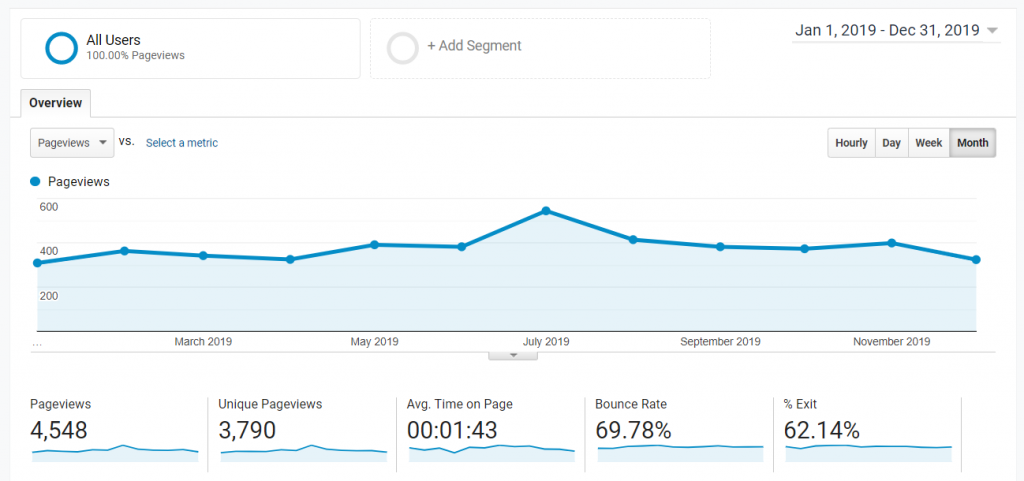 3) PPC Advertising Shows Up First on SERPs
It can be frustrating for plumbers to see a handful of ads dominating the top portion of SERPs when their website is looming in the organic search results. You've made it to Page 1, but you're losing that prime spot to ads from competitors.
Bummer, right? Here's something to keep in mind: modern consumers are more intelligent than ever before. They can easily distinguish an ad from an organic result. That's why more than 70% of searchers still click on organic results over PPC ads. 
Still, seeing ads above your top SEO result can cause frustration. But for non-emergency searches, most users will scroll past ads and click on one of the top three organic results or a Google Maps 3-Pack listing.
Appearing in both the Local Map 3-Pack and in the top 3 traditional results represents SEO excellence for plumbers. All the work pays off in the end, as organic search engine optimization helps you get value from your web marketing efforts long after you've paid for them.
4) Branding & Reviews Influence SEO
Sometimes you can do everything right and still notice a competitor ranking ahead of your website on both organic and Google Maps. In cases like these, branding and reviews are often the culprits. It can be frustrating for plumbing companies with excellent websites, SEO, and social media to get stuck at #2 or 3 in their service area.
However, Google automatically applies more trust and authority to companies that have achieved brand recognition. They can measure such notoriety through branded searches and online reviews.
While some elements of branding occur offline, there are measures plumbers can take to improve notoriety online. One such example is an SEO tool called DataPins. The tool helps you showcase social proof of your latest jobs and generate reviews through text and email requests.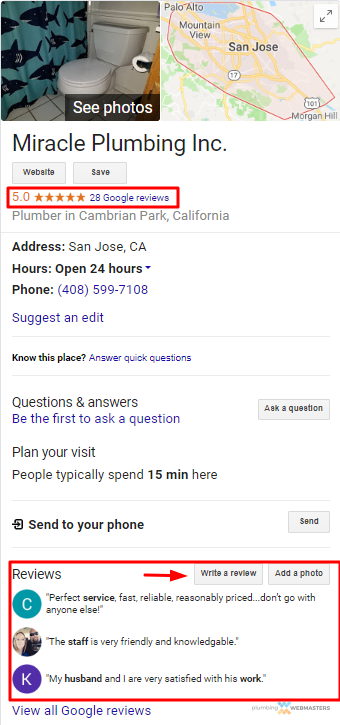 In addition, plumbing techs can snap photos of their job assignment and publish them along with a caption on their website, social media profile, etc. The posted jobs are called pins because they include geographic schema markup that validates the location to Google.
How Do I Handle Negative Reviews?
Whether you're dealing with a critical online review via your Google Business Profile or a social media page like Facebook, the key is to remain professional and brief. Don't indulge in an argument but attempt to resolve the problem offline.
Meanwhile, give your viewers some credit, and don't lose too much sleep over a few rotten eggs. Instead, focus on getting those pleased-as-punch clients to sing your praises online.
5) Websites Require Ongoing Work to Maintain Rankings
Launching a high-performing plumbing website isn't a one-time thing. Instead, it takes a lot of time at the onset but will require ongoing updates to maintain performance. Business owners get frustrated because SEO is constantly evolving due to Google algorithm updates and technological advancements.
Therefore, hiring a reputable SEO agency is vital to keep tabs on the latest updates and trends so that plumbing companies stay on top.
Your website and Google Business Profile are 24/7 opportunities to reach potential clients. Potential customers need access to your plumbing services at all hours. Stay relevant and active in search engine optimization by handing off tasks to experts and focusing on maximizing your new customers.