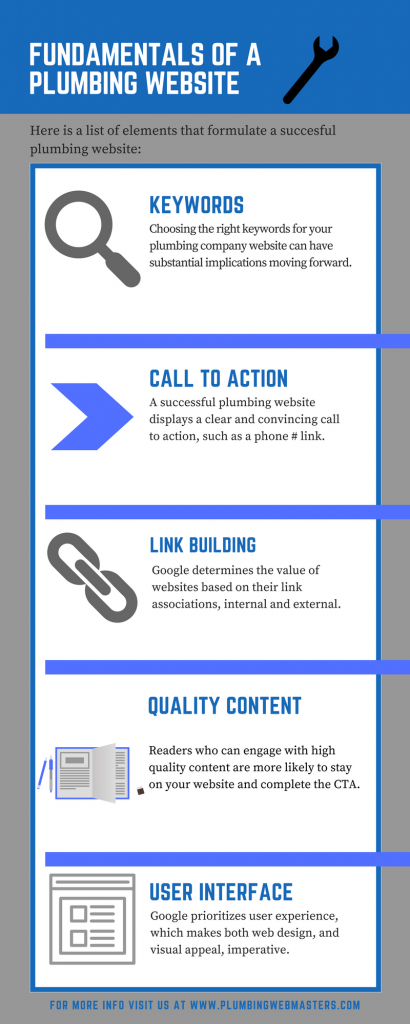 Having a plumbing website in 2018 is not a luxury, it's a requirement. With that said, the mere existence of a company website does not necessarily translate to online marketing success. As leaders in plumber SEO and internet marketing, we have found that plumbing websites that fail generally share common pitfalls. Below we will discuss the top 5 reasons plumbing websites fail, and introduce ways in which you can prevent your website from suffering the same fate.
Reason 1: Erroneous Keyword Targeting
One common problem that plumbing contractors run into, is high traffic with low conversions. This is a direct result of either poor keyword research, or manipulative marketing practices. Even if your website is showing high traffic rates, that does not mean the traffic is valuable, or will lead to sales. Plumbing websites that fail, show the following problems with keyword targeting:
Keyword Irrelevance: As a plumbing company, DIY keywords like "how to fix a leaky faucet" won't generate relevant traffic because there is no "buyer intent" within the word
Keyword Stuffing: Placing keywords in your content, unnaturally, in a way that negatively impacts readability, flow, and voice, can cause would-be customers to exit your site abruptly
Reason 2: Poor Calls To Action
Getting a user to visit your website is great, but it does not matter much if they leave without completing a call to action. If you are unfamiliar with CTAs, they refer to an element on a website that encourages users to complete a measurable action (i.e. make a phone call, fill out a contact form, subscribe to a newsletter, etc.) These actions can be tracked using Google Analytics. For plumbers, poor calls to action include:
Blending: While you do want your CTA to fit within your website, you still want it to be clear
Overselling: Promising services you cannot deliver on
Passivity: Failure to use active language discourages engagement
Reason 3: Low-Quality Content
There is an extra emphasis on content quality in today's SEO marketplace. As a way to fairly distinguish websites from one another, Google looks for indicators of good content, especially in the context of user experience. Websites offering the antithesis of content quality, and positive user experience will suffer the consequences. Examples of low quality content include:
Automated Content: Content generated from a robot/machine
Scraped Content: Copy/Paste from other websites
Reason 4: Inferior Link Building
All the on-page optimization in the world won't help your website if it has a poor link profile, or worse yet, no link profile at all. Google's primary determination of where to rank websites lies in their link structure, which includes inbound, outbound, and internal links. Examples of poor quality links include:
Hidden Links: Links unseen by the user, but crawled by search engines plant a red flag on your site
Irrelevance: When the link's anchor text does not relate reasonably to the corresponding page, problems will arise
Sneaky Redirects: Forcing a user to a different website when they click on your link
Spam: Any inbound or outbound links, from, or to, spam websites will hurt your profile
Reason 5: Inadequate User Interface
Find a balance between aesthetically pleasing web design and organic search optimization can be a problem for inexperienced designers. With that in mind, poor user interface is one of the primary reasons plumbing websites fail. This is especially true when the website fails to display ideally on a mobile device, which is where the majority of web traffic originates. Bad UX is:
Clunky: If elements of user interface are obtrusive, it discourages engagement
Difficult To Navigate: If a user cannot seamlessly navigate your website with their thumb, it is money down the drain
The Plumbing Webmasters Advantage
Looking to avoid these common pitfalls for plumbing websites? If so, invest in Plumbing Webmasters internet marketing service. Not only will we design a brand new plumbing website for your company, but we will optimize it for search, have it display optimally on all devices, and market it through social media channels, and online citation sources. Call (877) 388-9884 to speak with one of our plumbing website experts.