Design. Content. Mapping. Social Media. Webmasters.
Here at Pluming Webmasters we dedicate our time to helping our clients dominate their local markets. We provide our clients with design, content, mapping , social media and more. We are excited about the services we provide and we are constantly expanding our work to ensure our clients not only reach the top, but stay on top.
This month we would like to highlight a client of ours in South Carolina. This plumbing company, called AAA City Plumbing, is dominating their local market for important keywords. We began by providing them with a new design and optimized, unique content. We also ensured their mapping is set up properly. And we continue to provide ongoing work for them including social media management.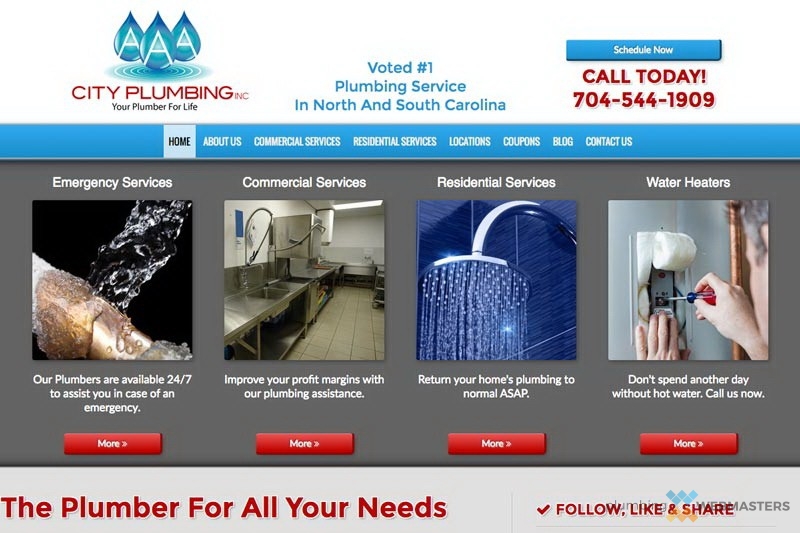 You can check out their site here: http://www.aaacityplumbing.com/
Don't just take our word for it, look at the following list of keywords that they are ranking on page one of Google for. These are real searches that have been performed in their area:
[ezcol_1half]
"plumber in rock hill"
"septic tank inspection"
"local plumber mint hill, nc"
"general plumbing"
"pipe repair charlotte nc"
"certified plumber charlotte nc"
"sewer services charlotte nc"
"plumbing contractors midland nc"
"local plumber mint hill nc"
"city plumbers"
"mobile home plumbing parts charlotte nc"
"boiler service"
"plumbers near me"
"24 hour septic tank pumping"
"hydro jetting service"
"licensed plumber"
"septic service near me"
[/ezcol_1half][ezcol_1half_end]
"gas leak detection charlotte"
"septic system installers"
"plumbing repair rock hill"
"plumber in rock hill sc"
"rock hill plumbing"
"plumber rock hill"
"plumbers in rock hill"
"rock hill sc plumber"
"charlotte septic service"
"boiler repair charlotte"
"24 hour plumber charlotte nc"
"rock hill plumbers"
"rock hill sc plumbers"
"rock hill plumber
"plumbing companies"
"plumbing mint hill nc"
"24 hour plumbing"
[/ezcol_1half_end]
We are excited to continue to work for AAA City Plumbing to ensure they keep their spot on top and dominate for more and more important keywords.
Ready to dominate your local market? You could become our next success story! Talk to us today to learn more.