If Content Marketing is a new term to you, you're not alone. Even amongst the many articles online about content marketing, there is dissension about its meaning. But given they landed the most official sounding name, I'm going to yield to the definition put forth by the Content Marketing Institute:
"Content marketing is the practice of creating relevant and compelling content in a consistent fashion to a targeted buyer, focusing on all stages of the buying process…"
Getting more plumbing customers is the goal of every plumber who seeks our web design expertise for their business. But it's not uncommon to hear that they are falling short on plumbing leads, and that their current internet marketing strategies (if they have them) just aren't working. Great content helps you rank higher with Google, so we're inevitably going to look at what is out there on the internet about your company. Then, we refine it to drive value and get those rankings up!
Content Marketing For A New Kind of Customer
The reason it's important to grasp the concept of content marketing for plumbers is that modern consumers are a different breed than those of the past. It's no surprise that the means of marketing to customers has changed; the Yellow Pages gave way to Google searches, and the most successful businesses are trying to leverage the power of the internet versus investing in print campaigns. Content marketing gets to the heart of what your new clients are seeking: authenticity, meaning, and a brand.
Before I lose you and you assume this has nothing to do with plumbing customers, let me encourage you: this is not as complicated as it sounds! In fact, it's probably more organic to how you'd approach advertising than the traditional, outdated forms like mass mailings and newspaper ads.
Leveraging Internet Marketing Well To Get More Plumbing Business
Because the internet can feel somewhat impersonal, content marketing is what ultimately makes your plumbing company feel more personal. Your "brand" is what sets you apart from competitors in your service area for plumbing repairs, and it's where you should focus your quality content about plumbing to attract new business.
Think about those commercials or even online ads that sort of sneak up on you. They're engaging, perhaps appealing to a pleasant emotion or sense of nostalgia, and you're surprised to see a logo pop up at the end. For a moment, you forget you're being advertised to because it didn't feel forced or coercive. It created a feeling or told a story, and that's what you were left with. This is the more subtle approach favored by modern consumers. We have to keep in mind that ads are plentiful, but the viewer is in the driver's seat because they can easy ignore what is ostentatiously trying to sell them something.
So How Do I Appeal to New Plumbing Customers With Content Marketing?
A 2017 study in the Business Studies Journal looked at the influences of advertisement on consumer buying behavior. While most plumbers may not feel the need to study Marketing 101, it's worth keeping in mind a key takeaway: familiarity had the largest impact on buying behavior.
This is great news for you! Here's why: you are inherently only able to provide plumbing repairs to a limited service area. (Unless you're a national franchise, in which case, you probably already know all this.) This allows you to focus your marketing efforts on the potential plumbing clients who could need your services at some point. You're not trying to reach the whole internet; you're trying to reach your town.
Content marketing with a local focus for plumbing services is a very natural way to develop blog posts, website pages, and social media posts that serve your customer's needs. You know better than anyone what topics and content are going to be useful given the geographic and demographic variables of your service area. This allows you to create specific bodies of work that will, over time, foster a sense of familiarity with your company's authority, reliability, and subject matter expertise.
Content Marketing For Plumbing On Social Media
Writing great content for social media marketing is the most logical place to start thinking about content marketing. Every post that you put out is content. You're adding information to the world about your company or your industry, and that information should be two things:
Representative of a particular point of view
Valuable to potential customers of your plumbing business
If the Facebook copy or Instagram caption doesn't accomplish both of those things, it's probably not worth publishing. Don't write about what anyone could write about; write what you, as a local plumber, know best. You're not going to get followers who aren't inherently looking for plumbing services. So give them what they came for!
Infographics are great to share on Facebook and Twitter as you pursue more plumbing customers. You can easily create informative visuals using free online tools like Canva, and this allows you to hone in on the visual preference of many viewers (versus paragraphs of text, which just don't translate well in a fast-paced medium like social media). Image files are still content, so don't feel like you have to just churn out copy to execute content marketing to get more plumbing customers.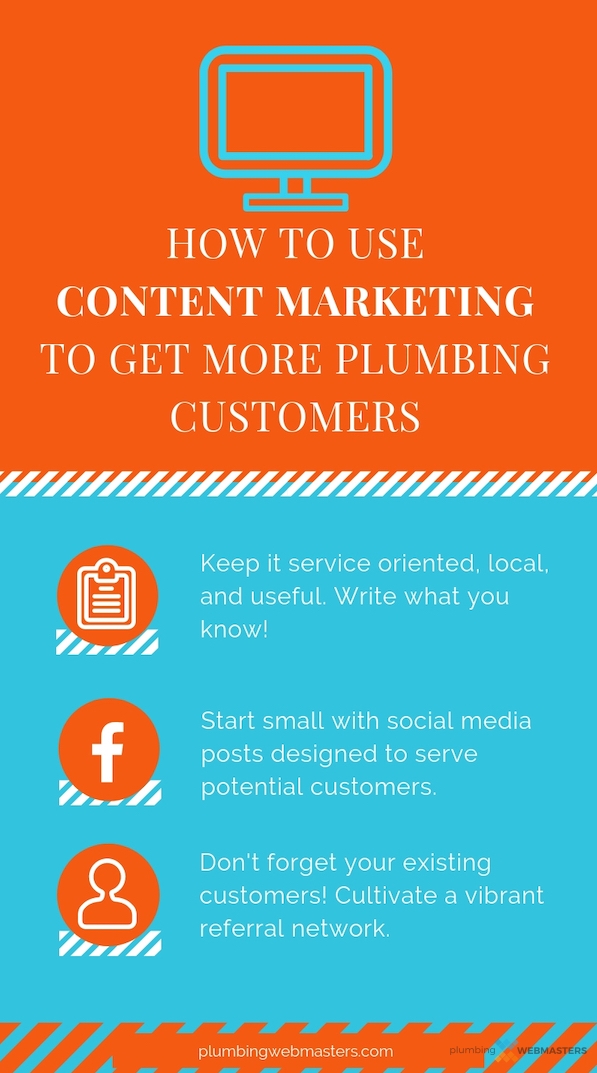 This is an example of an Infographic. It's information…in a visual graphic. (Get it?)
Don't Forget Content Marketing for Existing Plumbing Customers
Speaking of social media, consider for a moment who are probably the majority of your followers. Unless they're the dreaded spambots, they are likely potential or existing clients. The former often get all the attention when we talk about SEO for plumbing, but the latter are your true bread and butter!
Existing customers have already made the buying decision and done business with your company for their plumbing repairs. Content marketing for established customers is a natural, beautiful union of two very important components to the future of your business. Focusing marketing efforts on delivering helpful copy or graphics related to plumbing will naturally help to not only serve your existing client base (who love you so much, they're following you on Facebook, Twitter, etc.), but will create a network that is robust and likely to draw more referrals from friends and family.
Email newsletters to clients (from whom you've collected email addresses, which is a key step to marketing to a loyal customer base) is another tremendous opportunity for content marketing. Keep relevant information coming to their inbox, even if just quarterly, to stay at the forefront of purchasing decisions if/when a plumbing repair surprises them. Remember: familiarity is clutch in the purchasing process!
The Modern Day Word of Mouth: Referral Links From Followers
Think about it: if Follower Franny is an existing client from a year ago, who has been following the page and knows you provide good content, imagine how powerful your page or site will look to Referral Rachel, who Franny sends your way via a link or social media tag. Referral Rachel is basically getting the modern day version of "word of mouth," which is still hugely impactful, as well as a quick way to vet your company for her plumbing repair needs via your optimized social media page or company website. When great content about plumbing is there to meet potential customers during their expedient search for the services you provide, it's a homerun and guaranteed to get your phone ringing!
3 Content Marketing Basics to Help Your Plumbing Company Thrive
To recap what we've reviewed in detail, here are three simple ways to approach content marketing to build up your plumbing business and gain new customers:
1) Keep content relevant and focused: local, service oriented, and useful. In other words, stay in your lane. You don't have to write about everything for everyone. When creating copy, visuals, or any other content, "talk" to your ideal client.
2) Start small and simple…but start. Social media is ripe for opportunities, such as:
a. Facebook ad featuring seasonally-appropriate plumbing tips; 
b. Twitter post reporting the Top 3 reasons to call a professional plumber; or
c. Instagram ad showcasing a photo of a recent plumbing repair and caption that includes what a proper repair should include.
3) Use your social media accounts and an email newsletter to cultivate a vibrant referral network from existing clients, keeping them in the loop and your company top-of-mind.
Content marketing doesn't have to be complicated, and it's an incredibly impactful way to nurture life-long client relationships!