Every plumber would like to rank higher on Google. This is true for organic search results, paid advertisements, and Google Maps results. The companies that dominate these 3 spaces earn the most traffic towards their website and generate the most exclusive plumbing leads. It's really that simple.
What's not as simple, is the process of becoming dominant in any of the aforementioned spaces. Let's do a search of plumbing repair dallas and see what the results show us.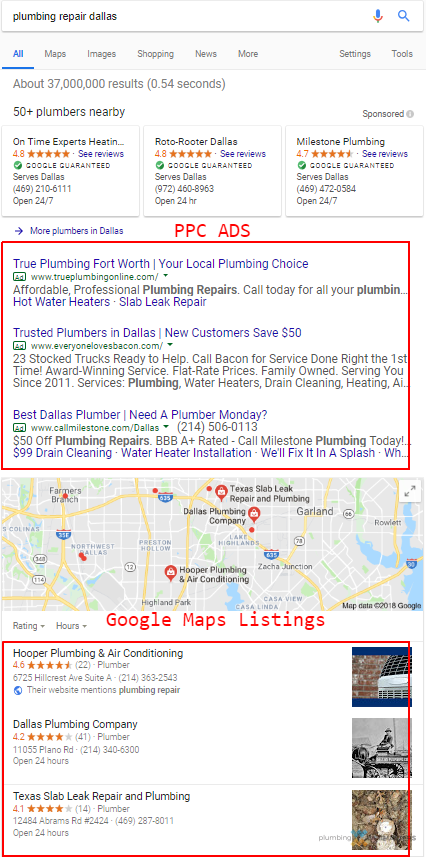 As you can see, Google Guaranteed results are at the very top, followed by the PPC ads and then the Maps listings. Below you will see what the page looks like further down, with organic.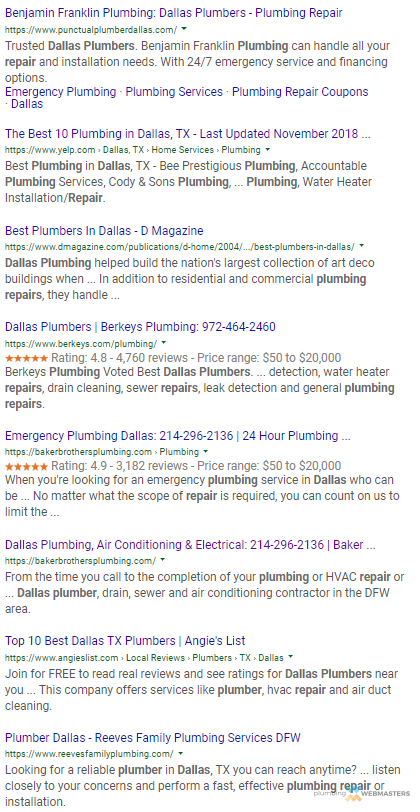 Organic results are further down than both PPC ads and Maps listings, but don't underestimate their value. Users still trust organic search results more than a paid advertisement. So while the goal should be to dominate all 3 areas on a Google SERP, organic is perhaps the most important.
Dominate PPC Advertising
Unlike Maps and organic, PPC is somewhat of a money game. After all, the advertiser (you) is buying their way onto the top of search results. Despite this financial component, money is not the only factor in dominating the PPC advertising space. In fact, Google doesn't always rank the highest bidder #1 because other qualities of the ad are considered, such as its relevance and corresponding landing page. Google details its ad rank criteria in a 2013 post titled: improving ad rank. Conventional wisdom has always suggested that the highest bid would earn the top spot, but Google's focus on user experience extends to paid advertising as well. Factors include:
Ad Extensions: Enhancements to an ad, like the showing of phone number links, location information, etc.
Max CPC Bid: Your maximum cost per click bid
Quality Score: An assessment based score that considers relevance, landing page quality, click through rate, and other various behavioral metrics
Paid ads are often seen as the shortest route to digital marketing success for plumbers. Organic rankings take time to earn, and Google has consistently favored the oldest domain names when all other factors are comparable. The waiting game can frustrate plumbers with brand new websites, and even those who lose out to competitors simply because of domain age. PPC ads are certainly one way to even the playing field, and to supplement web traffic while implementing your long-term SEO strategy. Keep in mind though, that to dominate Google Ads, you'll require a high-quality ad with extensions, a significant budget, and an optimal landing page.
Dominate Google Maps
Plumbing Webmasters has spoken at length about dominating your local market, and Google Maps is the most fundamental component to achieving that goal. Every plumber's objective should be to earn a spot in the Local 3 Pack for their service area keywords. For example, plumbers in Dallas, TX will want to show up in the 3 Pack for terms like plumbing repair Dallas, Dallas plumber, and Dallas plumbing company. Remember too that Google can determine the location of mobile users, so showing up for phrases like plumber near me will also be ideal. So what determines whether or not you can earn a spot on the Local 3 Pack. Consider these factors:
Address: Is your address in the city you are optimizing for and is it verified through Google My Business?
Google My Business: Is your GMB profile optimized, and does it show recent activity through Google Posts?
Reviews: Does your business page have a considerable number of reviews, which will be displayed underneath the listing as an aggregate star rating?
Website: Are your profile and website connected, and does your website show identical NAP information in its footer?
When everything is a cohesive unit, Google views the business more favorably and consumers are more likely to trust it. Since Google's commitment is to its users, and not you, it is going to show listings that are most likely to satisfy the user's query. Becoming an authority as a Dallas plumber, or any location around the United States for that matter takes a variety of contributions in your marketing department. Your website should be designed by a professional, and it wouldn't hurt to hire someone for your GMB optimization either. Reviews will be somewhat your responsibility since you'll need to ask your clients in person. But a marketing company can help, especially if they install a reviews widget on your website.
Dominate Organic Search
The origin of Google is still an organic search, and despite suggestions that its losing relevance, the true numbers suggest that users still trust organic. The reason so many people take issue with organic search and try to dissuade people from utilizing it is because it requires a lot of work, including small details that the modern marketer isn't qualified or prepared to accomplish. It also takes something that many people lack in 2019, which is patience. Because most things can be achieved in a short time span online, companies expect the same to be true of their ability to rank in the top 5 on organic search results. Unfortunately, these factors are considered:
Content Marketing: Appropriate syndication of blog posts and pages
Domain Age: Length of time your domain has existed for
Domain Authority: Google's perceived trust of your domain, based mostly on inbound links
On Page SEO: Optimized content, meta tags, title tags, header tags, etc.
Off-Site SEO: NAP citations, social media signals, inbound link building, etc.
Technical SEO: Design, site speed, mobile usability, etc.
SEO is certainly a long game in regards to traditional organic results. Don't expect your brand new site to appear on page one, at least for 6 months. Even then, the battle will be uphill. But that's not a reason to get discouraged or to abandon the concept altogether. Depending on your market, and its current level of competition, you could rank on page one of Google at the 1-year mark (or less in some cases). That might seem like a long time, but remember, you'll be supplementing your traffic through other sources in the meantime. Furthermore, many websites have already existed for years, and simply need a new SEO strategy to start ranking quickly.
"I'm a Plumber and I Need Your Help"
If you are a plumber who needs help ranking higher on Google, Plumbing Webmasters can help. Our team of marketing experts is diversely skilled, meaning we have web designers, SEO specialists, social media marketers, and content writers, all in-house, and all working towards the same goal. Because we specialize in marketing for plumbers, we can create unique websites and content that accurately depict your company and industry. The marketers who deal with a general group of clients are less likely to share our expertise and specificity regarding the world of plumbing. That's why so many clients trust us in your field.
We can take your existing website and redesign it, which will keep your domain age in-tact, but exponentially improve your SEO and rankability. For plumbers who don't have an existing website, or who have unofficial domains hosted by Wix, Weebly, or another "free" platform, we'll initiate the process of domain name registration on your behalf. Yes, it will take longer to rank with a brand new domain, which we described earlier, but we can supplement traffic through other channels while we execute your long-term plan, one which we expect to pay major dividends down the line.