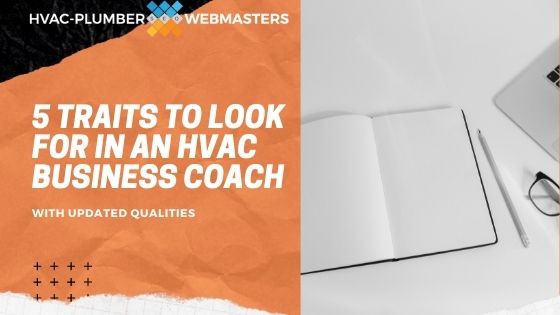 Finding a competent HVAC business coach isn't as easy as it sounds. Various factors influence whether or not an industry coach is a good fit for your long-term vision and comfort level. The best way to get started is to identify the qualities you require in a business coach for the HVAC industry.
Getting a foothold in the HVAC industry can be very difficult – especially if you happen to be operating in a particularly saturated market. Not only do you have to stay on top of your game in terms of technical skills, but then you have to navigate the business side of your operation. 
Striking out on your own as a new HVAC contractor involves a lot of things they never taught you at trade school. But just as it was helpful for you to learn HVAC under an apprentice, an HVAC business coach can teach you what you need to know to make your operation successful.
But even choosing the right HVAC business coach can be a challenge. That's why we dedicated today's post to identifying the best characteristics for an HVAC business coach to have.
What is an HVAC Business Coach?
An HVAC business coach is someone who guides and assists heating and cooling contractors with running their business and developing a vision for their company. Additionally, a business coach helps contractors implement strategies to realize their vision and grow their company.
Traits of an Excellent Business Coach for HVAC Contractors
Most successful business coaches share specific qualities which you can look for in your research process. Of course, different coaches will fit better with various contractors. However, you should pay attention to the following qualities in your initial assessment.
1) Experience
First and foremost is experience. Any HVAC business coach you are considering needs to show you a proven track record of success. Keep in mind that one of the essential points of even working with a business coach is to help you avoid common mistakes. A coach won't do that if they do not have experience themselves.
And as an HVAC contractor, you have to make sure that they have specific experience with other HVAC operations. A good business coach will have experience in everything from payroll and logistics to marketing and human resources. So look for a coach with a very well-balanced palette of experience. 
2) Availability
Hiring a heating and AC business coach does no good if they are never available to you. Right from the gate, you need to ask them what their schedule is like, how often they would be able to work with you, when you can reach them, and how they will be available to you (phone, text, email, Zoom call, etc.). 
It's important to note that not every HVAC contractor will need a coach to be on-call 24/7. Maybe this isn't your first time around the block, and you need a little guidance this time around. However, if you are striking out on your own for the first time, you will more than likely need a business coach who can field your questions and concerns as they arise.
3) Network
You know the old adage, "it's not what you know. It's who you know?" To a certain extent, that's true, but not for the reasons that most people think. When shopping for HVAC business coaches, it's essential to inquire about their network and connections. Yes, this is important for the apparent reason: opening doors for you and connecting you with people who can grow your business.
But more importantly, a coach with a strong network indicates strong communication skills, a willingness to help others, involvement in the industry, and of course, experience – all of which are fundamental traits for a business coach to have.
Therefore it would be constructive for you to ask, "what kinds of connections do you have in the industry?" when interviewing business coaches.
4) Willingness to Teach
There are some things that you will not be able to screen for. For example, a heating and cooling business coach can make all sorts of promises in the interview phase; but be utterly ineffectual after the hire. One thing that is hard to perceive until you work with a coach is their willingness to teach.
It is not good if a business coach has decades of experience and tons of industry connections if they're unwilling to teach you everything they know or share their network with you. Still, it should be pretty easy to determine whether your coach is a good fit in the early days of working with him. So here are some red flags to look out for:
Punctuality: It's usually not a good sign if your business coach is late for your first meeting.
Communication: A good business coach who is willing to teach should be communicative. They should be bringing up new subjects and pointing out opportunities to educate.
Inspiration: A good teacher doesn't just hurl facts by rote; they seek opportunities to inspire their students. A good business coach will take everyday business situations and turn them into opportunities for inspiration.
Perspective: If your business coach isn't sharing lessons from their personal experience, it's unlikely that they will be able to give you the perspective you need when you get discouraged or bogged down in numbers.
5) Compatibility
It's important to remember that business coaching is a 2-way street. It's not all about the coach's qualifications – although that is a massive part of the equation. In general, though, you have to get along with the coach. Is the coach personable? Do you have anything in common with them outside of the HVAC business?
Do they seem to share the vision you have for your business? Are they intimidating, or do you feel you can come to them with any problem or question? These can be very subjective judgments which is why 96% of students cited personal rapport as an important coaching factor.
It can also be beneficial to examine their history. If possible, you will want to work with a business coach who started their own HVAC business and made it a success. You can take it a step further and opt for a coach who has run an operation similar to yours (equal number of employees, services offered, geographic market, etc.).