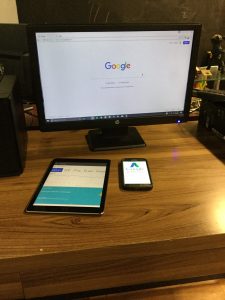 It's common knowledge that users rarely ever move beyond page 1 of Google search results. For plumbing companies looking to acquire customers online, ranking on the first page is absolutely imperative. But what specifically can plumbing contractors do to accomplish the task? Consider the following:
Step 1 – Brand Your Company
The first step to page 1 rankings actually starts with your brand. To have a legitimate brand for your plumbing company, you must have the following:
Logo: A well designed logo that is visually engaging
Mission Statement: A paragraph or two about your services and philosophy
NAP Information: Your business name, address, and phone number, written exactly how you want it displayed
Service Area: A list of zip codes and cities that you serve
Seems fairly simple, right? Once you have these four things, you can now shift your focus to translating that brand online. In the next step we will explain how to transfer your offline brand to your new online identity. Branding grows trust, authority, and visibility in your local community.
Step 2 – Create Your Website
Once your company has the elements of a brand, it needs someplace to display them that has inherent value to your company. Invest in a web design services so that you can build a "from-scratch" website that will serve as a long term business asset. Ensure these qualities:
Domain Name: Choose a domain name that fits your plumbing company brand (in some cases it will be the exact name of your company)
Mobile Responsive: Choose a web designer that will use responsive design, and prioritize mobile display
SEO-Friendly: Design a website with high SEO potential based on clean code and simple navigation
Visually Engaging: Ensure your website presents well to visitors from a visual standpoint
Handle these four qualities and you have the makings of a great website. From there you will want to research keywords, develop content, and optimize it for search engines. Content should be written by a human and not scraped from outside sources, as this can cause duplicate content issues.
Step 3 – Cite Your Company
Now that you have a brand, you must display it online. Most citation sources have places to upload logos, "about me" sections, and NAP listing forms. There are several important places to show your brand online. Some of them include:
Better Business Bureau: Establish trust by citing your company on BBB — also consider signing up for BBB badge that can be displayed on your website
Facebook Business: Create a Facebook Business page to connect with social media followers
Google My Business: The best directory for any small business and one that directly impacts search ranking
HomeAdvisor: Sign up with this niche directory that specializes in home services like plumbing
There are, of course, additional places to make your company visible. These four are a good start to get you established on some of the more prominent directories. Google My Business, in particular, will serve as your hub for business authority. Generating reviews on Google can heavily influence the perception of your plumbing company.
Step 4 – Pay Per Click
While you wait for your organic search engine optimization to take effect, consider investing in paid advertisements on Google search engine results pages (SERPs). Some of the advantages of PPC include:
Data Generation: Accumulate valuable information about potential customers
Location Targeting: Specific service locations to narrow your marketing target
Fast Results: Show up on page 1 quickly, while you wait for organic SEO to take place
Fixed Budget: Never spend more than you can afford with pre-set budgeting
Not only does PPC work quickly but it can help get more eyes on all the previous work you have been doing. Steps 1 through 3 will become apparent when users visit your website and find that you've established your brand, designed a high quality website, and displayed consistent NAP information on your website and elsewhere.
Step 5 – Organic Reach
All the work you have done up to this point will come into fruition about 90-180 days after your website first launched. That's the amount of time Google generally takes to crawl, rate, and index a new site. At this point, you should start to see the following:
Brand Recognition: Your logo will start to become associated with your plumbing service, especially on local search results
Customer Acquisition: Customer leads will originate from your organic marketing campaign and you will have a great opportunity to convert them into sales
Rich Snippets: You may start to see rich snippets appear on Google SERPs for plumbing keywords
Search Visibility: You will have accomplished your goal of page 1 ranking for specific industry keywords
Ranking first on Google is not easy, but the process of accomplishing it is relatively simple. If you require assistance with moving up the ranks, contact Plumbing Webmasters. We specialize in internet marketing for plumbing companies just like yours. We will handle each of the 5 steps for you, and have you dominating search results as soon as possible. Call (877) 388-9884 to further discuss our guide to page 1 rankings.