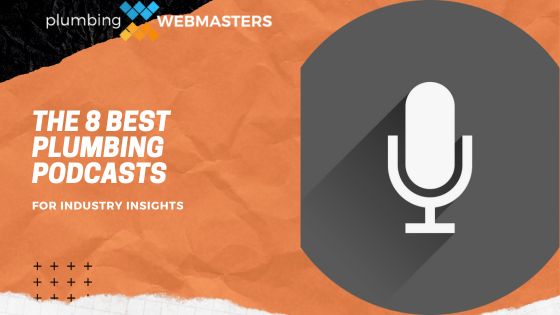 Plumbing podcasts have emerged as one of the most accessible mediums for plumbing industry-related content. Plumbers can use various platforms like Spotify, Apple, and YouTube to consume free podcast episodes while working and performing other business-related tasks.
While plumbers were once required to attend industry conferences or join exclusive groups to access new perspectives and insights, the podcast space has broadened the entry point for industry professionals looking to expand their plumbing expertise.
Below, Plumbing Webmasters lists the eight best Plumbing podcasts of 2023:
Best Plumbing Podcasts of 2023
The Plumbing SEO Podcast
Potty Talk
The Plumbing Sales Coach
The Authority Podcast
Waste No Day
The Plumbing Standards Podcast
Personal Plumbing Repair Service Podcast
In The House
1) The Plumbing SEO Podcast
Hosted by Plumbing Webmasters Owner Nolen Walker and Creative Director Jason Landry, The Plumbing SEO Podcast provides invaluable insights into the world of SEO for plumbers. 
Furthermore, the episodes expand to the broader niche of digital marketing and go as far as providing business insights and mindset recommendations.
2) Potty Talk – The Podcast for Plumbing Business Entrepreneurs
Hosted by Richard Behey, AKA "The Million Dollar Plumbers," Potty Talk Live offers advice for plumbing business owners, including lifestyle insights for times away from the office.
As a 30-year veteran of the plumbing industry, Behey's perspectives are rooted in first-hand experience, making his insights particularly appealing to plumbers.
3) The Plumbing Sales Coach – The FRESH Approach
Hosted by Chris Fresh, AKA "The Plumbing Sales Coach," this podcast dives into strategies for improving customer service and experience.
The host's philosophy is built around "service over sales," which ultimately leads to more sales and more service. Fresh also covers technical topics within the plumbing industry, making it an excellent resource for plumbers.
4) The Authority Podcast: Plumbing and Mechanical
Hosted by Christopher Lohr of the International Association of Plumbing and Mechanical Officials, AKA "IAPMO," The Authority Podcast: Plumbing and Mechanical presents high-level information about public safety and sustainability in the context of plumbing. 
The highly informative episodes cover topics ranging from product reviews to industry regulations.
5) Waste No Day: A Plumbing, HVAC, and Electrical Motivational Podcast
Hosted by Brian Burton and Nate Minnich, Waste No Day provides a needed boost for plumbers seeking extra motivation. The episode topics range from guest interviews with industry professionals to specific issues like risk management, customer services, and employee recruiting.
Both hosts also serve in leadership positions for Benjamin Franklin Plumbing of Lancaster, PA.
6) The Plumbing Standards Podcast
Hosted by Dalton Lessen, The Plumbing Standards Podcast introduces a new standard for plumbers, countering the stereotypical portrayal of tradespeople in popular culture.
Episodes dive into various topics, from procedural implementation to customer service and technician presentation.
7) Personal Plumbing Repair Service Podcast
Hosted by Bob Muller, the Personal Plumbing Repair Service Podcast explores plumbing services, business tips, industry trends, and more. Most importantly, Bob Muller, the president of Personal Plumbing Inc. in Oceanside, CA, gives potential customers a first-hand look at his experience, expertise, and credibility. 
This podcast is geared more toward the plumbing consumer but provides business owners with a blueprint for using podcasts as a marketing tool.
8) In The House
Hosted by Mike Wilson of Any Hour Services, In The House covers plumbing, electrical, and HVAC topics with expert guests in the residential service industry. The podcast offers practical advice on services like drain cleaning, garbage disposal repair, and tankless water heaters.
Like Personal Plumbing, Any Hour Services leverages the podcast medium to bring awareness to its service company and widen its marketing funnel in the digital landscape.
Leveraging Plumbing Podcasts for Your Business
Listening to these plumbing podcasts may inspire you to start your own podcast, which you can leverage to expand your plumbing company's brand awareness.
Much like SEO and other forms of digital marketing, syndicating your podcast creates branded digital signaling for your plumbing company. As a result, podcasts can help grow your online presence and create synergy with your other marketing ventures.