There's a well-known saying that "Cash is King." In the world of plumbing SEO and internet marketing, content is king. There are certain commodities that are just part and parcel of a good web marketing strategy for plumbers, such as: an optimized website with strong domain, bolstered social media pages, proper and consistent location mapping, etc. But once those elements are in place, it's the companies that go deeper (not wider) that really start to see their efforts pay off.
Quality content is what will set you apart from your competition, and what will make you more attractive to a savvy consumer — not because they are plumbing experts, but because your potential client is no longer enticed by marketing ploys of old. You can't stuff a flier in the mail and expect that to stand out in the barrage of junk mail that we're immune to at this point, nor can you stuff plumbing keywords on a webpage in hopes that you'll suddenly show up on Page 1 of the search results for plumbers in your area. Google is explicit in their guidelines that internet marketing for plumbing should not be geared toward them; it should be geared toward reaching your potential customer. And isn't that your goal too?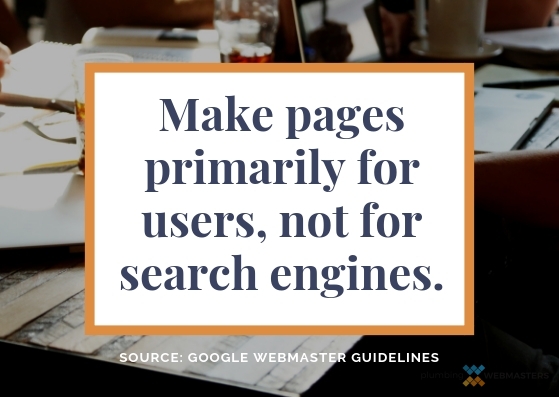 Let's explore what it means to provide an experience on your plumbing company website (and online presence as a whole) that is enticing to both your potential clients and to Google.
Plumbing Content That Adds Value to Your Industry
It may not be what you want to hear, but even home service professionals (like yourself) are finding it increasingly necessary to consider your reputation; or to put it in ad speak, your "brand."
There are many ways that you can naturally establish your authority and encourage trust as a plumber, such as:
Investing in the local community
Making licensure or certification status prominent, as well as whether you're bonded and/or insured
Obtaining great reviews (and lots of them!) from actual customers
Providing honest, quality service that speaks for itself
Running background checks on all staff and subcontractors
But a key aspect of making a quality web marketing strategy for your plumbing company is to make sure you're adding value to your industry as a whole. In other words, don't just show up on the internet to get; also make sure you are there to give.
Why does this matter? In most large markets, there are literally thousands of home service providers competing in the same space, vying for the same clients. You can't wave a shiny object and expect the leads to flood in. You must also consider that today's home and business owners are sophisticated when it comes to the providers they utilize, and they are looking for more than just the cheapest service. Authenticity matters. Reputation matters. It's great news that they will pay more for the best service, but how are they to know who is the best?
When you have a coherent, deep web presence for plumbing, it appears that you're more than just a "fix-it" guy. They're hiring your whole brand. When you regularly contribute honest, meaningful content to your website, social media accounts, and even via email newsletter to existing clients or prospects, you won't annoy; you'll invite. If a plumbing problem arises, big or small, you'll be top of mind and well established in their experience as a person they can trust to handle the whole job.
How to Establish Authority Via Plumber Content
Here are some simple ideas for starting to craft great content that adds value to your client base (both attained and potential), and pull from expertise that you already have.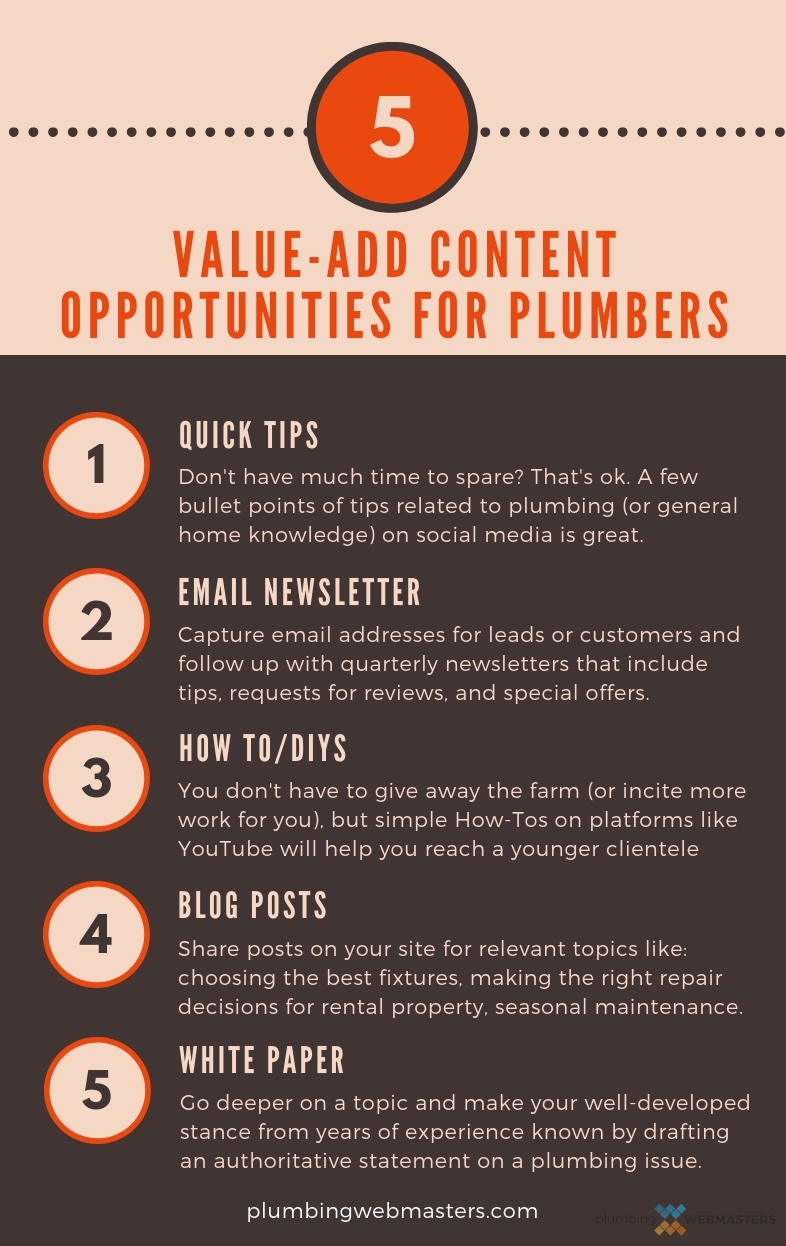 You don't have to be a wordsmith or understand the full realm of blogging, for example, to do these well. You know the core of the message (i.e. plumbing topics), and that's what people want when they set out to find you!
1. Crank out small lists of quick tips on social media channels
2. Send out a brief email newsletter to all leads and customers — Bonus if you include a special offer!
3. Post How-Tos/DIYs on YouTube to grab the attention of younger homeowners and decision-makers
4. Regularly publish 500-word blog posts on a relevant topic — Drives traffic to your website too, and Google loves the regular updates!
5. Make your mark on your industry by putting out a white paper on a hot topic related to plumbing based on your expertise
You don't have to embrace all of these opportunities to bolster your reputation and add value to the plumbing world, but consider the resources available to you — both in terms of time and talent — and come up with a strategy to establish yourself online!
Quality Content for SEO is Not Shy on Word Count
Remember: The stated goal at the onset of this post was to create quality content for plumbing in the World Wide Web. Because the objective here is establish more depth than breadth (although, to be fair, you need to do both to really compete), this is not going to be an exercise in brevity.
This post you're reading, for example? It's not short. (But you know that already.)
While word count is a good indicator of depth, keep in mind that this isn't an opportunity to harken to your high school days and pontificate with all the fluff words you can muster. This is about good, insightful, helpful information. Think about what you can say, as an expert plumber, that your ideal client would want to know. What have you discussed over and over again with business owners? What is a mistake that many homeowners make when it comes to plumbing? Any topic that could elicit more than five minutes of conversation is ripe for long-form content sharing!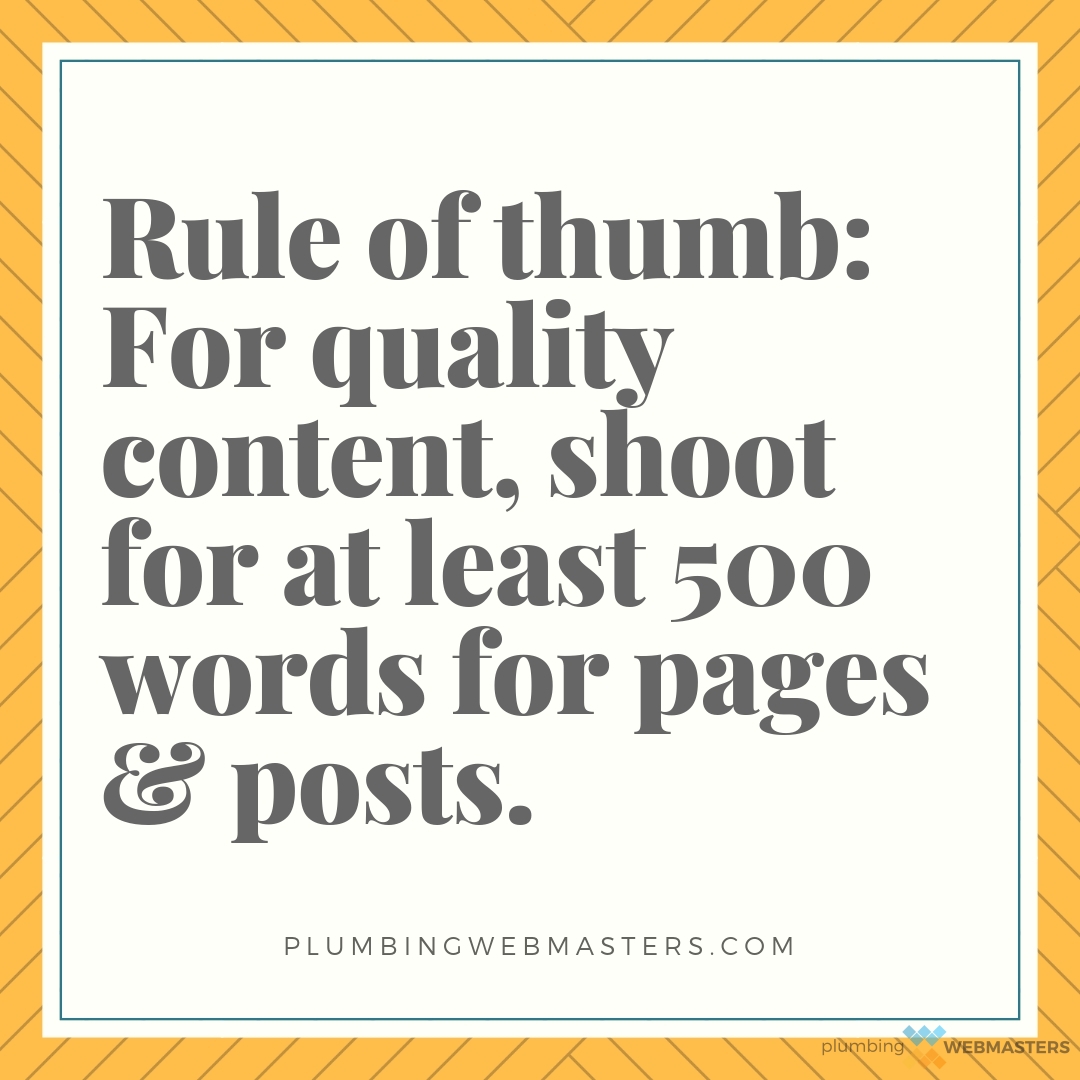 It's not uncommon for our clients to realize that they have far more good content in them than they expected. Sure, this is something you could farm out, but when the desire for authenticity is at a premium, this is a unique opportunity to keep this in-house and local. You will do this the best for your company, no question.
Branding Counts: Set Up Your Plumbing Business for Internet Marketing Success
I'm bringing up branding again. And it's not without purpose.
Branding is huge, and brand strategy is a must for businesses…even small ones.
When potential clients are searching through Facebook recommendations for plumbers from their Friends, or scanning Page 1 of the Google search results for best plumbing company in [your area], they're quickly making decisions about who to pursue.
But that doesn't mean that the next step is a phone call. For today's consumers, the next step will likely be visiting a few plumber webpages or social media pages. And what are they looking for? A reason to call.
Sure, a running toilet or backed-up sink are good reasons to call. But when it comes to who they are going to call, this is where having a strong web presence and clear brand identity goes a long way.
A cool logo and cohesive color scheme are nice, and we can't underestimate the importance of consistent NAP listings for local searches, but it's not just about the visual and logistic components. What are you saying on social media? What values does your website reflect? Where are you demonstrating excellence in posted articles/blogs? All of that adds up to a brand.
And this is where content comes in. If you've taken the time to build up a nice social media following because you're consistently offering valuable information (such as quick tips), and if your team has been regularly posting helpful blog posts about plumbing insights and great advice for home or business owners, you're going to have a presence online that instills confidence that you are the company to call, no matter how simple or complex their issue.
Where to Start on Improving Content Quality for Your Plumbing Company
While I've shared several practical ideas for improving the depth of content that you are sharing with the world via your website, social media channels, newsletters, etc., where you decide to start is going to depend on several factors:
Who is going to help you with this (staff, Plumbing Webmasters, etc.)?
What resources do you have available in terms of time and tools?
Where are you most comfortable (low-hanging fruit) and where are you least confident (learning curve)?
The best advice that I can give is: Just start. Go with the quick wins, whether that's earmarking a few hours a week to schedule some social media posts (you can use tools like Hootsuite to do this) with tips for seasonally relevant plumbing information, or writing out a list of topics to flesh out into blog posts for your website. Content depth requires subject matter expertise. What you may lack in writing ability (and you're likely better than you think), you more than make up for with the valuable experience that resides in your head.
So share your gifts and relevant insight, and know that you're cultivating an enjoyable and valuable experience for your existing and potential customers. And that is what will make you successful in today's competitive market.