Bing Ads vs. Google Ads. Which is the better option for plumbing companies in 2023? The answer is, of course, Google Ads. You probably already know that Google is the #1 search engine in the world and receives a 92.13% market share compared to Bing, which reportedly has a 2.47% market share.
When it comes to using PPC advertising for your plumbing company website, it is worth investing in the most popular search engine. PPC can produce results in a shorter amount of time than organic SEO. While organic SEO should always be a huge priority for your website's marketing and advertising, PPC advertising is a great way to get the results you want until organic optimizes online.
Comparing Google and Bing Ads in 2023
PPC offers two main programs to advertise online: Bing Ads and Google Ads. Although Google is the biggest and most popular search engine used by consumers, Bing is also worth looking into. It might be shocking, but many people might not use Google as their preferred search engine.
While a huge focus is placed on how your website performs on Google searches, it's important to how high rankings in other search engines; this ensures you are reaching your target audience on a different search engine. Bing's market share has reportedly increased recently, though it still trails Google by a significant margin. As a result, there are reasons to invest in advertising on both search engines.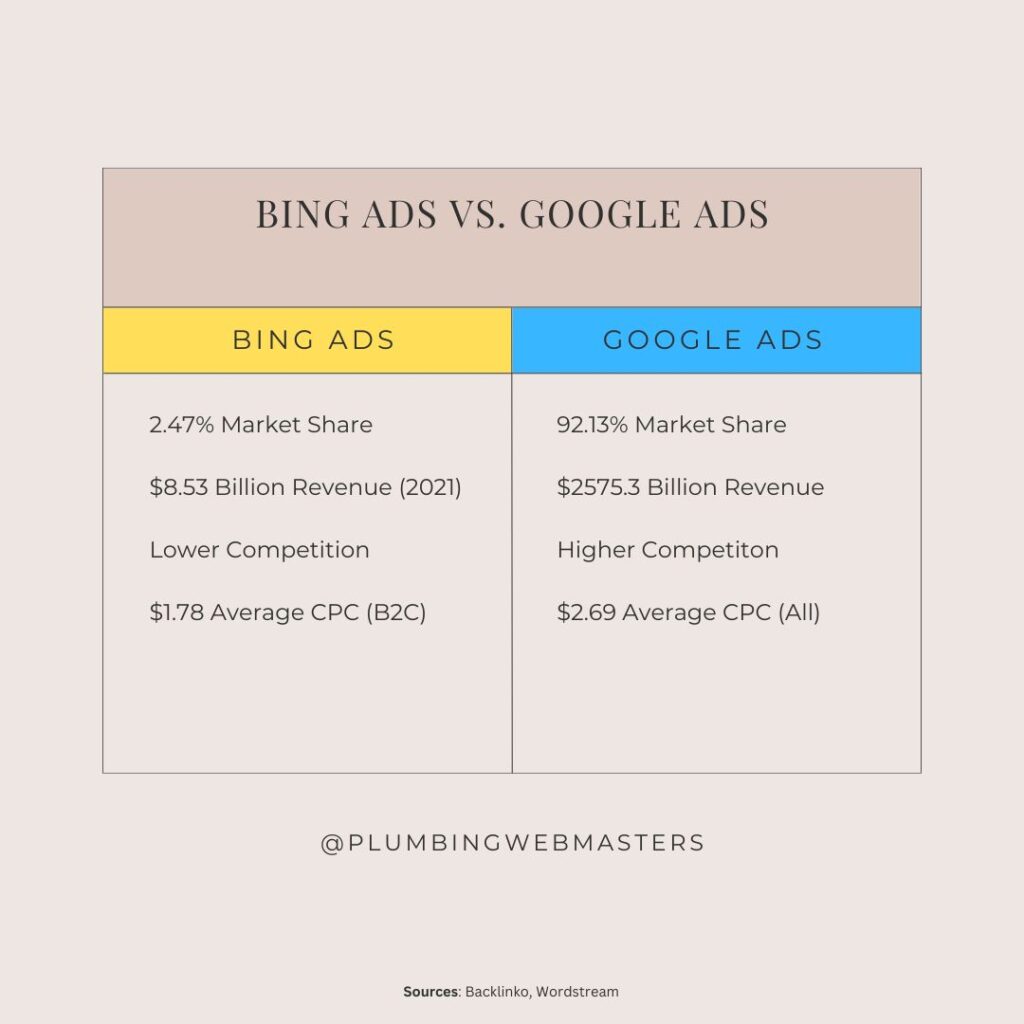 Main Differences Between Bing Ads and Google Ads
With any advertising platform, there will always be pros and cons, and Bing Ads and Google Ads are no different. Both have significant benefits for business websites and can add a lot of valuable success to a business. But what are the main differences between Bing Ads and Google Ads?
There are a couple of features that make these advertising platforms unique.
Cost: PPC advertising will cost no matter what, but what platform is the least expensive of the two? Bing Ads wins over Google Ads in cost-per-click.
Search Volume: Which platform is being used more to search? The answer is Google Ads. It pays to be a popular search engine.
Partnerships: Some search engines partner together in their advertising efforts, and Bing is one of them. Bing and Yahoo work together, so if you are using Bing Ads, you will also be showing up on Yahoo.
Visibility: Because Google is popular and Google Ads has ad extensions to write longer messages, you are more likely to be seen on Google.
CTR (click-through rate): CTR refers to consumers clicking on your ad and then searching your web pages. Bing Ads seem to have a greater CTR rate.
Each advertising platform has great benefits, so it is advantageous to your website's online visibility to use both platforms to create a better presence online.
Bing Ads Vs. Google Ads: How Both Help Plumbing Company Websites
With Bing Ads vs. Google Ads for plumbers, the Plumbing Websites can increase your plumbing company website's visibility online, improve search engine rankings, and gain more customer traffic when we focus your PPC advertising on two different advertising platforms.
Having ads on both search engines ensures that we are targeting customers who use Google and those who use Bing. Plus, both have special benefits that can boost your website's popularity and online presence.