Google is kind of a big deal. With an estimated 5.6 billion searches per day, the search platform reaches more potential consumers than any other online platform.
Google is more than a platform for local businesses trying to get noticed. It goes beyond industry experts trying to make a name for themselves. Google matters because people (your future customers) look to it to find essential services when they need them most.
If plumbing contractors and repair services can understand that symbiotic relationship between Google and user… The sky's the limit.
Below, Plumbing Webmasters outlines what you need to know as you start your journey into search engine marketing. Equipped with these Google essentials, you'll be well on your way towards ranking higher and earning higher-quality leads! Let's get started. 
Why Google?
As a search engine, Google represents the uncontested industry leader. 92.46% of the online search industry's market share falls to Google, while Bing and Yahoo take up a distant second and third (respectively). Practically everyone utilizes Google for research, shopping, and emergencies.
As traditional advertising methods offer increasingly shrinking returns on investment, it's clear that businesses must adapt to online search in order to thrive in the long run. Commercial websites are more than just a source of supplementary information for plumbing contractors.
Websites now bring in a large portion of many companies' income. That's why plumbers and other service professionals invest so heavily in website SEO for plumbers (search engine optimization).
Understanding the Cycle of Search
There's a simple, but unimaginably crucial pattern when it comes to understanding the Google search process. When a user hops on their phone, types in plumbing contractors near me, and sends it out into the world, they're actually continuing that cycle. Here's how it works:
Stage #1: Content developers create pages, videos, etc. and share it.
Stage #2: Google crawls (scouts) each website and indexes all the materials it finds.
Stage #3: Search users submit a query (ex: "plumbing contractors near me"), and Google presents a list of pages it believes has relevant information.
This is a very simplified version of the search cycle, but it provides a foundation for all future plumbing SEO and PPC endeavors. Plumbing Webmasters' operates in the first step, designing websites and crafting content that makes it easy for Google to crawl, index, and rank the site. Tireless research goes into optimizing for the number one search engine.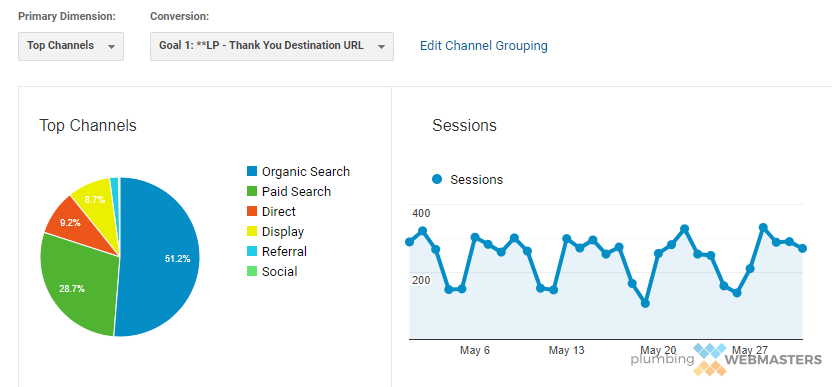 Thriving With Google
How can plumbing contractors make the most of search engine marketing (SEM) to promote their services? First, your business develops a custom website optimized for Google's search engine. This step features the majority of keyword research, site structure design, and content development.
The goal is to make your website as visible to Google as possible, while also crafting a pleasant user experience for future customers.
In the second phase, businesses take advantage of the free listing tools provided by the search giant. We'll talk about these more in a little while as we explore more Google essentials. Just know they play a crucial role in the search engine's ability to showcase your services.
The final stage revolves around your company's ability to adapt. Keeping up with Google's algorithm updates and shifting consumer search patterns is a serious challenge. With quality content management and ongoing optimization, however, your business will continue to enjoy great rankings and long-term growth.
Essential Tools for the Journey
While known predominantly for its amazing search engine, Google provides a wealth of services for businesses to take advantage of. Some of these cater towards further site optimization and content development, while others open up new opportunities for exposure beyond traditional organic search. Google offers almost all of these features for free. 
So which of these should you investigate further? There's…
Google Business Profile: A free listing service that enhances your listing information in local search. Syncs with Google Maps to provide visuals for readers.
Google Maps: Mapping services that offer geographic data (via satellite) to searchers.
Google Analytics: An invaluable tool for measuring performance and examining site visitor behavior.
Google Search Console: A service created to aid site managers as they monitor traffic, site visibility, and error resolution.
Google Ads: Paid ad campaign development with a high degree of customization and control.
Google Search: The backbone of Google, and perhaps the rest of online civilization.
Even Google Ads sometimes offers free credits so that you can try paid search. As you start developing and launching your website, it's especially important that you complete your Google Business Profile. This allows your business to show up in local packs, an enhanced SERP listing that offers impressive click-through rates.
As you examine these Google essentials for your business, remember this: if the company that dominates the search industry offers a free tool, it's definitely important for your rankings.
Teaming Up With an Expert
That's our short guide on the Google essentials. If you have additional questions about getting your business started with a new website design, optimizing your site for search, or the ins and outs of paid ads, our team at the Plumbing Webmasters would be thrilled to help.
We support countless plumbing contractors across the country with a variety of online marketing solutions. Our clients enjoy fantastic local search rankings, higher click rates, and better lead generation. We'd love to serve your business in 2022 and beyond.