Google values websites that provide a superior user experience. To accomplish this, your website must value content quality, and adhere to Google's Quality Guidelines. Plumbing Webmasters demands a certain standard for each of our clients' websites and employs full-time content writers to equip pages with engaging and informative text. Indicators of a page's content quality include:
Engagement: Does it capture a user's attention?
Readability: Is it easy to read and follow?
Uniqueness: Can it be found elsewhere on the web?
Value: Does it provide the user with a desired answer or insight?
Google explicitly states its admiration for content that is unique, engaging, and valuable and instructs web developers to craft their content in this vein. Aside from inbound link-building, content quality is the foremost factor in a website's ability to rank well on search engine results. Plumbing Webmasters is conscious of this significance and does everything within our ethical power to improve your website's value. Call (877) 388-9884 to discuss content quality for plumbing websites.
Duplicate Content Issues
Unique content is more valuable than scraped or duplicate content. Any text, image, or video that is taken from on web page, and added to your own, is considered scraped. Any content that is found on multiple web pages, is considered duplicate. Although it is not a Google Penalty, content duplication can negatively influence your website's ability to rank. Most duplicate content is accidental, and can be monitored and fixed through the following methods:
301-redirects: Direct the less valuable page to the most valuable one
Canonicalization: Declare a "master copy" of each web page
Google Search Console: Monitor pages for duplication through Search Console
Sitemaps: Submit an XML sitemap to declare crawlable web pages
Most issues of this nature can be avoided through the methods above. We use software to test websites for duplicates, allowing us to diagnose any issues immediately and take the necessary steps to correct them. The best way to prevent future incidents is to create unique and valuable content using human writers. That's what you'll get by signing up for an internet marketing plan with Plumbing Webmasters. We offer multiple plans and options so you can be sure to get the service that's right for your plumbing business.
SEO and Content Quality
There was a time before Google evolved its algorithms when content could be manipulated to "trick" search engines into improving a page's ranking. Tactics such as keyword stuffing and link hiding improved rankings but hindered user experience. Since Google's allegiance is to its users, they took the necessary steps to disallow such behavior and penalize it when necessary. Today, the best way to improve SEO for your plumbing website is to earn it through well-written content.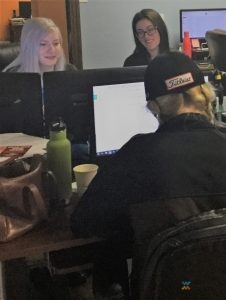 Timely actions like internal linking, and text formatting can enhance your content and improve user experience. With the emergence of mobile devices as the primary method of web browsing, creating pages that appeal visually to the mobile user is of great importance. Our content marketing team is well aware of how your web pages are being consumed and take steps to maximize user friendliness in every way possible.
Call (877) 388-9884 to learn more about content quality.