Google updated its policy on review snippets in September 2019. The platform now bans self-serving reviews that will apply to most plumbers and other local businesses and organizations. Google's use of rich snippets can still help plumbing websites enhance their SERP result, but reviews are no longer viable as a snippet. 
What is a Review Snippet?
Back in 2009, Google first introduced rich snippets, which are search results enhancements that reveal additional details about a page. These further details can include everything from NAP information to customer reviews. Rich snippets that display an aggregate star rating of a company's reviews are known as review snippets. Google banned self-serving review snippets in 2019 which mostly eliminates the option for plumbers. You can see an old example of a review snippet below: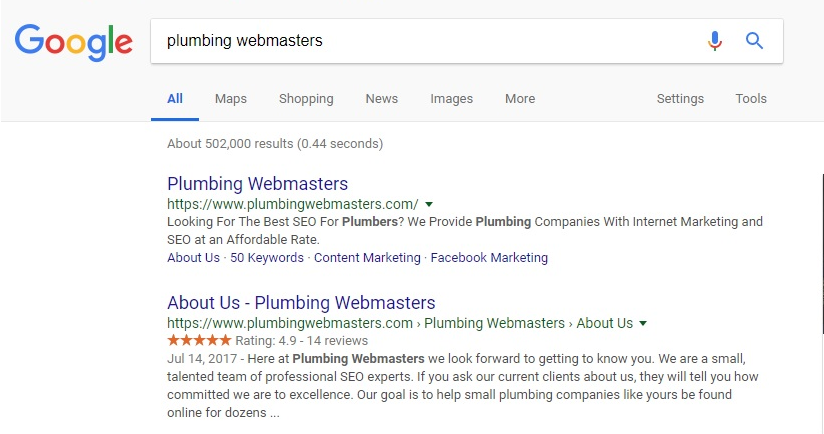 The Impact of Review Snippets
The most notable advantage of enhancing your search result with a review snippet was an increase in click-through rate, sometimes abbreviated as; CTR. The metric demonstrates the rate by which search engine users click on your result upon seeing it. As you'll notice in the example above, review snippets were visually appealing and encouraged more clicks. They also helped with:
Conversion Rate Optimization: Research shows that customer reviews encourage conversions
Search Engine Optimization: Increased CTR's instruct Google to raise your ranking
Valuable Traffic: User's attracted to reviews are likely looking to spend money, and therefore have more value than the average visitor
How Can I Get Review Snippets For My Website?
Google banned self-serving review snippets, so you can no longer get them for your plumbing company website. There are exceptions, like if you sell plumbing supplies on your website, for example. In cases such as these, you can still mark up your products with reviews.
One great alternative to review snippets is DataPins: a local SEO software for plumbers. DataPins allows plumbing companies to drop pins each time they perform a job. Each pin contains schema markup that validates your service areas and will enable you to rank throughout your service area. DataPins also helps plumbing websites showcase their best jobs in their most popular areas, further increasing conversions and brand recognition.