Managing a plumbing company is not an easy task. That was true before the digital revolution and is even more poignant today. Search engine optimization is an unsettling industry because it is entirely dependent upon the search engine (Google) and how it evolves over time. One of the ways it has evolved is through the introduction rich snippets. Review snippets, have particularly high value to plumbing companies as they can increase click through rates significantly.
What is a Review Snippet?
Back in 2009, Google first introduced rich snippets which are search results enhancements that reveal additional details about a page. These additional details can include everything from NAP information to customer reviews. Rich snippets that display an aggregate star rating of a company's reviews are known as review snippets. You can see an example of a review snippet below: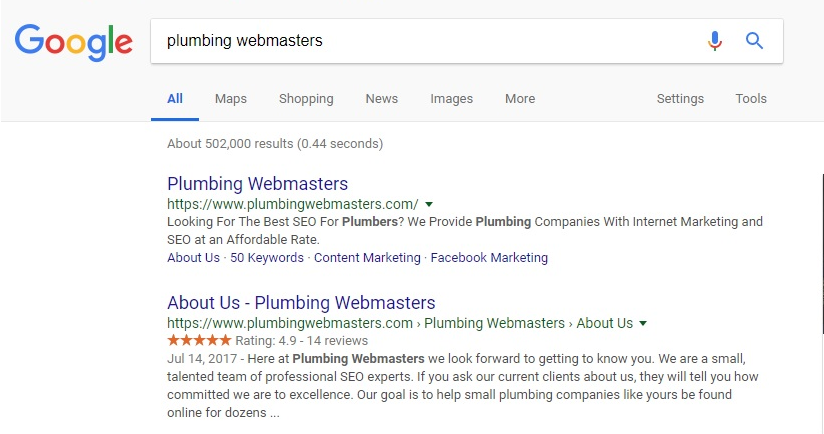 The Impact of Review Snippets
The most notable advantage of enhancing your search result with a review snippet is an increase in click through rate, sometimes abbreviated as; CTR. The metric demonstrates the rate by which search engine users click on your result upon seeing it. As you'll notice in the example above, review snippets are visually appealing and it stands to reason why they would encourage more clicks. In addition to more users entering your website, you'll also benefit from:
Conversion Rate Optimization: Research shows that customer reviews encourage conversions
Search Engine Optimization: Increased CTR's instruct Google to raise your ranking
Valuable Traffic: User's attracted to reviews are likely looking to spend money, and therefore have more value than the average visitor
How Can I Get Review Snippets For My Website?
If you're interested in enhancing your plumbing website's search result with review snippets, you can invest in internet marketing from Plumbing Webmasters. We offer pay per lead (PPL) plans, as well as month to month (MTM) plans. Both options can improve your search visibility on Google. We also offer add on services including; Righteous Reviews, a WordPress plugin that displays an aggregate star rating directly on your website. The star rating will also appear on your search engine result. Call (877) 388-9884 to learn more about review snippets.