Creating valuable and engaging content is the foundation to many internet marketing campaigns, but how can that content best be translated to mobile devices? Incorporating responsive web design and ensuring optimal mobile navigation would seem to do the trick, but those actions alone are not enough to meet the increasing demand of mobile internet users. Mobile web content is fundamentally different than desktop, and plumbing companies should consider the following:
Frontloading: Place your most important content towards the top where more will consume it
Paragraphs: Shorten paragraphs to account for the smaller screen size
Titles: Shorten titles to account for the smaller screen size
Visuals: Incorporate more images and video to keep the attention span of mobile users
Anyone who tells you no alterations are necessary when transitioning from desktop-first writing to mobile-first is delusional and / or misinformed. Many of the fundamentals we've been taught about web content have been rendered obsolete by the onset of "mobilegeddon". The good news is that Plumbing Webmasters is here to help you make the transition as seamless as possible. Call (877) 388-9884 to discuss mobile web content for plumbers and how it can improve website performance.
Going Visual With Content
It's no secret that mobile users have shorter attention spans, and the screen size differential from desktop cannot be discounted either. The best way to engage mobile users is through concise visual content. Capturing the attention of your users immediately makes them more likely to complete the call-to-action, which in the case of mobile websites, will most often be a clickable phone number button or link which connects the user to your office line. Visual content can include:
Buttons: Clickable phone number buttons
Infographics: Engaging and informative visual graphics
Photos: Images of your plumbing company
Videos: Videos of your plumbing company
Remember, the screen-size must be negotiated in a way that was previously unconsidered. The more scrolling the reader has to do to find the desired information, the less likely they are to complete the call-to-action. By frontloading content, and visual content in particular, the reader consumes the most pertinent information immediately and therefore has a higher probability of being converted into a paying customer. Plumbing Webmasters can help you get started with mobile web content today.
Click To Call Functionality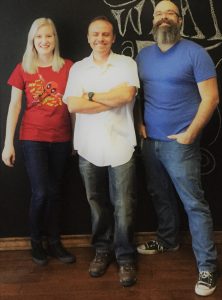 A critical element to mobile web content is click-to-call functionality. If you are unfamiliar with the phrase, it references a phone number link or button in which a mobile user can click and be directly connected to your office line via phone call. Needless to say, this can expedite the conversion process, as the journey from initial website visitor to potential customer is shortened considerably. Integration of click-to-call functionality relies on an experienced web design team, as well as a skilled content creation company.
At Plumbing Webmasters, our only goal is to help your company succeed. We create mobile-first web designs so that your website is accessible to the largest portion of your audience. Our design team utilizes responsive web design so that you cover the full market of users, regardless of the device on which they access it. Our content team is well versed in mobile content creation, and will do everything ethically possible to outrank your competitor on local search results. Call (877) 388-9884 for mobile web content services!