In 2020, your online presence is a vital representation of your company. Plumbers who hope to make a positive impression on consumers must exhibit professionalism through each of their digital entities. A website's content should be grammatically correct and otherwise error-free. Content marketing helps contractors reach more customers, but content proofreading ensures those reached enjoy a positive user experience. Your content should be informative, well-planned, and correctly formatted as well as being grammatically correct in order to offer a superior customer experience.
Plumbing Webmasters offers multiple plans that each include website content proofreading to ensure that your content is always professional and engaging. Our experts provide proofreading services to prevent problems like:
Duplication: We ensure that your content is original and has not been accidentally scraped from other websites.
Formatting: Our experts make sure that your content is formatted correctly for optimal presentation.
Grammar: We also check for content, grammar, and syntax for a more professional appearance.
Readability: Our team ensures your content is speaking to the user and not pointed toward search engines.
Failure to establish or maintain favorable rankings on Google search results is generally the result of subpar content. Whether your pages were crafted by a 3rd party company or you create them yourself, a lack of search visibility indicates clear room for improvement. Plumbing Webmasters audits your website for formatting, grammar, and overall readability and documents necessary solutions. In addition to our basic PPL and MTM plans, we offer add on services which include Facebook management and virtual office space. Call (877) 388-9884 for content proofreading services.
Other Applications of Content Proofreading
Though a company website serves as the foundation of your internet presence, it is not the only representation of your company online. Depending on your choice of payment plan and add on services, several other digital entities will display content, which must be proofread and optimized as well. Visitors can become leads through multiple marketing channels, so ensuring informative, unique, and error-free content on each platform promotes lead generation, and ultimately sales conversions. Examples of additional content channels include:
Ad Text: The text portion of your PPC advertisements
Blog Posts: Monthly blog write-ups
Directory Listings: Descriptions and/or biographies on websites like Better Business Bureau
Social Posts: Social media posts on Twitter, Facebook, Instagram, etc.
Professional proofreading assures both accuracy and consistency throughout various marketing channels. Though consistency is encouraged, duplication is not. While multiple social profiles like those on Facebook, Twitter and Instagram will convey similar messages, they should not be identical. Refraining from exact word usage on social media, directory listings, and review platforms promote content diversity and uniqueness and lend to improved local search rankings. In addition, error-free content across various platforms encourages brand development.
The #1 Plumber Content Proofreading Service
In an age where SEO is commonplace, it's not difficult to find services for proofreading and content management, in general. What makes Plumbing Webmasters unique is our industry-specific focus, as well as our diverse payment options including pay per lead (PPL) marketing plans. Besides proofreading, our services also include content marketing, blogging, photo optimization, and much more. In adherence to our principle of adaptability, we stay on top of the latest Google algorithms, allowing us to evolve alongside the world's most popular search engine.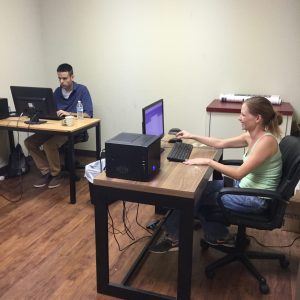 It's not uncommon for plumbing websites to have content so poor in quality that they become subject to Google penalties. Plumbing Webmasters can reboot your entire online presence with a brand new custom website, optimized for both search engines and mobile devices. Website design is included in our basic marketing plans and website reviews integration is available as an add on service. There's no aspect of digital marketing that we're unfamiliar with.
Give us a call at (877) 388-9884 to discuss how content proofreading can improve your website.