With more than 10 years of experience, Plumbing Webmasters offers comprehensive and innovative Local SEO services to plumbers throughout the United States.
Local SEO Services for Plumbers
Google My Business Optimization
Local Map 3-Pack Optimization
Google Maps Optimization
SEO-Optimized City Pages
DataPins: Local SEO Software
Local Citations
Google My Business (Local Map Pack) Optimization
For plumbers, appearing within the Local Map Pack is essential for relevant clicks. Only companies with a Google My Business (aka Google Business Profile) listing can rank within the map pack. If you have not created or claimed your listing, Plumbing Webmasters will do so on your behalf.
Several factors influence how well a listing ranks within the 3-pack, including proximity, prominence, and relevance.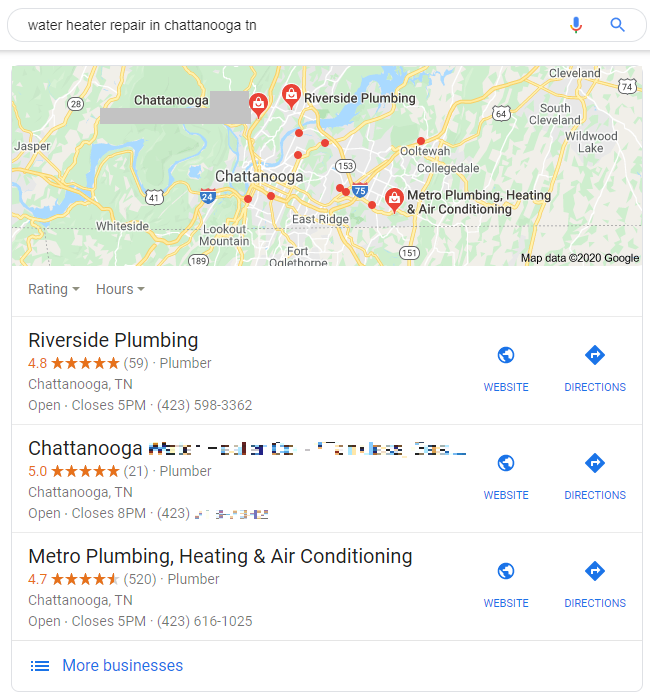 Proximity
Contractors cannot directly influence proximity since Google bases this part of its algorithm on your office's map pin. A searcher within a 10-mile or so radius can see your listing. The closer they are, the more likely they are to see your listing within the map pack.
Prominence
Plumbers can more easily influence prominence by completing their GMB profile and accumulating as many reviews as possible. Companies can also upload new Google My Business photos, publish Google My Business Posts, and update hours of operation for holidays.
Relevance
Google's local algorithm judges relevance mostly by your company name and category. All plumbing companies should select plumber as their primary category. Additionally, your company name should match your official business records and trademarks.
Local Website Optimization
One of the most significant challenges for local SEO is ranking in multiple cities. For example, your plumbing company's office might hold a suburban zip code, but your technicians can service a wide range of nearby towns, including major metropolitan areas.
With DataPins software from Plumbing Webmasters, local plumbing companies can rank service pages throughout multiple service areas.
City Pages
Google's quality guidelines warn against doorway pages that represent low-quality location pages. Most SEO companies still create thin city pages, but The Webmasters solves your problem with DataPins. Our local SEO tool automatically publishes reviews and job-site check-ins to the corresponding city page.
Google crawls the user-generated content (verified through its review platform) and acknowledges its authority.

Social Proof
Consumers feel more comfortable with local plumbers, and social proof helps prove your business's locality. Job-site pins showcase your work in specific towns so that potential clients see your company in their area.
Reviews are also a form of social proof, especially when they come from legitimate 3rd party platforms like Google My Business, Facebook, and Yelp.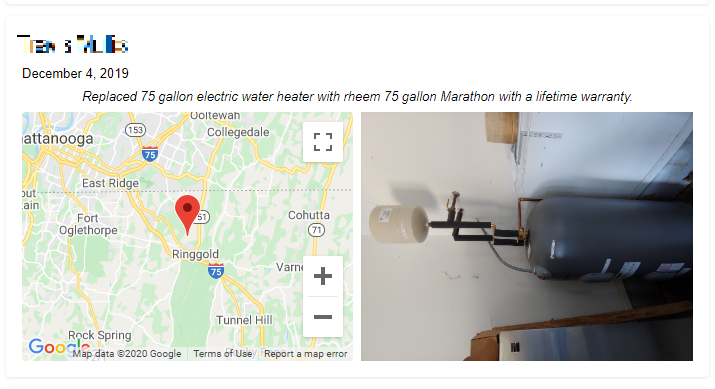 NAP Citations
The third pillar of local SEO is citation building. Since Google's onset, marketers argued about the value of citations for regional rankings. Along the way, SEO professionals oversold the importance of NAP consistency, suggesting that if your suite abbreviation varies in any instance, you lose your rankings.
Such claims are untrue, but the importance of citations remains valid both for authority and link equity. It's essential to claim your business listings on the major directories. At Plumbing Webmasters, we handle that process on your behalf.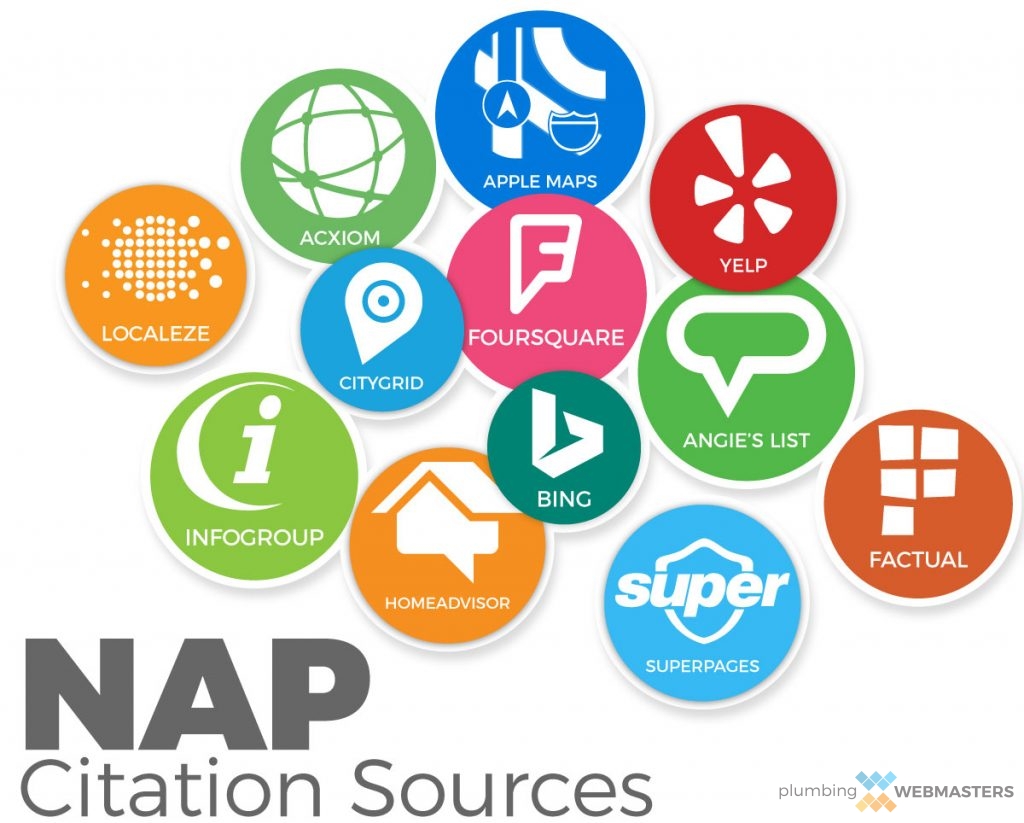 Authority
For new businesses, listing your company's contact information on reputable directories helps build authority and trust. Search engines observe strings of data, and a plumber with no online record presents trust issues for Google.
Conversely, companies with listings on major platforms like Google, Yelp, HomeAdvisor, and Angie's List can quickly establish a web presence.
Link Equity
Link building remains part of Google's ranking criteria though some within the SEO industry have downplayed citation links' value. Since a business can manually create directory listings, each link gets tagged with the nofollow attribute, which essentially tells search engines to limit its value.
Despite its perceived limitations, nofollow links from local directories do provide link equity for plumbers. Not only has Google acknowledged these links as a ranking hint, but their relevance and topical authority make them precious links for local plumbers.
Ranking for Plumbers Near Me
We help contractors rank for terms like plumber near me. With the help of our local SEO tool, DataPins, we establish local authority for each client. With 3rd party reviews and jobsite check-ins, our plumbing companies ascend to the top of local rankings.
Furthermore, our local optimization tool serves as a long-term ranking solution for near me keywords. Google's language processing system can associate city names with the user's search query and serve the most relevant results.
Near Me Keywords
Ranking for near me keywords is more appealing than ever for local contractors. Google's language processing recognizes local terms and applies them to the user's intent.
Regional signals like reviews and jobsite check-ins help ensure that trustworthy plumbers rank for the right words. Well-crafted city pages with unique and original content help build trust.
Service Keywords
DataPins' potency doesn't stop with locations. Our local SEO tool empowers plumbing companies to rank for service-based terms, including drain cleaning, water heater repair, whole house repiping, and much more. The majority of local clicks come from long-tail keywords, and DataPins powers thousands.
A broad search engine reach compiles the most clicks and enables you to outgrow competitors in the long term. While everyone is competing for the basic terms like "plumbing contractor," the top-performing websites are ranking for thousands of long-tail queries that help grow their client base.
A Trusted Local SEO Agency
Plumbing Webmasters has been serving local plumbing companies for more than a decade. We utilize data-driven strategies along with our in-house software tool, DataPins, to produce optimal results. We developed the software tool specifically for local contractors based on our year's worth of data and experience. Plumbers all over the country trust us for Local SEO services.