Plumbing companies hoping to improve their website's search ranking in 2020 must pay attention to their main competitors. Through an SEO competitor analysis, you can gain insights into your ranking position and the requirements necessary to move up. Additionally, you can contrast your SEO tactics to those of your competition and make the necessary adjustments to keep pace. Your competitor SEO analysis from Plumbing Webmasters includes:
Benchmarking: Setting goals for your website based on SEO metrics
Evaluating: Reviewing the findings of competition research
Reporting: Generating comparative reports of your company and its main competitors
Scoring: Giving grades to competitors based on cumulative SEO metrics
The more efficiently we can break down SEO performance, the more improvements we can make to your search engine optimization. This is particularly useful when done in the context of an SEO competitor analysis. If your opponent ranks third on Google, and your website is ranking #5, we want to find the reasons why. Once we do, we can make adjustments and improve your ranking. For plumber SEO competitive analysis, call us at (877) 388-9884.
Metrics to Analyze for Plumbing Websites
When analyzing a competitors website, specific metrics should be targeted. By identifying the same measurements on each competitor website, and your own, you can make a true and statistically accurate comparison. Some of the metrics to target on plumbing websites include:
Domain Authority: The established authority of the website's domain
External Links Volume: The number of external links on a specific competitor's page
Google Rank: The current ranking on Google SERPs for a particular keyword
Keyword Density: The number of times a specific keyword is used divided by the total number of words on a page
Several tools exist to assist the SEO competitor analysis process. Moz On-Page Grader, for example, will give a grade to any URL on the internet. It is critical that grades are broken down into individual categories so that more detailed comparisons can be made. In most cases, the separation between a #1 website and a #3 website is in the details.
Implementing Analyzed Competitor Data
Once data is analyzed it can be used to improve your website. One of the main takeaways from an SEO competitive analysis is keyword targeting. If competitors are ranking high for a specific keyword, the data can tell you why you are lagging behind. Perhaps you lack a keyword in your meta description or title tag. Perhaps you fail to use the keyword in your body content. Whatever the case may be, it can be corrected.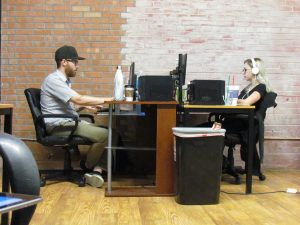 Plumbing Webmasters is the top SEO competitor analysis resource for plumbing contractors. Not only we will analyze your website vs competitors but we will implement our findings to improve your overall online presence. If you are tired of ranking towards the bottom of Google SERPs for industry keywords, the time is now to invest in a new marketing plan. 2020 can be your year. For an SEO competitor analysis for all of your local plumbing competitors, call us (877) 388-9884.