Reaching consumers through organic social media posts has become increasingly difficult in recent years. Facebook announced their newsfeed algorithm update back in January which rendered branded Facebook posts effectively useless. The organic reach of tweets has always been limited because the shear frequency of activity on a Twitter timeline. Instagram, LinkedIn, and YouTube still offer organic opportunities, but the industry as a whole is headed towards advertising. Social media advertising presents the following advantages:
Measurement: Collect and analyze advertising performance data
Lead Generation: Increase interest in your services
Targeting: Advertise to a defined location and / or demographic
Visibility: Ensure visibility on social newsfeeds
Most social platforms support the aforementioned targeting which allows you to define the audience in which you advertise to. Having data from other ad campaigns, such as PPC, can help you select parameters for your target customers. Facebook offers the most extensive targeting options because of the informational requirements for their account sign up. Facebook knows the names, ages, locations, and even occupations of most of its users. For social media advertising services, give us a call today at (877) 388-9884.
Best Social Networks For Plumber Advertising
Each platform offers unique advantages as it pertains to online advertising. For the plumbing industry specifically, there are some networks that are better than others, because of their audience. Snapchat, for example, is not a platform worth advertising on in its current state. The users are comprised of a much younger demographic, most of which will not be inquiring about plumbing services in the near future. These are the types of variables to keep in mind when paying for ads. The best advertising platforms for plumbers include:
Facebook
Instagram
LinkedIn
Twitter
YouTube
Each of the platforms above consist of people who are potential customers, making them great outlets to increase brand awareness and generate leads. As we mentioned, organic marketing on social networks is a dying technique, as platforms like Facebook have essentially legislated it out, while others like Twitter are not conducive to it by their very nature. Plumbing Webmasters will help you choose the best networks for your specific business goals in 2018 and develop an advertising campaign that will enjoy sustained success. We work with plumbing companies both large and small to meet your individual criteria and to help establish your online presence through social media.
Reasons To Choose Plumbing Webmasters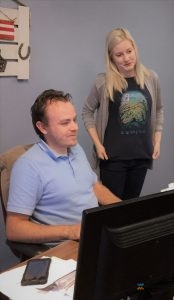 Lot's of options exist, but Plumbing Webmasters is one of few that focuses specifically on the plumbing industry. Our years of experience managing digital advertising campaigns for plumbers gives us a leg up in both experience and data in comparison to other marketing companies. Each industry is different, and applying concepts cross-industry does not always translate in an efficient manner. We make data-driven decisions based on analytics so that you can be confident in our strategy.
Our agreements are month-to-month allowing you to hold us accountable at all times. Unlike other companies that lock you into a long-term contract, we provide monthly opt-outs. Why do we do this? Because we are confident that you'll never want to leave once you experience the results that our services can provide to your plumbing company. We value professionalism and transparency, keeping you updated on our day-to-day tasks and offering reports to help you gauge your current standing. Call (877) 388-9884 for plumber social media advertising services.