Remember Google Plus, that social media platform that was supposed to take over Facebook and dominate the social landscape for the next century? It didn't quite work out as planned. So much so, that the question "Should I even have a Google Plus page" is more than legitimate. The answer, as with most things, is; "It depends."  While Google Plus is no longer a viable social media platform, it can serve other purposes for plumbing companies, including:
Google Integration: Integrate your Google My Business page, and Google Maps listing
Lead Generation: This is a long-shot, but you never know where your next lead could come from
Search Visibility: Take up more real estate on search results
Spending excessive time improving your Google Plus profile is fruitless, but to ignore it altogether is counter productive. Its affiliation with the world's top search engine gives it inherent value, and is enough to make a pedestrian level effort worthwhile. Taking up space on Google SERP's is always a good thing, and any time you can brand an element of your web presence, even if its only for a limited set of eyes, it does more good than harm. Call (877) 388-9884 for Google Plus marketing for plumbers.
Google's Impact on Branded Search
For those of you unfamiliar with marketing jargon, branded searches are queries that include a company's brand name. These searches are common for users who are already aware of a company's existence, but are looking for additional information on their service, whether it's a phone number, address, or hours of operation. If you are "Joe's Plumbing Service," a Google search of "Joe's Plumbing Service" is going to return brand-specific results. Examples of this include:
Directory Listings:  Business citations on platforms like Google My Business, Yelp, and HomeAdvisor
Knowledge Graph: For locally optimized plumbers, a brand-specific search will yield their company profile on Google's knowledge graph, which is essentially an enhanced SERP presentation
Social Media Profiles: Company social pages on Facebook, Twitter, Instagram, and yes, even Google Plus
Video Content: A branded YouTube channel with uploaded videos
Because of Google's wide scope, which includes search results, Google My Business, Google Maps, and even a YouTube affiliation, the presence of an optimized Plus page better prepares your business for branded search. Although the benefit is minimal, it is enough to make the task worthwhile. Taking up space on SERP's for branded searches, further establishes your brand as an authority in your industry and service area.
If Not Google Plus, Then Where?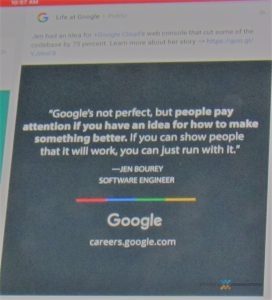 Google+ is no longer a social media factor. So where should plumbing companies focus their social media attention? Several places, but Facebook, Instagram, Twitter, LinkedIn, and YouTube are the primary sources for social networking in today's landscape. Each of these platforms offers a native tracking and analytics tool to measure the progress of your social reach, and help you improve your overall strategy. Plumbing Webmasters is happy to walk you through all of your social media options.
Is Google+ dead? No, it still exists, but it's value is at an all time low. We detailed ways in which the platform can still be useful for contractors, but at the end of the day,you shouldn't spend any significant time or resources improving your Plus page. What was once lauded as the successor to Facebook, has become an afterthought in the social media community. That won't be changing any time soon either, so it's best to focus your efforts elsewhere. Call (877) 388-9884 to discuss Google + for plumbers.