Digital marketing in 2020 relies on mobile users and their devices. Google calls decisions made in this context; micro-moments. Plumbing companies across the nation should cater their presence to meet the needs of mobile users this year by maximizing these moments. As Google describes it, there are 4 game changing moments that really matter:
I Want to Know Moments: Users exploring or researching, but not necessarily in "buy mode"
I Want to Go Moments: Users looking for a local business in their immediate area
I Want to Do Moments: Users wanting help completing a task or trying something new
I Want to Buy Moments: Users ready to buy right now
With modern technology all of these moments translate into immediate action. Remember, users are on the go when they these moments arise and they have a comprehensive piece of technology in their fingertips to produce instantaneous results. Plumbers must take advantage of this opportunity.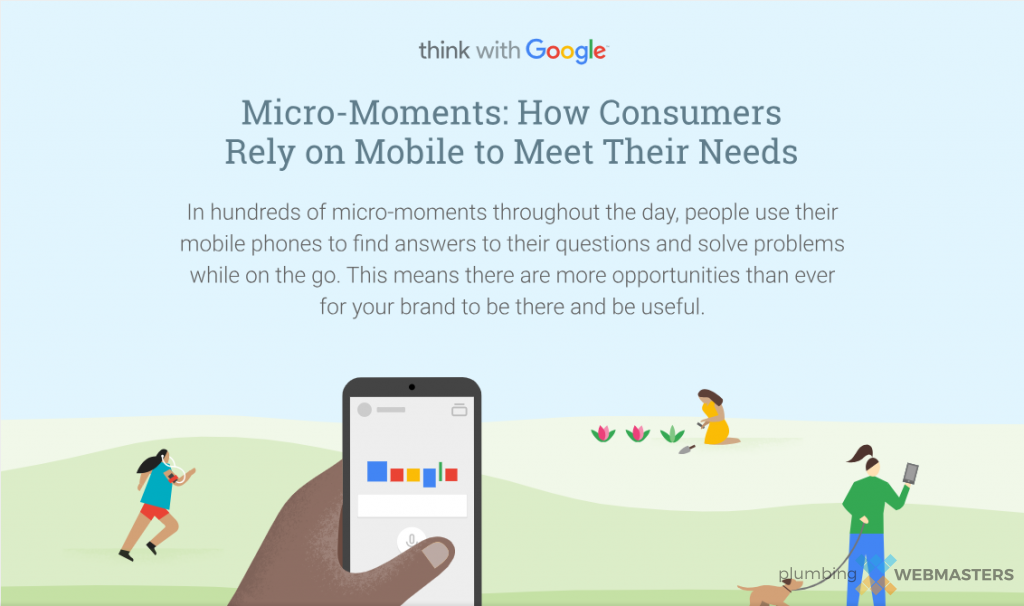 Source: Think With Google
How Plumbers Can Optimize Micro-Moments?
During these moments users expect results on the spot. Attention spans are exceedingly short, and time is of the essence for marketers. That's why consumers are most attracted to brands that deliver results fast. So much so that the difference between them choosing you or your competitor can be a matter of seconds. According to Google, there are 3 ways to prepare:
Anticipation: Understand your audience's needs beforehand
Accountability: Account for all kinds of devices, screens, channels, etc
Experience: Ensure the experience itself is a positive and relevant one
In the past 2 years local searches that included the words near me have increased by 900%. Similarly, nearly ⅔ of mobile users are more likely to choose a company that customizes content to specific locations. In the case of plumbers users will only be interested in plumbing services within a certain radius, whether that is a zip code, county, or a metropolitan area.
The Plumbing Webmasters Advantage
Mobile micro-moments are the cutting edge of internet marketing in 2020. Companies that win these moments will earn the most revenue this year. This is the time to invest in learning, anticipating, and ultimately capitalizing on micro-moments. Plumbing Webmasters offers internet marketing services to plumbers throughout the United States. We are ready to help you win these moments.

Other marketing agencies exist online but not many of them specialize specifically in the plumbing industry. Those that do tend to use sales routines that are not relatable to the hard working contractor. Plumbing Webmasters is different because we care. With years of experience working with plumbing contractors we are at forefront of marketing research and help give our clients an advantage over competitors.
Call (877) 388-9884 to Learn More About Micro-Moments