Branding your plumbing company online is critical in 2020. A brand serves as the identity of your business and influences users to either choose your services or to avoid them. Sometimes plumbers confuse traditional branding with modern online branding. Another mistake made by local plumbers is thinking about their brand on a national scale rather than a local one. As a plumbing contractor, you shouldn't aim to be Coca Cola or Nike. So what factors determine a plumbers online brand? See below:
Advertising Style: The channel and contents of your ads
Business Listings: Profiles on Google My Business, Yelp, etc.
Company Logo: The visual representation of your brand
Company Philosophy: The goals and objectives of your company
Content Voice: The tone and flow of your marketing content
Social Media: Profiles on Facebook, Instagram, LinkedIn, etc.
Each of these things contributes to your brand identity and help customers build a perception of who you are and what you represent. Branding is very much about loyalty and building a sustainable customer base. With that in mind, your identity must be associated with qualities that encourage those things. For example, authority, transparency, and locality are three characteristics of a successful brand. Authority earns credibility, transparency builds trust, and locality connects with people on an emotional level.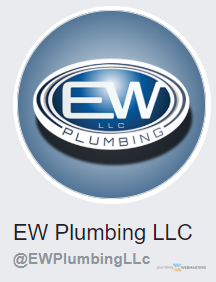 How Branding Impacts Online Presence
Google identifies brands based on visibility first and foremost. Having profiles on Google My Business and Facebook should be second nature for plumbers. Without any kind of online presence, your brand ceases to exist through Google's lens. Even if you have a strong following via word of mouth, it will not translate online — meaning you won't attract new customers who are looking for services that you offer through Google search. Understanding how online branding leads to tangible sales conversions is important for contractors. The following brand components impact online presence:
Keyword Research: Use tools like Keyword Planner to find underutilized keywords in the plumbing industry
Logo Design/Placement: Replace or improve your current logo, and display it optimally across internet platforms
NAP Optimization: Be consistent with contact information, and logo uploads, throughout online directories like Google My Business, Yelp, BBB, Angie's List, and HomeAdvisor
Social Profile Optimization: Upload your logo, optimize your profile, and share engaging content, on Facebook, Twitter, Google Plus, and others
The brand development process takes place through a series of techniques and activities including; search engine optimization (SEO), logo design, and name, address, phone number (NAP) consistency. Implementing these techniques and activities can significantly enhance your brand recognition. The more times people see your name and logo, the more they will begin to store it in their memories. Similarly, the more places you make your presence felt throughout the internet, the further your brand recognition will extend. Brands should extend offline as well with truck wraps, business cards, and other marketing materials.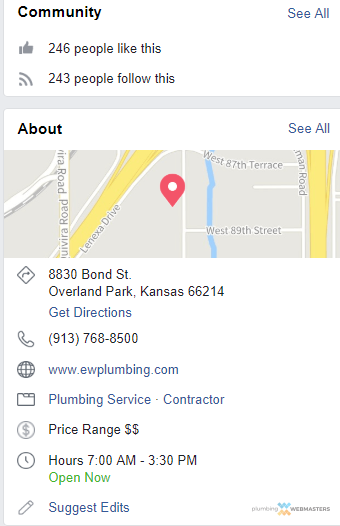 Online Branding Channels for Plumbing Companies
Every plumbing company should know who they are, what they offer, and what they stand for. Plumbers can write a mission statement that connects intimately with their target customer. Implementing mission statements and the aforementioned logos onto your branding channels is important for more than one reason. First it adds consistency to your online message which some refer to as "staying on brand." Second it ensures completeness to your online profiles which is important for SEO. You should monitor the following channels for profile completeness and brand development:
Facebook: The top social media site in the world should, at the very least, list your brand and contact info
Google My Business: The foundation of local search results is invaluable for plumbing companies
Twitter: Plumbing contractors should be accessible on the platform known for up to the second information
Yelp: Your company's trust is largely based on this popular non-Google review site
YouTube: Video content is becoming increasingly popular, and therefore beneficial for SEO
As Google moves towards a more comprehensive, user-friendly, search platform, plumbing companies must develop their brand to meet the standards of trust, expertise, and authority. If you are a plumbing company overwhelmed by the state of internet marketing, save yourself the stress and contact Plumbing Webmasters. Our background in SEO services, combined with our working relationships within the plumbing industry make us the perfect match for your company. We will develop your brand online.

Call Plumbing Webmasters Today at (877) 388-9884