As social media becomes more prevalent in our society, businesses are learning to use it to their advantage, presenting branded material, special offers, and much more to get online traffic to their website. Social media marketing can help your water restoration company become more well-known in your local area as well as providing your prospective customers with the information, details, and links needed to learn about and contact your company.
To compete in your local market today, social media engagement is a must. However, the research, planning, application, and analyzation that are needed to create an effective advertising strategy can be time-consuming and overwhelming. At Plumbing Webmasters, our social media experts are efficient at content promotion, so that your website content spreads among Facebook and Instagram users. Our professionals can also create original social ad campaigns for your water restoration company that produce more leads and a better return for your marketing dollars.
Plumbing Webmasters can manage your social advertising accounts including: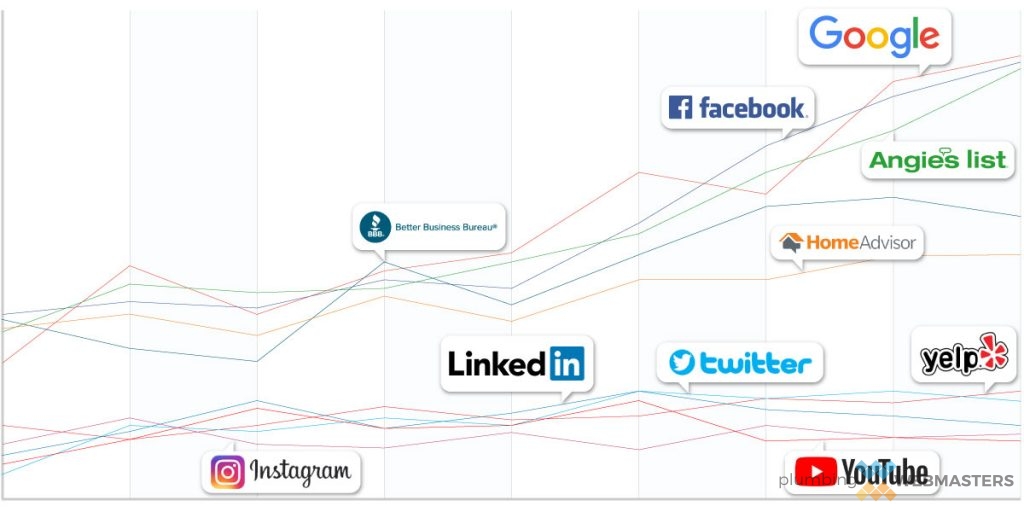 Two top components of social media advertising are precise targeting and compelling messaging. That means utilizing each platform's incredible research to study your target market and produce ads that address their needs. At Plumbing Webmasters, we will work directly with your team to formulate the ideal social strategy that can advance your restoration company in 2019.
Call (877) 388-9884 for water restoration social media marketing!
Growing Your Social Media Brand
Brand development is one of the most important aspects of social media. Each platform serves as a channel to develop a brand identity, encourage customer growth, and establish authority within your industry. With this in mind, you'll want to have a strategy to adhere to, BEFORE you start implementing content. New restoration companies may find it difficult to grow their following at first but can make good progress with a few guidelines.
Ways to enhance social outreach include:
Content Curation: Sharing external content that is industry appropriate
Performance Tracking: Utilizing native analytical tools to measure production
Scheduled Posts: Consistent posting based on a predetermined schedule
User Engagement: Interactions with other users and brands, which promotes growth
Too many companies make the mistake of post automation as part of their social media strategy. Users are able to distinguish automated content from original, hand-crafted posts. Research shows the latter receives a higher level of engagement and subsequently encourages growth. Spam has become a major hindrance to the social media experience, and platforms are adjusting their algorithms to promote worthwhile content, rather than mindless drivel.
As you (or your social media expert) post to your Facebook and Instagram accounts, avoid the mistake of automation. Make it personal!
Marketing and Remarketing With Social Media
Social media today can not only be used for organic purposes, but it can also be utilized for pay-per-click advertising. These PPC ads are shown to a customized audience which can be adjusted by location, lifestyle, age, and multiple other demo and psychographic options. Because PPC ads are shown to a specific audience, generated leads are considered to be "hotter" than most other resources.
Along with PPC options, many social media platforms, such as Facebook and YouTube, offer remarketing options that re-present your water restoration company's information to an audience that has previously visited your social page or clicked on an ad. Remarketing presents unparalleled opportunities for conversion and is one of the top ways to get a higher ROI for your company's marketing dollars.
The Value of Social Media Presence
Most of your customers, both current and prospective, are on some form of social media during the day. Whether it is Facebook, Instagram, Twitter, LinkedIn, or YouTube depends on individual preference. One undervalued aspect of social presence is its contribution to customer service and public relations. By being active and present on social platforms, you are creating a valuable line of communication to customers. Interacting with them professionally can improve your restoration company's public perception.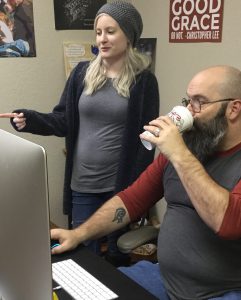 If you view the social landscape as real estate, certain properties are for sale, while others are for rent. An on-site forum could be considered a form of social media, and one that you own. The popular platforms like Facebook and Instagram, on the other hand, are spaces that you rent. While you can control your pages on these networks, you don't control the website itself, limiting the authority you have over the web property.
With that being said, there is simply too many opportunities to build lasting connections and establish your brand through social media marketing. Our team at Plumbing Webmasters can reach interested consumers through targeted ad campaigns, transforming them into high quality leads. To further discuss social media marketing for water restoration companies, call us at (877) 388-9884.