Mobile internet usage is responsible for 71% of total digital minutes. This number is astounding, considering where we were, only a decade prior. The advancements in smartphones, and other mobile devices, has expedited the evolution of the internet, and rendered desktop internet usage obsolete. Plumbing companies must follow suit and create the best and most user-friendly mobile website for consumers. Every mobile website should consider the following elements:
Accessibility
Display
Navigation
Site Speed
Mobile design is especially important for local businesses, like plumbing companies, because most local searches happen on mobile devices. Users on-the-move are also more deliberate with their queries, and actively seek local services. Any misstep in the mobile design process can A) prevent your website from showing up on search results, and B) encourage users to exit your website after entrance. Call Plumbing Webmasters at (877) 388-9884 for elite mobile web design services.
Additional Mobile Website Features
Well designed mobile sites have more than accessibility, display, navigation, and speed. With Google API's, which are blocks of JavaScript that allow web developers to easily add snippets to their code, a wealth of exciting features can be added within the framework of your mobile design. Our  web design team looks to integrate the following elements into your plumbing mobile website:
Autoplay Videos: Introductory videos of your business to prospective customers
Click To Call: Embedded phone number links which connect mobile users to your phone line
Google Maps: Location data that can route local users to your business headquarters
Conversions are actually easier on mobile because the prospective customer already has the main line of communication on their person. In more traditional marketing campaigns, you have to urge the customer to exert effort, and take time out of their day to connect with your offices, and strike up a conversation. With mobile websites, this is not the case, as a simple finger tap can initiate a conversation instantly. The possibilities are great for plumbing companies.
Why Plumbing Webmasters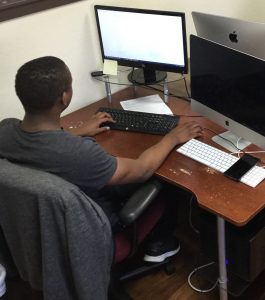 Many companies offer mobile web design, but how many of them are specific to the plumbing industry, and also offer a full range of internet marketing services? As you may or may not know, mobile web design is only the beginning of a successful marketing strategy. In addition to design, our services include local SEO, PPC campaigns, social media marketing, and NAP citation listings. We stay on top of the latest Google algorithm updates, so that your website is always ahead of the curve.
As valuable as mobile design is, for a website to rank prominently for relevant keywords, it must practice sound link building protocol. Google gauges the authority and credibility of websites based on their link associations, and web crawlers navigate a website through both internal and external links. At Plumbing Webmasters, we'll help your company earn quality backlinks through regular blogging, and social media marketing. But first thing's first; call us today at (877) 388-9884 for plumber mobile web design services.