Mobile internet usage is responsible for more than 50 percent of total internet use. In the past decade, the way people view the internet has shifted dramatically to mobile and tablet viewing over desktop and even laptop use. Along with the public's expectancy for immediately available information, they have acquired an expectancy for quick websites that take only milliseconds to load. With mobile web design, your plumbing site is easily accessible from mobile devices as well as traditional computer viewing to ensure a positive user experience, every time.
In order for plumbing companies to compete in today's marketing environment, they must have a mobile-friendly site that provides accurate information in a compelling format. Mobile-friendly websites offer benefits in many areas that can add to the success of your plumbing site.
Accessibility: When your site is optimized for mobile use, key elements like menus, buttons, and navigation are altered for better viewing.
Display: Mobile plumbing sites offer a clear, uncluttered display with an arrangement that's specifically for mobile device display.
Navigation: Mobile sites deliver an altered navigation system to ensure that your site is easily navigable for a better user experience.
Site Speed: Viewers have become impatient when it comes to site load times. Ensure your site loads quickly no matter what the viewing device.
Since most of today's services are found through mobile search, mobile design is especially important for local businesses, like plumbing companies. Users on-the-move are also more deliberate with their queries, and actively seek specialized local services. Any misstep in the mobile web design process can
A) Prevent your website from showing up in Google search results, causing fewer leads
B) Lead users to exit your website just after entrance, leading to higher bounce rates.
Call Plumbing Webmasters at (877) 388-9884 for elite mobile web design services that keep your plumbing site in the limelight.
Additional Mobile Website Features
Well designed mobile sites have more than accessibility, display, navigation, and speed. With Google API's, which are blocks of JavaScript that allow web developers to easily add snippets to their code, a wealth of exciting features can be added within the framework of your mobile design. Our web design team looks to integrate the following elements into your plumbing mobile website:
Autoplay Videos: Company videos that begin when the webpage is opened
Click To Call: Embedded phone number links which connect mobile users to your phone line
Google Maps: Location data that tells Google and visitors where you are located
Conversions are more likely from mobile-friendly sites because the prospective customer can simply click a button to call directly. In more traditional marketing campaigns, you have to urge the customer to exert effort, and take time out of their day to connect with your offices, and strike up a conversation. With mobile web design, this is not the case, as a simple finger tap can initiate a conversation instantly. The possibilities are outstanding for plumbing companies!
Why Plumbing Webmasters
The Plumbing Webmasters team not only offers customized mobile web design, but we are also specific to the plumbing industry and can deliver a full range of internet marketing services that work especially well in your field. As you may suspect, mobile web design is only the beginning of a successful marketing strategy. In addition to design, our services include local SEO, PPC campaigns, social media marketing, and NAP citation listings. We also stay on top of the latest Google algorithm updates, so that your website is always ahead of the curve.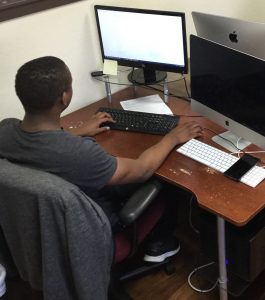 As valuable as a mobile design is, for a website to rank prominently in search results, it must include a sound link building strategy. Google gauges the authority and credibility of websites based on their link associations, and web crawlers navigate a website through both internal and external links. At Plumbing Webmasters, we'll help your company earn quality backlinks through regular blogging and social media marketing. But first thing's first; call us today at (877) 388-9884 for plumber mobile web design services.