Branding is an important part of online marketing for plumbers. To establish a notable brand, you must represent it with a well-designed logo. You don't have to re-invent the wheel with your logo, a sentiment highlighted by the simplicity of many of America's top logos. Nike, McDonald's, and even Twitter all present simple logos that have stuck in the collective consciousness of consumers.

Your Company Logo Should be Clear and Simple.

For a plumbing company, the logo design process should be similar. Your logo should be unique and represent the traits and values of your company, much like the Nike Swish does for the Nike brand. A good plumber logo is:
Distinguishable: Can be differentiated from industry competitor logos
Suitable: Appropriately represents your company and its ideals
Understated: Is simple and easy to look at
Versatile: Can be displayed on a wide variety of marketing materials
If you already have a logo for your plumbing company, our experts will re-energize it. We can improve on your present design, and highlight its strengths. We can also convert it into web-ready image files so that it can be displayed on social media profiles, business listings, and on your company website. If you are tired of your logo and want a completely new design, we can handle that too. Not only will we complete your logo design, but we will seamlessly integrate it into your custom website. To discuss logo design for plumbers, give us a call at (877) 388-9884.
What Logo Design Means For Branding and Brand Development
Branding happens on a psychological level. When consumers think about Starbucks, or McDonald's, or Nike, they have a clear image in their mind. While creating that effect on a global level may be unrealistic, plumbing companies can establish their logo within a local community. Think about the marketing materials on which your logo will be displayed. Business cards, websites, social profiles, directory listings, truck wraps, and more. As an image that will be forever associated with your plumbing company, you want it to be something you are proud of. Logos help brands with:
Building Local Community Trust
Making Memorable Impressions
Presenting Company Values
Promoting Brand Recall
The logo design team at Plumbing Webmasters takes each of these factors into consideration when creating a plumbing company logo. Investing in skilled designers who can capture your company's values, ideals, and principles, will be well worth the cost. One of the main advantages of using Plumbing Webmasters for logo design is that each logo is fully integrated with your custom website. We compress logo files for web-use so that they are displayed not only on your main site but throughout all corners of the internet.
Optimizing Logos For SEO
Believe it or not, logo files can and should be optimized for local SEO purposes. By partnering with Plumbing Webmasters, you ensure that your logo is fully prepared for web use. For those of you unfamiliar with photo optimization, you should consider the impact that optimization, or lack thereof, to images can have on search engine ranking. As is the case with any website image, the file should be compressed to a sleek yet high-resolution format. This helps to keep web page loading times short. In addition to compression, images should be equipped with alt tags, and renamed to appropriate file names.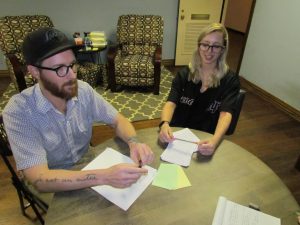 Google recently introduced schema markup for logos. This feature helps search engines distinguish which image file is the official logo for the company, and will use that image to market your services accordingly. Marking up a logo increases your company's chance of being featured on Google's knowledge graph, which is a highlighted portion of search results that appear towards the top right of traditional search results. By appearing on the knowledge graph, your plumbing company increases its search visibility, exponentially. Call (877) 388-9884 for logo design and optimization services for your plumbing company.