Plumbing websites serve as a digital business card for your company. Studies show that your website's first impression can influence customers to use your services or move on to a competitor. For instance, a typical user forms an opinion about your site in just 50 milliseconds. A variety of factors determine website quality and how users respond through engagement.
A quality plumbing website makes finding plumbing services easy and contact information, like a phone number and email address, accessible. Your website aims to generate new customers and help grow your plumbing company in the long term. Few companies master their web presence, but Plumbing Webmasters suggests ways you can.
Plumbing Website Examples
1) Westside Plumbing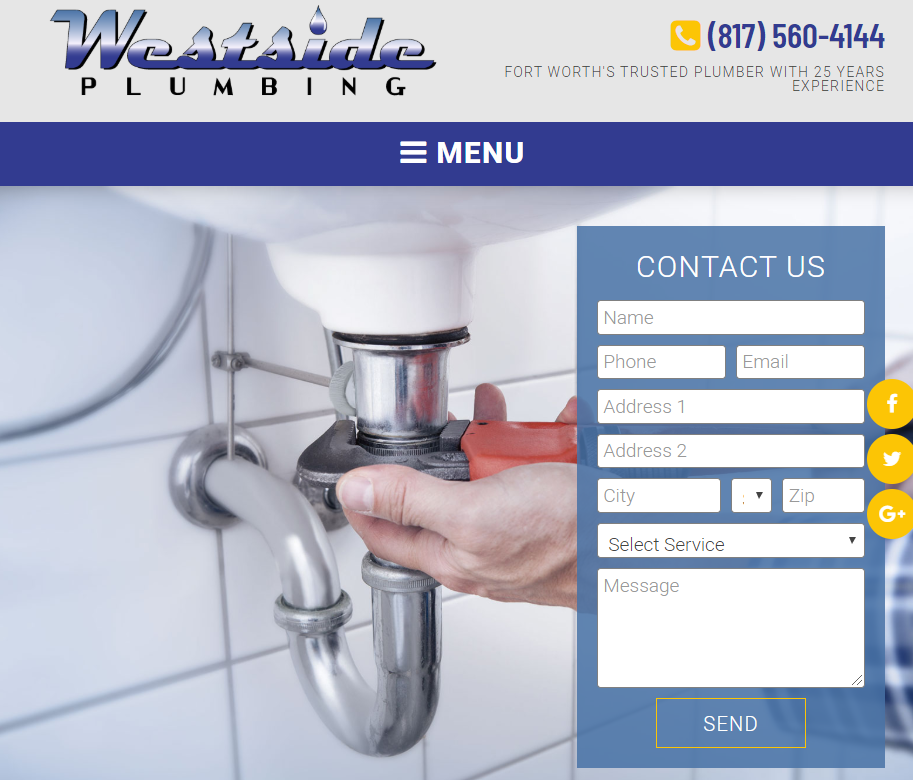 One of the most trusted and dedicated services in the Fort Worth area, Westside Plumbing manages to set itself apart from the competition through quality and consistent work and a website that makes it easy for customers to navigate and find information quickly.
Westside Plumbing has a website that cleanly delineates each of its services. There are tabs for individual residential services as well as commercial services. You can find a dedicated landing page for everything from faucet repair and installation to garbage disposal repair and everything in between.
Best of all, their contact information is everywhere. If you enjoy what you see on the website, an easily accessible phone number shows up, so you won't have to jump around to find contact info. The contact form shows up right on the home page with the ability to choose specific services.
2) Pittsburg, CA Plumber
There are countless plumbing services throughout California, and with good reason: it is one of the most densely populated states in the union. Surely there will be a vast array of services, all vying for the same audience.
With a clean website, Pittsburg Plumber manages to stand apart from a sea of competitors. They have a clean layout that makes it easy to navigate and individual landing pages for each service to make it easy to find relevant content.
Not only that, their contact info is everywhere, so you won't have to jump around to look for a phone number or address. Some of the best services around might have websites that make it difficult to find even the most elementary information about them. That's why it is critical to have engaging plumbing website content.
3) Patrick E. Chase Plumbing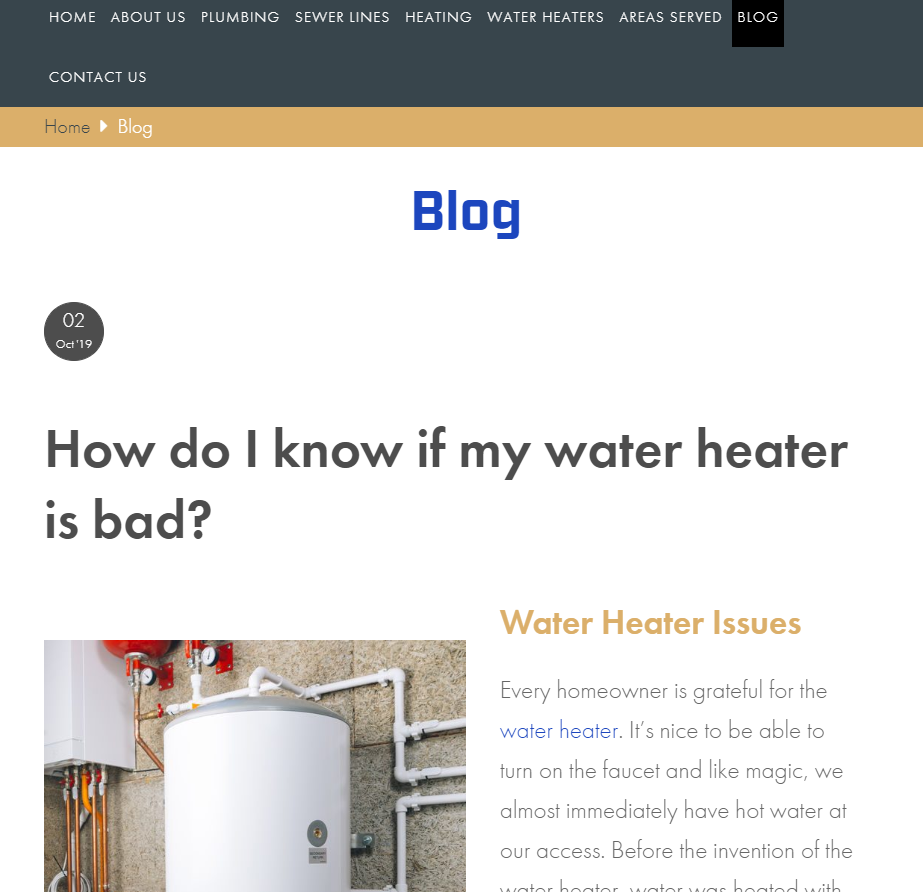 Not every plumbing business has to have a fancy name to get the recognition that it deserves. Sometimes, all you need is a dedicated, professional service and a clean, concise website to bring you the kind of brand recognition that most businesses would love.
Patrick E. Chase Plumbing doesn't have anything flashy on its website, just a clean design and easily accessible information. When you are trying to find the information you need to get plumbing repairs done, the last thing you want is to have to jump through hoops to find the information you need.
Their website also offers a blog that has helpful tips for a variety of different subjects. If you ever wondered what could make your water heater go wrong, their blog can offer you helpful hints. Smooth and to the point, this is how a professional website should look.
4) Lionfish Plumbing of CA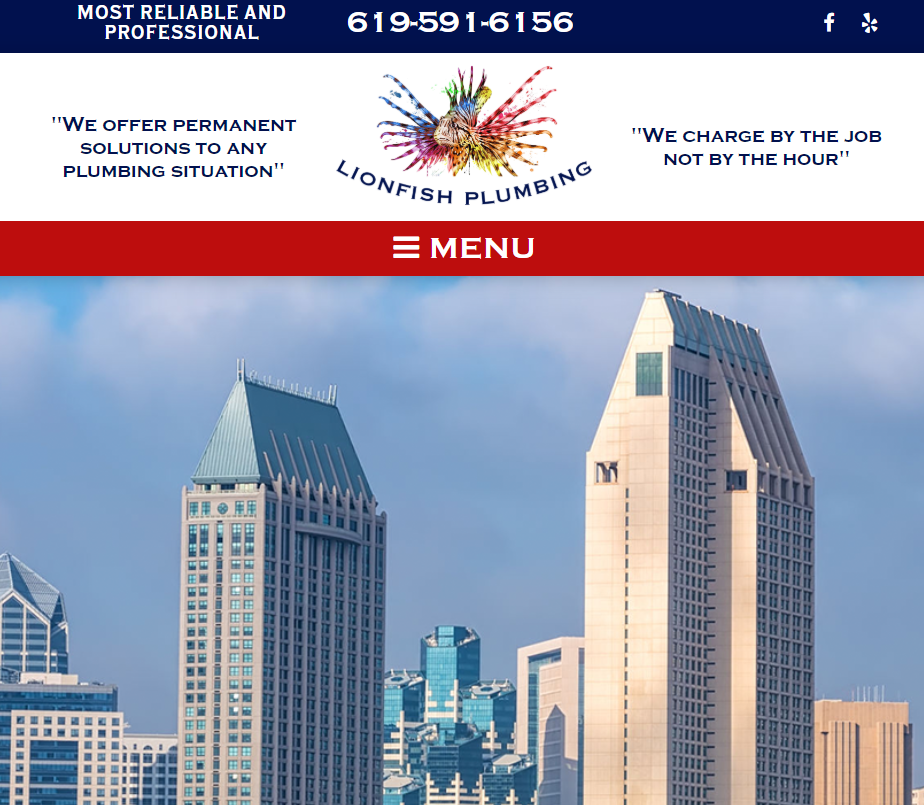 As mentioned previously, there are a considerable number of plumbing services are available throughout the state of California. It can be challenging to differentiate them and to determine which one is the best for your buck.
But Lionfish Plumbing of CA manages to stand out from the rest of the pack by providing quality work and a clean, concise website for their prospective customers. If you ever doubted the kind of service Lionfish Plumbing provides, one look at their website will change that in a heartbeat.
Their website is categorized cleanly and efficiently. Customers can navigate their way through with complete ease, finding the landing page they are looking for without a hassle. And never worry about finding contact info; it is on every page, making it easier than ever to contact them.
5) Hot n' Cold Plumbing & Gas Piping
If you need plumbing services in the greater Huntsville, AL area, there is one name that stands out above the rest: Hot n' Cold Plumbing & Gas Piping. They provide quality customer service and even better home services.
In addition to the vast array of services that they offer, neatly parsed out through category dropdowns and individual landing pages, they also have a dedicated reviews section. Testimonials are great for determining the company's trustworthiness.
Hot n' Cold Plumbing & Gas Piping remains one of the best names in the plumbing business, and their website is an exact representation of both the services they offer and their level of professionalism.
6) Piece of Mind Plumbing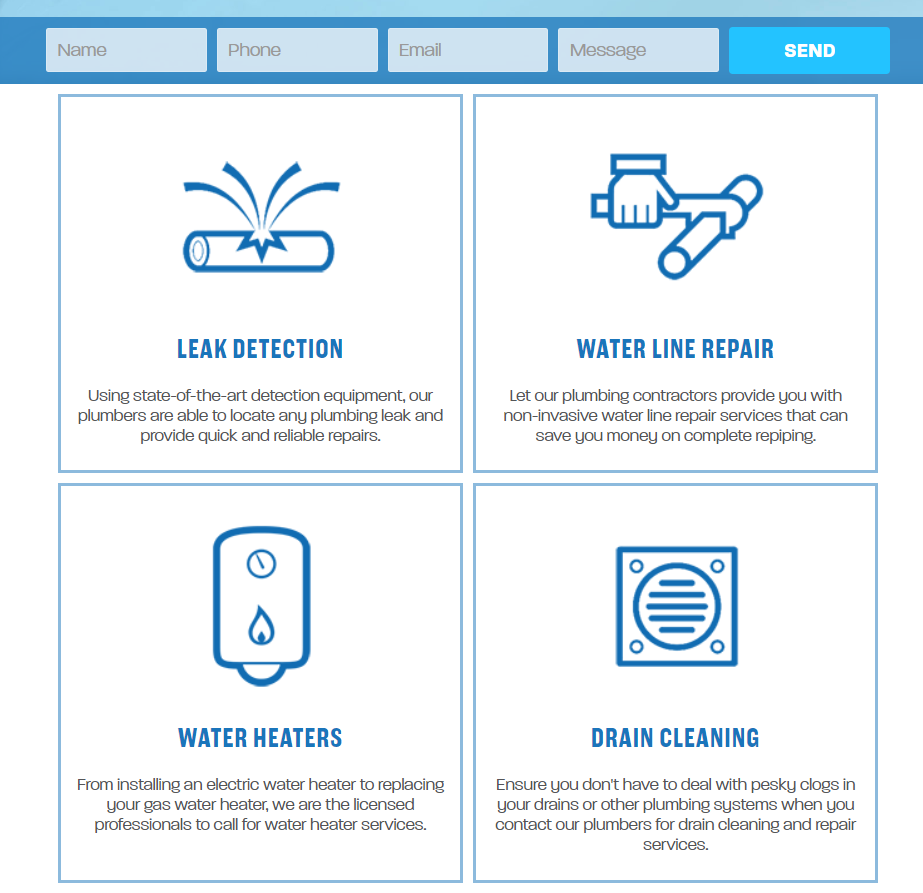 Based out of Fort Worth, TX, Piece of Mind Plumbing is a 24/7 plumbing company and service. They are there whenever a plumbing need arises because they understand that plumbing problems don't have a set of dedicated hours.
When it comes to their website, they make it easy to contact them with a few fields of information at the bottom of their website so that they can get your essential contact information. With an affordable and quickly responsive service that makes them a favorite throughout the area.
Don't deal with a supposedly professional company that doesn't have a professional-looking website. Turn to pros who reach their customers and allow them to get the information they need for the job. Piece of Mind Plumbing has a website that rivals some of the best in the business.
7) Service Force Plumbing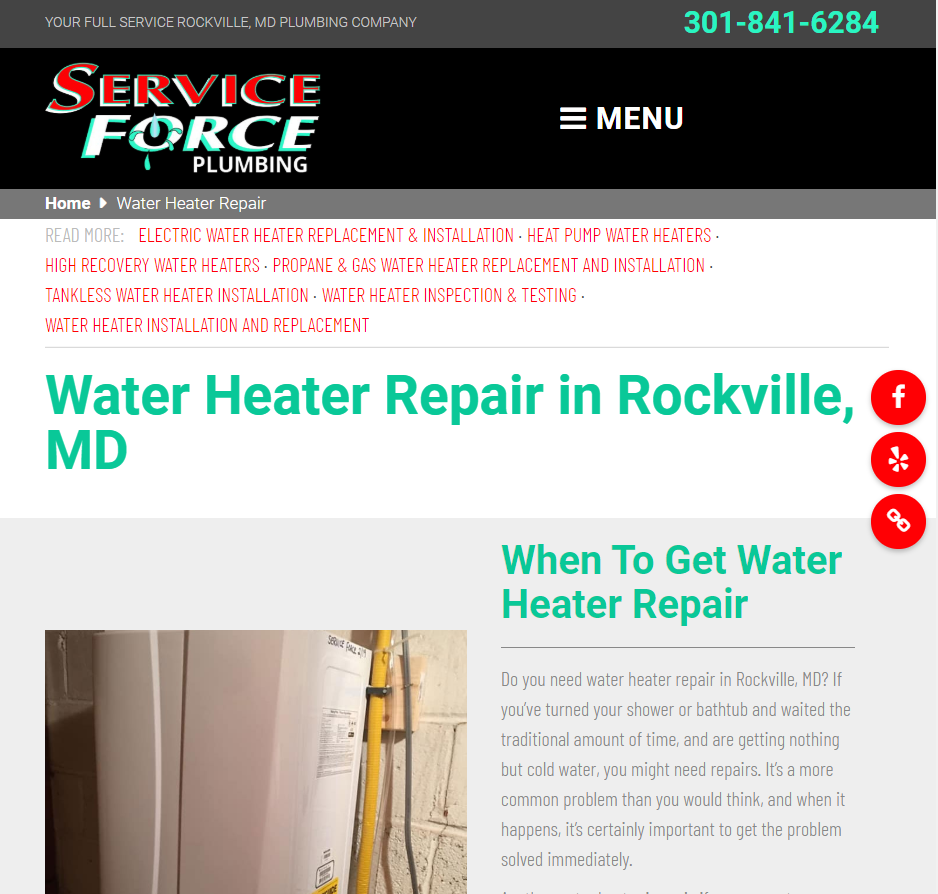 If you live in the Rockville, MD, area and need plumbing repair services, there is no name you need to know other than Service Force Plumbing. They have been a full-service plumbing company for years and selected as one of the best of 2019, according to HomeGuide.
They have a keen understanding of what is needed for customers when perusing a business' website. They parse things out individually by category and service, allowing potential customers to find specific service pages and information.
In addition to easily accessible contact information, they also have reviews from actual customers so that you can see just what others experienced when using their service. A few websites are this clean and easy to navigate; that means your prospective customers find what they want quickly.
8) Sunset West Plumbing & Rooter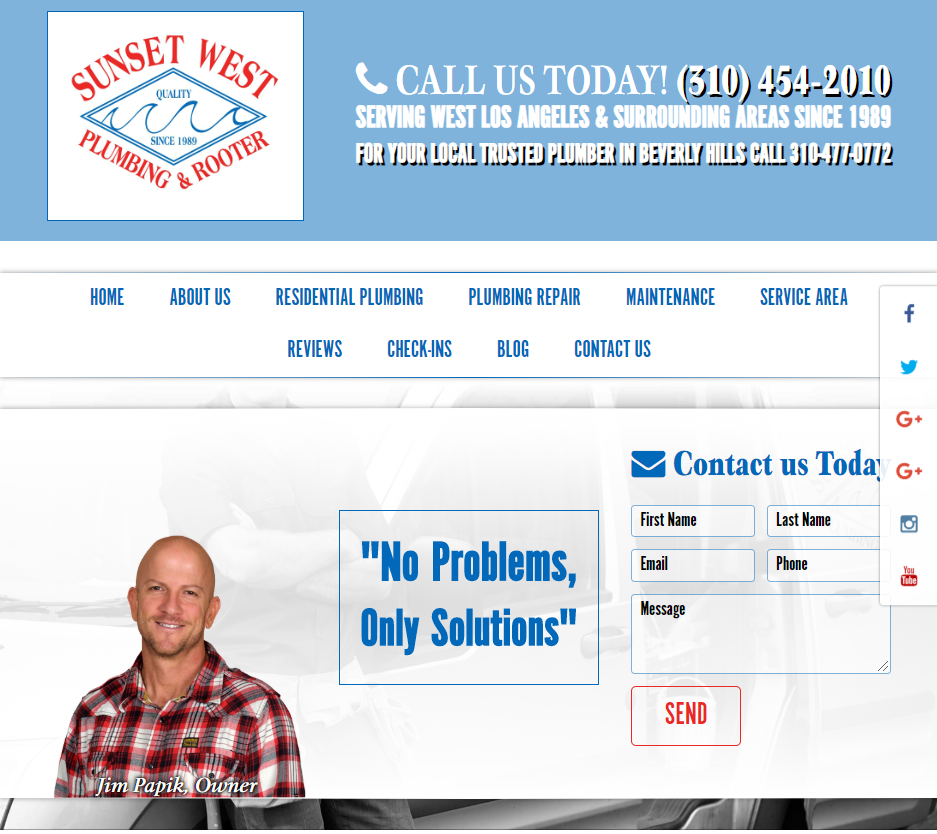 When you are looking for plumbing service in a hurry, you don't want to fiddle around with a website that is not intuitive. Some websites can be overly clunky and make it difficult for you to find the information you need before selecting.
Sunset West Plumbing & Rooter is one of the best plumbing websites on the web. Their site is clean and simple, getting you to where you need to be in a hurry. Their contact information is all over the site, so you can get to them with just a single click, regardless of where on the website you happen to be.
They outline their dedicated service area to find out if you fall into their service area and not have any doubts. With the number of services they offer, they make it easy to find anything with a single click.
9) Top Shelf Plumbing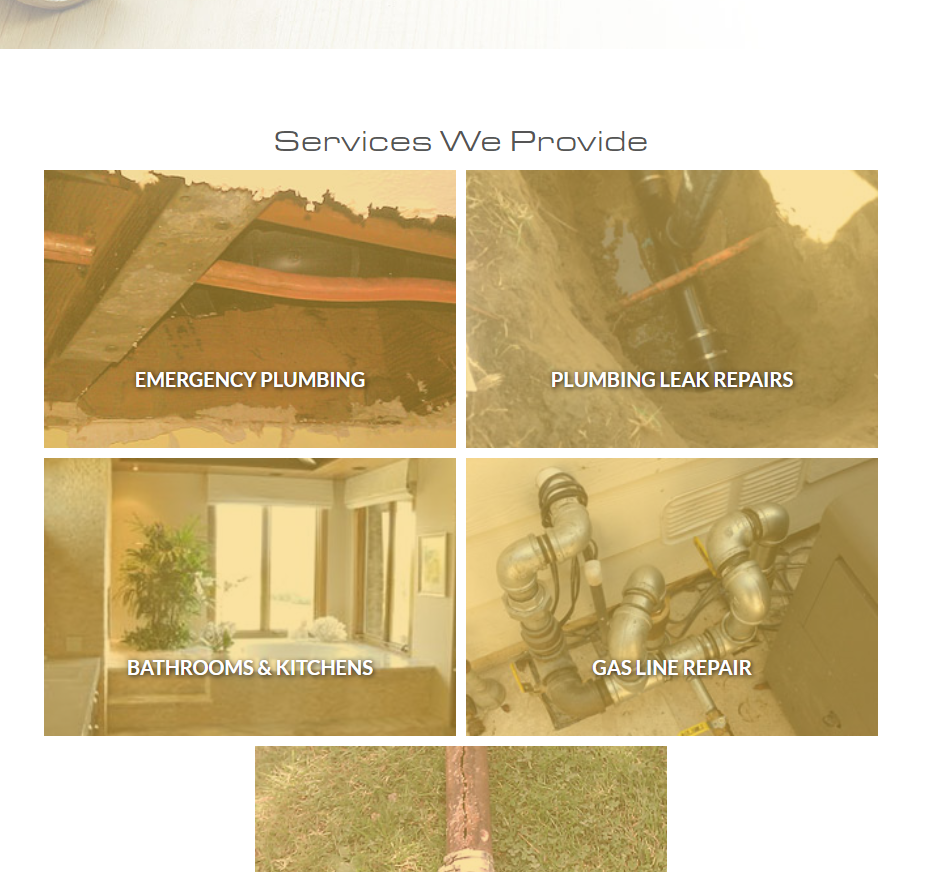 There is something to be said about the presentation. While it is not necessarily the most crucial thing, it can dictate what prospective customers think about your plumbing business. Having a quality plumbing website is of the utmost importance, especially in a crowded business like plumbing services.
Top Shelf Plumbing manages to stand out. In Orange County, CA, there are endless choices for plumbing services, but Top Shelf stands out for various reasons.
One of these is that their website is sleek, modern, clean, and easy to navigate. You cannot only find the page that you are looking for with little to no effort, but you can also contact them on one of their social media outlets just as quickly.
That level of accessibility and ease is what separates a quality company from the rest. Top Shelf truly is among the best around, and their website is evidence of that.
10) KRK Enterprises, Inc.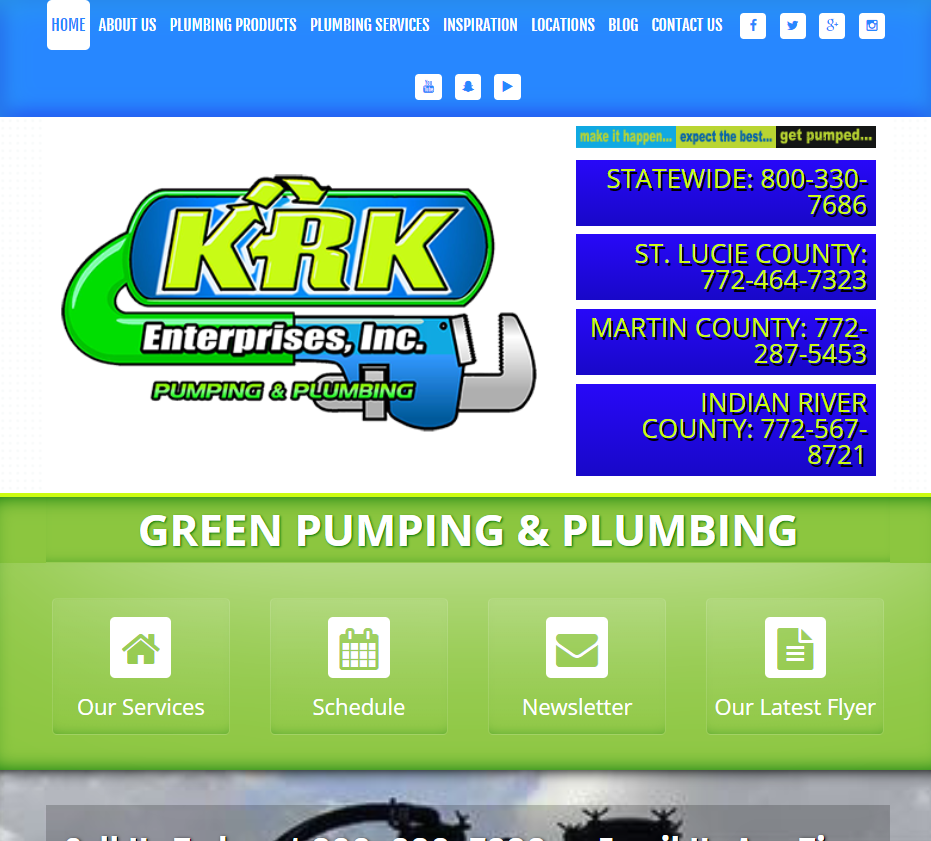 One of the critical aspects of a plumbing website is the color scheme. It sounds pretty trivial, but it's true. Whatever the colors of your business or logo, it is essential to implement that color scheme throughout your plumbing website design.
It looks odd and unprofessional if your logo is one color scheme, yet your website is another. Color is a small but clear example of synergy throughout your website.
This kind of synchronicity is essential to display throughout a plumbing website. The pages that house your services should be clear and concise, which is necessary for your prospective customers to find the information they are after.
KRK Enterprises, Inc. does not have the flashiest of websites, but they grab the attention thanks to their bright color scheme and a well-laid-out group of information. Whatever question you might have, there is likely a link to the answer on the home page. That is a professional website.
11) Ingram Plumbing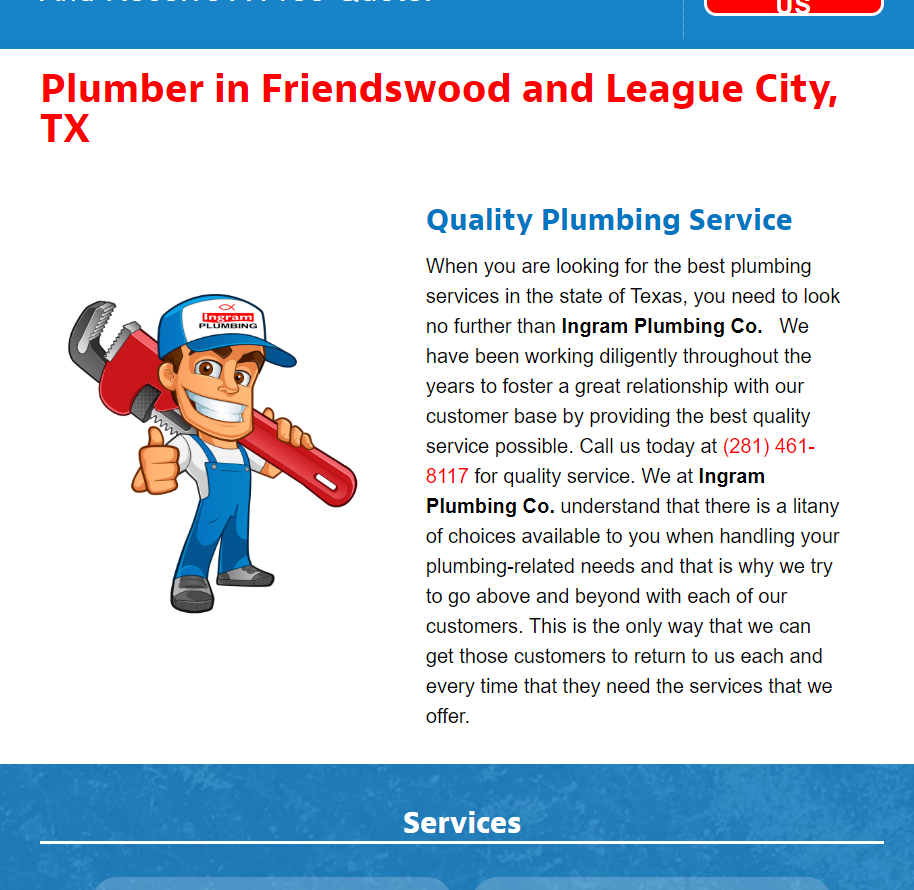 One underrated yet essential aspect of a professional plumbing website that doesn't get talked about is personalization. Many giant companies out there feel like big, soulless machines that are merely there for revenue.
When a company can implement a bit of humanity and care into its website, they have already managed to stand out amongst the pack. Ingram plumbing shows you their actual staff and actual job sites to feel what the jobs entail. Accessibility is essential when presenting a professional yet approachable image.
Ingram Plumbing continues to be one of the best in the business for many reasons, and its highly professional and fluid website is just one of many. League City, TX residents and those nearby should remember the name of this company.
12) Delk Plumbing, Inc.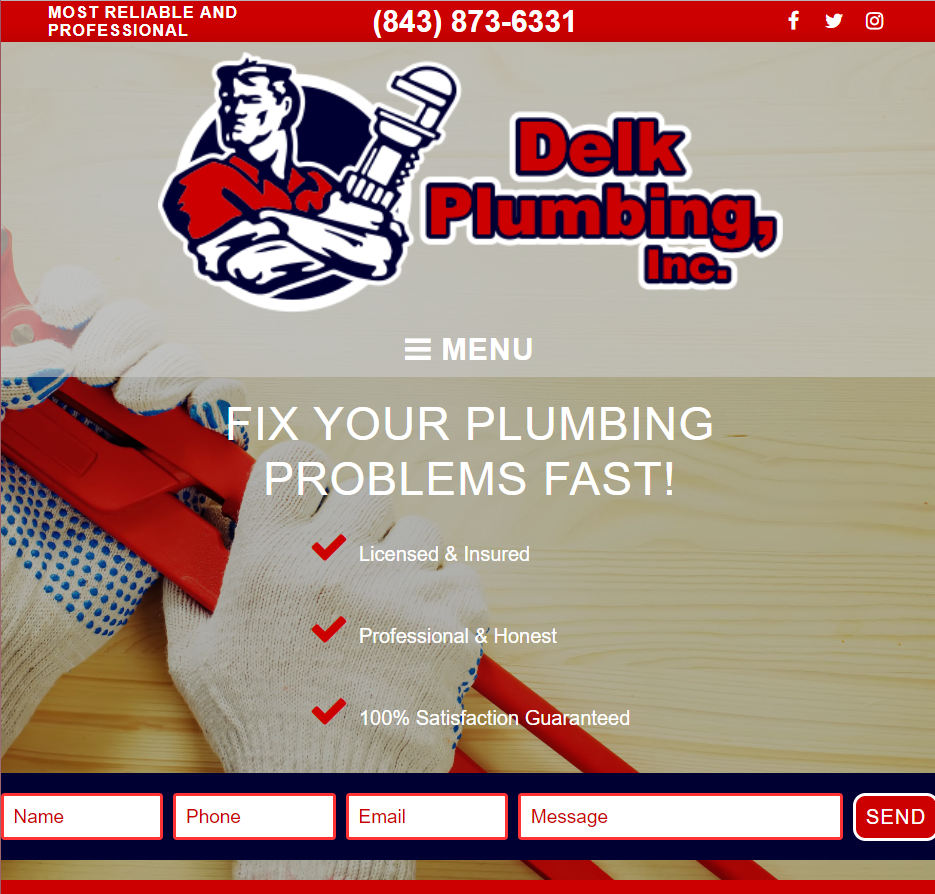 A good plumbing company knows that it has to establish itself as trustworthy and reliable. Any business, actually, but it is even more critical in an industry where it is imperative to enter a customer's home.
Delk Plumbing, Inc. goes through the steps to show you why you should trust them on their home page. They tell you the facts:
They are licensed and insured.
They are honest and professional.
They 100% guarantee your satisfaction.
These are the kinds of things that consumers love and come to depend on, and they have it in spades.
Delk Plumbing, Inc. makes it easy to navigate their site to find the service consumers are after to get the assistance they need quickly and cost-efficiently. It is hard to beat that kind of convenience.
13) Binta's Mechanical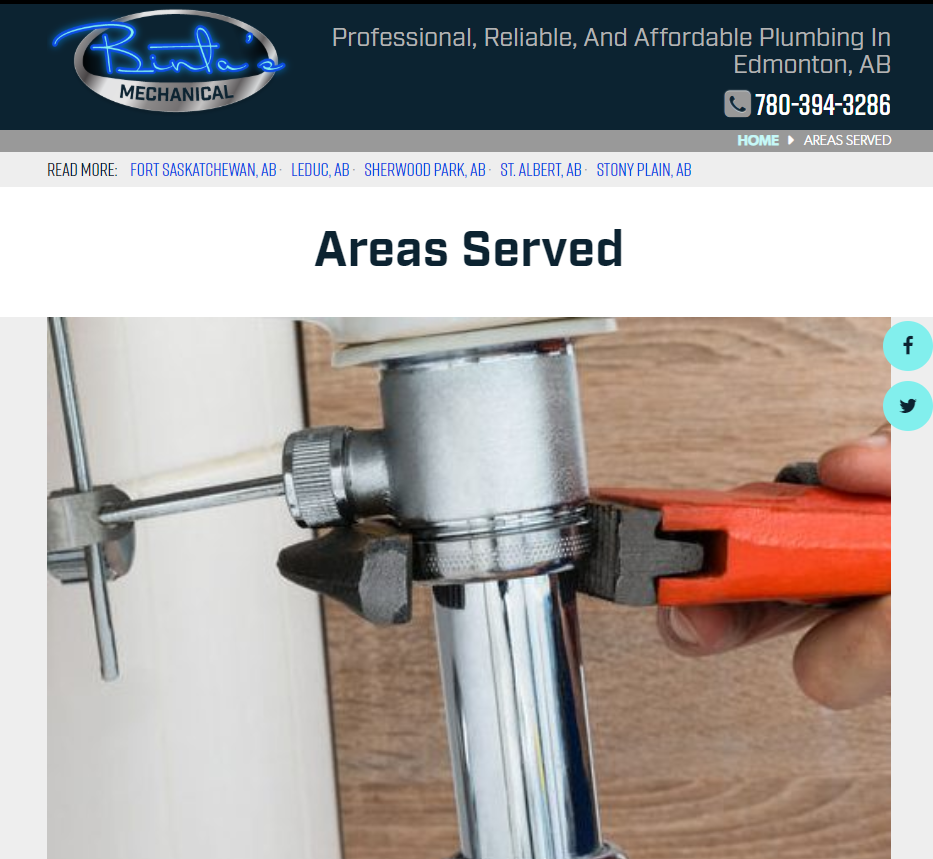 As a plumbing contractor in a world of plumbing contractors, there are a few ways to stand out as a business. One of these is establishing a trustworthy feeling and providing a professional, affordable service.
Binta's Mechanical does this through its continued dedication to quality and service and sets that tone on its website. With their friendly, smiling staff adorning the front page, you get a feeling of who they are immediately.
They keep prospective customers on their plumbing website by offering their services on single landing pages and offering reviews and testimonials about real customer experiences. Social proof is the best way to get customers' attention and make them feel like they trust and know your business.
14) Freedom Flow Plumbing & Heating
Some plumbing companies also provide heating or cooling services and require a more blended design concept. One such example of this is Freedom Flow Plumbing and Heating. While the plumbing aspects of the website are similar to other designs on this list, the additional SEO element brings a new facet to the site.
Striking a balance between plumbing and heating services is a delicate task. Obviously, the company aims to rank for both types of keywords, but sometimes the plumbing website design can present unique challenges. Luckily, Freedom Flow Plumbing's website achieves its goals and also ranks well on Google.
The website's header photo stands out among the crowd with beautiful imagery that is poetic and patriotic. Consumers feel comfortable browsing around the Freedom Flow homepage as they can find subsets of services ranging from HVAC to kitchen remodeling.
Finally, the embedded review widget in the site's footer provides social proof for prospects who remain on the fence regarding services. Since the widget pulls reviews from 3rd party sources like Google My Business, the visitor knows that the feedback is valid and not embellished for the company's sake.
15) BDS Plumbing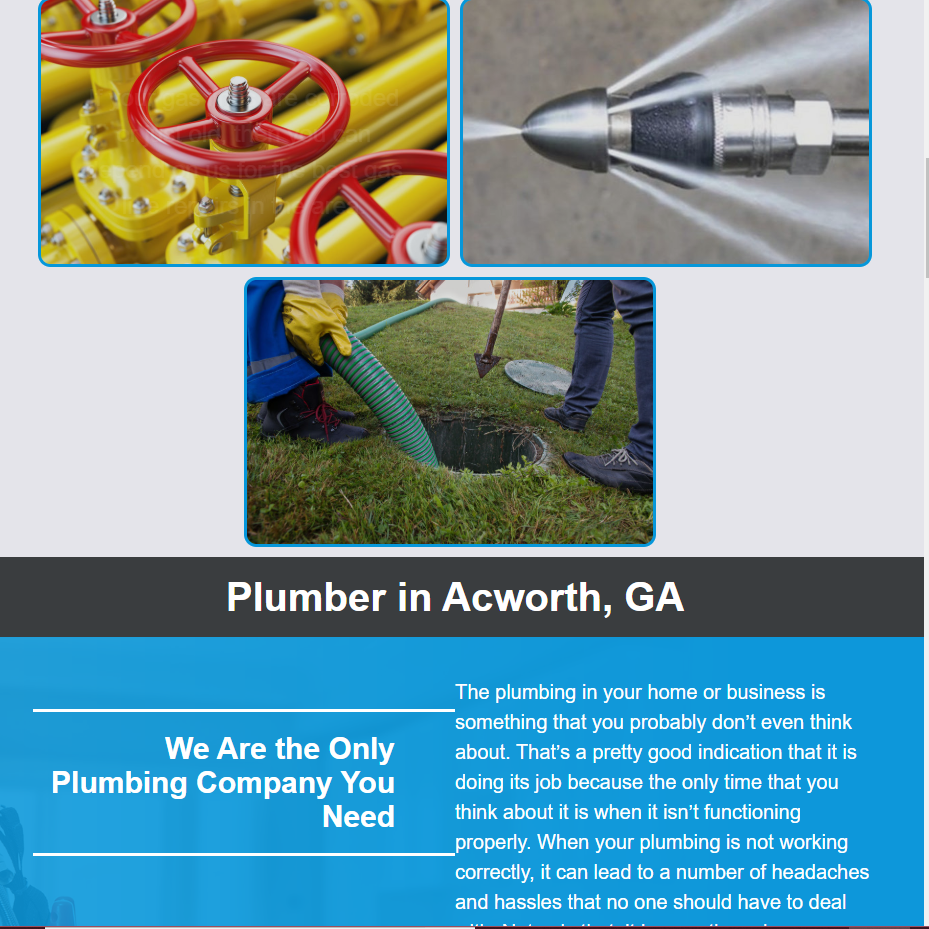 While a little bit of a comfy, cozy feeling will work for professional websites, there is also something to be said of a crisp, clean plumbing website design that showcases the services your company offers without inundating the customer's clickable items.
BDS Plumbing accomplishes this with modern hoverable text. Instead of crowding their site with text about each of their services, they use a modern touch to put text over pictures when the user hovers. Expandable text saves space on the page and allows visitors to get the information that they are after.
BDS Plumbing is a name to check out for one of the top services in the state of Georgia. They provide the kind of quality and service that we all crave, but they also deliver it through a plumbing website that feels modern and classy. That style and presentation go a long way toward drawing in prospective customers.
Features of The Best Plumbing Websites
You can see fifteen examples of the best plumbing websites above, but what features do they have in common, along with other great websites across the web? You'll find that while good sites look unique, they also share a common thread with other outstanding websites.
Below, we will outline some of the major features that comprise the best websites for plumbing companies in 2023.
Accessible Calls to Action
Websites for plumbers are meant to generate leads and conversions, which are only made possible through urgent calls to action (CTAs). The most successful websites feature multiple contact options with contact forms, clickable phone numbers, and email lead magnets.
In each case, it is critical to present the visitor with a value proposition, such as a time-sensitive offer, a downloadable file, or a special discount.
Branded Presentation
Have you ever come across a website that looks way too similar to thousands of other websites across the internet? These types of websites come from stock templates and often fail to achieve the mark of a great website.
The best plumbing websites showcase a brand uniquely and powerfully by showcasing original images of the staff and aligning them with a branded color scheme.
Clean Navigation
Nothing frustrates users more than poor navigation, which can increase bounce rates on your plumbing website. Sometimes a website might look great visually, but if users can't freely navigate to other important pages, the visuals don't matter. With this in mind, you can't have a great website without great navigation.
Responsive Web Design
The best plumbing websites use responsive web design (RWD), which ensures optimal display across devices. Retired homeowners in their 70s can navigate the site on a desktop just as easily as a 30-year-old on their smartphone.
Catering to a wide consumer base is an essential factor for plumbers and properly showcasing your website across every kind of device ensures you achieve your goals.
User Experience
We spoke about navigation which is one aspect of user experience, but factors like site speed, site structure, and calls to action are also significant. The user must feel like the site caters to their needs and provides opportunities to access information.
Most of all, websites should load as fast as possible (in under 3 seconds) so that users can get to your content quickly.