Plumbing Webmasters offers plumbing SEO services to contractors throughout the United States. Our services help market your plumbing business online, increase website traffic and generate plumbing leads. With SEO, you can begin ranking for terms like "plumber near me" and countless other industry-related keywords.
Search engine optimization (SEO) includes all the methods to grow your business online without paying for advertising. We handle every aspect of your digital marketing campaign to ensure top rankings, conversions, and search visibility in 2023.
SEO contrasts Pay-Per-Click (PPC), which involves paying for advertisements on top of Google search results. Achieving SEO rankings, however, requires optimizing your website for Google's search algorithm. While Google does not make its algorithm publically available, SEO agencies like ours have decades of data to analyze rankings and develop strategies.
Learn More About Our Services
SEO Services for Plumbing Companies
Plumbing Webmasters offers a medley of services to plumbing contractors throughout the United States. Achieving SEO results requires addressing all aspects of search optimization rather than just one. Some companies sell content-only, web design-only, etc., but our agency focuses on a full-scale approach to delivering excellent results. Take a look at what you'll get with our SEO services package:
Content Writing
Our in-house writing staff creates high-quality pages and posts for Google rankings. In addition, our team utilizes keyword research, industry research, and subject and topic development to meet user intent for your consumers. As a result, each of your pages will display professionalism, impeccable grammar and contain calls to action to encourage conversions and sales.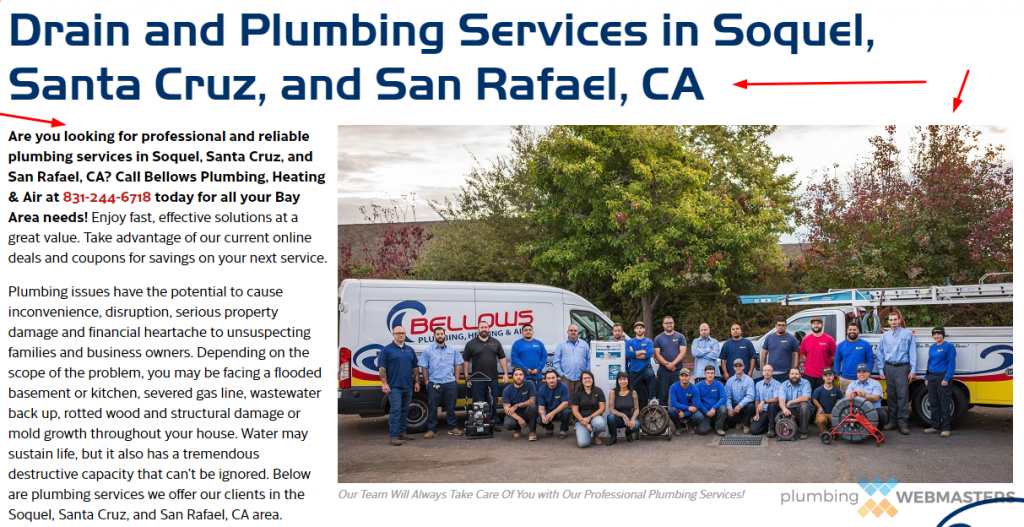 Great content incorporates CTAs and engaging text
Keyword Research
We maximize every page and post on your website through keyword research. Each page targets a specific keyword along with sub-topics to increase impressions and clicks. We use SEMRush and MOZ Keyword Explorer tools to identify keywords and phrases with high volume and a great opportunity.
In addition, creating content clusters can increase authority for topics and rank for multiple variations of a keyphrase.
Our team identifies high-opportunity keyword targets
Local SEO
A robust plumber web presence requires local optimization, including Google My Business registration, NAP citations, and on-site location pages. The Webmasters team delivers each, included in the SEO package for plumbers.
In addition, we optimize your GMB listing with photos, GMB posts, and FAQs while populating your website with our in-house software DataPins. Our DataPins tool publishes job-sit pins to the corresponding web page each time you complete a job in the field.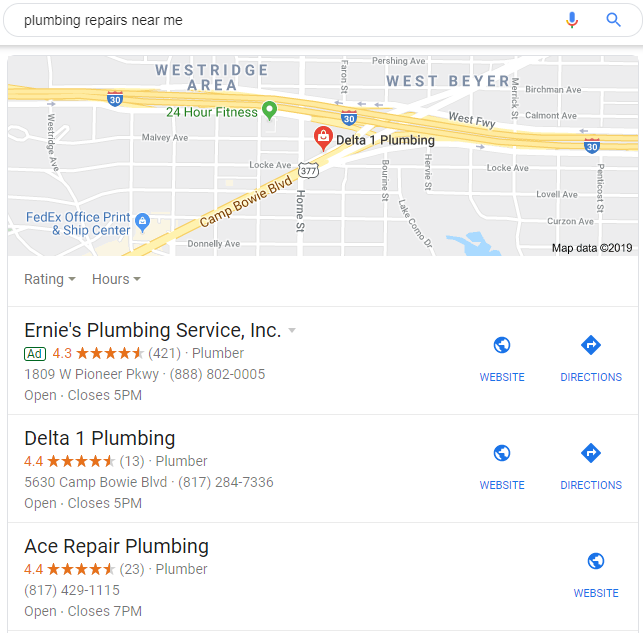 Ranking on the Google Map Pack is critical for Local SEO
Reputation Management
In addition to local SEO, DataPins also handles reputation management for plumbers. For example, our tool sends automated review requests through SMS and email to increase the review count for your Google My Business listing and other review platforms.
Our team also displays each review on your custom website with the DataPins slider widget, enhancing your social proof and boosting conversions.
Reputation can make or break your conversion rate, online
Schema Markup
Plumbing Webmasters installs schema markup to help Google better understand your website, company, and services. By marking your business as a local company and verifying its address and location, we earn the trust of Google and increase rankings.
In addition, schema markup increases the chances of showing up for rich snippets across the SERPs, subsequently increasing the click-through rate (CTR).

Schema markup helps search engines understand your website
Website Design
Our award-winning web designers create custom websites for your plumbing company featuring personalized brand colors, poignant CTAs, and engaging graphics. SEO is only as effective as its website and codebase, which we prioritize for Google rankings.
In addition, our team builds custom WordPress sites to support high-quality content and encourage user engagement.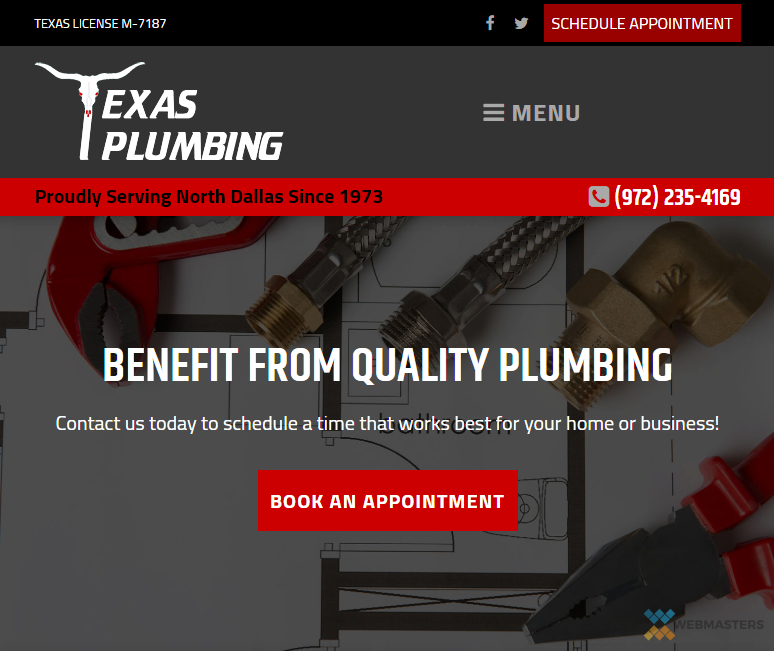 Robust web design encourages user engagement
Competitor Analysis
One of the best ways to help improve your plumbing businesses' SEO is to examine your competition in the area. If a small plumbing business succeeds where other companies fail, we examine their online strategy to find out what's working for them.
Then, we determine the best keyword placement and optimization strategy to give you an edge over your competitors. Our methods fully optimize your site for maximum organic growth and long-term gains so you can leave your competition behind.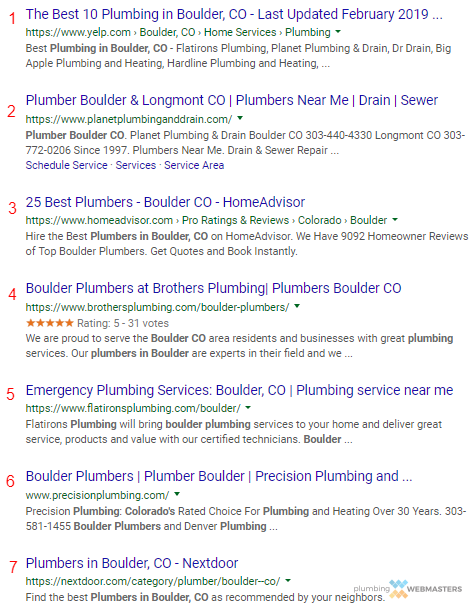 Competitor analysis for Boulder, CO plumbing company
How Much Should You Spend on Plumbing SEO?
The best SEO services for plumbers are cost-efficient. However, your services' value depends on your business and the ROI of ranking on Google search results. Typically, SEO services cost between $600 and $3,000 per month.
Still, plumbers should weigh the costs of everything combined, including PPC campaigns and social media ads, SEO methods, employees, technicians, etc.
Building your business with SEO produces more leads. If your employees have too much downtime, then it may be worth it to put some money into SEO for your business in an attempt to bring in more customers.
If you decide to invest in SEO for your plumbing company, pick a team of experts with years of experience performing search engine optimization for plumbing contractors.
When you decide to start your path to SEO success, you should choose a completely comprehensive service. That means letting companies like Plumbing Webmasters worry about your online presence while you take care of your plumbing business' and clients' needs.
When you hire Plumbing Webmasters, we take over your online social media advertising activity to promote your business to potential customers in your primary service area. 
We employ a team fully dedicated to improving your online presence. Our staff includes web coders, graphic designers, and content writers dedicated to optimizing your presence for tremendous search engine success. In addition, we offer different plans to fit every business' budget in 2023.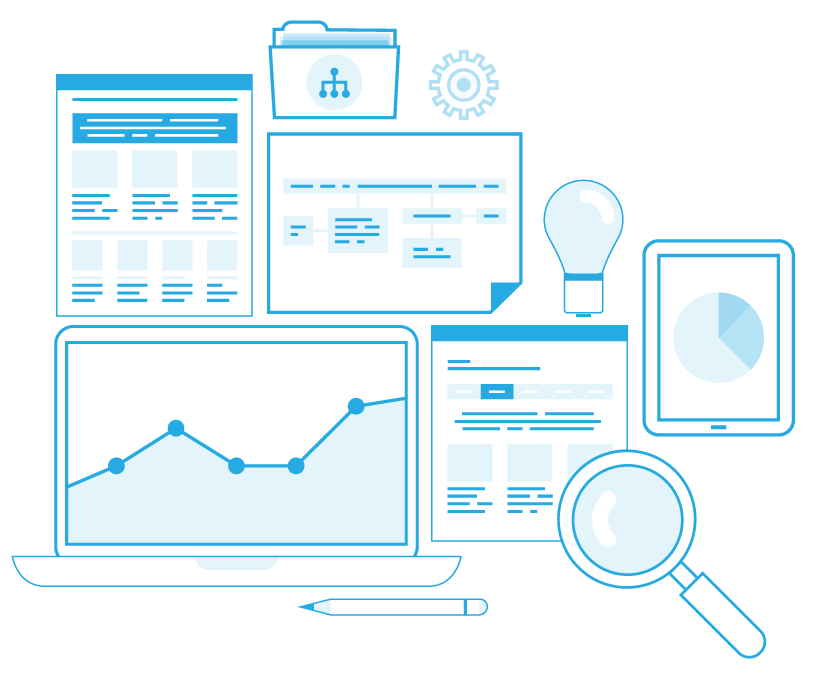 Who Should You Trust For SEO?
The SEO experts at Plumbing Webmasters have been learning about and perfecting optimization strategies for years. As a result, Google updates its algorithm several times every year to punish websites that use black-hat SEO tactics. These updates punish all parties that violate content policies, regardless of if you knew you broke the rules or violated them by accident.
Some cheaper SEO companies might try to lure you in with the promise of cheap SEO. Unfortunately, they will probably deliver on this by violating Google policies on your website and in your content. You'll see a short-term boost in website traffic, but Google will eventually penalize your website. At that point, your SEO company may have taken your money and run, leaving you with a damaged online reputation.
Not every cheap SEO option practices black-hat SEO, but why take the risk? At Plumbing Webmasters, our dedicated team of coders, graphic designers, and content writers are standing by to optimize your website and increase your local plumbing leads. With more than a decade in business and over 250 clients, our reputation speaks for itself.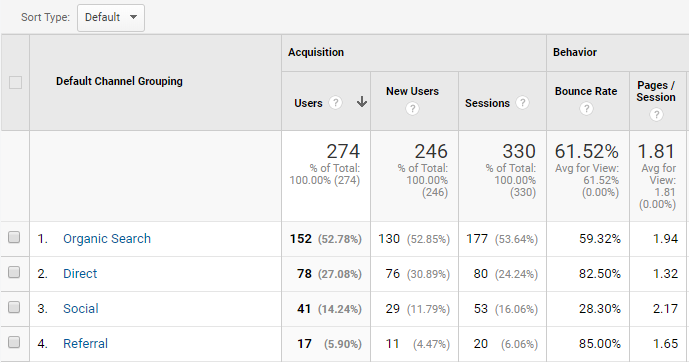 Does Your Reporting Come From Google or a Less Trustworthy Source?
Google Search Quality Guidelines for Plumbers
Google prohibits certain SEO practices, so black-hat SEO will get your website penalized sooner or later. Every update Google made over the past decade brought quality content to users who needed it. They wanted to reward websites with unique, user-friendly, and valuable information for their users' sake.
For instance, the Google Penguin update cracked down on keyword stuffing and link-building schemes. As a result, plumbing contractors who insert random or repetitive keywords unnaturally have their content devalued by Google, while contractors who use proper SEO methods are rated higher. 
Properly optimized content ranks better on other search engines as well, so when you optimize your website for Google, you're also optimizing it for sites like Bing and Yahoo. Plumbing Webmasters offers complete SEO services as part of our comprehensive content management service.
We build you a fully customized website with locally optimized content for your service area when you hire us. We also get to work researching proper keyword strategies for your business.

Content and SEO for a Plumber
The algorithm is constantly changing, and keyword volume and best practices change with it. Your SEO team needs to stay on top of your continually evolving optimization needs. That's why you need a dedicated team of experts like Plumbing Webmasters.
We offer comprehensive content marketing services that include SEO for your plumbing contractors. We localize all the content we produce for you while customizing your website.
When trends in your service area shift, we notice and change your content based on emerging patterns. Our service includes an internal blog for your website. All of our blog posts contain valuable seasonal and local information.
That means if your business is in Michigan and you are experiencing record-low temperatures, our blog posts will incorporate that in some way. For example, we may post an entry titled "How To Keep Your Pipes From Freezing" as a way to connect with locals experiencing or concerned with this issue.
We have different marketing management plans available for your business and will work with you to meet your plumbing company's budget needs. Our team also optimizes your site and all content for all platforms and devices.
That means your site is accessible to anyone looking for routine plumbing or using their mobile phone to search for emergency plumbing services in your area frantically. Your SEO must meet the needs of an ever-changing community.
At Plumbing Webmasters' we stay on top of emerging trends in both SEO and the plumbing industry.

HTTPS, 404 Errors, and Conversion Rates
Your conversion rate is critical to success. Your ability to convert website traffic into a sale or a client is the best tool to measure the benefits of your SEO. The entire point of SEO is increasing leads and conversion rates, so most optimization tactics target conversions. 
Websites that use HTTPS over HTTP or have 404 errors affect your Google ranking and overall optimization. Google ranks sites that use HTTPS, or Secure Hypertext Transfer Protocol, higher than sites that use standard HTTP.
At the same time, websites with 404 errors lose value according to Google's algorithm. That's because 404 errors negatively impact user experience, and one of the critical components of Google's content quality guidelines is user experience.
We worry about these things when you hire our Plumber SEO Company, so you don't have to. We use HTTPS for your website and ensure that every link is working. If something happens and one of your pages goes down, call us, and we'll fix the problem if it's on our end.
In addition, we offer high-quality and comprehensive content management and online marketing to boost your conversion rate.