What is SEO for Plumbers?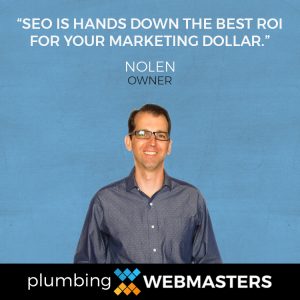 Search engine optimization (SEO) for plumbers is an online marketing process that aims to improve a company's organic search visibility. The method involves adjusting digital content to meet the standards of Google and to facilitate search engine users' quest for relevant information. Although SEO is most frequently associated with website content, it also applies to other areas.
Plumbing SEO Components
To fully optimize your company's online presence, SEO must be exercised throughout all corners of the world wide web. There are several digital channels to choose from when marketing your plumbing business, and the most successful plumbers utilize each of them. Additionally, plumbing contractors that market themselves most effectively, understand that SEO is a continuous process rather than a solitary task. Each of the following components can impact search engine optimization:
Content Marketing
Geo-Coordinates
External Links
Internal Links
NAP Listings
Online Ratings
Social Media
Tags (Header, Meta, Image)
Web Design
Effective SEO is conducted gradually and its influence is progressive. Unlike other forms of marketing, such as PPC, search optimization will not yield immediate results. Through consistent SEO execution, Google begins to place trust in your company's online presence, and grows more confident that its legitimacy is not temporary. Once the trust of major search engines is earned, the results of optimization can play long-term dividends for plumbing contractors. Call (877) 388-9884 for plumber SEO services.
5 Steps To Dominate Plumbing SEO
To dominate search engine optimization, plumbers must focus on actionable steps that can produce desirable results. To dominate plumbing SEO, follow these steps:
1. Google My Business: We claim & optimize your GMB account
2. Web Design: We create a custom template with seo-friendly coding
3. On Page SEO: We implement high volume keywords using best practice SEO methods
4. Off Site SEO: We create citations on the web & earn inbound signals from linkable content
5. Ongoing Work: We continue to work on your site to encourage regular crawling & indexing
Plumber SEO and its Influence
If properly implemented, search engine optimization for plumbing companies can induce remarkable lead generation. Depending on a contractor's current level of online participation, the impact can range from measured to astounding. Plumbers who have no active involvement in online marketing can improve exponentially by establishing and then optimizing their online presence. For contractors who are already active online but lack the results they initially hoped for, improvements in the optimization process can prompt marked rewards. SEO influences:
Company Branding: Establishment of your company's brand and perceived image
Google Visibility: Appearance on Google search results
Lead Creation: Generation of the best plumbing leads in your service area
ROI: Increased revenue relative to outgoing expenses
Most contractors have similar goals when marketing their services online. They want to generate high quality leads at an affordable price. Other promotional strategies such as PPC and social media advertising, require fixed payments in order to sustain internet visibility. Search optimization contrasts these methods fundamentally, as its inherent feature is to reach consumers organically. Plumbing Webmasters provides services tailored to plumbing companies in particular, which makes us stand out from more generic marketing institutions. We call our optimization process "plumbing SEO" because it is refined for a specific niche.
How Plumbing SEO Has Changed
5 years ago SEO for plumbers was much different. So what's changed? Google Maps results are now far more prominent and their corresponding reviews have a major influence over where they show up. Most importantly, the algorithm has evolved to grade web pages and properties on an increasing number of factors ranging from on site updates to structured coding. This all comes to the forefront as competition for organic rankings is higher than it's ever been, a trend that will continue well beyond 2019. In summary, the primary changes in plumbing SEO over the past 5 years are:
Algorithm 
Competition
Maps Ranking
Reviews
You can expect continued changes each year which is why Plumbing Webmasters prides itself on staying on top of Google's latest trends and methodologies. What we do know is that Google's ultimate goal is to provide the best user experience possible, an ethic that perfectly aligns with Plumbing Webmasters' SEO strategy. When we execute website design for plumbers, our goal is to match the most relevant consumers (locals in need of plumbing services) with our clients, who of course want the same thing. When the user is made a priority, Google is going to reward the outcome to some degree. Our years working with contractors gives us unique insight.
Internet Marketing for Plumbers
SEO is best implemented as part of a larger internet marketing strategy for plumbers. Effectively marketing plumbing services in 2018 requires a broad scale approach that is not completely reliant on a single method. While some within the industry frame SEO and PPC as conflicting techniques, they are actually more effective when utilized collaboratively. For example, running PPC ads early in your marketing campaign helps supplement lead generation while waiting for SEO to take its full effect. Consider these marketing techniques to use along with SEO:
Facebook Advertising
PPC
Reviews Management
Plumbers learn quickly that every digital promotion strategy is interconnected in some way. For example, managing reviews on platforms like Facebook, Google My Business, and Yelp is exclusively beneficial, but also contributes to an over-arching agenda. By responding to customer reviews, users who investigate your company's reputation will be encouraged by your initiative and commitment to clients. While this is good in of itself, it can also help from an SEO perspective by producing more user-generated content for your business which can improve your local search visibility.
Local SEO for Plumbing Contractors
Local optimization is an increasingly important extension of SEO. Because local businesses like plumbing companies earn all revenue through consumers within their respective service areas, leads within these defined geographical radiuses are the only ones of value. To optimize an online presence for local search, there are a number of steps that should be taken. Many of them coincide directly with SEO as a macro-level concept but are refined to target a more narrow consumer base. Local SEO essentials include:
Business Citations: Claimed and optimized listings on business directories
Local Mapping: The ingratiation of geo-coordinates for GPS visibility
Mobile Design: A mobile-friendly website that is easily navigable on smartphones
Social Networking: Presence on social media platforms like Facebook, Instagram, and Linkedin
Some business directories, such as Google My Business, have extensive features that empower local businesses to reach their target customers more precisely. From hours of operation, to general Q & A sections, it's never been simpler to market a local plumbing business online. At Plumbing Webmasters, we focus heavily on the local aspect of optimization for plumbers. From the development of responsive and mobile-friendly websites, to the inclusion of click-to-call functionality within the on-page content, we put plumbers in the best position to succeed in their local markets.
SEO Keywords for Plumbing
For contractors failing to generate leads online despite investments in SEO marketing services, it's more likely than not that your representation engages in obsolete promotional tactics. Since its inception, search optimization has been directly associated with keywords. While the concept is embedded in our cultural understanding of SEO, as evidenced by searches for "plumbing keywords list" and "top plumber keywords," its actual influence has grown increasingly minimal. While the presence of keywords still helps Google determine the topic of a web page, it is no longer the sole reference point. Obsolete keyword practices include:
Exact Match URL's: Purchasing spammy, keyword-laden domain names like cheap-plumbing.net
Keyword Stuffing: Placing duplicate terms and phrases unnaturally within on page content
Topic Indeterminacy: Producing vague content with off-topic keywords to lure traffic
In recent years, Google has recalibrated its standards, and placed far greater value on quality content that educates and informs readers, rather than content that exists for the sole purpose of increasing search ranking. Unfortunately, companies across all industries have been slow to adjust, and have suffered by losing out on leads that would otherwise be available. Plumbing Webmasters provides cutting edge SEO services to contractors throughout the United States. By partnering with us, your company will never again suffer from stagnation or participate in antiquated practices. We evaluate new trends in the industry, and evolve alongside Google.
Choose Your Plan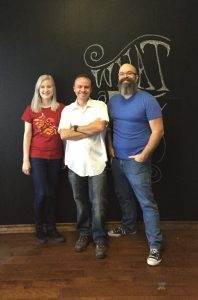 We value customer satisfaction, a notion validated by our multiple payment options. Clients choose between:
MONTH TO MONTH PLAN (MTM)
Each plan offers unique advantages to contractors and are viable options to improve a company's online presence. MTM plans are great for customers who prefer routines. A fixed payment is made at the end of each month in exchange for a variety of marketing services. You have the ability to opt out of our services after each month without ever being locked into a long-term contract.
PAY PER LEAD PLAN (PPL)
For customers focused most predominately on results, pay per lead becomes an intriguing choice. With this plan, you pay only when exclusive leads are produced from our marketing services. We use tracking analytics to trace the origin of each lead, and properly attribute it to its source. This way, you only pay for results. In addition to regular plumbing leads, we also provide water damage leads for restoration companies.
Services
Regardless of which plan you choose, you will have access to these services: