What is Plumber SEO?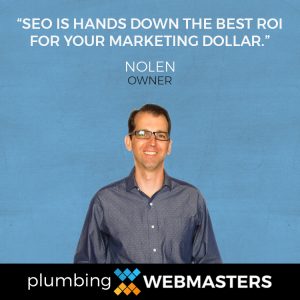 Plumber SEO refers to a series of optimization techniques aimed to improve visibility on search engines, and Google in particular. Regardless of if you choose the MTM or PPL plan, organic SEO services will be included in your package. Our SEO services aid your plumbing company not only through web page rankings but through other forms of search visibility as well. Plumbers often mistake search optimization with website optimization. While your company website should be the foundation of your SEO strategy, it is not the only representation of your company that will appear on Google search results. At Plumbing Webmasters, our SEO services include:
Local SEO: Optimization for local search
Off Site SEO: Optimization for social media, directory listings, and inbound links
On Page SEO: Optimization for on-page content, title tags, header tags, and meta descriptions
Technical SEO: Optimization for website HTML and coding in general, including structured data markup
Search engine optimization is an affordable and effective method of plumbing internet marketing. The process takes time to implement, and for Google to interpret and index, but it is worth it in the long run. SEO works best when supplemented by other marketing endeavors including PPC advertising, and social media marketing. Plumbing Webmasters is uniquely qualified to optimize your website for Google search results. We have years of experience working with contractors in your industry and possess archives full of data to help us make informed and analytical decisions. We offer multiple payment plans, allowing you to choose the one that's best for you. Call 877.388.9884 for SEO for plumbers.
Internet Marketing For Plumbers
Plumber internet marketing is the process of promoting plumbing services through online channels, including search engines, social media, paid advertisements, and most notably, a company website. Plumbing Webmasters offers two primary plans for internet marketing, a month to month (MTM) plan which requires a fixed payment each month in exchange for various marketing services, and a pay per lead (PPL) plan which requires payment only after an exclusive lead is generated for your company. For PPL, we set up tracking and analytics to properly attribute leads to their source.
Both of our plans offer incredible value to plumbing contractors. With our monthly plan, you pay a fixed rate each month in exchange for the services listed above. With our PPL plan, you pay only when an exclusive lead is generated as a result of our services. Leads cost more than a fixed monthly payment, but you only pay when they are produced, providing your company with the ultimate security for its marketing investment. To get started with either of our internet marketing plans, get in contact with Plumbing Webmasters ASAP.
Custom Website Design For Plumbers
Most plumbers would agree that an effectively designed website goes a long way towards appealing to potential customers. In most cases, a website will serve as the basis for your internet marketing campaign. Too often however, contractors settle for "stock" websites, which use pre-made templates that have been used over and again for other websites. You'll never have to worry about redundancy with Plumbing Webmasters. Our design team constructs custom websites for each client, incorporating WordPress content management system along with visually appealing menus, graphics, and other elements. Aspects of website design include:
Logo Design: Creation or improvement of a company logo
Mobile Usability: Design that caters to mobile users and their devices
Responsive Web Design: Websites that adjust to the device on which they are accessed
WordPress: Usage of the most popular open source content management system
Many companies offer mobile-friendly websites. But our designs expand beyond friendliness. We are a mobile-first web design service where desktop display is a secondary consideration. We do incorporate responsive web design so that all visitors can access each site optimally, but we prioritize all of our designs for mobile users, first and foremost. WordPress's open source nature allows us to implement creative elements within your design while maintaining its SEO potential, and accelerating it's loading speed. To get started with a marketing plan, call us at 877.388.9884.
Content for Plumbing Websites
What good is a car without an engine? The same question can be asked of a website without content. While your site's design represents the body and appearance of your online identity, the content is the engine that drives it towards the top of search rankings. Because of their comparable designs, content makes or breaks most plumbing websites. Content is the origin of SEO, link building, user engagement, and marketing facilitation. At Plumbing Webmasters, our content team crafts unique and original content for your website. We believe that good content is:
Engaging: Incorporates images, videos, and text formatting to keep users attention
Optimized: Incorporates researched keywords to generate relevant traffic
Unique: Is crafted exclusively for one website, and cannot be found elsewhere on the web
Valuable: Facilitates the visitor's quest for information prompted by the initial search query
Duplicate content is an epidemic among plumbing websites. Too often, contractors attempt to circumvent the writing process by copying and pasting content from another source onto their own site. Not only does this not work for SEO, but it hinders user experience, as visitors have likely seen this information somewhere before. Aside from scraped content, there are many other variations of low quality content. Text that is automated, stuffed with keywords, or full of irrelevant links is problematic on a variety of levels. By partnering with Plumbing Webmasters, you ensure website content is custom, original, and adheres to Google Quality Guidelines. We employ human content writers to construct your web pages individually.
NAP Citations For Plumbers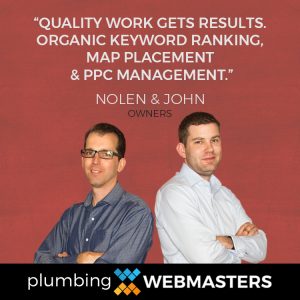 The modern day Yellow Pages exists in digital format. Directories like Google My Business, Yelp, and Better Business Bureau serve as trusted sources for consumers to gauge a company's reputation. Lack of consistency within your NAP listings, or even minor inaccuracies, can cause major damage to your online presence. Local SEO is at least partially reliant on citation signals, and a failure to optimize them compromises your ability to rank on different areas of Google search results, including; the local 3 pack and the knowledge graph.  At Plumbing Webmasters, our citation services include:
Listing Claim: The claiming of business listings on directories
Listing Optimization: The optimization of directory listings
Listing Submission: The submission of business information to directories which don't currently list you
NAP Check / Cleanup: The assurance of accurate and consistent NAP information
Plumbers that fail to rank on local search can often trace their problems back to NAP inconsistency. Having different phone numbers listed on multiple directories not only confuses potential customers, but search engines as well. Directories pull business information from data aggregators like Neustar and Acxiom, which gather their data from public records. Contacting these institutions to ensure accurate NAP information can address the root of the problem. After that, individual listings can be claimed and optimized to expedite the local SEO process. Our team of experts tends to every detail, and does not rest until your online presence is complete.
Choose Your Plan
We value customer satisfaction, a notion validated by our multiple payment options. As a customer, you choose between:
MONTH TO MONTH PLAN (MTM)
PAY PER LEAD PLAN (PPL)
Each plan offers unique advantages to contractors and are viable options to improve a company's online presence. MTM plans are great for customers who prefer routines. A fixed payment is made at the end of each month in exchange for a variety of marketing services. You have the ability to opt out of our services after each month without ever being locked into a long-term contract.

For customers focused most predominately on results, pay per lead becomes an intriguing choice. With this plan, you pay only when exclusive leads are produced from our marketing services. We use tracking analytics to trace the origin of each lead, and properly attribute it to its source. This way, you only pay for results.
Basic Services
Regardless of which plan you choose, you will receive these basic services:
Add On Services
In addition to our basic marketing plans, Plumbing Webmasters offers add on services that can really take your internet presence to the next level in 2018. As a marketing company that has been working with plumbing contractors for years, we've learned the nuances of the marketplace and what plumbing customers expect and desire most. Add on services require an additional payment, but one well worth it, something you will see once you experience the benefits of their usage. Our add on services include:

Regardless of if you choose a MTM or PPL plan, the add on services are highly recommended. Our PPC expert is Google certified, giving you the confidence and security of a trustworthy campaign manager. Pay per click advertising is a popular choice among plumbers because it yields fast results, and ones that can make an immediate impact through lead generation. Facebook marketing is similarly useful, as many of your prospective customers use the popular social network as a discussion forum and information exchange. If you have an office in one city, but need to be listed in another, virtual offices should be a strong consideration. They facilitate the creation of an address in a location of your choice, and one that can be marketed to consumers within that radius. The best of all might be our righteous reviews plugin, which integrates an aggregate star rating of all your reviews directly on your main website, and encourages customers to leave new ones.
Call Plumbing Webmasters At 877.388.9884 For The Ultimate Internet Marketing Service For Plumbers!