Get familiar with our SEO results by analyzing our plumbing client case studies. These studies are for clients that have achieved success online with SEO, digital marketing, and more.
Our team crafts custom campaigns for each client and measures results using various tools, including Google Analytics and Google Search Console.
What are Case Studies?
Sometimes a subject is just too complicated to explain by itself. That's why many of our most valuable life lessons are expressed through stories. Case studies are simply real-life stories centered on a particular industry.
These studies rely on a mixture of narrative and analytical data to communicate a very important lesson (or several). Decades of data from working with hundreds of plumbing companies allow us to continuously improve our SEO process in 2023.
The Purpose of Marketing Case Studies
Marketing case studies provide valuable insights into the world of advertising, branding, sales, and other related topics. Most focus on real-life situations where a business faced a particular challenge, and then developed a clever strategy to overcome it. You'll see situations like these:
A plumber struggles to find a competent marketing agency; then, they change tactics.
A company lags in sales for years until they try a new marketing channel.
A marketing company takes on a frustrated client and radically grows its business.
There are so many sides to marketing that a case study could fly in practically any direction! Their ultimate purpose is to provide insight into how to grow your business and avoid costly mistakes.
How to Take Advantage of Marketing Case Studies
Plumbing case studies help business owners gain comfort with a marketing company and its strategy. For example, it's easier to justify spending part of your monthly budget on a digital marketing campaign when you can evaluate existing campaigns and monitor results.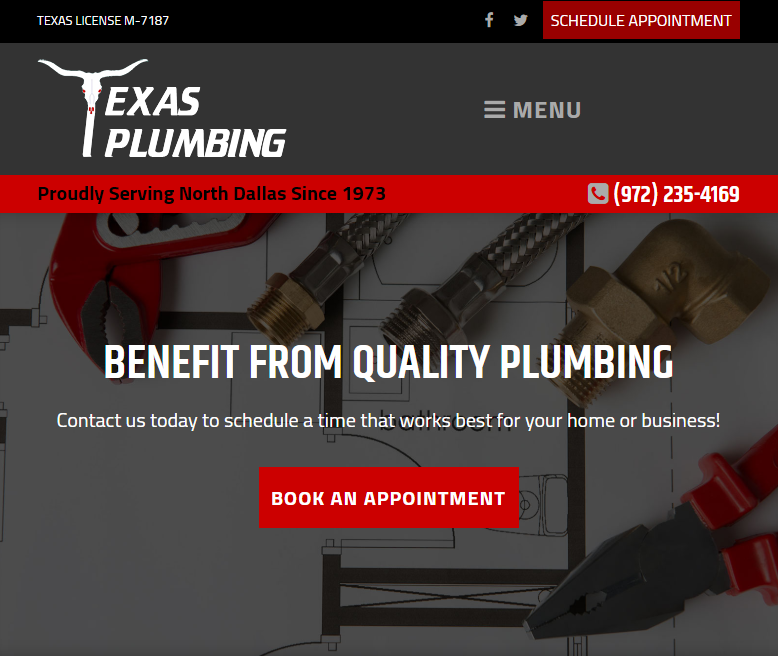 Marketing case studies give plumbers an inside look at how digital marketing drives visibility, traffic, and conversion to local plumbing companies.
Next, read the purpose of the case study. A well-crafted study should state this almost immediately. "This Texas plumbing company used a special advertising tactic to grow its client base by 400%." This hypothetical summary would suggest the study focuses on advertising and accumulating clients.
Read quickly through the study once, and see how closely it relates to your business. If you discover some exciting ideas, go back through the article and document the company's process to find its success. Start thinking about how your business could adapt this strategy to grow!
How to Read a Case Study (Summary)
#1. Read the Story Context.
#2. Establish the Case Study Purpose.
#3. Complete a Quick First Read-through.
#4. Determine if the Lesson Fits Your Business.
#5. Read Again and Document the Process.
#6. Adapt the Lesson for Your Company!
Webmasters Case Study Design
Regarding our marketing case studies at Plumbing Webmasters, we lean towards practical application over extensive numerical analysis. Simply put: we prefer to focus on stories that you can easily learn from. Don't get us wrong! We show analytical data from our research to back up the lessons we've extracted for your benefit.
You'll find stories on all sorts of marketing and business-related topics! Some of the most frequent topics we cover are…
Organic Search
Paid Search Campaigns (PPC)
Local Search Marketing
Citation Solutions
Reviews and Reputation Management
Social Media Marketing
Web Design
Digital Marketing Companies
These case studies occasionally dig into more complicated topics. If you find yourself wondering what a particular term means, you can always consult with a professional at Plumbing Webmasters. There's also a fantastic glossary of search terms from Moz that covers many of the terms we'll discuss.
Lessons from Real Plumbing Contractors
Let's face it. Plumbing contractors work in a demanding industry! The marketing landscape has changed so extensively and frequently within the last ten years that it can be hard to keep up. That's where our marketing case studies come into play.
These stories provide invaluable perspective into the challenges and triumphs of businesses just like yours! Want to skip years of frustratingly low returns and wasted effort? Listen to the tales of loss. Eager to accelerate your company growth with more focused tactics? See what the industry champions have to say about their strategies.
How We Collect Data
Our data comes from a variety of resources. You'll see findings from the Pew Research Center. For instance, did you know the average US household has actually grown for the first time in more than 160 years? We also work extensively with Google data tools like Analytics and Search Console.
Finally, we glean valuable insights from marketing industry experts, such as Moz, Search Engine Journal, and Search Engine Land.
For all the data woven into our stories, we do our best to provide context and explanations for any complicated terminology. That way, you don't have to go off to study every time we quote a statistic! Who has the time for that?
A Closer Look at Our Services
One of the reasons we provide marketing case studies is to better showcase the real-world applications for our services. That's why most of our stories will have our services subtly woven into the narrative. These subjects matter to our team and clients, which is why we've taken the time to tell them in the first place.
On that note, if you find a story that closely links to a situation your business is experiencing, don't hesitate to give us a call! We love working with hardworking plumbers who are eager to grow, and our team has extensive experience in the search marketing industry.
Plumbing Webmasters
What sort of challenges does your company face today? We'd love to help if we can! The team at Plumbing Webmasters works with hundreds of businesses across the United States. We provide custom website design for outstanding SEO! Our plumbers enjoy page one rankings for all sorts of keywords, earning higher traffic, better leads, and more revenue.