In SEO, there is a saying that content is king. While content won't rank without other SEO aspects, it represents one of the best methods to improve your plumbing company's online presence in 2023. Plumbing Webmasters provides content marketing as part of our SEO services for plumbers throughout the United States.
Our in-house writing staff creates custom plumbing content that accurately represents your brand and its values while informing readers. Additionally, we market your content through various 3rd party platforms, including Google My Business.
What is Content Marketing?
Content marketing is an online promotional strategy that uses content pieces like blog posts and service pages to reach new customers. The method serves as a form of inbound marketing where users come to your plumbing company rather than seeking them out through telemarketing or other outbound strategies. Content marketing involves producing and distributing content through various platforms like social media, search engines, and public forums.
Content Marketing for Plumbers (Top Strategies)
Any plumber with access to their content management system (i.e., WordPress account) can write and publish a content page. While posting content is relatively simple, strategically crafting the content to rank on search engines and to distribute it to social media platforms requires a pre-set strategy.
Every content page should undergo on-page SEO and target a primary keyword and additional secondary terms. Take a look at our process for content marketing:
Keyword Mapping
Every content piece should target a keyword and, or topic. No content should exist for the sake of content. Plumbing websites often become filled with thin content, including short blog posts that discuss various things without targeting something specific. Such methods confuse both readers and search engines and can put your website at risk of keyword cannibalization. 
Content Research
Once our writers know their topic, they begin researching both the keyword and the general topic. Of course, the goal is to rank for as many related keywords as possible while still informing the reader about the subject. As the top plumbing SEO company in the U.S., we have thousands of case studies for writers to consult and utilize when crafting your company's pages and posts. 
Content Writing
After mapping and researching their piece, our writers begin the writing process. Each staff member undergoes rigorous testing to ensure their quality meets our writing standards. Each plumbing website ranks well on Google Search, and we train our staff to satisfy both the reader and search engines. Additionally, each of our writers earned an English degree (at minimum) from an accredited college.
Content Editing
Despite our top-flight writing staff, each piece of content goes through a detailed editing process. Our editor ensures that content not only enhances user experience and satisfies user intent but that it also aligns with your brand's overall messaging.
For example, we won't allow our writers to frame your plumbing company as new to the scene when you've been around for a decade. Similarly, we won't use regional terms that conflict with your service' areas' linguistic norms.
Content Distribution
The final part of the content marketing process is distribution. We ensure your content appears first and foremost on Google Search, social media platforms, and Google My Business. Facebook and Twitter get the most link equity from content publications and send necessary signals to Google for SEO purposes.
Of course, most plumbing content won't go viral, but it can certainly help establish your brand as an online authority in 2023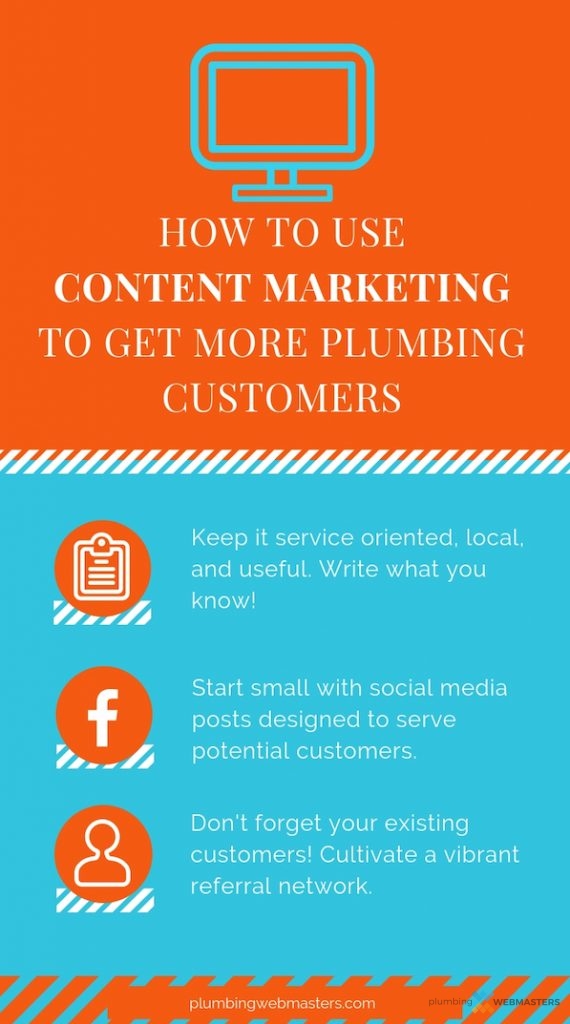 Plumbing content serves as one of the best marketing strategies for plumbers. As a form of inbound marketing, few levers move the needle as much as content creation and distribution. Whether you produce text, posts, videos, or podcasts, your company can benefit from new clients.
More Plumber Content Marketing Tips for Contractors
At HVAC-Plumber SEO Webmasters, we like to go above and beyond for our clients. Most marketing companies order content from outsourcing services and publish it on your website without further review. We do the complete opposite by handling each content piece in-house and putting it through a rigorous editing process before publication.
We also present new ideas to customers who like to take things to the next level. Some of these innovative techniques include:
Plumbing Contractor Video Marketing
YouTube is a massive platform in 2023, and plumbers can take advantage. Text-based content is not the only content form; video represents a more visually appealing form for newer audiences. YouTube content is ideal for plumbers since you can publish directly on the YouTube platform and embed YouTube videos on your website.
We work with plumbers willing to produce video content and optimize each video for SEO ranking in 2023.
Podcast Episodes for Plumbing Companies
Aside from video, audio podcasts can help build authority for your company. Audio, like video, is a rich content form that keeps users more engaged than text blocks. Today, many industries dabble in podcasts, and plumbing contractors can join the party.
The Webmasters' team works with companies willing to engage with their audience through podcasts. Ask about our podcasting package when you sign up for our services today.