Plumbing Webmasters offers PPC services and campaign management for plumbers to supplement search engine optimization and quickly generate relevant leads.
PPC Services for Plumbers
Google Ads Management
Landing Page Optimization
Budget (Ad Spend) Optimization
PPC Campaign Management
What is PPC for Plumbers?
Plumber PPC, or Pay Per Click, is an online advertising method used to attract user clicks to a website or landing page in exchange for a publishing fee. Google Ads is the most popular PPC platform on the internet.
How Does PPC Advertising Help Plumbers?
PPC ads present an appealing transaction for plumbing companies. In exchange for a per-click fee, plumbing contractors instantly attract website or landing page visitors with a chance at converting them into new clients.
As you might imagine, paid clicks generate traffic faster than a brand-new SEO campaign. Of course, such a proposition is a double-edged sword for plumbing contractors.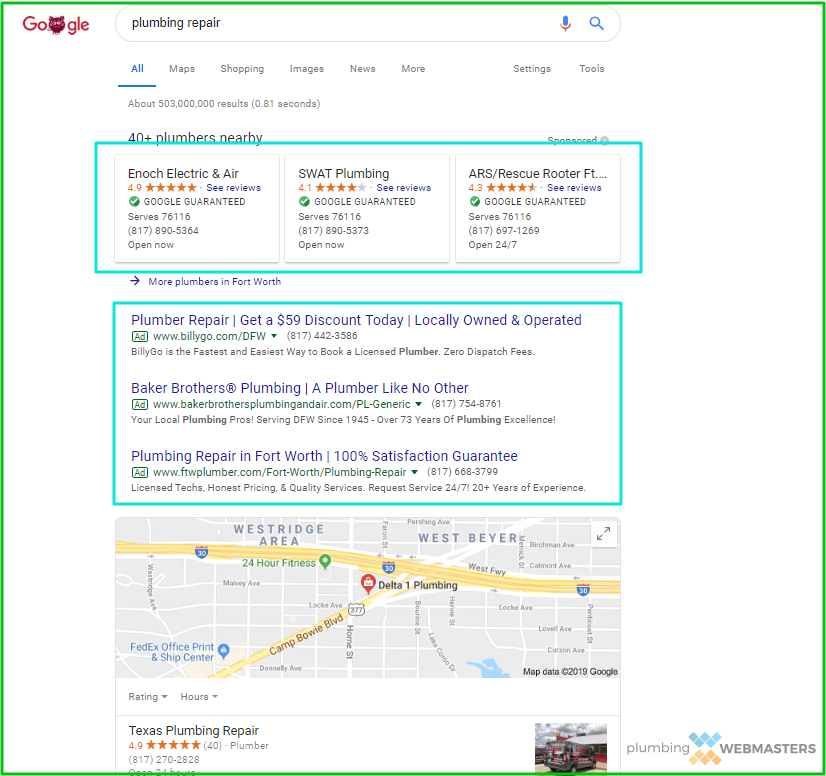 For plumbers, efficient lead generation is the primary focus of online promotion, and paid advertising meets the criteria. As a result, plumber PPC is in high demand.
PPC Management Services for Plumbers
Our Google Ads team is experienced with plumber advertising campaigns and is dedicated to helping your company succeed online. Plumbing Webmasters is the top-rated choice for advice or assistance with managing your pay-per-click campaign.
Still not convinced? Check out some of the main benefits of paid advertising below:
Analytics Tracking: Plumbing PPC campaigns produce measurable results and valuable data
Expedient Results: In contrast to organic SEO, PPC ads provide immediate results
Fixed Budgets: Google Ads, Bing Ads, and social media Ads allow for set budgets, so companies never overspend
Location Targeting: PPC campaigns can target specific geographical locations and service areas
Using pay-per-click as a supplemental form of marketing is a great way to generate plumbing leads quickly, but as a solitary or long-term solution, it can get fairly pricey.
The most sustainable internet marketing strategy is search engine optimization. With that said, organic SEO is a slow and steady process, so it may take a few months to see tangible results.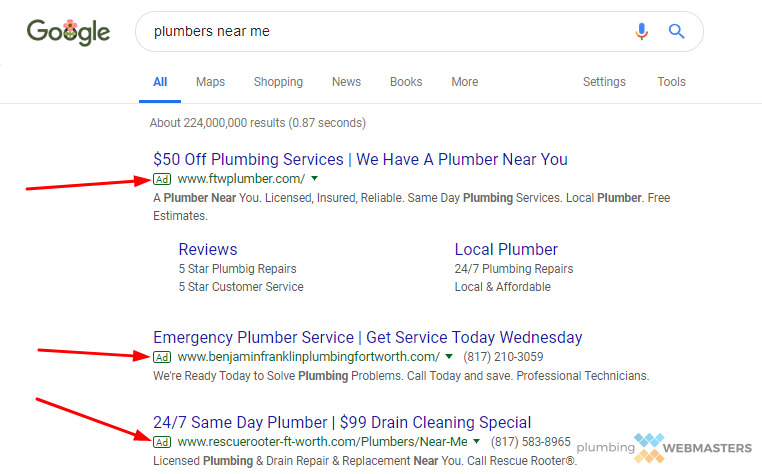 Pay-per-click for plumbers is an excellent option while waiting for optimization to make an impact. As we mentioned before, pay-per-click can be expensive, so maximizing ROI is imperative.
Maximizing PPC Campaigns for Plumbing Contractors
Plumbing Webmasters understands the importance of a well-designed PPC advertising campaign for your plumbing company. Though organic search engine optimization is the best long-term strategy for plumbers, PPC advertising provides fast results.
There are many ignored aspects of paid advertising. It is not enough to launch a campaign and then sit back and wait for the calls to come in. Analysts should regularly evaluate paid campaigns and improve them to keep pace with competitors and maximize ROI.
Conversion rate optimization is critical to reducing PPC campaign costs. Also, there are other ways to lower your cost per lead, such as keyword analysis. Higher volume keywords command a higher cost per lead. However, this doesn't mean the lower-volume keywords aren't worth using.
Low-volume keywords can be appealing for niche plumbing services. With that in mind, plumbers should focus on increasing conversion rates.
At Plumbing Webmasters, it starts with researching your local demographic and determining which keywords to target. Proper targeting increases ad impressions to relevant consumers.
Next, our content team writes ad copy that appeals to the target audience and satisfies Google's quality score metric. The quality score helps direct your ad to clients presumably interested in plumbing services.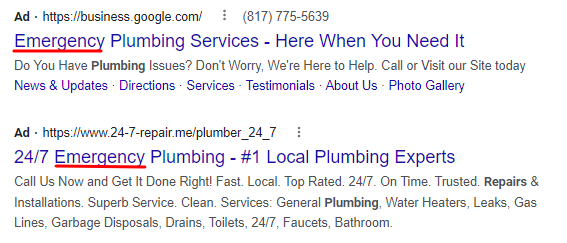 Your ad should target a specific consumer to meet user intent and deliver on its initial promise.
Hiring a Plumber PPC Company
Running a paid advertising campaign can be time-consuming for busy plumbing contractors. Many companies offer pay-per-click services, but very few provide a worthwhile ROI.
When choosing an internet marketing company, you should look for a comprehensive SEO and PPC package, such as the one offered by Plumbing Webmasters. 
As a company specializing in plumber internet marketing, we can offer a more detailed SEO and PPC marketing strategy for your niche industry. As evidenced by our services' all-inclusive nature, we boost your holistic web presence rather than focusing only on expensive PPC campaigns.
Marketing companies worth investing in have the following qualities:
Experience: Documented experience working on PPC ad campaigns, preferably within the plumbing industry
Measurement: Accumulated data showing proven, measurable results
Reviews: The presence of positive reviews on Google, Facebook, or other platforms
Transparency: Honesty and straightforwardness regarding costs and projections
At Plumbing Webmasters, we help local plumbers succeed online. We can assist you in developing a strong web presence that will increase your visibility and help you establish brand recognition, increase sales, and maximize ROI.
We offer various services, from social media advertising, content marketing, and website design, to several different advertising plans. We provide initial consultations to learn more about your company and its business goals.
We view our services as a partnership that will maximize your earning potential. If you are interested in learning more about PPC campaigns for plumbers, call us today and ask about our services.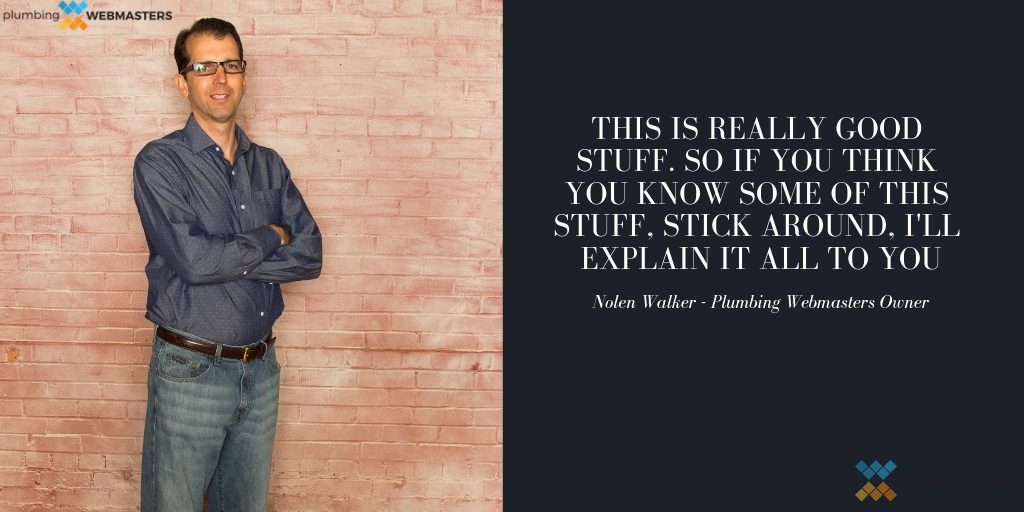 Plumbing PPC Red Flags
PPC ads are pay-per-click. The PPC model means that you are charged for every click, whether that person buys from you or not. You can expect lower conversion rates with higher volume keywords, as many viewers may just be looking for information.
If you choose a niche service such as 'slab leak, you will get fewer clicks from people searching for information and more clicks from potential clients with actual slab leaks. Avoid companies that only target high-volume keywords, as this will be expensive and may produce low conversion rates.
There is no shortage of red flags for advertising scam artists. Always avoid offers from companies that charge by the number of keywords used. A well-rounded ad campaign should include many keywords of low and high-volume varieties.
Accumulating a handful of vague keywords won't produce results for your plumbing company and drain your budget quickly. At Plumbing Webmasters, we offer free campaign analysis for plumbers to determine how well your current PPC campaign performs and where we can make improvements.
A Trusted PPC Agency
The Plumbing Webmasters team is comprised of PPC experts with more than a decade of experience optimizing Ads campaigns for plumbing companies. Our decades-plus worth of advertising data allows us to streamline plumber's success in the advertising space.
More importantly, our team understands the limitations of PPC and the misleading tactics used by other marketing agencies in the PPC space. For example, black box billing and the shell trick are common tactics used to rope plumbers into spending more money on advertising than is needed.
To get in touch with an honest PPC agency with transparent billing, contact Plumbing Webmasters today.