Each year, plumbers should reassess every aspect of their business model, including digital marketing. As a plumber SEO company, Plumbing Webmasters can provide unique insights to contractors across the nation. Because search optimization is dependent on Google, it will continuously evolve to parallel the latest updates in Google's algorithm. Although Google does not release its ranking factor to the public, it provides general outlines for web admins. Furthermore, 3rd parties devote their lives to studying search engine trends and tracking analytics to construct best practice formulas for websites throughout the web.
What is SEO for plumbers?
Search engine optimization (SEO) is the process of taking your website, social media, and other linked digital assets and lining them up with established search guidelines. This involves organic keyword strategy, schema coding, image optimization, web design, domain naming, and much more. SEO for plumbers should typically focus on optimized website design first, then expand into ads!
How long does SEO take for plumbers?
Three to four months. Designing an optimized website usually takes about a month, and plumbing SEO typically requires two to three months to produce noticeable improvements in rankings, traffic, and leads. Larger websites may take longer to design and launch. If a marketing company claims plumbing SEO takes a whole year or longer, look elsewhere for your services.
Is SEO an alternative to PPC?
Yes, SEO is a much more sustainable, low-cost lead alternative to PPC. With that being said, PPC can still produce fantastic results, especially working in tandem with a well-planned SEO program. What does that look like in the real world? First, craft Google Ads to grab visitors' attention. Next, build keyword-optimized service pages. Finally, make links between the two.
What is Plumber SEO?
Plumber SEO is the refinement of digital content to maximize ranking potential on Google search results. The acronym SEO stands for search engine optimization, and when referenced in the context of plumbing, alludes specifically to ranking maximization for plumbers.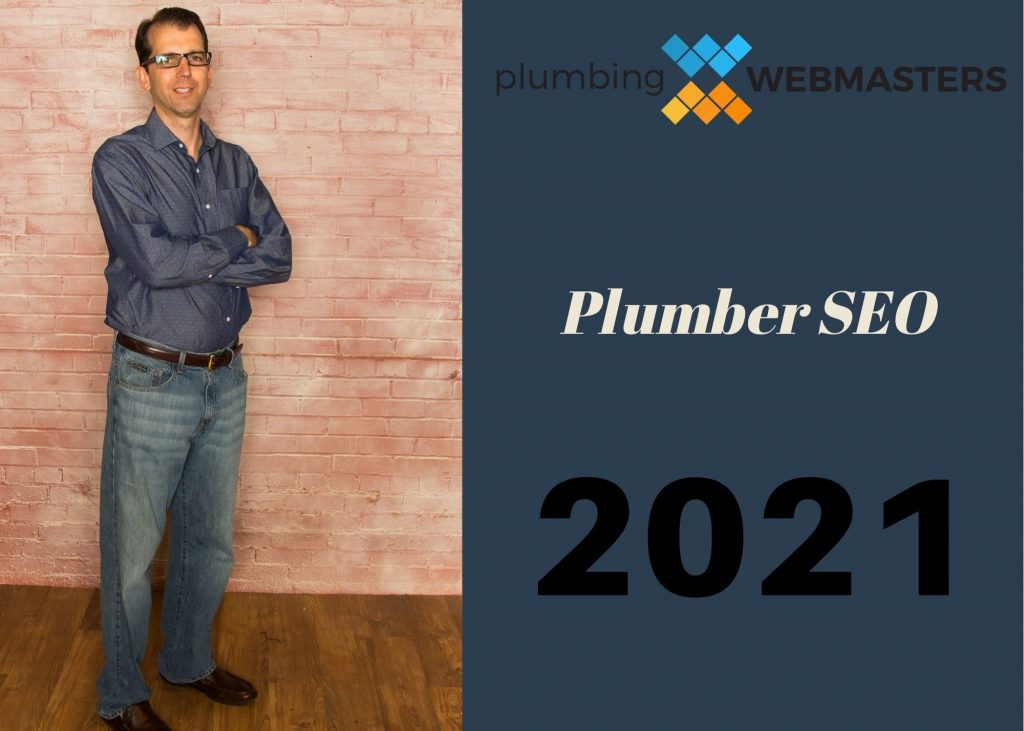 Do Plumbing Websites Need SEO?
Yes, plumbing websites need SEO. In 2021, having SEO for plumbers is not a luxury but a requirement. Failure to implement any search optimization will result in customers being unable to find your business online, which will result in a massive opportunity cost. SEO matters whether the consumer knows of your business or first learns of it through Google search. In the former case, a lack of online presence will come across as unprofessional and decrease the likelihood of building consumer trust. The latter case discourages organic lead generation and limits your target consumers to those offline. Here are the main reasons why plumbing websites need SEO:
Long-Term Branding: Helps build trust and authority (with prospects & Google)
Lead Generation: Helps produce organic leads through search traffic
Another factor to consider is the behaviors of your main competitors. Each year, more websites are launched and optimized, which means that the probability of your competitors having an SEO-friendly website will only increase as time passes. New competition impacts both local search results (seen in the featured map pack) and traditional listings.
If you aren't improving your plumbing company's online presence, you are losing ground. It's why contractors can ill-afford to remain stagnant since you can rest assured that at least several of your foes will be tapping into your market inefficiencies. In addition, the rise in optimized websites also denotes the increase in available digital marketing services throughout the country, whether it's SEO, website design, or combinations of both. In other words, there are more tools and services at your disposal to help you succeed than ever before.
SEO Elements for Plumbing Companies
SEO breaks down into elements. Categories help organize different aspects of optimization and help plumbers understand the process in its entirety. Each element works cohesively with the others to produce a fully optimized digital presence. SEO applies to more than just your primary website, something we'll detail later and requires attentiveness and understanding to execute properly. Remember also that SEO in 2021 is not what it was in 2013 or even 2019. You should also expect SEO to change =as we move forward, meaning 2030 will look far different regarding internet marketing for plumbers. Review the elements:
On-Page SEO
On-page SEO is the most common form of search optimization. It entails keyword research and placement, two of the methodologies most closely associated with the SEO industry. People only vaguely familiar with SEO often understand the meaning of keywords, meta descriptions, and title tags. These are a few of the many components of an on-page SEO strategy. Despite its relative popularity, on-page SEO is easy to mess up. Some of the primary features of on-page SEO are:
Header Tags: H1s, H2s, & H3s
Keyword Placement: Insertions of top keywords for plumbers within different page elements
Meta Descriptions: 158 characters (928 pixels) shown beneath search results
Title Tags: SEO titles shown on search results and the browser
URL Structure: URLs displayed in the web address
Off-Site SEO
Having pages on your primary website optimized is excellent, but it won't be enough to rank them towards the top of Google search results for the most competitive keywords. To achieve this status, you'll need an adequately executed, off-site SEO strategy. Although it's less discussed by non-professionals than its on-page counterpart, off-site SEO is critical to an online presence's overall health and vitality. Just a decade prior, off-page SEO was something far different than it's today. Inbound links still matter, but where they come from matters more.
Off-site SEO components include:
Brand Mentions: References to your brand on external domains
Link Building: Inbound links to your website from external domains
NAP Citations: Business citations from directories like Angie's List, BBB, & HomeAdvisor
Social Media: Business profiles on Facebook, Instagram, LinkedIn, Twitter, & YouTube
Local SEO
The local portion of search engine optimization has become increasingly critical over the last decade. Plumbing services are one of the top industries for local SEO. As Google has integrated location data like geo-coordinates into their search algorithm, they can now display results dynamically based on the searcher's current location. Additionally, the emergence of mobile devices and WiFi internet access has encouraged more frequent search queries and more relevant search results.
Here are some of the primary components of local SEO for plumbing companies:
Google Maps: Verified business location on Google Maps
Google My Business: Verified business page on Google My Business
Online Reputation: Branded and optimized profiles throughout the web, preferably with reviews
Online Reviews: Customer reviews on Google, Facebook, and elsewhere
Technical SEO
The most understated aspect of search optimization is technical SEO. Technical optimization occurs behind the scenes, so only those affiliated with web design and programming understand how it works. These technical refinements are sometimes hidden from the user and only apparent to someone with a web development background. Keep in mind, however, that this doesn't make them any less important. For the other SEO components to reach their fullest potential, the technical element is imperative. Examples of technical SEO include:
HTML / CSS Coding: Internal coding for clean, responsive web display and navigation
Mobile Display / Optimization: Optimal display and coding for mobile devices
Schema Markup: Microdata tags that help Google interpret website content
Site Speed: Minimized loading times for websites and their pages
Website Design: The website design itself, including aesthetics and navigation
Plumbing SEO Content Tips
As valuable as on-page, off-site, local, and technical SEO can be, none of it makes a website complete like high-quality content. Writing good content helps attract users to your website and, better yet, helps keep them there. Google's primary goal is to provide its users with a positive user experience. Therefore, delivering the best content is the fastest way to earn your worth on search engines. Here's how plumbers can write SEO-friendly content for their websites.
Homepage
A homepage is essential for both SEO and brand building. Think of your home page as your digital business card. You'll want to list your contact information, your service types and encourage users to take action (like calling your phone number). Your main page should also showcase your company logo and unique pictures of your team, trucks, and equipment. Not only do users get a better experience, but search engines can interpret your company's authority based on its homepage.
Service Pages
Service pages pick up long-tail plumbing keywords in your local area. Think about it, most plumbing companies have a homepage, but how many have separate pages or each of their services? These service pages are where plumbing companies separate themselves. For example, a well-written page about leaky pipe repair and another one for toilet repair helps Google crawl your website for sub-topics. Those internal pages then rank as their search result on the Google SERP. 
Blog Posts
Plumbing blog posts can be good or bad for websites. Thin content that fails to engage readers will only hurt your overall rankings. In contrast, detailed guides about your plumbing repair processes or answers to frequently asked questions can enhance your site's value and show up in rankings for informational queries. Remember, not every website visitor is ready to buy your service today. However, if you can enter some of the more curious prospects into a long-term sales funnel, they will call you when an actual plumbing problem arises in their home.
Jobsite Check-ins
New software called DataPins is changing plumbing SEO as we know it. This innovative app allows plumbers to pin job sites and have their pictures and captions automatically published on their websites. Google loves user-generated content, which means you can rank for keywords within your job captions and get local credit for the geo-coordinated schema code. Furthermore, DataPins sends automated review requests to clients and publishes their responses on the corresponding page. So, if you've ever wanted to automate your local SEO process, DataPins is the answer.
Reputation Management
The modern consumer checks with review platforms like Google, Yelp, and Facebook before making a purchase decision. Generating positive reviews on these platforms can be a challenge for local plumbers. However, The DataPins software streamlines the process with automated review requests. Best of all, it publishes the reviews on your website for SEO purposes. Now prospects can verify your company's work in their specific area, which helps you rank on Google's Map 3-Pack, all while securing your reputation as a top local plumber.
Real Growth in 2021
Are you ready to start seeing ongoing growth for your company in 2021? SEO for plumbers requires time, money, and effort, but it also produces a steady supply of cheap, high-quality plumbing leads for your business. It also creates lasting impressions for your brand, which creates deeper client loyalty for years to come. So start planning your 2021 SEO strategy, call the Plumbing Webmasters, and get a free consultation. We can't wait to serve you.