Plumbing Webmasters is the top plumber web design agency in the country. Our website design services have helped market hundreds of businesses across the United States… and we've done it by designing custom websites for every one of our clients. But our duties don't end once your website is finished. We continue to work on your website to keep up with Google algorithm changes and maximize your lead generation. We look forward to working with you on your new websites.
Are your website designs customized or template-based?
Every one of our website designs is custom-made by in-house web designers. We do this for a few reasons. First, custom sites possess cleaner codebase which contributes to search engine optimization. Second, plumbers with custom sites can more easily convert visitors because of the uniqueness and originality, which makes it that much more valuable to a business.
Can I keep my domain name with a new website design?
Absolutely. In fact, Plumbing Webmasters handles this process on your behalf. We transfer your existing domain name to the new design so that your current customers can find you at the same web address, and your tenure as an online business (including all of your business listings) remains in-tact and continues to help your SEO.
Why is web design important for plumbers?
Website design impacts your plumbing business in multiple ways. First, it serves as a showcase of your business and helps instill trust in people who look up your company online. Secondly, it can help you rank higher for plumbing industry keywords by satisfying Google's algorithm which values user experience and responsive web design.
Take a look at some of our websites: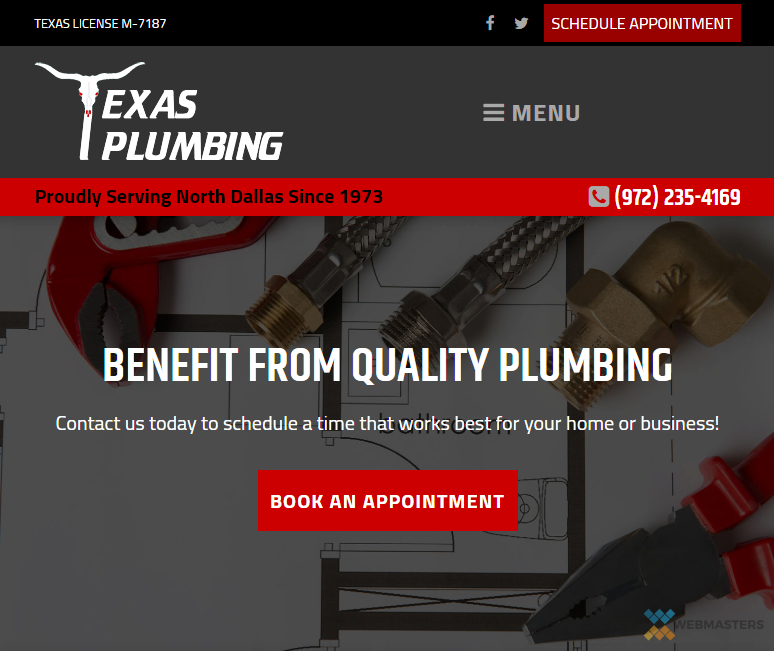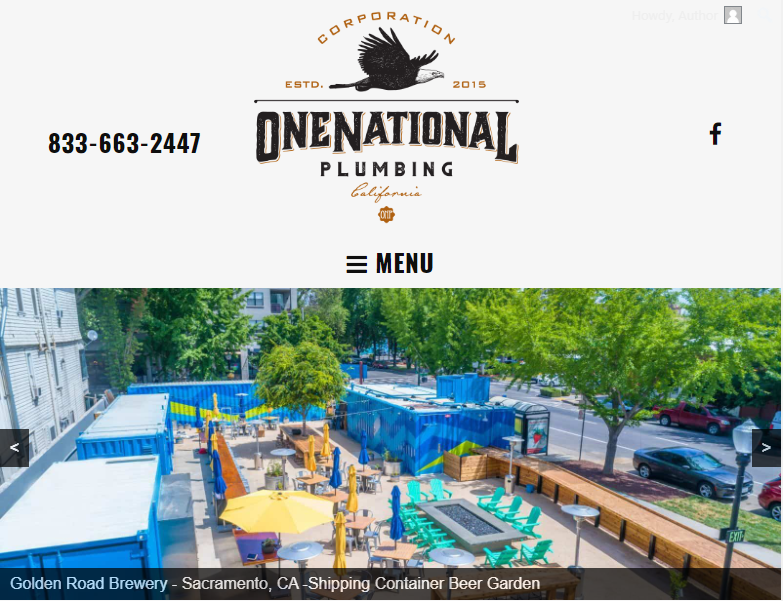 Check out these amazing plumbing websites for more examples
Website Design Services for Plumbing Companies
Plumbing Webmasters offers custom website design for plumbing contractors throughout the United States. With decades of experience designing and optimizing plumbing sites for search engine results pages, we are the perfect match for your business. Our web design services include:
Mobile-Friendly Design: We create websites for mobile, first, rather than desktop
Responsive Design: Though our websites are created with mobile in mind, they respond to any kind of device
Structured Data: Our websites utilize schema markup to best communicate with search engines
WordPress CMS: Each of our websites incorporates the WordPress Content Management System
Our expert designers are some of the best in the business. In contrast to DIY website builders like Weebly, Wix, and Squarespace, we construct "from-scratch" websites on the reputable WordPress CMS, each with its own unique graphical interface. We use the word "custom" because none of our websites are duplicates of each other. Having an exclusive plumbing company website that has its own identity, and is fully optimized for search, puts you at a major advantage over companies using stock website templates.
What Goes Into Website Design For Plumbers?
At Plumbing Webmasters, we like to think of websites as extensions of a company. They represent your brand, your likeness, and the overall ethos of your business. That's why we meet with each of our clients before we begin the design process. We ask questions about your mission statement, company philosophy, and goals and visions for your online marketing campaign. From there we develop a strategy, and an outline, at which point we will reveal our progress to you, and ensure you like where the design phase is heading. To review, the following elements go into website design:
Brand: What is your company, its logo, and what does it represent?
Goals: What do you specifically hope to accomplish with your website, aside from lead generation?
Services: How many services do your business offer, and what specifically are they?
User Interface: How would you like your website to present to users? And in what fashion?
Our design begins with a clean, responsive code base, that is unique to your specific project. The last thing search engines want to see is stock templates that closely resemble other websites within your industry. For this reason, our designers work from the bottom up, crafting clean and responsive code, with unique and exclusive visual elements. We pay extra close attention to the user interface so that the user experience for your site will be superior to others in the industry. Each of our plumbing sites is designed to be fully optimized for every device, from mobile viewing to desktop, and everything in between.
Should My Plumbing Company Have Multiple Websites?
Plumbers who service a fairly wide area might wonder whether they need multiple websites for multiple cities, regions, etc. The answer is no. Unless you are a franchise that hosts sub-divisions throughout most states of the country, having multiple websites will only hurt your SEO. Instead, you should utilize areas served schema, which allows all of your service locations to be presented on search engines. Reasons to avoid multiple websites include:
Attribution: Managing multiple websites makes it harder to attribute the source of your leads
Confusion. Users might be confused whether your websites represent the same company
Duplication: If some content on each site is duplicate, Google will have to decide on one or the other for rankings
Optimization: Splitting your SEO between multiple websites is like competing against yourself for rankings
By partnering with Plumbing Webmasters, not only will you have a unique and innovative website design, but you will also have 'areas served' schema markup. This microdata structure indicates to Google that your services expand across multiple cities and regions. This way, Google can market your services on local searches, in a wide range of areas. We have decades of experience with internet marketing for plumbers, so you'll be in great hands with our web design team, as well as our optimization experts.
Landing Page Design & Optimization For Plumbers
Plumbers often mistake a landing page for a website. They can be mutually exclusive, but don't have to be. Landing pages are generally referred to as pages that correspond to paid advertisements. For example, a Google Ads ad that says "call now for shower remodels in Dallas" will link to a page, and that page is known as a landing page. It can be a part of your website, or it can be a separate entity. We recommend that it is a part of your website, for the same reasons we illustrated in the previous section. A good landing page contains the following characteristics:
Call To Action: A clear and convincing call to action (i.e. phone # link)
Headline: An attention-grabbing headline
Sub-Headline: An expansion of your headline as it relates to the subject
Landing pages are not something you can skim over as a plumbing contractor. In relation to PPC, they are as important, if not more so, than the advertisement itself. The reason landing pages relate to "website design" is because they are, in our case, a page on your website. Lead generation is the ultimate goal of 98% of plumbing contractors. For this reason, displaying phone # links, email addresses, physical addresses, and other contact information is imperative to create and maintain those leads. All in all, landing page optimization serves to increase conversions from your website, based mostly on paid advertisements.
Free Website Analysis For Plumbers
Not sure if your website requires a re-design? We'll be happy to take a look at your current site, free of charge. We will assess the strengths and weaknesses of your website, and allow you to make an informed decision about whether it requires a re-design. If it does, we will move forward with the website design process, creating a brand-new site for your plumbing company, and one that is unique to your services. While analyzing your current site, we review the following:
Mobile-Friendliness: How well your website displays on a mobile device
Navigation: How easy it is to navigate your website, on multiple devices
Site Speed: How quickly your website loads, both on mobile and desktop
User Interface (UX): How intuitive and engaging your UX is
The SEO experts at Plumbing Webmasters are dedicated to making your website more than visually appealing. While aesthetics are an important part of the design process, so is the assurance of sound optimization techniques within your code's foundation. Believe it or not, the SEO process is founded in the design stage of your website. With our group, you get the best of all worlds.