Plumbing Webmasters offers comprehensive plumber web design services for companies across the United States. Websites are custom branded and SEO-optimized.
Web Design Services for Plumbers
Custom Web Design
Responsive Web Design
Mobile Web Design
Logo and Brand Integration
DataPins Integration
Site Speed Optimization
What is Web Design for Plumbing Companies?
Web design is the process of developing aesthetic portions of a website, including user interface (UI), user experience (UX), layout, and navigation. Authentic web design requires a knowledge of HTML, CSS, and other coding languages that form website design elements.
Why Should Plumbers Care About Web Design?
A website is the first impression of your plumbing company and the foundation for your web presence. Without a strong website, additional digital marketing techniques will fail to reach their maximum potential.
Furthermore, a sustainable online imprint should occur with an entity under your control. You own your domain name, so your website should get more work than other platforms owned by 3rd parties.
Are your website designs customized or template-based?
Every one of our website designs is custom-made by in-house web designers. We do this for a few reasons. First, custom sites possess cleaner codebase which contributes to search engine optimization. Second, plumbers with custom sites can more easily convert visitors because of the uniqueness and originality, which makes it that much more valuable to a business.
Can I keep my domain name with a new website design?
Absolutely. In fact, Plumbing Webmasters handles this process on your behalf. We transfer your existing domain name to the new design so that your current customers can find you at the same web address, and your tenure as an online business (including all of your business listings) remains in-tact and continues to help your SEO.
Why is web design important for plumbers?
Website design impacts your plumbing business in multiple ways. First, it serves as a showcase of your business and helps instill trust in people who look up your company online. Secondly, it can help you rank higher for plumbing industry keywords by satisfying Google's algorithm which values user experience and responsive web design.

Plumbing Webmasters Website Design Portfolio
Before choosing our company to design your custom website, you probably want proof that we know what we're doing. As an agency that has produced thousands of websites for successful plumbers, we craft custom sites each time. We make sure to include your branded color scheme, company logo, and unique images of your staff (if you have them). Our designers pride themselves on creating amazing plumbing websites for companies across the U.S.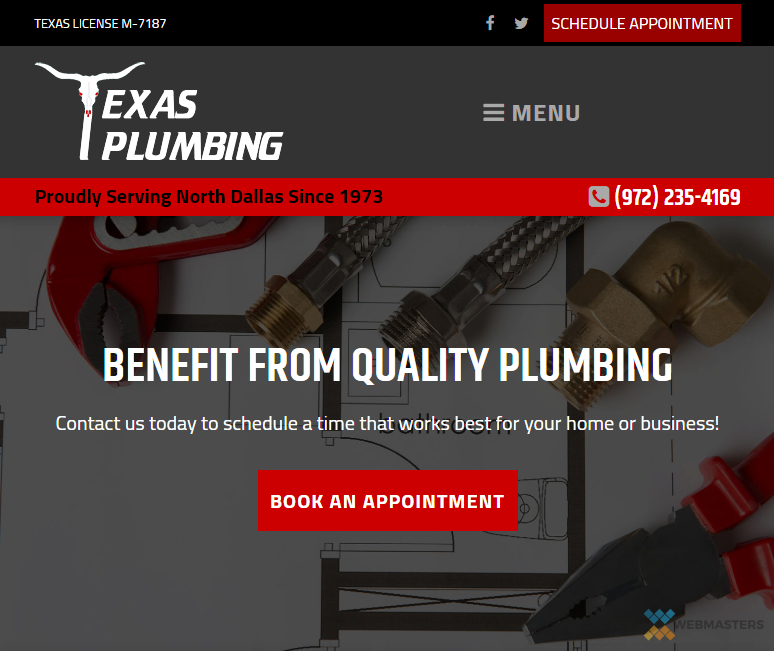 Website Design Services for Plumbing Companies
Our expert designers are some of the best in the business. In contrast to DIY website builders like Weebly, Wix, and Squarespace, we construct "from-scratch" websites on the reputable WordPress CMS, each with its own unique graphical interface.
We use the word "custom" because none of our websites are duplicates of each other. Having an exclusive plumbing company website that has its own identity, and is fully optimized for search, puts you at a major advantage over companies using stock website templates.
Here are our services:
Responsive Web design
Our websites appear perfectly across all devices, from mobile smartphones to tablets and desktops. We know the wide range of clients a plumber can have in 2023, with retired homeowners and young professionals each finding their next plumbing service on a different kind of device.
Google has officially endorsed responsive web design as its preferred methodology, so we put our customers in good hands.
Mobile-Friendly Web Design
Having a mobile-friendly website is critical in 2023, and plumbers without one are losing most of their potential customers. Our team designs each website with mobile devices in mind so they look good and provide seamless navigation for users.
We even add click-to-call functionality so that users can easily call your office directly from your mobile site.
Custom WordPress Design
We use WordPress to design custom websites for our plumbing clients so that we can easily add powerful SEO content and get your site ranking on Google. Furthermore, WordPress is the most popular CMS on the web, with most users feeling most comfortable navigating their sites.
Best of all, it's open-source, so we can make edits we need at all times and implement all of our tools with seamless compatibility.
Schema Markup
Our websites include schema markup so that Google better understands the context of your website and business and can properly relay that to search users. For those unaware, schema is a microdata language that helps search engines parcel data more effectively.
Implementing schema into a website design can help engage users and prompt Google to enhance your SERP result with rich snippets.
Site Speed Optimization
Users in 2023 expect websites to load in less than one second, which is why The Webmasters team performs site speed optimization for every website.
Our team implements lazy loading for images to speed up pages, minifies CSS to reduce coding bloat, and uses a content delivery network to maximize user experience.
Free Website Analysis For Plumbers
Not sure if your website requires a re-design? We'll be happy to take a look at your current site free of charge. We will assess the strengths and weaknesses of your website and allow you to make an informed decision about whether it requires a re-design.
If it does, we will move forward with the website design process, creating a brand-new site for your plumbing company and one that is unique to your services.
While analyzing your current site, we review the following:
Mobile-Friendliness: How well your website displays on a mobile device
Navigation: How easy it is to navigate your website on multiple devices
Site Speed: How quickly your website loads, both on mobile and desktop
User Interface (UX): How intuitive and engaging your UX is
The SEO experts at Plumbing Webmasters are dedicated to making your website more than visually appealing. While aesthetics are an important part of the design process, so is the assurance of sound optimization techniques within your code's foundation.
Believe it or not, the SEO process is founded in the design stage of your website. With our group, you get the best of all worlds.
Work With a Trusted Web Design Company
Plumbing Webmasters is the top-rated website design agency for plumbing companies. Our custom website designs are included in our monthly services. We understand that ranking on Google requires a strong website with proper site architecture.
Keep in mind our duties don't end once your website is finished. We continue to work on your website to keep up with Google algorithm changes and maximize your lead generation. We look forward to working with you on your new websites.