Plumbing Webmasters provides ongoing reputation management services as part of our SEO services for plumbing contractors. It's no secret that reviews and reputation help shape a company's online presence.
We include our reputation management tool, DataPins, to allow plumbing companies to automate review requests and publish feedback directly on their websites. Our reputation management tool also creates user-generated content to improve SEO rankings.
What is Reputation Management For Plumbers?
Reputation management is the monitoring and improvement of a plumbing company's reputation. Common review platforms include Google My Business, Facebook, and Yelp, each of which influences a potential customer's decision.
Examples of reputation improvement include generating more reviews, responding to existing reviews, and enhancing brand visibility online. 
What Creates a Plumber's Reputation?
In an increasingly online world, we think of reviews as the primary reputation builders for plumbing companies. Many consumers consult with a trusted review platform like Google before making a purchasing decision.
While reviews are most important, other factors also contribute to reputation. Let's take a look at some examples of things that can either enhance or reduce a plumbing company's reputation:
Mentions: Both linked and non-linked mentions of your company on other websites
Presence: Established profiles and listings on social media, business directories, and review platforms
Reviews: The presence and management of online reviews on Yelp, Google, Facebook, etc.
Visibility: Established rankings on search engines, notably Google
Earning trust online includes each of the factors above and can take months and years to master. Competition in local plumbing markets grows each year, and more companies invest in SEO and other digital marketing tasks than ever before.
Ranking for local keywords is no longer enough to guarantee plumbing leads. Establishing a good reputation online ensures that your rankings produce conversions and help grow your plumbing business for the long term.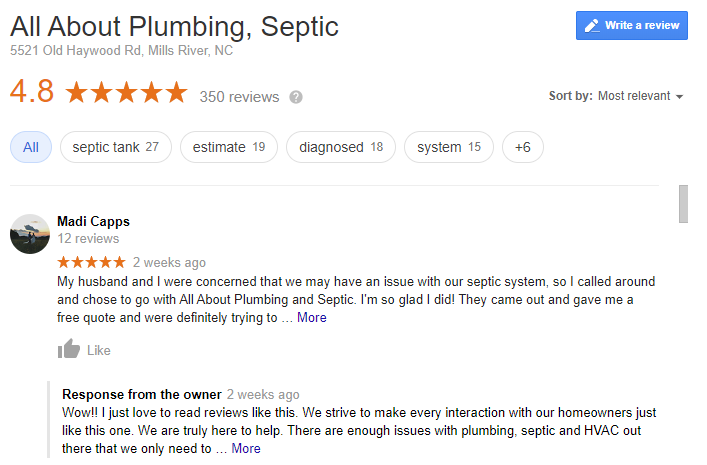 Enhancing Reputation Through Social Media
Social media is a handy tool when it comes to plumber reputation management. The variety of social media outlets provide various mediums to establish trust, credibility, and good standing within the industry.
Claiming profiles on each of the most popular social networks can help build your brand online and create a solid foundation for your website and local listings. Some of the most helpful social media platforms include:
Facebook
Instagram
LinkedIn
Twitter
Social media is one of your clients' primary ways to connect with you or expect you to communicate with them. If customers comment on your posts, be sure to respond with some helpful information.
Satisfied consumers will share your posts, helping you reach a larger audience and work towards the reputation you covet. Review platforms like Yelp are also critical, as search engines consider them authoritative sources that influence reputation.
Integrating Reviews On Your Plumbing Website
Plumbing company testimonials are an excellent addition to your website and appeal to search engines and potential clients alike.
It's also beneficial to link to 3rd party review platforms like Angie's List, Yelp, and Google My Business, in the footer of your website, with links that will directly take the user to your review page of the corresponding website.
Plumbers can also invest in the reputation management tool; DataPins to automatically showcase reviews on their homepage. Here's how it helps:
Conversion Rate Optimization: Visitors who see reviews on your homepage convert at a higher rate
Ethical Link Building: Links from 3rd party platforms like Yelp and Angie's List contribute to search rankings
Rich Snippet Generation: With schema markup for reviews, your website can earn rich snippets
Search Engine Optimization: DataPins produces user-generated content that helps your pages rank on Google search
DataPins is one of the most impactful tools on the market because it contributes to reputation management and local SEO simultaneously. Local Map Pack rankings often separate plumbers from less successful competitors, and DataPins helps plumbers rank on Google Maps.
Once your listing becomes prominent on Google Maps, the accompanying Google Reviews will ensure high conversion rates.

Responding to Plumber Reviews
Every business owner loves a well-written positive review on their company website or a 3rd party platform like Yelp. But the presence of a positive review still requires action. Following up with good reviews both enhances customer satisfaction and builds customer loyalty.
Though we'd all love for every review to be complementary, that is an unrealistic expectation. Any plumber in business long enough will undoubtedly deal with the occasional negative review. What separates businesses is how they respond to them. Review responses should be:
Encouraging: Encouraging not only to the distressed customer but to those who witness the interaction
Professional: Grammatically correct, polite in tone, and the establishment of a customer-first mentality
Solution-Oriented: Aim to resolve the issue at hand, that doesn't mean automatic compensation to appease the reviewer, but it could involve discounts depending on the situation
Transparent: If mistakes were made on your end, own up to them, it will help humanize your company and earn the trust of other consumers
As a business owner, negative reviews are part of the reputation management process. Don't panic. We all know that some reviews are publicized misunderstandings or, in worse cases, grudges against employees.
Instead of seeing negative feedback as a death sentence for your plumbing company, re-frame your thinking and look at them each as PR opportunities to not only resolve a present issue but to build a positive reputation online. 
Get Started With Reputation Management Services
The Plumbing Webmasters experts work to stay on top of your reviews and reply quickly and professionally to each one. We continuously monitor each review platform to ensure that no new comments are left unnoticed.
Our professionals deliver sincere gratitude for good reviews as well as offering apologies and resolution strategies to ensure that each of your plumbing company's reviewers is left happy and satisfied. 
As part of a comprehensive digital marketing plan, accurate review management can help boost your company's awareness and authority. Let our experts provide you with the plumbing content, web design, and reputation management your company needs to succeed.
Our reputation management tool, DataPins, changes the local SEO game for plumbers and ensures prominent visibility along with higher conversions.