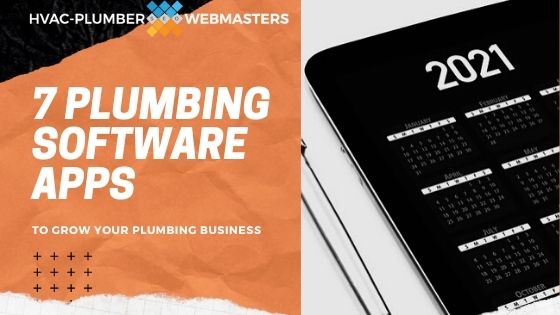 Plumbing software can streamline your day-to-day business operations and increases efficiency. Let's face it, your days as a plumbing company owner are probably hectic. Between dealing with customers, dispatching your crew, and providing on-site assistance, you don't have much free time on your hands. 
But whether you are looking to upgrade your business processes or free up time to attend to other matters, your solution is the same: plumbing software. The right plumbing software will ultimately make running your plumbing business (and your life) easier. 
The question is: what is the right plumbing software for your business? In the following post, we will be talking about how software for plumbers, in general, can improve your day-to-day operations. Then, we run down some of the best plumbing software suites currently on the market.
What is Plumbing Software?
Plumbing software typically refers to an app or program that automates billing, dispatching, and scheduling for your plumbing business. However, it may also allude to apps that automate marketing tasks like online review requests.
What Can Plumbing Software Do for Plumbers?
Plumbing software is all about enhancing productivity. Automating certain tasks (the ones that can be automated) will save precious human resources for more important things. Plumbing software benefits include:
Organization: By knowing who is on which job, you will organize service calls more effectively. It also allows you to get the most use out of the hours you pay your crew.
Automation: Plumbing software allows you to automate specific tasks without spending your time on them. It frees up your time to focus on more critical aspects of your business.
Customer Service: Plumbing software isn't only about benefiting you; it's also about helping the customer. By making it easier to pay, schedule, and contact personnel, the customer has a better experience. Of course, in the end, better customer service does benefit you.
The Best Plumbing Software Apps in 2023
1) ServiceTitan
ServiceTitan tops our list because it helps plumbers with one of the most challenging aspects of running a business: organizing your workforce. It's a field management system that offers crucial tools to dispatch your team, create invoices, and much more.
It also gives your crew the power to process payments in the field. Imagine sending a crew member to a job, having them finish it, and processing payment all from a centralized dashboard. That's what ServiceTitan offers. 
Pros:
It also has marketing tools like an ROI calculator
Compatible with Mac and Windows
It uses cloud storage so that it won't slow down your company network
Cons:
The pricing can vary pretty widely depending on the services you need
2) DataPins
DataPins automates local SEO and reputation management for plumbers. While it is not considered a field service management app, it does help with dispatching. More importantly, it helps your plumbing website rank on Google search and Google Maps for highly relevant terms.
Just as significantly, DataPins optimizes your review generation process by sending an automated request via text and email. No other SEO tool on the market rivals what DataPins provides for plumbing contractors globally.
Pros:
The only software that directly helps plumbers rank on Google
Assists with reputation management tasks through SMS and email
Boosts conversion rate from on-site social proof (via schema pins)
Cons:
Not a prototypical Field Service Management software
3) Service Fusion
Service Fusion is a great software suite to have in your arsenal because it helps prepare you for project success. For example, it has an excellent estimate creation tool that allows you to enter all pertinent information while drawing up an estimate for yourself and the customer.
There are also excellent customer management services like VoIP (Voice over Internet Protocol), so your customers can contact you as needed. 
There are also great scheduling and dispatching tools along with GPS fleet tracking so you can see who is on the job at any given time. Overall, Service Fusion provides great pre-project management tools that will help you get jobs done better and faster.
Pros:
Service Fusion offers a free trial
Every plan level allows for unlimited users
Includes a robust inventory management tool
Cons:
It doesn't have the most user-friendly interface
4) Vonigo
Vonigo is an excellent plumbing software suite to use if you want to start digitizing things to make your life and customers' lives easier. It's mostly a digital business management software suite that allows you to process bills and invoices, process signatures electronically, and handle quotes and estimates digitally.
Vonigo is a solid and straightforward option if you start to switch over to digital for some of your plumbing business's operational procedures. 
Pros:
It's available on many platforms
It gives you an online time clock tool
The features are not overwhelming
Cons:
It lacks some marketing features
5) SimPro
SimPro makes our list because it is the ideal software suite for plumbers who typically tackle large, multi-stage projects. SimPro is the best software suite to help you manage the minute details of substantial plumbing projects, including inventory management, creating quotes for long-term projects, and communicating with people inside and outside your company. 
The only thing is that the software can be pretty complex. However, it does offer training to help you get accustomed to it.
Pros:
Great for companies that handle large plumbing projects
Great for commercial plumbers
Cons:
It can be a bit overwhelming at first
6) Service M8
Number 4 on our list features plumbing software that was suited for large plumbing companies. But what about smaller operations? For smaller plumbing companies, we recommend Service M8. Service M8 can be integrated with QuickBooks and Xero, so the transition is a bit easier. In addition, service M8 is excellent for handling everyday tasks like drawing up estimates, generating invoices, and creating schedules.
A handy routing and dispatch tool will also allow your servicemen to get to your customers quicker. If you are starting to have trouble with scheduling as your business grows, this is a great solution.
Pros:
It's affordable
Service M8 offers 24/7 customer support
Cons:
It doesn't offer a live communication platform
7) Jobber
The great thing about Jobber is that it provides you with tools that not only automate customer service but ones that will help your business grow. For example, with Jobber, you get a handy email marketing tool that schedules correspondence with your customers.
There is even a client reminder function that will handle your service reminder duties for you. There are even online appointment scheduling tools and a customer self-service hub. So jobber not only allows you to automate some of your marketing and project creation tasks, it helps you drum up more business. 
Of course, there are still essential tools like online dispatching, service schedule, and invoice creation. However, Jobber is especially handy for mid-size plumbing companies that are looking to scale their business.
Pros:
It offers helpful marketing features
There are many packages to choose from
You can use it on desktop and mobile
Cons:
The mobile version could use some work
Take your Plumbing Business to the Next Level
All of these plumbing software suites are great for various reasons. Some of them even offer helpful marketing tools; however, if you are ready to take your plumbing business to new heights, you need to get in touch with us.
Marketing tools are great, but nothing compares to having an entire team of seasoned digital marketing pros in your corner. That's what we offer here at Plumbing Webmasters, so scale your business with us today.