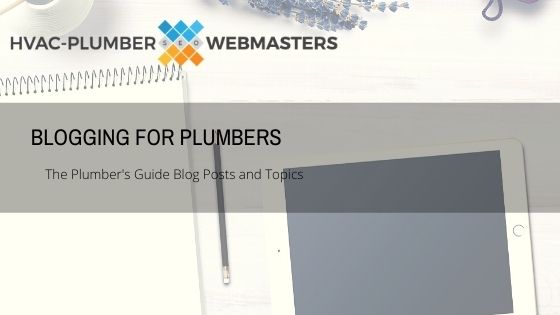 What is Blogging for Plumbers?
Blogging is the production of posts published online, typically through informal, text-based entries. For plumbers, blogging may consist of how-to guides, company announcements, and industry news. With proper on-page SEO, plumbing blogs can rank on Google Search for relevant keywords.
The Appeal of Plumbing Company Blogs
Content marketing has become a huge point of emphasis for businesses large and small. Mainly because it works. Providing your audience with content that they can draw value from and/or engage with is extremely important in digital marketing.
For plumbers, it can mean the difference between gaining new customers and losing out on them. And blogging is one of the most effective forms of content marketing. And while plumbers have trade skills, they may lack the creative knack for crafting effective blog posts.
But make no mistake about it; plumbing offers very fertile ground for quality blog content. You may not be versed in prose, but chances are you have highly-marketable and practical knowledge that people are seeking out every day.
And that's how a blog can be effective: people are looking for answers from plumbers. The only question is, will they get those answers from you or another plumber. Studies have shown that people who draw some value from a company's blog are much more likely to trust and patronize that company.
So today's post is going to be about plumbing blog topics and how you should go about starting or refining your plumbing blog. But first, it may be helpful to understand what a blog can do for your business…
Blogging Benefits Your Plumbing Business
Having a plumbing blog rife with well-crafted content is very important to your business for many reasons. Here are just a few:
Blogging for Lead Generation
Email marketing is great if you can do it correctly. But even at its best, it doesn't match the draw and effectiveness of content marketing. People read blogs 3 times more often than emails, and blogs are emerging as the preferred way for people to get their information. Prospects who enter your website through a blog post may end up signing up for a service.
Blogging for SEO
SEO aims to get your company website indexed as high as possible on as many search engine queries as possible. This drives web traffic, brand awareness, lead generation, and ultimately, sales. And blogging helps with organic SEO. Google is prioritizing high-quality content to improve user experience. And aside from more attention from Google, blogging can help you build a solid backlink profile that will get more people to your website.
Blogging for Brand Authority
The more you post on popular and important topics with well-crafted blog content, the more authority you will establish for your company. As you gain backlinks from blogging, you gain more web authority. At the same time, you gain more real-world authority and trust in your brand from your readers, who, in turn, will be more likely to patronize your business.
Great Plumbing Blog Topics for 2021
The general idea behind any effective plumbing blog is to strike a balance between a topic you can write knowledgeably about and people actually interested in. Think about some of the most common types of service calls you get. Think about what your customers tend to ask you once you are actually on-site.
This should give you a pretty good pool of ideas to start you off as you select plumbing blog topics. And to help you refine your list of potential plumbing blog topics, here are some helpful tips and examples:
Topic Idea #1: Dispel Myths
As a plumber, you probably run into quite a bit of unfavorable situations you might have avoided if people had the right information. The fact is that there are a lot of plumbing myths floating around that end up getting people in trouble. So blog posts that dispel these myths could be fodder for great content. Think about topics like "The 5 Most Dangerous Plumbing Myths" or "Stop Doing This to your Plumbing System."
Topic Idea #2: Freezing Pipes
This is a very topical, well, topic in 2021. We've all heard what's going on in Texas, and more people than ever are now concerned about freezing pipes. A plumbing blog post would be a great example of creating content that people are actually interested in. Consider ideas like "What to do If your Pipes are Frozen" or "How to Tell if your Plumbing Pipes are Frozen."
Topic Idea #3: Appeal to Millennials
First-time homeowners are looking for solutions for everyday plumbing problems. So in 2021, plumbing blog topics like "How to Fix a Clogged Drain, "as rudimentary and repetitive as they may seem, are still relevant. For millennials, any instructional plumbing blog posts would be beneficial. Take some time to consider basic and essential plumbing tasks and then turn them into instructional blog posts. "How-to" blogs are still wildly popular and can earn you a healthy bump in web traffic and new plumbing leads.
Topic Idea #4: Local / Regional Intent
If you own a plumbing business, you own a local business. So it is beneficial to come up with blog content that is locally focused. Think about the plumbing issues that are typical of the homes and businesses in your area. They can be issues that are caused by the local climate, architecture, or infrastructure. Maybe there are a lot of big, old trees in your city that normally busts underground pipes. Start thinking of plumbing blog topics along the lines of "Recognizing Plumbing Problems in (insert city name here)" or "How to Avoid Common Plumbing Issues in (insert city name here)."
Topic Idea #5: Help People Save Money
People are always looking for ways to save money, and as a plumber, you can do just that. Compose some posts that highlight the money-saving benefits of low-flow toilets and other water-saving appliances. Devote some posts devoted to simple plumbing maintenance tips that can help avoid major catastrophes in the future.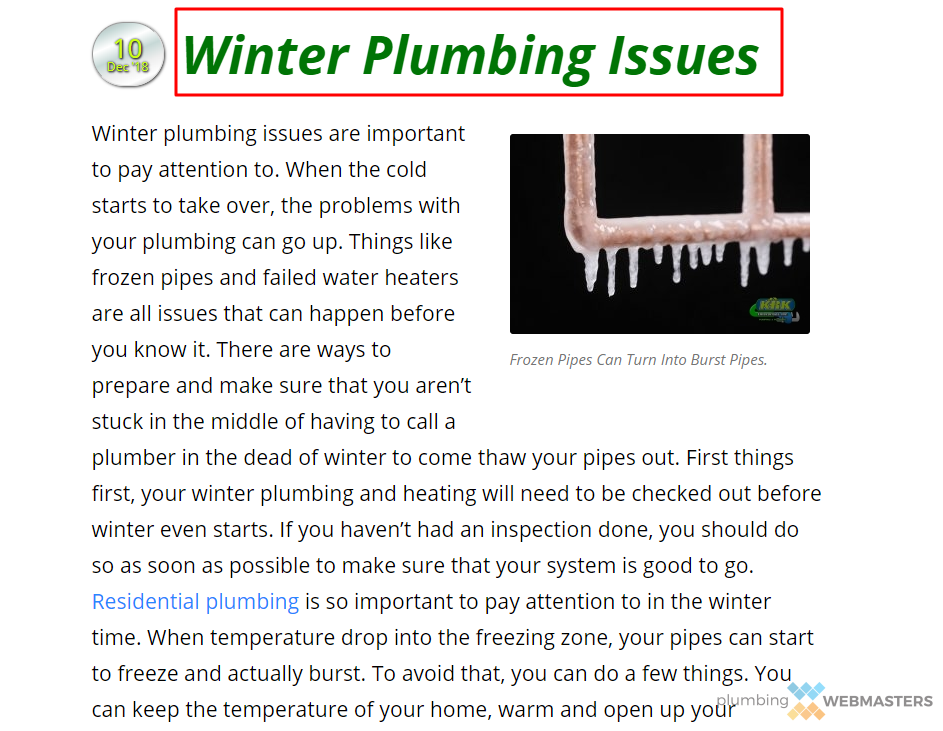 Best Plumbing Blog Practices
Keyword Research
Find out which keywords are trending and compose blog posts around them. Google's Keyword Planner is a great resource to discover trending and low-competition keywords alike. Just remember not to cram keywords into your blog content unnaturally. Keep it natural, keep it human and keep it conversational.
Title Tags + CTR
You want to make your titles alluring and attention-grabbing. In general, you'll want to include the main keyword in your title. But you have to make sure that the title stays indicative of what the visitor will read in the actual content. Higher click-through-rates (CTR) contribute to higher rankings.
Post Frequently
Posting blogs as often as you can is a good way to get Google to recognize you. The search engine loves fresh content. So how often should you be blogging for your plumbing business? The general rule of thumb is just around 11 blog posts per month. But here's a pro tip: updating your existing blog content with new data or information can work just as well as posting new content.
Blogging Services for Plumbers
Need help with your plumbing blog. Choose HVAC-Plumber SEO Webmasters for all of your content marketing services. We help plumbers rank on Google Search and Google Map 3-Pack for relevant keywords. Our content writing staff crafts topical blog posts to increase your brand's authority while ranking for more keywords in Google's index.