Website design may feel like an artsy fartsy, technical world, but the best websites are always grounded in practicality. That's doubly true for plumbing company websites, which serve the needs of visiting homeowners and commercial clients before the needs of the plumber. If you feel like your website still leaves something to be desired, there's plenty of opportunities to start fresh.
Today, we'll explore how to tackle web design the right way. No one knows how to craft a practical, revenue-driving website better than Jason Ingram, the Creative Director at Plumbing Webmasters! We recently sat down with him to answer some questions. Grab a pen and paper as you listen in, and make sure to check out our guide below too!
Key Takeaways for Plumbers
Keep your design goals simple. Focus on providing key details in an easy read.
Make sure calls to action (CTAs) are clearly visible, especially phone numbers.
Make an optimized page for every category and each individual service.
Use original images of your crew, staff, and/or family. Google knows stock photos.
Don't sweat originality or visual fluff. Stick with practical and familiar design!
The Two Pillars of Web Design
People tend to overthink web design. It's true, thousands of styles, colors, and widgets produce a fantastic array of diversity and branding. The core precepts of web design, on the other hand, keep things refreshingly simple. As Creative Director Jason Landry puts it, "Web design really boils down to two parts: information and presentation."
When it comes to creating a productive (profitable and popular) site, the best developers determine what sort of information the typical client needs and works hard to present it effectively.
This is where industry experience proves invaluable! In the case of the plumbing world, a designer who knows his sump pumps from his grinders can make all the difference. At the same time, you need a professional who can put themselves in the shoes of frantic homeowner or business owner and craft a website that meets their needs.
Providing the Right Information
Homeowners do not need a step by step manual of how install a well pump. Neither do they desire constant reminders of your plumbing team's skills. In reality, your clients only require a handful of details from your website:
The exact services your company provides.
Your operating hours (including emergency services).
How to contact your business.
What to expect when they schedule a service call.
Whether or not their situation warrants calling your business.
If you're popping up on search results, you won't need to spend much time explaining qualifications for fixing their home's pipes. While those prospects will certainly feel glad to know you're qualified, you can easily communicate that with a simple license number and/or badges. Instead, think about the questions that clients are always asking. Spend time digging into those topics and providing helpful answers.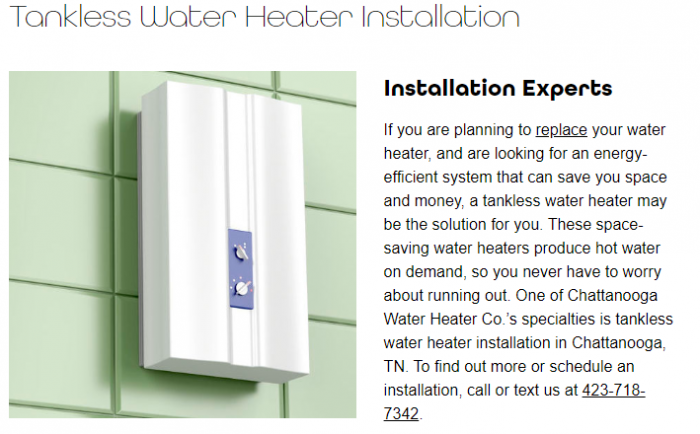 Nailing the Presentation
Now, simply wadding up all those details into a ball of information and throwing it at your homepage will not produce the results you desire. Countless plumbers fall to the bullet service list trap, so we'll just say this once:
Putting services into bullets, dumping them on the homepage, and calling it quits won't work.
There are a handful of tools you'll need to properly share the information your clients need most. First, get that office phone number and address big and bold at the top of your homepage! If a prospect decides to call your company, they should be able to instantly locate and click on your number.
Second, make sure every single one of your services has its own service page. A healthy serving of keywords will allow your business to earn a wider variety of listings, increasing your brand's ability to generate leads. Group these pages under a handful of category pages, and house it all under your navigational menu.
Closing Thoughts on Design
Don't sweat the visual details! Many plumbers think that pretty makes perfect, but visuals rarely drive revenue. The only exception is your photos. Take as many quality images of your team, staff, family, and projects as possible! Google knows the difference between a photo of your master plumber and the familiar face of a stock photo model from another country. It rewards optimized, original photos with better SEO status.
If you decide to hire a professional to design your site, remember that plumbing industry experience makes all the difference! Our team at Plumbing Webmasters would love to be your custom web design team. Our original content, smooth graphic design, and original coding make for fantastic results in local search results.
To learn more about our web design services, call us at (877) 388-9884!