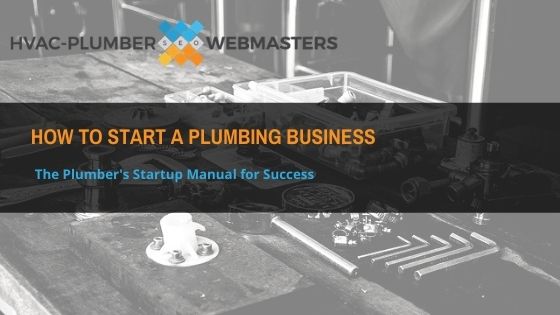 Starting a plumbing business intrigues many prospective contractors. After all, the industry stands at $128.7 billion in revenue heading into 2023.
With over 600,000 domestic plumbing jobs, the profit exists for the taking. But how can someone start their own plumbing company in 2023? 
Owning a plumbing company provides contractors with a sense of pride and the power to create their business vision. No longer will contractors answer to a bully boss who puts down employees for a short-term ego stroke.
While the benefits are apparent, starting a business is hard work. A successful plumbing startup requires a strong plan, strategy, and vision.
Check out HVAC-Plumber SEO Webmasters' guide to starting your own plumbing business:
Business Basics for Plumbers
How Much Money Do You Need To Start a Plumbing Business?
For contractors who hold a license, $10,000 is the ideal starting point for your business. While you can get by with less capital, ten grand will give you a better chance to get up and running with success.
How To Start a Plumbing Business Without Being a Plumber?
If you want to start a plumbing company without being a plumber, you'll need a good lawyer. It's challenging, at the very least, to form a plumbing business without being a plumber. Someone within your company must have a license and follow the rules and regulations to operate lawfully. Whoever serves as the master plumber expects appropriate compensation if they don't own the company themselves.
Writing a Plumbing Business Plan
Your business plan outlines your future business and helps you stay on course. The project should outline each detail for your business from its starting point to its logical launch position. Additionally, a sound business plan helps you secure loans and pick up investors.
Your plan must include your company's legal specifics, including its legal name, address, documents, a field of expertise, and other critical information. A qualified lawyer should oversee the process to ensure ideal results.
For help crafting your business plan, take a look at this sample.
Getting Started With Your Plumbing Company
Choosing a Plumbing Company Name
You should consider marketing when choosing your business name. For example, does your name sound good as a web address? Does it look good on business cards, trucks, and t-shirts? The aspects of a good plumbing company name include:
Conciseness: The shorter the name, the better
Memorability: Avoid anything too generic since you want brand recall
Regional Identifier: A reference to your city or town helps create a local feel
Creating a Plumbing Company Logo
The next step is to craft a company logo since it will appear on your marketing materials. Think about how the logo looks on a truck wrap and business card. It's always best to hire a professional graphic designer to craft your digital logo, increasing engagement based on the color scheme, originality, and memorability.
Marketing Your New Plumbing Business in 2023
Getting Listed Online
Plumbers can get their first business from the internet. Create a free Google Business Profile and verify the address via postcard verification. Implement Local SEO tactics on your GMB listing and generate reviews using software like DataPins Once you've established yourself locally, expect some plumbing leads to show up on your phone and email.
Launching Your Plumbing Website
Google Business Profile helps you get started, but the top-performing plumbing businesses utilize a company website. Your website serves as the central hub for your business. Prospects may see the URL on your business card or truck, and others may find you organically through search engines like Google. A good website presents a custom design and showcases an urgent call-to-action.
Performing Search Engine Optimization
A website in itself is excellent, but SEO helps it show up for keywords. The more plumbing keywords you rank for, the more plumbing leads you can get in 2023. It's best to optimize each of your web pages, from service pages to city pages, using best SEO practices. A software tool like DataPins can save you headaches by producing user-generated content about your services without you having to optimize anything manually. 
Creating and Marketing Content
Plumbers can get the most business through content marketing. New content pages help you rank for more keywords on search engines and share new content without social media followers. It helps to create a specific service page for each of your services. For example, you have a page for pipe repair and also one for toilet repair. The same trend follows for locations within your service area. Blog posts can also help get clicks as long as they are well-written and inform the user.
Managing Your Company's Online Reputation
The challenge for new companies is not having a reputation at all. As your business grows, you'll want to maintain a positive reputation by securing feedback from satisfied clients. As you grow, getting your first review is a big deal. Again, it's best to use a software tool like DataPins to get your first reviews. The device sends automated review requests through SMS and email. Google and Facebook are the best places to get reviews, though Yelp, Angie's List, and HomeAdvisor can also help grow your brand.
Scaling Your Plumbing Business in 2023
Establishing a new plumbing business is a significant first step. Taking things to the next level requires the ability to expand your plumbing business in 2023 and beyond. But don't get too far ahead of yourself right now. Remember to consult with a lawyer before making any business plans official. Always focus on customer service and online marketing. Once you establish your company, consider the following scaling techniques:
Hiring More Employees
The hiring process can create a challenge for more recent business owners. How do you hire? Who do you know who to hire? These are questions that contractors regularly ponder. But one thing is certain, growth requires more employees, and qualified ones at that. Please focus on the customer first and foremost and make sure they get the best services possible.
Investing in Field Management Software
Once you have a certain number of technicians on the road, you'll need a sophisticated system to track their jobs, billing, and performance. You can use a tool like Jobber or Service Titan to manage your employees on the road. The goal is to keep all your data in a central location, so you can scale your business with ease.