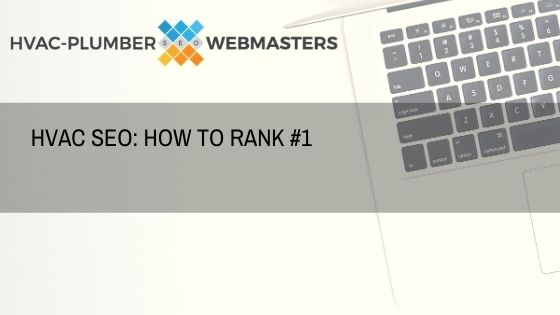 SEO is the best digital marketing strategy for HVAC companies in 2023. However, as the HVAC SEO industry has grown more diluted, subpar practices have lowered its impact and cost business owners wasted dollars.
Still, when properly implemented, SEO yields the highest ROI and produces the most sustainable long-term revenue. In the following guide, HVAC-Plumber SEO Webmasters outlines how to implement SEO the right way in 2023.

Key Takeaway
As an SEO agency with 10+ years of experience with HVAC and plumbing clients, SEO is the most effective and affordable online marketing strategy.
What is HVAC SEO?
HVAC SEO is a digital marketing practice that ranks a website or other digital property on search engine results. SEO aims to generate organic (free) clicks to digital properties and convert a percentage of those visitors into new customers.
Why HVAC Companies Need SEO
Heating and cooling companies traditionally rely on referrals and print media to acquire new customers. However, in 2023, the digital marketplace is now front and center. Most of your prospective customers search for HVAC services on search engines like Google.
As a result, establishing an online presence is mandatory in 2023, as nearly 100% of your competitors invest in some form of digital marketing. While the new marketing landscape should create a sense of urgency, it also presents outstanding opportunities for HVAC companies. See below:
Rank your website and GMB above competitors
Acquire organic (free) traffic from search engines
Generate exclusive and low-cost leads from Google
Build your brand and reputation online
SEO Components for AC Companies
SEO is a loaded acronym that encompasses many aspects of search engine optimization. Everything from XML sitemap submissions to blog post publishing falls under the SEO umbrella.
As a result, HVAC-Plumber SEO Webmasters breaks down SEO components into six main categories, keywords, content, links, on-page, technical, and local.
Keywords
Keywords are the foundation of SEO because your efforts must target terms and phrases that HVAC consumers search for online. Therefore, neglecting keyword research may render the rest of your SEO campaign worthless.
Keyword research tools like Moz Keyword Explorer and SEMRush can help you build a list of targeted keywords based on search volume, difficulty, and user intent.

Keyword Volume
Keyword volume is the estimated number of users who search for a query per month. Of course, the metric is not 100% accurate as no platform can access every query. Still, search volume gives you a general idea about a keyword's popularity. Keep in mind that local terms will have a lower volume.
Keyword Difficulty
Keyword difficulty measures how hard it is to rank for a given query. For example, the term air conditioner repair has a very high difficulty, but adding a local modifier, like in dallas, lowers the difficulty significantly. As a result, local terms have less difficulty depending on the overall population.
User Intent
User intent categorizes queries by the user's estimated intent. For example, if someone searches for my furnace is blowing cold air, we can define their goal as informational. In contrast, a query like furnace repair near me shows transactional intent. The latter type holds the most value for HVAC websites.
Content
Content is the fuel for your keywords, as high-quality pages and posts allow your website to rank for your targeted phrases. HVAC websites typically publish three types of content: service pages, city pages, and blog posts. Each content type targets an individual keyword.
For example, a service page may target air conditioner repair, a city page may target dallas hvac company, and a blog post may target signs of furnace damage. Each query holds a specific user intent. The content must reflect the user's needs within the text and visual presentation.
Service Pages
Service pages detail individual services for your HVAC company, like air conditioner repair, furnace repair, etc. Each service page targets one service so that Google and other search engines can index your pages accordingly. It's wise to interlink service pages together for an SEO boost.

City Pages
City pages target nearby cities outside of your primary location. For example, if you operate your company in Dallas, TX, you might have city pages for Plano, McKinney, and Frisco. Your homepage targets Dallas, while individual city pages target nearby cities for optimal rankings.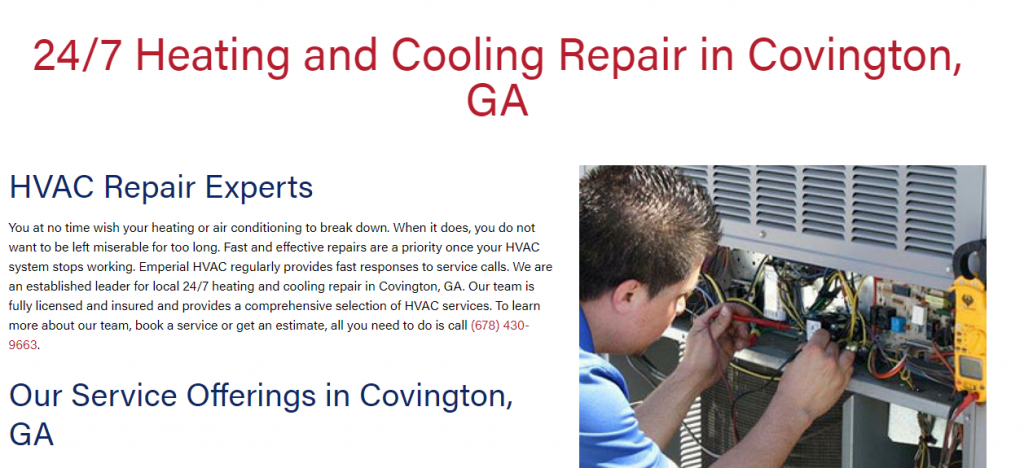 Blog Posts
Blog posts target informational queries that wouldn't make sense on a service or city page. For example, a query like why is my ac vent making noise isn't something you can target on a service page. Instead, you should publish an informative blog post that interlinks to the ac repair service page.
Link Building
Backlinks are an endorsement from one website to another, making them vital to search engine optimization for HVAC contractors. Although links are one of Google's most significant ranking factors, they are also one of the most dangerous SEO tasks you can pursue. Black-hat link building (such as paying for links) can result in a manual Google penalty.
White-hat link building involves creating high-quality content assets and sharing them on social media platforms. Other white-hat strategies include submitting your website to local and industry directories and joining HVAC associations within your region.

Natural Links
Natural links are those that websites link to without your discretion. For example, a blog writer researching various AC repair techniques might come across one of your highest-ranking blog posts. The writer may reference your post within their article, thus transferring link equity.
Citation Links
Citation links come from platforms like Google Business Profile, Yelp, and HomeAdvisor, which allow you to submit your business information within their directories. Since anyone can create these citations, the links are tagged with nofollow, making them less potent than natural links.
Institutional Links
Joining industry or local associations like the Chamber of Commerce can earn you a link on the website's membership page. These types of institutions often link out to their members, who are typically local businesses like yours. As a result, you can earn valuable link equity.
On-Page SEO
On-Page SEO ensures that Google and other search engine crawlers understand what your content is about. You can write an outstanding article about furnace damage signs, but if you fail to implement the keyword into the title tag, meta description, and URL, it won't rank.
In addition to the aforementioned keyword placements, placing your keyword in the first paragraph of your content and two more times throughout the rest of the page or post is ideal. Be careful not to oversaturate your content with a single keyword. Instead, use LSI keywords as synonyms that reference the same entity differently.
Title Tags
Your title tag is what appears on Google search results (unless Google modifies it) and the easiest way to relay a page or post topic to search engines. You can use WordPress plugins like Yoast SEO to ensure your title tags fit within the maximum character limit and contain your keyword.
Meta Descriptions
Your meta description appears beneath your title tag on Google search results. Although it's considered less influential than the title tag, it is still a great place to insert your keyword and preview what your page or post is about. Like title tags, Yoast helps you optimize your meta descriptions.
URL Slugs
URL slugs, otherwise known as permalinks, appear in the address bar of the user's browser. For example, if your company website domain is bigdavehvac.com, your service page URL slug would be bigdaveshvac.com/ac-repair. It helps to put your keyword within the URL.
Technical SEO
Ensuring that Google and other search engines can crawl and index your website is critical to SEO. As a result, Technical SEO is one of the most overlooked components for HVAC companies. It's easy to ignore technical optimization when you lack the knowledge required to optimize your site.
Various factors influence your website's technical optimization, including sitemaps, HTML, URL structure, canonicals, noindex tags, internal links, user experience, and Google Search Console setup. Hiring a professional is the best way to ensure a technically sound SEO strategy.
Sitemaps
XML sitemaps help Google easily crawl your website and find new pages and posts after publication. You can create a sitemap using the Yoast SEO plugin and submit your sitemap via Google Search Console. Think of your XML sitemap as a website roadmap for search engine crawlers.

URL Structure
Some HVAC websites use subfolders to separate their topics and subtopics. For example, a top-level page might cover HVAC services, while the sub-level pages target AC Repair Services and Furnace Repair Services. If you choose the subfolder structure, it's critical to keep things organized.
Internal Links
Like sitemaps, internal links help Google crawl additional pages on your website. In addition, internal links also boost authority for pages and posts. For example, linking your ac repair service page to your blog post about signs of AC damage can transfer topical authority from page to post.
Local SEO
Local SEO is a sub-category of search engine optimization that applies to 99% of HVAC companies. Local optimization shares many of the standard components but requires extra efforts to rank locally. For example, setting up a Google Business Profile is mandatory for Local SEO.
Most HVAC contractors have a business address and work in multiple service areas surrounding their central city. As a result, it's critical to set up and optimize your business listings, especially on Google Business Profile. In addition, you should publish city pages on your website and submit your business information to local directories.
Google Business Profile
Your GMB listing or Google Business Profile is your most crucial citation as an HVAC company. Users who search your brand name will see your listing appear within the knowledge graph on their search results. In addition, nearby users may see your listing with the Local 3-Pack for relevant queries like ac repair near me.
Your Google Business Profile (formerly Google My Business) is the most critical component of your Local SEO strategy in 2023.
Local Landing Pages
We mentioned city pages within our content section, but we must reiterate their importance here. City pages or local landing pages help reach customers outside your primary location. In addition, it helps to create unique and relevant content for each area to distinguish the pages from each other.
Local Directories
Submit your business information to all the major directories like Angi, HomeAdvisor, Yelp, and BBB. As your address appears on more websites, Google begins to view your entire brand as an entity with a confirmed location. As a result, you may start to rank higher for local searches.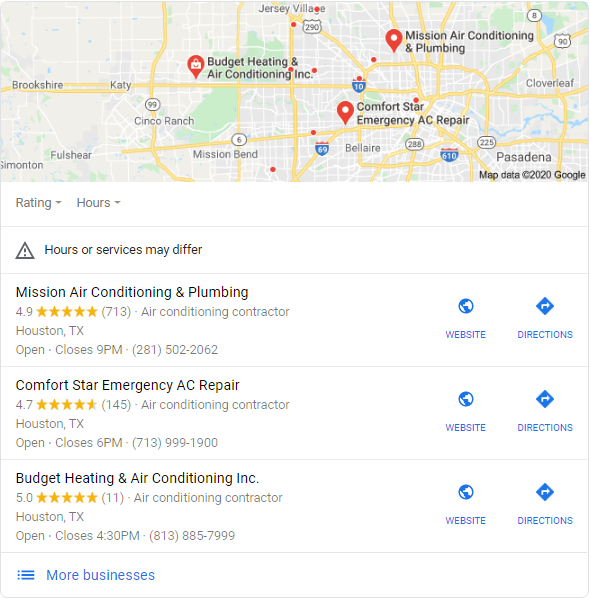 Directory listings help organize your NAP information for local rankings. Optimized citations give you a greater chance to rank within the Google 3-Pack.
Helpful HVAC SEO Tips for 2023
Understanding SEO's components is a great start. However, you still need helpful tips to get your campaign started in the right direction. Follow these suggestions to avoid common search engine optimization pitfalls and overtake competitors on Google SERPs.
1) Focus on User Intent
HVAC companies commonly mistake targeting low-conversion keywords because of a misinterpretation of user intent. Every user has a specific purpose with their search queries, typically transactional, informational, or navigational. Check out some examples of user intent below:
transactional intent: emergency ac repair near me
informational intent: ac not turning on in house
navigational intent: dave's best hvac company
2) Build Brand Authority
The most successful SEO campaigns feed off a sustainable brand. For example, a company named Mission Critical Comfort Solutions will outperform a business called Denver HVAC Company long-term. You gain notoriety as you garner more reviews on Google, Yelp, and Facebook.
Similarly, as more people search for your brand name online, Google begins recognizing your brand name as an entity. Combining brand building with SEO, social media marketing, and reputation management ensures a sustainable campaign that yields a substantial long-term ROI.
3) Create a Custom Website
SEO applies to every website, but custom websites typically perform better on search results. Everything from the codebase, photos, and navigation should be customized to fit your brand and impress visitors. Furthermore, a stand-out design can increase dwell time and other metrics.
Custom websites also produce higher conversion rates for users who reach the homepage or service pages. Consumers would much rather see unique photos of you, your staff, and your equipment than generic stock photos they can find on thousands of other websites. Remember to insert calls-to-action (CTAs) throughout your website pages.
4) Measure Your SEO Campaign
Tracking your SEO campaign helps you diagnose problems and establish data-driven benchmarks. Install Google Analytics tracking code in your website's HTML and validate your domain on Google Search Console. These Google-based tools will help you monitor traffic, clicks, queries, and other essential data.
Google Search Console also provides insights about website errors such as mobile usability issues, indexing problems, and manual penalties. Aside from the technical insights, Search Console also helps you see which queries users submit when finding your various web pages and blog posts.
5) Install The DataPins Local SEO Tool
HVAC contractors can streamline Local SEO & Reputation Management with the DataPins tool. DataPins allows you to document jobs via schema check-ins that send geo-coordinates and other local signals to Google. DataPins also showcases recent jobs on your website in various cities.
In addition to its vast Local SEO influence, DataPins also automates your reputation management process.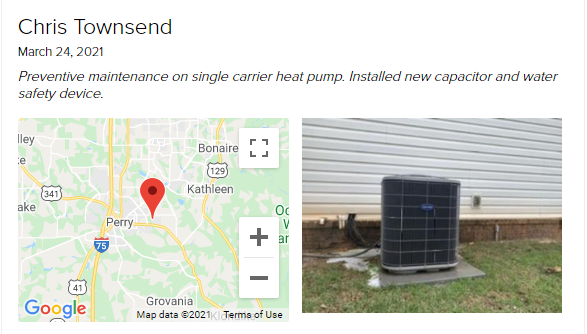 For example, DataPins sends automated review requests via SMS and email so that more of your customers remember to submit positive reviews of your business online.
HVAC SEO Services for Local Companies

Most companies are unequipped to implement proper SEO without professional assistance. As a result, it makes sense to invest in an HVAC SEO company like HVAC-Plumber SEO Webmasters. Our expansive team covers every aspect of your campaign, including web design, content, link building, on-page, technical, and local.
In addition, HVAC-Plumber SEO Webmasters includes DataPins for every new customer. With the DataPins tool, you can expedite your SEO process and begin overtaking local competitors ASAP. To learn more about our SEO services, contact us today.