Plumbing companies can rank for "plumber near me" by optimizing their websites and Google My Business listings for their target location. Examples of this include inserting city names into webpage titles and metadata and verifying the business address on Google Business Profile via postcard.

It's important for plumbers to understand that "near me" searches are dynamic, which means that the intent of "near me" changes depending on the searcher's location. For example, a homeowner searching "near me" at their Frisco, TX home will see different results than when searching "near me" at their Dallas, TX office.
Key Takeaway
Plumbers can rank for "near me" by optimizing their website and Google My Business listing for the target city name.
How Does Google Determine The Location of "Near Me"?
Google search results track the searcher's location through GPS data from a phone or tablet, WiFi location tracking, and browser cookies. Depending on the searcher's device and measures taken to block, hide, or falsify their location data, Google's tracking may be precise or completely incorrect.
Some search users utilize tools like VPNs that dynamically alter their IP addresses to prevent search engines and other entities from tracking their location. However, the majority of consumers don't exercise these measures allowing Google to accurately estimate their location.
Ranking for "Near Me" Queries on Google Search
Traditional Google search results (the ten blue links) rely on various website signals to rank plumbing websites in "near me" searches. Some of the most effective signals for registering your location with Google are:
Business Address in Website Footer
Schema Markup
Local Citations
Local Backlinks
City Name in Title Tag
City Name in Meta Description
Verified Reviews from Local Consumers
Geo-Coordinates
"Check-ins" of Recent Jobs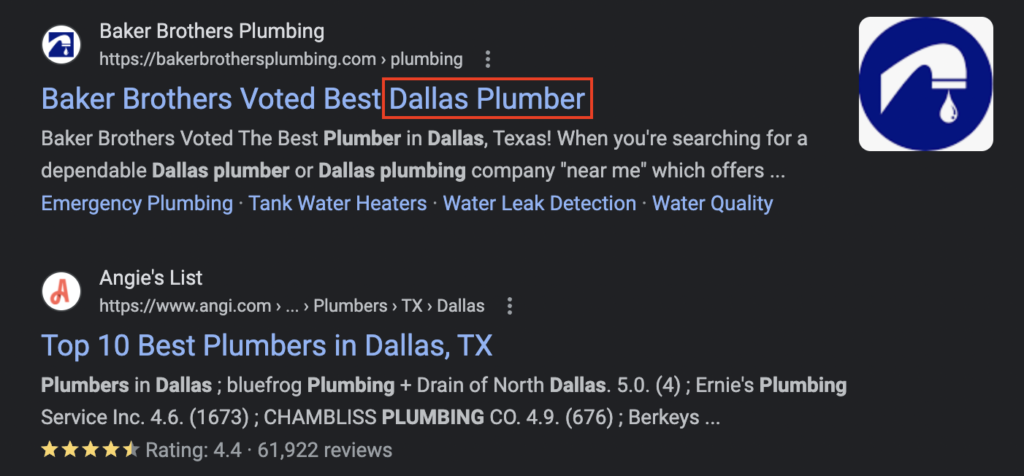 Ranking for "Near Me" Queries on Google Maps
Google Maps results and the Google Map 3-Pack use a different algorithm to track a business location which is based primarily on the verified address of the Google My Business listing or Google Business Profile. Plumbing companies must verify their business address with Google via postcard verification.
Once your listing is verified, you can take these steps to increase your chances of ranking for "near me":
Request reviews from nearby consumers
Link your Google Business Profile to your optimized business website
Add all of your individual plumbing services to your services list
Upload unique and original photos to your business listing
How Valuable Are "Near Me" Rankings?
According to Google, queries containing the "near me" qualifier have grown at a 150% faster rate than similar searches that do not include the qualifier. Other research indicates that users collectively perform 1.5 billion "near me" searches per month. So it's clear that ranking for these terms is highly valuable.
Ranking for "Near Me" in Multiple Cities
Plumbing companies are service area businesses that travel from their main location to various nearby cities. As a result, it makes sense for plumbers to seek rankings in all of their service cities rather than just the city in which their business address is verified.
Unfortunately, Google Maps rankings are based heavily on the proximity of the searcher in relation to your verified business address. If your business is verified in Frisco, it's very difficult to rank for "near me" queries in Dallas, Plano, and other nearby cities.
The good news is that plumbers can still rank in these cities with their traditional website pages. First, you must create an individual city page for your target locations and install the DataPins plugin to drop pins on each city page. The more pins you produce, the better chance you have to rank in that city.
There are also rare cases where you can rank on Google Maps for less competitive service types like slab leak repair or whole house repiping. The previously mentioned DataPins process helps with Google Maps, too, as long as you connect your website URL to your Google Business Profile.
Final Thoughts on "Near Me" Rankings
Plumbing contractors can rank for "near me" by optimizing for the target location. Google processes near me queries based on the searcher's location. For example, a plumber near me query from a Dallas searcher will yield very similar results to a query like plumber dallas.
Plumbers can take extra steps to maximize their local visibility with a strong Google Business Profile, optimized city pages, and the DataPins software tool.
Start Ranking Today With Plumber SEO Services