Plumbing SEO changes year after year. In fact, the industry shifts so much, we go to conferences to stay on top of all the latest news and practices! In this latest podcast, Jason and Nolen share some of the juicy tidbits they picked up from their latest SEO conference.
Look for key changes GMB management, online brand development, on-page optimization, and more! If your website has struggled to break into premium rankings, be sure to listen in.
Helpful Lessons for Plumbing Professionals
Keyword strategies must incorporate synonyme usage. Variety creates healthier optimization.
Remember the big four: Google, BBB, Facebook, & Yelp. You need reviews from all of them.
Continue to monitor your GMB account, including your Q&A section in the Knowledge Graph.
Keyword optimization and mobile friendly optimization are basic essentials.
What's Changing in Search Marketing?
Let's start by analyzing some of the key industry updates that your business will need to keep on top of. In 2020, your Google My Business account will become even more important to your success in local search. The search engine continues to add new functionalities to the listing service, including new ways for potential customers to interact with your company.
Thanks to the Knowledge Graph, people can check reviews, operating hours, location, and contact information without ever interacting with your website.
While that might seem like an intimidating prospect for some plumbing SEO professionals, these changes could mean great things for your business in 2020. For one, clients who direct search your name won't need to dig through your site to find a phone number or determine if you provide emergency services. This increases the chance of people calling your business.
Showing Up in Google Maps Listings
In search marketing, visibility equals success. That's especially true in the case of Google Maps listings, whose top ranks generate some of the most impressive traffic. Apart from the usually website optimization (more on that later), we've seen GMB play a larger role in these search listings. Since Google only awards this premium search real estate to dependable businesses (as best they can), it's essential that your GMB data is continually checked and re-checked for accuracy.
Reviews also serve as a make or break criterium for Google Maps listings. Lately, Google has emphasized diversity in review sources as a healthy indication of trustworthiness. In other words, don't put all your rating eggs in one basket! While there are hundreds of rating websites to choose from, start with these four:
Google Reviews
Facebook
Better Business Bureau
and Yelp
These four feedback sources are considered by many to be the most essential citations for plumbers. If you want even more plumbing SEO power from your client reviews, we've seen a rising trend in geotagging. That's the tagging of reviews with GPS location data. It provides stronger evidence to Google's search engine that you provide services in tagged locations, giving them more reason to rank your site over competitors.
Breaking Digital Language Barriers
With the release of Google's BERT update still fresh in our minds, the search giant continues to advance towards a deeper algorithm understanding of human speech. With latent semantic indexing (LSI), keyword optimization has gone beyond the simple "3% focus keyword formula" – no more flooding pages with unnatural keyword volumes – to create a more human reading experience. Keywords still play a foundational role in SEO for plumbing. They determine how Google understands and ranks, but now professionals must take a different approach to writing content.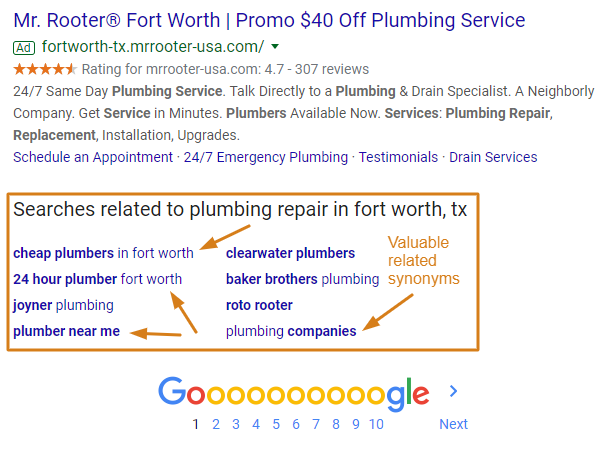 It's more essential than ever before that your content provides unique insights for would-be clients. Businesses can finally stop the ridiculous barrage of "plumbers near me"s and start presenting information in ways that people can easily digest. The most insightful content (usually) gets rewarded these days, not the most keyword redundant. Keyword spamming is a remnant of past plumbing SEO strategy, but it will hurt your results today.
What elements can you use to create more helpful resources for your customers?
Bullet points,
Keyword synonyms,
Infographics,
Related (original) images,
and Numbered lists.
Continue to produce keyword (and synonym) optimized content, but infuse all your expertise and problem solving skills into the mix! If consumers truly find your content valuable, your rankings will naturally rise and your broad excel.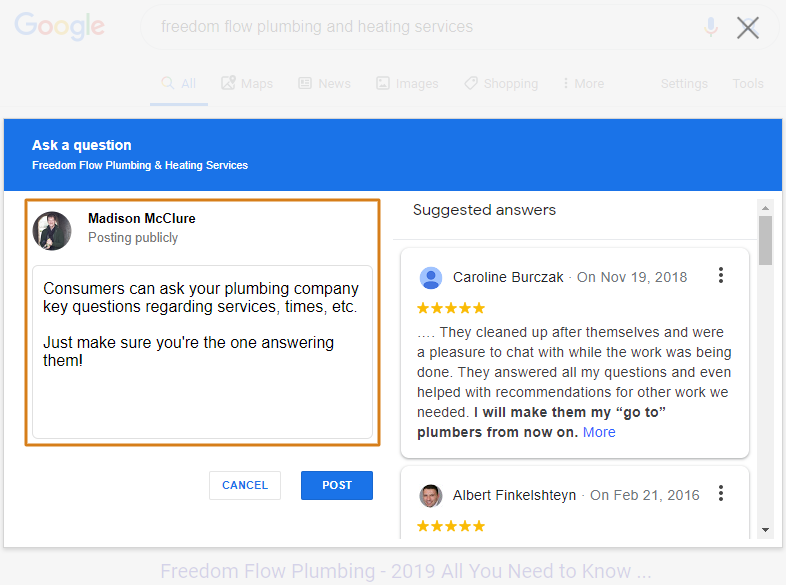 Final Words of Advice
Because Google My Business and the Knowledge Graph continue to draw in more eyeballs from the community, it's important that you monitor these tools for information accuracy. If your company makes significant organizational changes, or if you start offering new services, make sure your GMB reflects the updates. Also, be on the lookout for consumers in your Questions & Answers section (halfway down the Knowledge Graph). This Q&A section is open to the community, meaning anyone can contribute questions and answers.
You don't want a random stranger (or worse, a competitor) answering questions on your behalf.
If you carefully manage these assets, your business can expect continued growth for your company brand. In the meantime, keep creating fresh content for your website filled with hot topics and questions from your target market. Even if you can only blog once a month, it's worth the effort!
If your team doesn't have the time, knowledge, or capacity to manage these online marketing activities, our team at Plumbing Webmasters can help. We provide custom website design, keyword-rich content, citation assistance, GMB support, and reputation management. Our clients continually earn premium rankings in local search, creating more traffic and better leads!
To learn more about our SEO for plumbers, contact us today at (877) 388-9884.
Podcast: Play in new window | Download
Subscribe: RSS