Marketing Budget Breakdown for Plumbers
Looking for ways to allocate your marketing budget as a plumbing contractor? Read, watch, and listen to our content on this page. A marketing budget is dependent on funds. It's ideal to tap into every resource, but every contractor has a maximum spending limit. Instead of demoralizing yourself by speaking about what is not possible, you should instead be focused on maximization.
Plumbers often require assistance for allocating marketing resources … a marketing budget breakdown, if you will. That's exactly what the objective of this podcast, post, and video is about.
Throughout this post, we will provide valuable insights into smart budgeting for plumbers, and eliminate much of the stress that comes along with choosing the best way to spend money for marketing services.
Our goal is simple, increase lead generation and return on investment, things that mostly every plumber identifies as ideal.
Budgeting Basics for Plumbing Marketing
Most plumbers come to us concerned about their current budget, and complain that their spending is not producing an appealing enough profit.
Sometimes this is due to disagreements among business partners, or sometimes its based on long-standing misconceptions within the plumbing industry about what kinds of marketing campaigns actually work. We believe digital marketing for plumbers should focus on 4 categories:
SEO
PPC
Social Media
Other
Search Engine Optimization (SEO)
The foundation of your marketing is SEO, and that's because SEO involves a wide range of tasks which include everything from website design to Google Maps, to on page optimization, and much more.
Organic SEO takes time not only to implement, but to benefit from. For this reason, many plumbers decide they don't want to invest in it all. This impatience can be disastrous for your long-term marketing plan. Sure, ignoring SEO would give you a greater budget to expand in other areas, but it wouldn't matter in the long run.
Plumbing Webmasters strongly recommends that search engine optimization is a foundation of your marketing plan, and as a result, your marketing budget. We suggest that $900 – $1000 goes into your SEO marketing on a per month basis.
Pay Per Click Advertising (PPC)
Paid advertising is usually the most appealing marketing service for plumbers and therefore the area they prefer to spend a good portion of their budget. Google Ads (Formerly AdWords) is not the only form of paid advertising available to plumbers. Others include:
Display Advertising
Remarketing
Retargeting
Social Media
Social signals are a major local ranking factor, this according to MOZ's Local Ranking Factors study. Because plumbers are local contractors, having a social media presence should be accounted for when allocating your marketing budget.
Of course, social media marketing and social media advertising are both options. Marketing like SEO is organic, while advertising like PPC is paid. Both can yield favorable returns if executed properly.
The primary social media platforms on which plumbers should be marketing are: Facebook, Instagram, Twitter, Linkedin, and YouTube.
And no, you're not going to have the most engaging social media content being in the plumbing industry, but that's not what social signals are really about in this case. They are about sending signals to Google that your company is legitimate and willing to ethically promote its services to consumers.
Other
Old school marketing tactics like car wraps and local sponsorships are still valuable, but far less than they once were. Still, many plumbers are under the impression that these types of marketing investments will yield favorable returns. They won't.
This is NOT discouraging you from getting involved in your community. In fact, we encourage it … but AFTER you start generating revenue. Once you are doing well, you can really brand yourself with car wraps, little league sponsorship, etc.
Prioritizing Marketing Channels
The order of importance is SEO, PPC, Social Media, and Other. Most contractors go in reverse order, and the results parallel this mistake. Local sponsorships and car wraps wont yield major returns, and social media without SEO is very limiting.
PPC is a very profitable venture in most cases, but without a landing page, it is rendered useless. That's why SEO remains the top priority for marketing budget allocation. It is the foundation on which everything rests, including Pay Per Click.
Let's review the priority: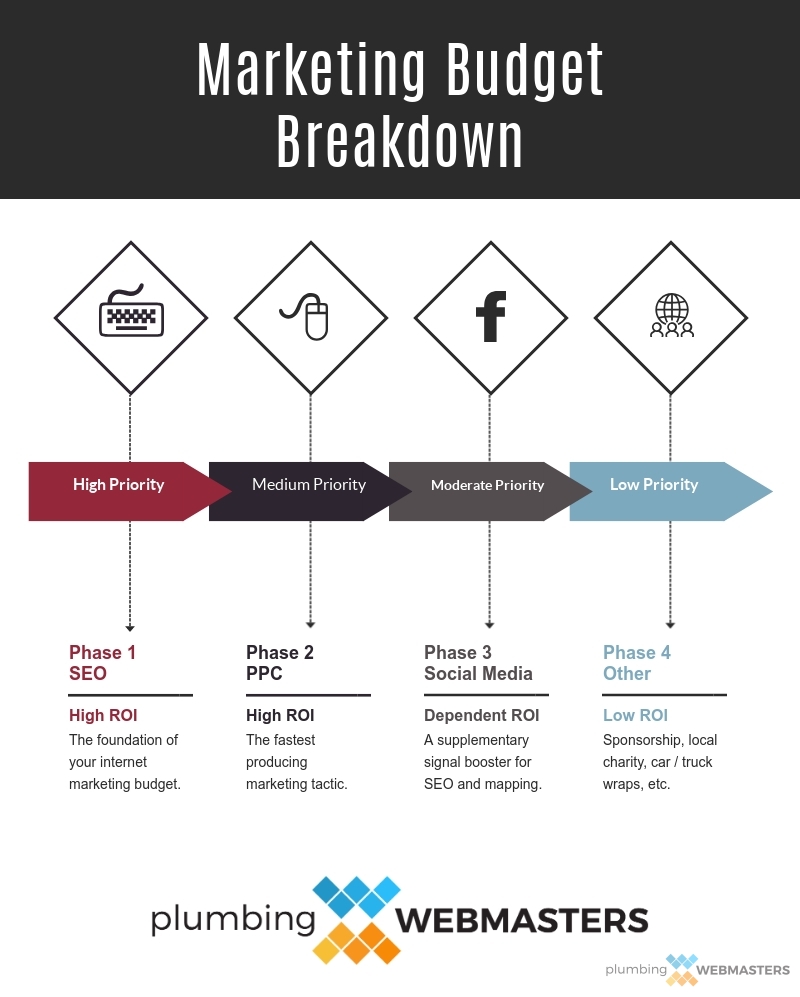 Recommended Marketing Budget Allocation
Before recommending an allocation plan, it's important for a plumber to document their revenue. Marketing budgets are highly dependent on the current revenue stream of the business and will instruct how much or how little one is willing to spend on promotion.
Several variables can influence revenue stream. From the longevity of your business, to the client base that has been grandfathered in from previous marketing era's. In any case, the revenue number will tell much of the story. If you were once a highly successful plumbing business and have recently fallen off, there's avenues to help you get back on track.
Conventional wisdom states the following about revenue streams and the likes:
1) Spend a minimum of 5% to maintain your plumbing business
2) If launching a new company, spend an even higher percentage to get yourself off of the ground, like up to 10%
3) The more money you earn, the more money you can spend, for example a plumber earning 50,000 per month can spend $2,500 per month on marketing
Of course getting off the ground is a more difficult process and often requires the contractor to exceed the recommended 5% allocation of plumbing revenue to marketing. So for example, a plumber earning only $10,000 per month might spend 1,000 per month (10%) on marketing to make sure their revenue increases as quickly as possible.
The bottom line is this, you have to spend money to make money. Marketing has one primary goal for your plumbing company and that's to increase revenue. If you wait until you're making a bunch of money to invest in marketing, you'll be waiting around forever.
Will You Try Our Marketing Breakdown?
Plumbing Webmasters has tried to simplify the marketing allocation process for contractors. If you're open to this type of marketing plan, please let us know, as we can talk you through the process with more specific detail that relates to your individual company.
For any concerns, comments, or inquiries about our services, call (877) 388-9884 and speak with our team about your plumbing marketing plan and vision for your company in both the short and long term.
Avoid the stress that comes along with budgeting your upcoming year. Plumbing Webmasters can make this process more convenient than you ever imagined to be possible.
We handle every aspect of internet marketing for plumbing contractors, including; SEO, PPC, and social media. Empower us properly allocate your resources and hold us accountable for the results.
Podcast: Play in new window | Download
Subscribe: RSS