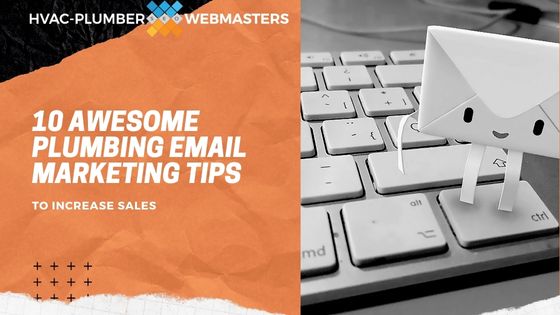 Did you know that email marketing for plumbers boasts one of the highest return rates, but less than a quarter of US small businesses planned on using it? With careful segmentation, consistent scheduling, and regular testing, any plumber can craft a sophisticated (and productive) email campaign.
Considering how easy and cheap the marketing channel is, it's a wonder that more businesses haven't made an effort to enhance their plumbing digital marketing through email.
Plumbing Webmasters explores ten easy ideas to power up your email marketing campaigns for stronger lead generation. If you've struggled to get your email list off the ground, these tips will help you a bunch.
Remember, even the most robust email campaigns work better when partnered with a healthy website and local search optimization.
10 Plumbing Email Marketing Tips
Reader Segmentation
Segmenting by Interest
Segmenting by Sales Funnel
Personalization
Regulating Frequency
Scheduled Release
Fatigue Prevention
A/B Testing
Micro-Emails
Swap Lead Magnets
1) Reader Segmentation
Do your would-be clients receive the same emails as your long-time customers? If so, you could be missing out on a whole lot of leads! While you may not experience the 750% increase in revenue that Campaign Monitor outlines, email marketing for plumbers naturally benefits from matching clients with the content that suits them best.
How can you effectively break your email list into cohesive groups?
2) Segmenting by Interest
Toilets vs. water heaters. There's a huge interest gap between these two topics. Likewise, the client base in your email list is made up of different segments with very different interests. Some crave insight into how to save on water utilities.
Others want to avoid the sort of emergencies that require calling your business early Saturday morning!
But how can you construct fitting segments for each of these groups?

One Potential Segmentation Strategy Would Be to Divide Repair Clients from Installation Clients.
Take a look at each client's service history. This should be an easy task if you've kept good records over the last few years.
Consider sending content related to home maintenance, leak prevention, and clog situations for customers who've called for emergency repairs in the last three to six months.
For original installation customers, you may want to contact them with remodeling guides and style tips!
3) Segmenting by Sales Funnel
Your prospective clients might not be as eager to hear from you as your faithful company fans. One of the easiest ways to segment your email base is to consider where each individual is in the sales funnel. If you aren't familiar with the term, a sales funnel represents the various stages of interest in your services.
When it comes to email marketing for plumbers, you may distinguish a few different levels in the funnel:
Early-stage browsers (top)
Deeply interested researchers
Spenders (bottom)
Early-stage prospects usually don't have as much motivation to read through dense informational content, but they might be tempted by a special offer email. On the other hand, your researchers should be more willing to spend time reading.
Client stories and limited-time offers might be the encouragement they need to make the jump to spenders!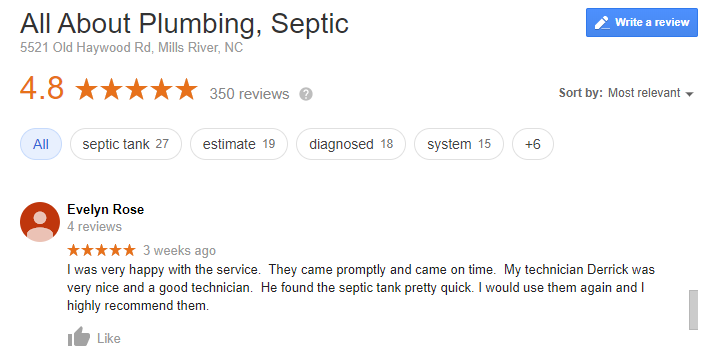 This Previous Client Might Be Interested in Learning About Septic Maintenance in a Marketing Email.
Former clients, especially happy ones, have a much higher likelihood of coming to your business for larger installations in the future. You may spend some time talking about remodeling ideas and high-efficiency products for these people.
You might even create a segment specifically for recurring clients who like to share content with their friends!
4) Personalized Email Design
Names are very powerful. Something wired deeply into the mind lights up when someone's name is called aloud. The same can be said when a company takes the time to personalize an email with a client's name.
It has tremendous conversion-boosting power, which is why the best email marketing services work so hard to gather that personal information.
In fact, it's said that a personalized email subject alone can increase open rates by 26%.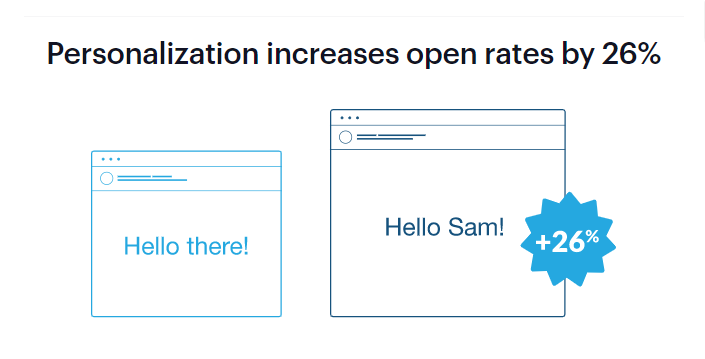 Name Usage is a Powerful Tool in Email Marketing for Plumbers. Image Source: Campaign Monitor
Custom Email Copy
Why stop at a subject line, though? Imagine receiving an email specifically written with your name, service history, and interests sprinkled throughout the content! That can be a reality with today's advanced email marketing software companies.
Brands like MailChimp and AWeber offer exciting tools for personalizing your standard email campaigns with each client's name.
Personalized emails enjoy higher click-through rates (CTR) than non-customized emails sent out en masse. Even if you can only manage to plug in the client's (or prospect's) name, it still has tremendous value for your campaigns.
5) Regulating Frequency
We get battered by a barrage of emails every day. One of our content writers boasts that his personal (non-work) inbox is filled with almost 20,000 unread emails. Marketers describe the growing resistance to opening and reading inbox messages as "email fatigue."
While you may think that people who voluntarily signed up for an email list would be a hard drive away, that simply isn't the case.
Does your email list seem to be shrinking on a regular basis? While some regular turnover is to be expected, a rapidly dropping number of subscribers could be a symptom of email fatigue.
Many plumbers operate on a monthly schedule, while others simply blast out emails whenever they feel up to it. Consider switching to a scheduling cycle with fewer releases.
This allows more time to plan and craft an impactful message and offer. It also makes for higher opening percentages and reduced fatigue.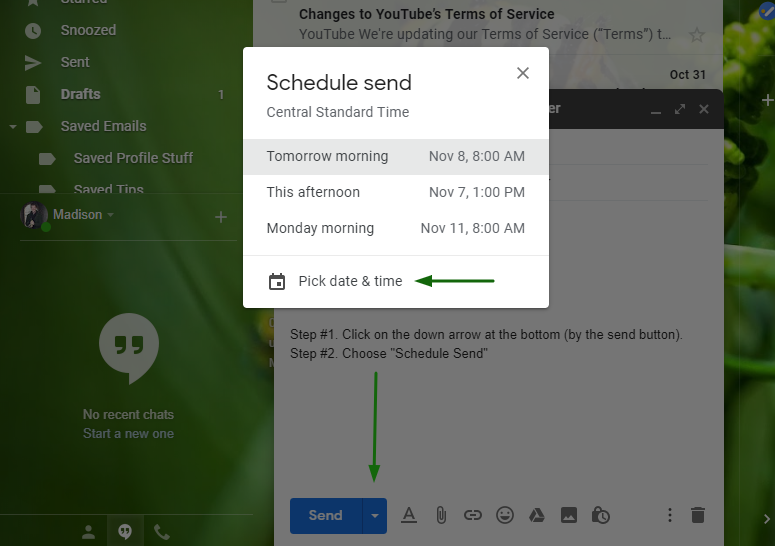 Regular Email Intervals Increase the Chances of People Finding and Opening Your Emails.
6) Switch to a Scheduled Release
Does your email production schedule look random from the outside? Many contractors are so busy they simply don't have the time to manage a regularly recurring email campaign.
However, your clients and prospects will better respect a regular release period. People like to know when to expect email!
If you've been wondering how to do email marketing on a tight time budget, simply write the emails whenever you have the time and schedule them through your email provider. For instance, you can arrange delayed release through your regular Gmail account.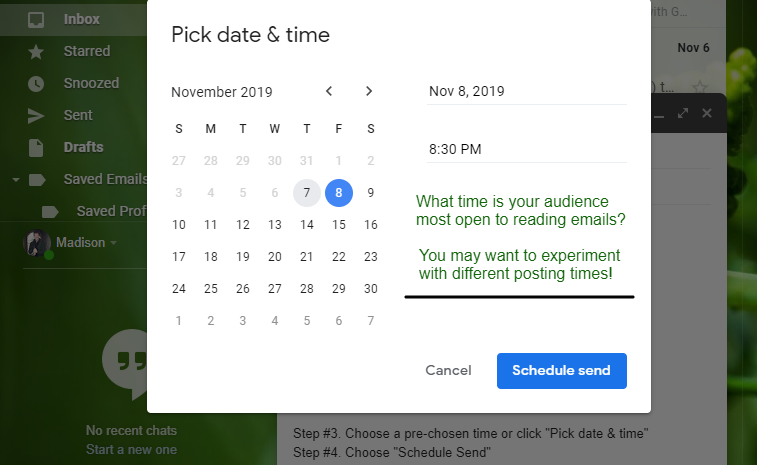 If You Have Little Available Time to Write, Use Delayed Releases to Maintain Your Schedule.
7) Protect Against Email Fatigue
Worried about over-sending in your email campaigns? Have trouble tracking how many times you've mailed a particular segment? Thankfully, there are tools to assist you as your team tries to avoid creating email fatigue!
For instance, AWeber monitors your email campaigns to see who your company contacts the most. AWeber will provide the data if you lose track of posting frequency and over-push your welcome in a particular address's inbox.
You can also use the planning software of the other big brands we've mentioned to keep tabs on your posting frequency.
Remember, moderating volume is a make-or-break challenge in email marketing for plumbers. If you successfully find your perfect posting rate for each segment, you'll see remarkable returns on your investment!
8) Start A/B Testing Emails
We all feel the pull of routine. Writing emails for a large pool of individuals takes time and serious effort.
While it's tempting to rely on tried and (fairly) true templates, there's also the real possibility that your emails could become even more effective at creating leads for your business. 
That's where A/B testing, the process of running two different versions of an email, comes into play.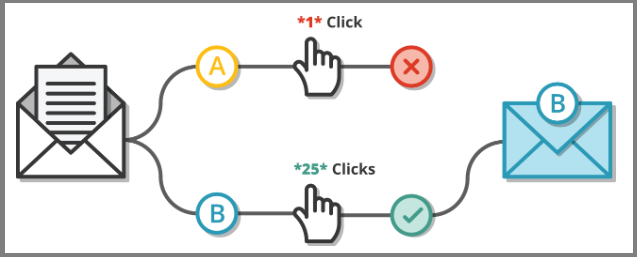 Some A/B Testing Tools Allow You To Send the Best Performing Templates to the Rest of Your List. Image: Zapier
Email marketing for plumbers takes a lot of trial and error, but A/B (or split) testing makes it much easier to determine what type of materials, email lengths, images, etc., work best with your audience.
Both MailChimp and AWeber provide convenient tools for convenient A/B testing, but you can theoretically save the subscription fee and do it manually. It's just a lot more work doing it by yourself.
9) Try Micro-Emails
In email marketing for plumbers, one of the most decisive elements of email design is the actual length of the material. 2000-word essays about a plumbing team's credibility, ratings, and skill may do more harm than good, driving away members of your email list.
In contrast, some of the most successful email marketing campaigns rely on brevity to communicate important sales, events, etc.
What if you could boil down your longest emails into 300-word releases? These short, sweet, and to-the-point emails work exceedingly well for prospective clients, particularly when combined with tasty deals.
When you A/B test the same email with different lengths, make sure you use addresses from the same user segment. This makes it easier to determine if email length is really the driving factor in stronger CTR.
10) Switch Email Lead Attractions
Do you use the same "Free Inspection" hook for every single email? You might experiment with some new lead attractions. There are so many alluring materials, resources, and deals to try out!
Special coupons
BOGO deals
Pro Tips
YouTube how-to guides
Downloadable pamphlets
Consultations
and More
As we mentioned earlier, early-stage prospects may not respond well to certain promotions. YouTube videos and coupons are great ways to lure in would-be clients. In the meantime, you might use special maintenance promotions to bring past clients back into circulation!
Need a Digital Marketing Team?
At Plumbing Webmasters, we support hundreds of businesses around the nation with custom web design, local SEO, reputation management, and paid advertising campaigns.
We've helped so many plumbers find page-one rankings for their local service area, leading to lasting growth opportunities. We can help you better understand email marketing for plumbers.