Try a quick Google search of "what are google featured snippets?" You'll notice the first search result appears differently. The box is larger than other results, and it has a bunch of text coming before the page title.
Besides, its position is higher than the traditional positions. Some marketers call this "position zero." This result is a featured snippet. The image below gives a clearer picture.
This result can take even more space on mobile devices and become the only thing users see initially on Google SERP. Check what that looks like below: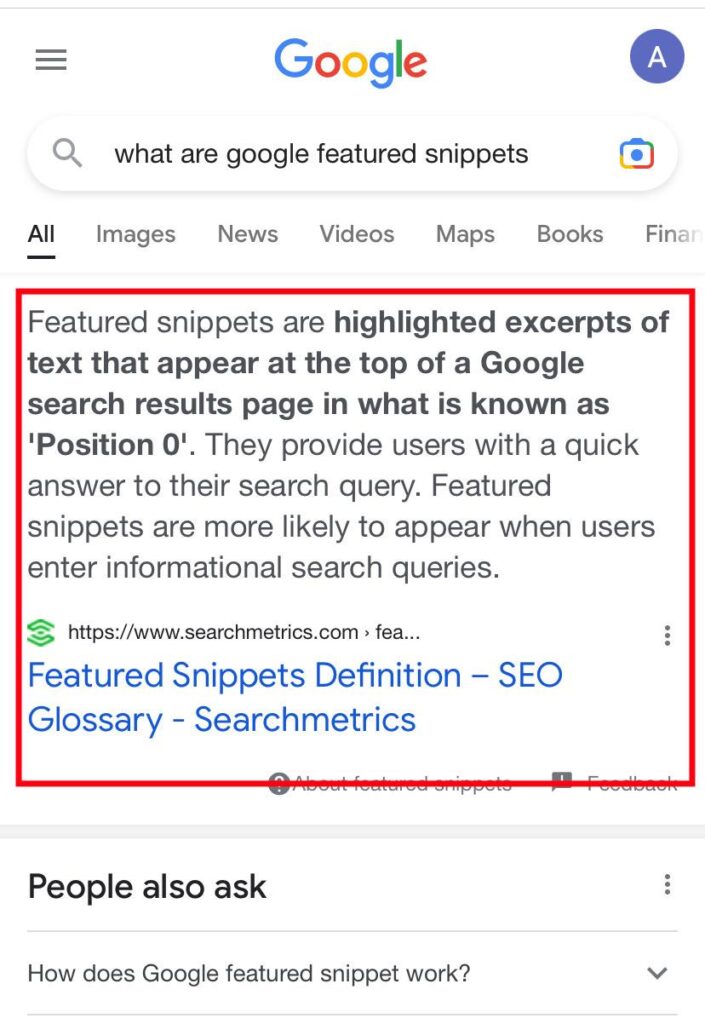 Featured snippets steal significant traffic from organic results. A study by Ahrefs showed that when a featured snippet is present, the click-through rate of the first organic result drops below 20%. The featured snippet itself gets 8.6% of all clicks.
Therefore, appearing in a featured snippet is one of the most effective ways to drive more organic traffic to your website. But the question is, how can you reach this holy grail for your plumbing website?
In this article, you'll find four proven optimization strategies to clinch the coveted spot of Google featured snippets.
1) Identify the Keyword Search Intent
Search intent is the triggering factor behind a search query. For Google featured snippets, the search intents are primarily informational. It is for people who want to know more about specific topics or questions.
Informational intents contain search terms starting with what is, how can I, ways to, etc. The search term could also include the word "tip." For example, "top plumbing tips" is a search query that seeks additional information about a particular subject.
If you're still unsure about your target keyword's intent, simply search the query on Google. Then, check the pages listed in the SERP to see if the results are informational resources. If they are articles, blog posts, or other information-filled sources, you have a golden informational keyword in your hands.
Now, people who seek specific information want one of these four things. They want a single or brief sentence answer, a list snippet, a video result, or a comparison table.
For "how-to" searches, users need video content in most cases. That's why you'll likely find a video occupying the featured snippet for highly visual "how to" searches, as backed by this Hubspot research.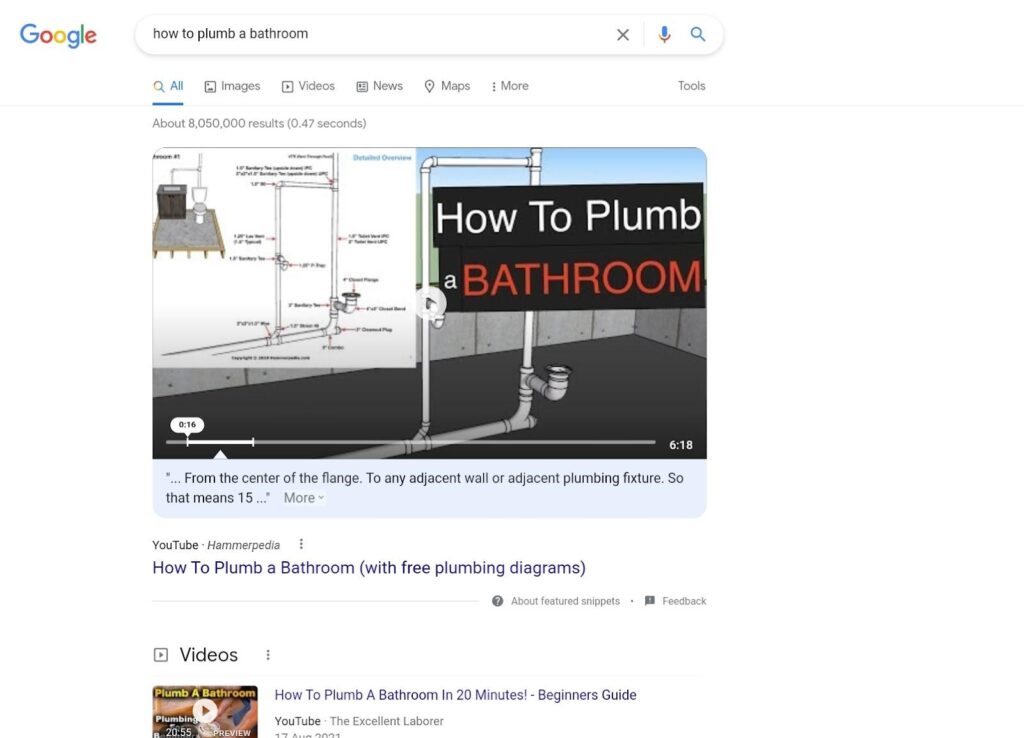 Similarly, users want to see a list guiding them for searches about steps to, best of, etc. In this case, including an ordered list in your content may get you to appear in position zero, as shown below:
Further, the informational intent for keywords like what is plumbing, why is, who is, etc., demands short paragraph or sentence answers.
Once you understand the keyword search intent, aligning your piece of content with what users are looking for becomes easier. Thus, raising your chances of clinching position #0.
2) Uncover Featured Snippet Opportunities
There are two ways to uncover google featured snippets opportunities. The first option is via Google and the second is through your competitor analysis.
To uncover snippet opportunities on Google, begin by identifying keywords relevant to your niche. Then, search for the keyword. This will show you whether the keyword has a featured snippet or not. You can also scroll down to the "People Also Ask" section to identify potential featured snippets and the target keywords/search terms.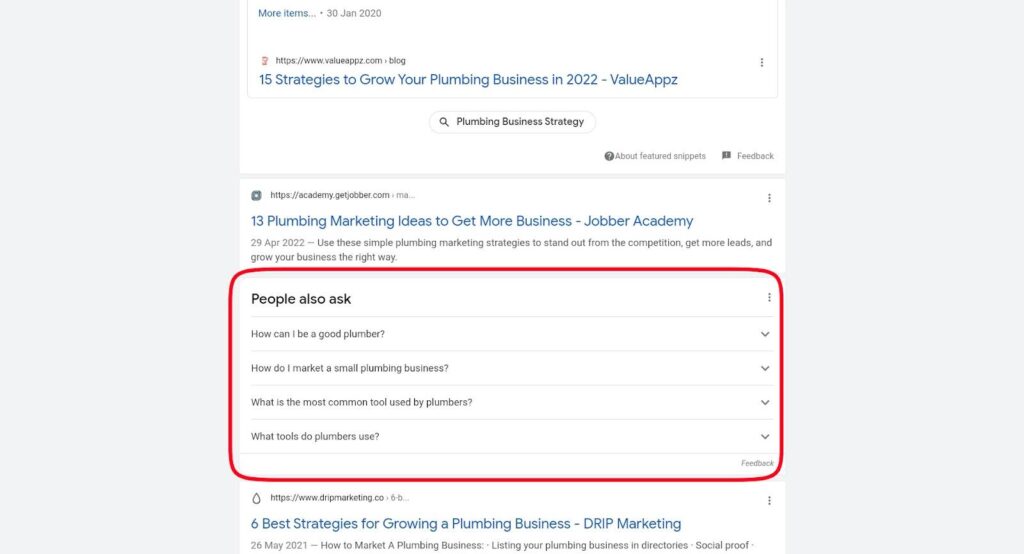 The next step is to create a blog offering detailed yet quick answers to the question you initially asked, and the opportunities from the "people also ask" section. The faster your audiences can access these answers, the more likely you are to appear on the featured snippet. So, avoid fluffs.
Unfortunately, this technique of uncovering featured snippet opportunities can be very hectic and time-consuming. That's why more people opt for the second option – competitor analysis.
With the help of SEO tools like Ahrefs and SEMrush, you can identify featured snippet opportunities by spying on your competitors. You simply insert the competitor URL, and the tools will analyze the link to produce tons of insights, including the featured snippets they rank for.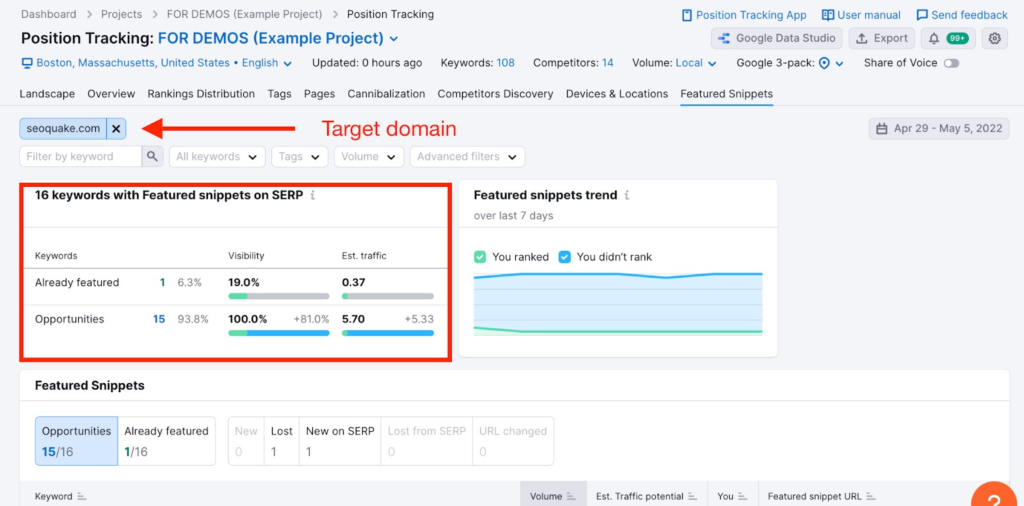 Source: SEMRush
By inserting your competitor's URL in the search bar shown above, you'll find the snippet your competitors currently rank for. You can further drill this search down to identify their snippet source (blog, FAQ page, etc.) and keywords. This information allows you to create superior content to claim your competitor's spot.
3) Use Long Tail Keywords To Optimize Your Pages
According to a Search Engine Watch study, 55.5% of featured snippets appear when a user searches long tail keywords. This is miles ahead of the 4.3% recorded by short-tail queries.
Long-tail keywords are longer keywords typically containing more than three words. Here's an example.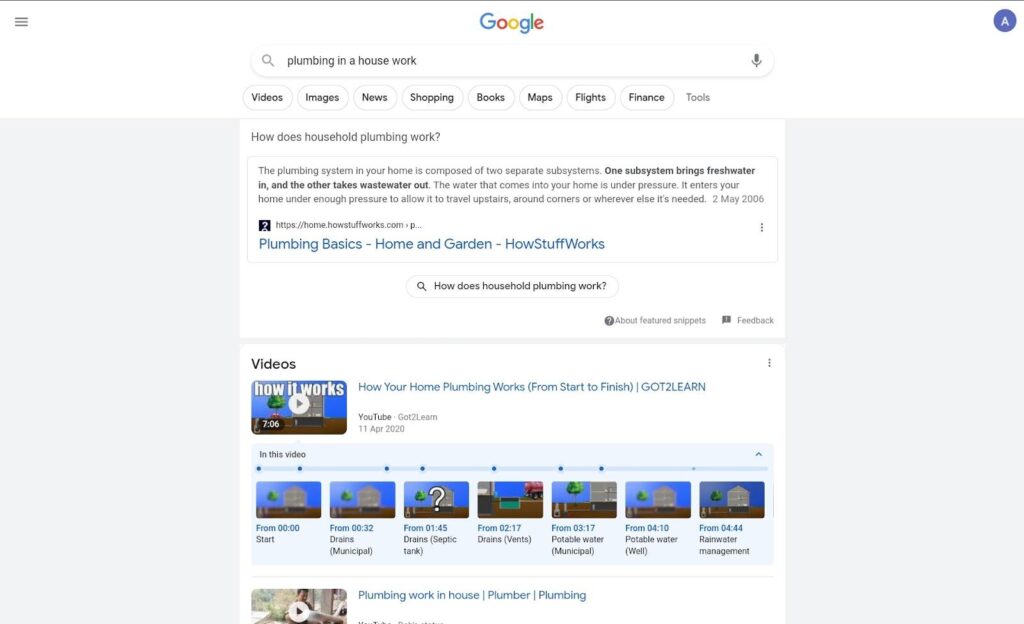 Long-tail keywords are more specific and give more context than short tails. For example, a search query like "fastest web hosting for small businesses" is much more specific than something like "fast web hosting."
Long-tail keywords are typically less competitive as well. They're hence generally easier to rank for.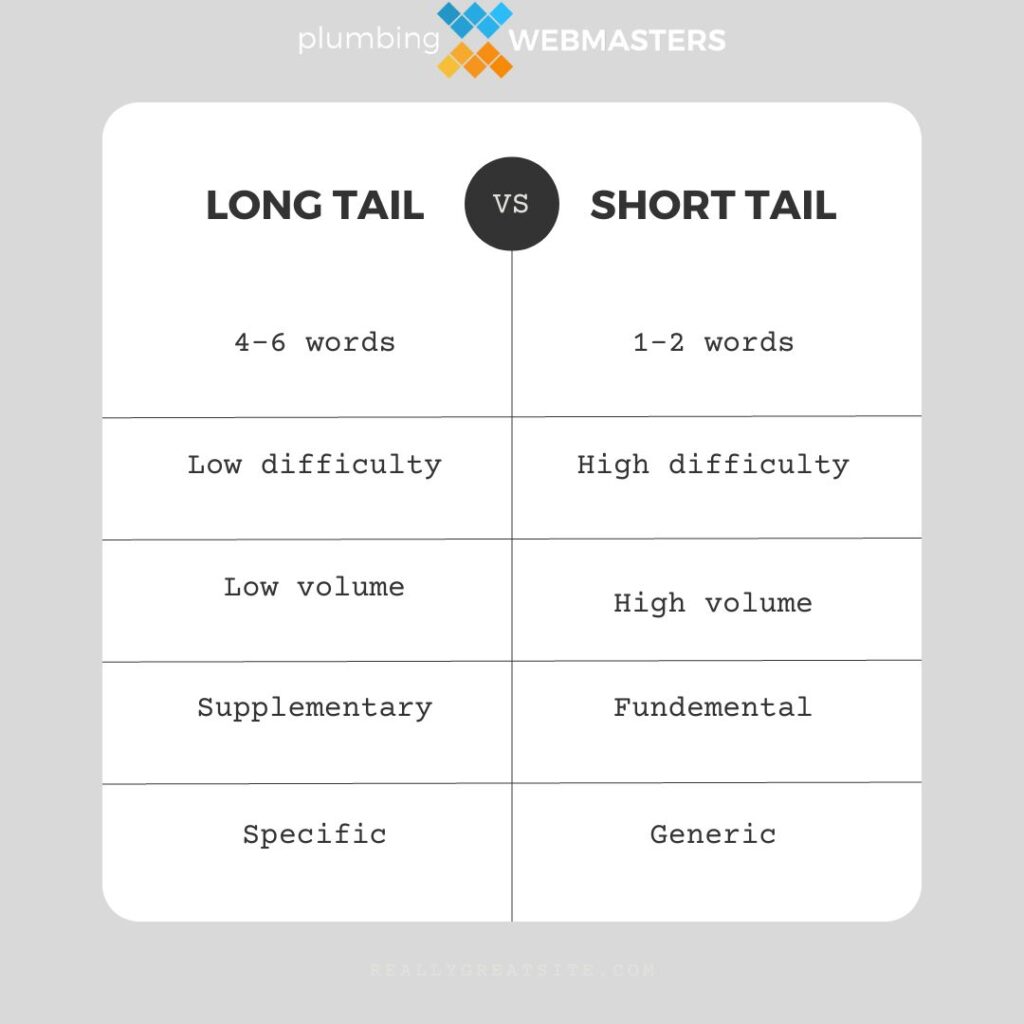 Therefore, try to target more long-tail keywords in your content. You can use these keywords in headings as a question. Add "what are," "how is," and other informational question prefixes. Then, right below, answer these questions using the most appropriate featured snippet format (paragraph, list, embedded video, or table).
Once again, you can use the SEO tools mentioned above to identify long-tail keywords. The tools can even help you identify frequently asked questions relevant to your target keywords.
4) Plan Your Content Based On Public Questions
Using tools like AlsoAsked or AnswerThePublic, you can find the questions people ask about plumbing. For AnswerThePublic, type in your query, and you'll get results as shown below.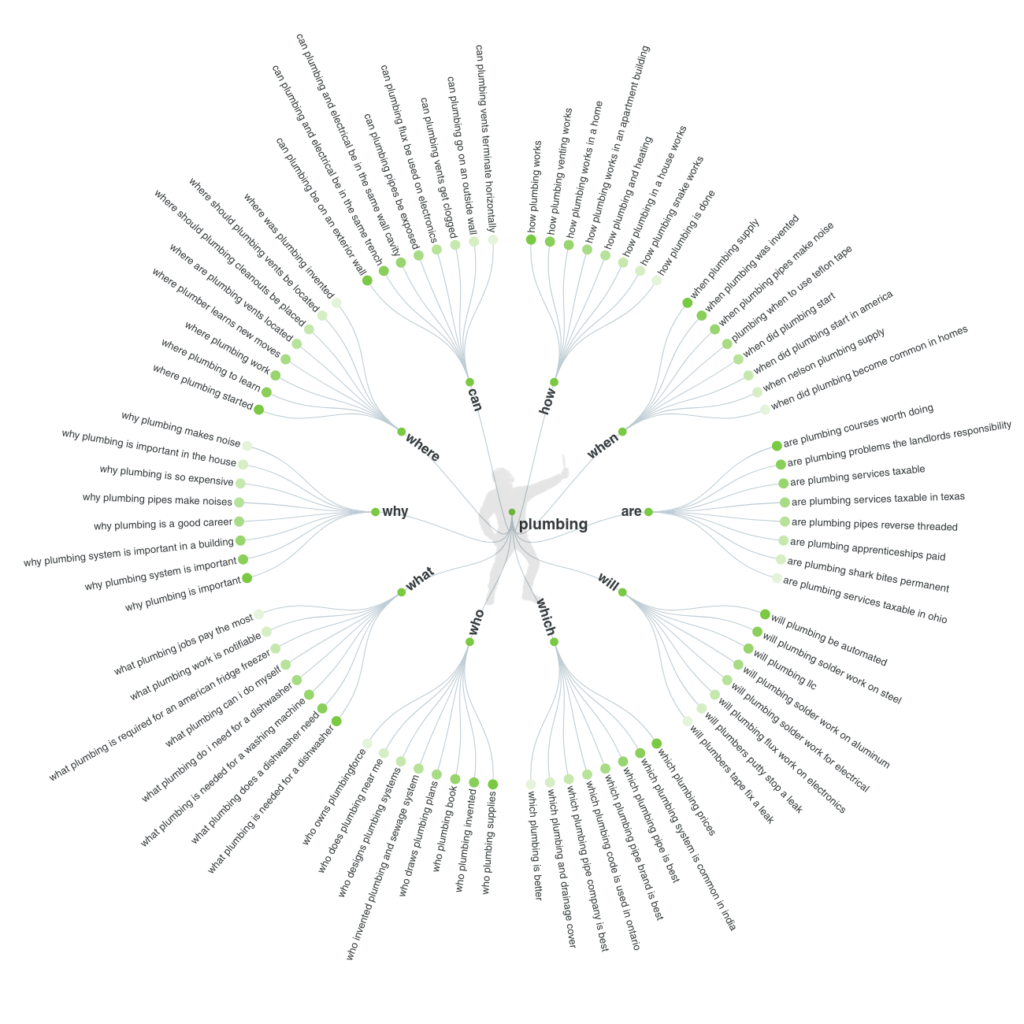 Source: Answer The Public
AlsoAsked shows its results in the format below.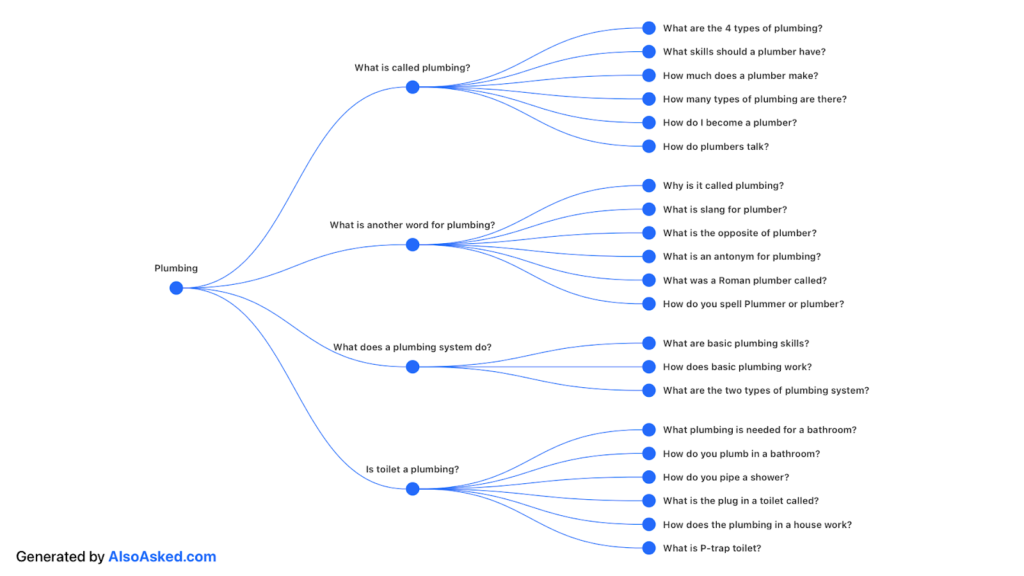 Source: AlsoAsked
When you identify these questions, incorporate them into your plumbing content. For example, you can use them as headings and subheadings in your blog posts, as shown in the example below: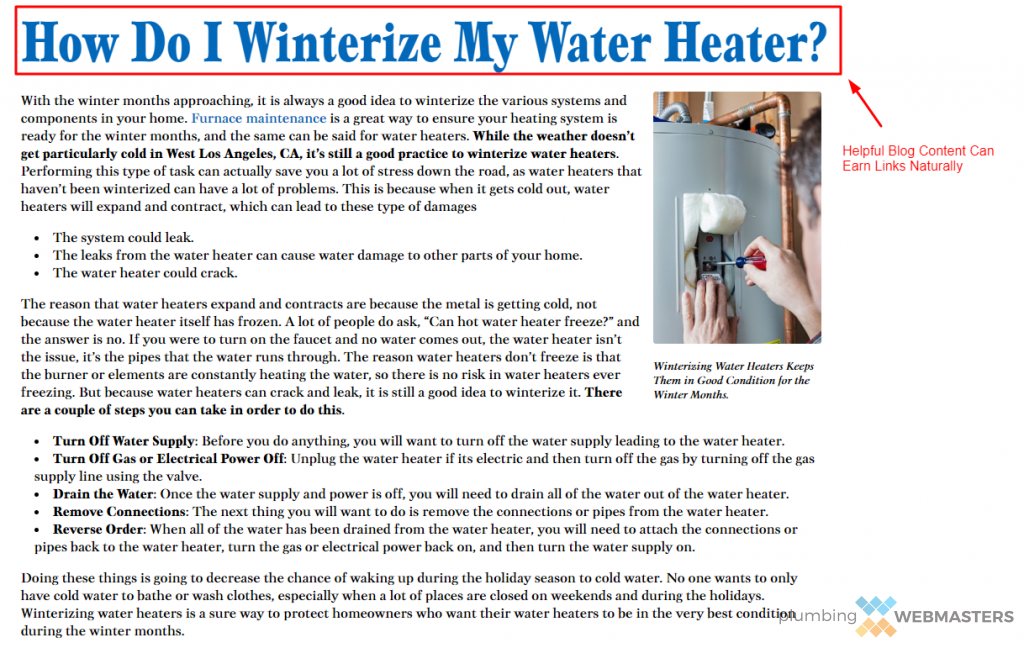 That doesn't mean you should squeeze all questions into the headings, though. If a particular blog post has many FAQs you could target, consider creating an FAQ section at the bottom.
Search for these questions on Google and see the format used by the existing snippet, i.e., is it in the form of steps, video, ordered list, or paragraph? Then, try to replicate the same structure with your content.
Doing that can increase your chances of stealing the competitor's spots. But, remember, content quality is key to displacing your competitors. So, strive to produce more thorough, high-quality, readable, and updated content.
In Closing
The ever-coveted Google featured snippets spot is not so difficult to attain after all. At least not if you know what to look out for. Start by identifying the keyword search intent. Then, uncover featured snippet opportunities. Finally, use long-tail keywords and add questions to your high-quality content.
Do this, and you'll significantly increase your chances of getting the featured snippet for your target keywords. All the best!
---
Note: Plumbing Webmasters is an award-winning SEO agency founded by Nolen Walker. On rare occasion we publish posts from top industry experts who contribute an exclusive and unique value-adding blog post that helps our readers learn about a specific aspect of search optimization. None of these posts are sponsored. Also in these cases, we credit the author (as seen below):

---
Author
Matt Diggity is a search engine optimization expert and the founder and CEO of Diggity Marketing, The Search Initiative, Authority Builders, and LeadSpring LLC. He is also the host of the Chiang Mai SEO Conference.
---