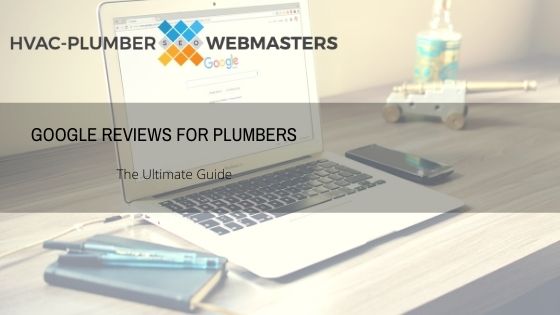 What are Google Reviews for Plumbers?
Google reviews are public feedback submitted by Google Users via Google Business Profiler (formerly Google My Business. Reviews appear on the company's public Google Business Profile beneath an aggregate rating (out of 5) based on the average rating. Reviews are part of the Local SEO algorithm.
Aside from establishing trust and credibility for your plumbing business, Google reviews also contribute to your Business Profile ranking within the Local Map 3-Pack for relevant search queries.
Plumbing Google Reviews Guide
By now, you should already know that customer-generated reviews are like gold for your plumbing business. They are a form of social proof that can signal to potential customers that your business is trustworthy, capable, and experienced and offers great customer service or any other type of message.
And more people read online reviews today than ever before. But what's more important is that 84% of consumers trust online reviews as much as real-life recommendations from their friends and family.
Online reviews are how people gather information about your company and services. It helps them decide on which plumber to choose. So it's easy to see why online reviews are so important in 2023. What's not so easy is actually getting those reviews.
The strange thing is that most customers are willing to write reviews for businesses they patronize. But more often than not, they don't. It could be that the process was too complicated or time-consuming or that they were never asked.
And your plumbing business may depend on Google reviews. So in the following post, we will be providing you with an essential guide for Google reviews for plumbers.
Claim Your Google Business Profile
To get any reviews on Google, you must be signed up with them. Pretty simple logic. You need to claim your business immediately if you are not listed on Google Business Profile. But why is it so important to list your business on GMB? Why even read the rest of this article at all?
Well, for one thing, GMB makes your business more visible. One study found that 84% of people find businesses on GMB through organic Google searches instead of just 16% who would come to your site through direct searches (searches by people who already know and are looking for your business).
For another, the "near me" category of local intent searches dominates all Google searches. The frequency with which the "near me" phrase appears in Google searches has increased by 900% in recent years. That means an astounding number of people are using Google to find local businesses. 
So if you haven't already set up your Google Business Profile, doing so should be priority number one for you. Once you have done that or already have your GMB page, move on to the next topic.
Get A Google Review Link
In the intro, we mentioned that people who are willing to leave a review end up not doing it because the process takes too much time… There are a few ways to remedy this issue, but the most effective is simply getting a Google review link.
Getting the link is very simple, and you can follow the instructions here to get it. But getting the link is the easy part. Once you have it, how do you utilize it to get more Google reviews? Here are some tips:
Add them to your Emails: If you have an email list, be sure to add your Google review link to every email you send out. This is especially effective when you send out follow-up emails to new customers you have recently serviced (and you are sending follow-up emails, aren't you?)
Add them to your Web Pages: You have prime real estate for your Google reviews link right on your website. Add the link or button to your home, contact, or service pages so people looking to leave a review for your business can do so easily just by visiting your website.
Text Messages: Whether you send a templated SMS message to recently serviced customers or reach out to them with a personalized message, it's a great idea to include your Google Review link in the text.

Ask for Reviews
The next step to getting more Google reviews in the first place is simply requesting them. We discussed follow-up emails and texts, and you should absolutely be including a polite request for a Google review in those. But there are other ways to request reviews.
DataPins: Use DataPins software which sends automated review requests (via text & email) after each plumbing job.
In-Person: It's best to ask for Google reviews for plumbers as soon as you finish the job. So in person is still an effective way to get more reviews.
QR Codes: QR codes also make it easier for people who prefer mobile browsing to leave a review for you. Have a QR code that leads to your Google review page printed onto your business cards or other branded materials.
On your Website: You should already have reviews posted on your official website. So if you do, make sure to add a simple request like "If you would like to review us as well…" and then a link to your Google review page.
Remember that it's important to be polite when asking for a review in person or via text or email. Let the customer know how much their review means to your business. Most people are more than willing to help a local business if it has done a good job, so let your happy customers know that their review means a lot.
The Optimal Google Review Rating
The intuitive assumption is that a perfect 5-star rating is ideal. But in these cynical times, that's not actually the case. When online consumers see that a business has a perfect 5-star rating, studies have shown that it arouses suspicion.
They tend to think that the reviews are fraudulent or coerced somehow (special discounts for positive reviews, for example). And while the ideal Google reviews rating isn't an exact science yet, most people believe it's somewhere between 3.7 to 4.9 stars.
And chances are, if you are scrupulous about reviews, you don't have a perfect 5-star rating. But if you have the opposite problem, too many bad reviews, you will need to bury those bad reviews with good ones.
To do this, it helps to be able to read the room, so to speak. In other words, don't ask for reviews from people you feel were dissatisfied with your service. Ask for a review when you feel the customer is happy or upbeat.
Also, if you do have negative reviews, be sure to respond to them. This sometimes helps people change their reviews, showing to other consumers that you care about the customer experience and are willing to right wrongs. P.S. you should be responding to your positive reviews as well.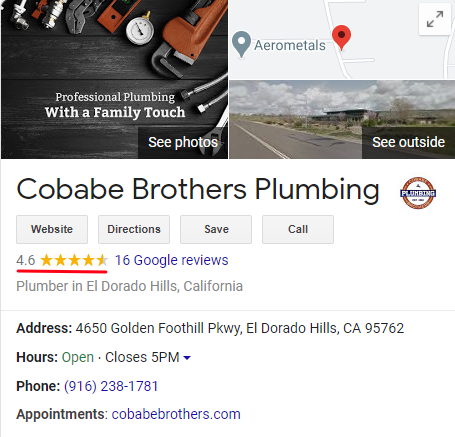 Don't worry about maintaining a perfect 5-star rating, as consumers expect and even prefer companies with ratings between 4.5 and 4.9.
Reputation Management
Google reviews for plumbers are but one facet of the larger category of reputation management. Reputation management involves your standing on digital platforms, including review websites like Yelp, social media, local business directories, and more.
Effective reputation management can also help you get more Google reviews. But it's a multi-faceted, time-consuming process. Luckily we provide full reputation management services here at Plumbing Webmasters.
We can help you get more Google reviews, increase brand awareness, and establish you as a plumbing authority through plumbing SEO. Learn more about this service by contacting us today.