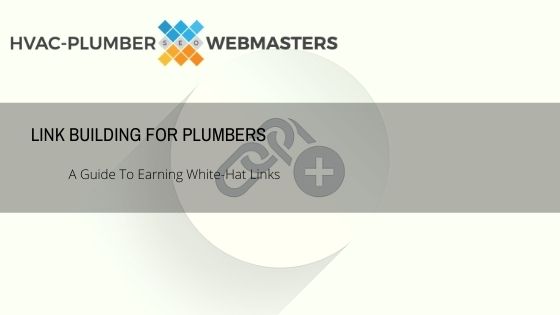 What is Link Building for Plumbers?
Link building for plumbers is the process of acquiring inbound links from external domains to your plumbing web property. In some cases, link building may also refer to links built internally from one page of your plumbing website to another page on the same site.
Why is Link Building Important for Plumbers?
Link building is significant because it helps increase your site's visibility, establishes you as an authority, and helps significantly with plumbing SEO.
In fact, external links are among the top two criteria used in Google's indexing algorithm. In other words, Google uses the amount and the quality of your backlinks to help determine whether to index your page on a relative search and how high to rank it.
And link building is still essential in 2022. A strong backlink profile can be the difference between gaining new customers for your plumbing business and losing out to the competition. Remember, it's all about increasing visibility and brand awareness. And link building is a surefire method of doing just that.
But you have to do it right. First of all, you need to know how to build external links. Secondly, you have to be able to discern between high-quality and low-quality links. So in the following post, we will go over these crucial link-building steps and more. 

Link Building Strategies for Plumbers
There are a lot of different ways to go about link building. In fact, getting more backlinks will make up the bulk of this post, so strap in. Here are the most effective ways to get more external links for your plumbing website in 2022.
Claim Directory / Social Media Listings
Obviously, the easiest way to get more backlinks is to post nofollow links to your website anywhere you can. This can mean local business directories, but you have to make sure they are relevant. The second most accessible source for external links is social media. Ensure your business is listed on Facebook, Instagram, YouTube, and even TikTok, and make sure you are posting content regularly.
Social media marketing, in general, is an effective way to build more backlinks. Also, be present on plumbing blogs. Leave comments regularly, share your knowledge of the content, or even add some insight to the post or other visitors' comments. Over time you can develop a relationship with the blogger and request a backlink for your site.
Popular online directories like Google Business Profile allow plumbers to link from their profile to the company website, creating a nofollow backlink
Create Linkable Assets
If you start a plumbing blog and build it with quality, insightful content, the proverbial "they" will come. Starting a blog is a great way to build links because other bloggers, influencers, or everyday web browsers may choose to cite it – especially if it offers a solution to a common plumbing problem or essential insight on a plumbing topic.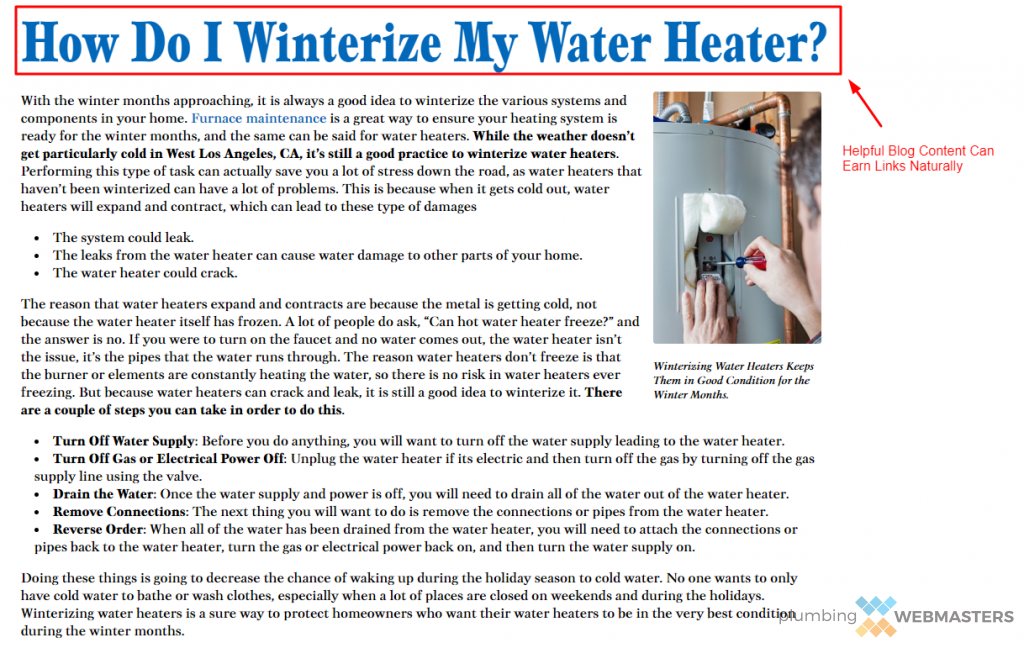 The essential component of a linkable asset is expertise. If you can provide insights distinguishable from "bloggers," your post will naturally acquire more links.
Fix Broken Links
You may already have a few external links that have become altered by the hosting website and broken, resulting in that annoying "404 Error" message. Another way to get more links is to fix the ones you already have. You can check on all the links in your backlink profile with free tools like deadlink checker.
Then, if you discover that your backlinks have been broken, you can content the webmaster of the hosting page and let them know that it isn't working. Believe us; no one wants any broken links on their website, so you would actually be doing other people a favor by letting them know about a broken link. 

Industry Outreach
If you are a plumber, chances are you already know of authoritative organizations that could provide you with a high-quality backlink. It's just a matter of asking. Think about the companies that supply you with your materials, tools, and replacement parts. This may be especially effective if you are an exclusive or certified seller of certain parts or appliances.
Reach out to organizations in the plumbing industry, and don't be shy about asking them to include a link to your site on theirs. If you work with local suppliers, you can offer a link exchange where you feature a link for them on your site in exchange for a backlink to yours on their site. 
Guest Blogging
Guest blogging can effectively increase your backlink profile if you are already a content-generating machine or have someone on your staff who handles outreach. Reach out to other bloggers in the home service industry.
There aren't many plumbing-specific high-profile blogs online, so it's best to keep it general and stick to home service, home improvement, general contracting, renovation, or construction niches. Offer a guest blog on their site in exchange for a backlink to yours.
This is not only a great way to build your backlink profile up, but it will also increase your authority in the industry and online. 
Competitor Backlink Analysis / Comparison
You can also find more backlink opportunities by seeing where your competition is getting backlinks. You can use link analysis tools like Majestic to see where your competition's backlinks are coming from.
This will give you an idea of the types of backlink opportunities that are out there for your plumbing business. Then, it is once again a matter of reaching out to these sites and possibly providing them with a better incentive to include a link to your site. 
Backlink Quality for Plumbing Websites
Link building is also about getting the highest quality links possible. Several factors determine a link's quality and impact on your ranking. But in general, a high-quality backlink is embedded into a high-quality website.
Viewership and established authority/reputation are significant points as well. For example, a backlink embedded in the Los Angeles Times website would be much higher quality than one included on your cousin's blog (unless your cousin happens to be a celebrity).
But other factors determine whether a backlink is a high-quality endorsement or not. These include:
Relevance
The more the website that includes a backlink to your site is related to your field (plumbing), the higher the relevance. And higher relevance equals higher backlink quality. For example, as a plumber, it would be much more beneficial to your business to have a backlink on a general contractor's website than it would have a backlink on a reptile enthusiast's website. 
Anchor Text
The text that comprises your backlink, known as anchor text, also determines quality. Ideally, you want the anchor text that makes up your backlink to be descriptive of what the viewer will see or experience if they click the link.
An example of good anchor text for a plumber would be "how to fix a leak" if, in fact, the link leads the viewer to one of your pages have to do with leak repair. An example of poor anchor text (which more often than not produces a low-quality backlink) would be "click here" – as in "to learn more about fixing a link, click here" with the words "click here" being the actual anchor text.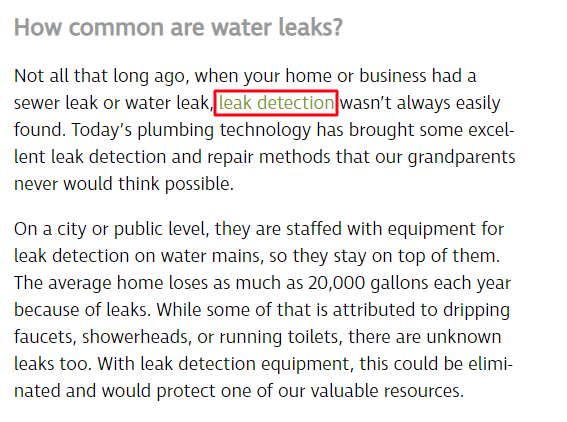 The clickable text that brings you to another page or website is called "anchor text." Google's algorithm has always factored in anchor text as a ranking factor.
Link Positioning
Where your backlink appears on a host's page is also vital to the quality. Ideally, you want your link to appear in the content block – not the footer or the sidebar. That's because people spend more time reading the actual content block.
Also, it would be optimal if your link appeared early in the content block as opposed to near the end. Not all web pages get read to the very bottom, so having your backlink paced early in the content will up its click-through rate. 

Types of Plumbing Backlinks
Google and other search engines distinguish link types by how they are placed. For example, a link that anyone can build can't hold the same influence as a link that can only get built by a website editor.
Similarly, an internal link creates a different dynamic than one coming from an external, 3rd party website. Let's examine the different plumbing link types below:
NoFollow Links
NoFollow links are those from directories, social media platforms, and any profile-based URL entry. Since users can manually input URLs into these profiles, Google views them as less impactful. While NoFollow links don't influence ranking as much as other link types, they serve as a hint for search engines.
Research also suggests that local directory links can improve local SEO rankings on Google Search and Google Maps.
DoFollow Links
DoFollow links are those that require editorial placement from a 3rd party. For example, a local contractor in a different industry might recommend your plumbing company on their own website. Google places a higher value on these types of links since they require a voluntary endorsement from the person placing the link.
Of course, many marketing gurus try to take advantage of this by practicing black-hat link building designed to emulate the insertion of a natural DoFollow link. The easiest way to earn white-hat DoFollow links is to create great content.
Internal Links
An internal link exists on your own website, linking one page to another. Effective link building is about intelligent internal linking as well. When your plumbing website is easily navigated, all pages are accessible, and you can find helpful ways to link to commercial pages on your website, Google will notice. It also enhances the user experience of your website.
Try linking to your service pages on relevant blog posts. For example, if you have a blog post about water heaters, try including an internal link to your water heater installation/repair page.