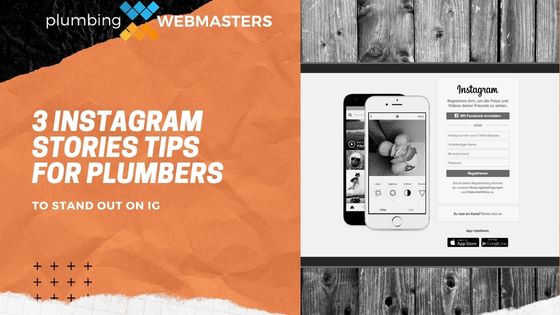 It's no surprise that social media is all the rage…and it doesn't seem to be going anywhere. Facebook marketing still dominates most of the attention of business owners who seek to leverage social media marketing to grow and appeal to new customers.
But Instagram emerges as a viable lead source for plumbing repairs, especially taking into consideration that 60% of Instagram users check in with the app daily. That's a dedicated user!
It's a wise business owner indeed who realizes that meeting potential plumbing customers right where they are — often checking their social media feeds — is a natural way to make Instagram Marketing a powerful tool in building your business.
Today we're going to share a few tips for using Instagram Stories as a way to get maximum attention, bypassing the challenging (for businesses) feed algorithm, and standing out well from the competition for target customers.
What Is Instagram Stories And Why Should Plumbers Use It?
Admittedly, plumbers probably aren't the target demographic when Instagram released the Stories feature in late 2016. No offense, but pipe repairs aren't exactly sexy. However, as Hootsuite reports, Stories initiate Direct Messages for one in every five posted.
(Direct Messages — or "DMs" — are when users privately contact another user or account, kind of like Instant Messaging.) This represents a keen opportunity to connect directly with potential customers and foster relationships before the need for plumbing repairs even arises!
Instagram Stories are viewed at the top of a user's feed from the app and may include photos, videos (including specialized videos like Boomerang, Superzoom, etc.), or text content. Because these are not displayed in the optimized feed for users (based on an algorithm that admittedly doesn't tend to fair well for businesses), they tend to get unique attention and have become more popular than feed posts.
Stories mimic features in Snapchat and were so welcomed that Facebook (who owns Instagram) introduced them to their platform as well.
At a high level, you can think about Instagram posts as evergreen content that users are more likely to see if they navigate intentionally to your profile page, while Stories are like behind-the-scenes looks at your every day. Stories tend to be more informal, and given the increasing desire for authenticity on social media, this is often a preferred view to see users and businesses with their hair down, so to speak.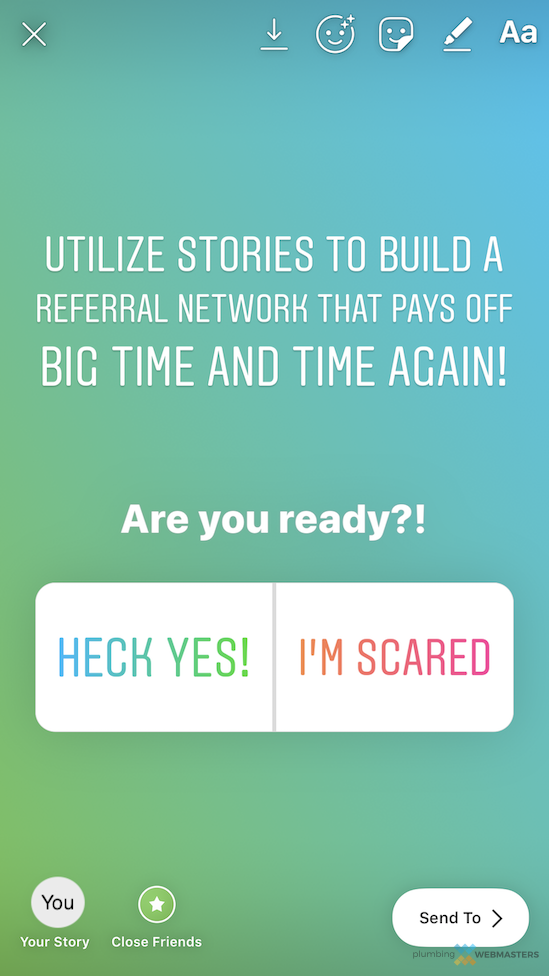 Example of text and poll features for Instagram Stories
Tip #1: Think About Stories As Content Marketing For Plumbers
As many of you know, content marketing is a great way to attract new customers for your plumbing business. In contrast to traditional marketing, this approach provides content focused on relevant services and information for potential clients versus advertising your specific company.
The goal is to serve the reader/user by answering questions and anticipating needs versus explicitly saying, "Hire me!" (Though that may likely follow when you do this well.)
Instagram Stories can be content marketing for your plumbing business if you share practical information, such as tips for keeping a home maintained according to season or a behind-the-scenes look at a repair to offering advice for locating pipe leaks.
The key here is that the information you share (the content) is helpful whether they're in your service area or not. So while it's a good idea to make feed content a little more tailored — perhaps highlighting local businesses you work with or sharing some favorite plumbing jobs from various neighborhoods you service — Stories are a great place to show up literally.
Let followers get to know YOU and your team by interviewing your stellar techs, and even give your shop pup some love. (You'll probably get more engagement over posts of your animals than you do your team, no offense.)
Tip #2: Use Questions And Poll Stickers To Encourage Engagement on Stories
Adding stickers and text to your Stories is a great way to make them pop as users scroll through new content and optimize who sees what you're creating. Stickers are found by tapping the square face icon. You can add auto-generated content like time, temperature (which could be impactful if you're doing an extreme seasonal repair), or emojis.
Here are a few others worth playing with:
Countdown – This is an entertaining way to create a shared sense of excitement. Maybe your local sports team has a big game coming up. Create a countdown to make it known you're involved!
Location – Great for attracting attention within your service area by tagging your location in familiar places. (Locations don't necessarily tie back to a certain company or shop, so be sure to @Mention the shop to share the love.)
Poll – Poses a binary choice to followers, against which they can gauge other responses by percent answered. A fun opportunity for engagement and easy for folks to participate.
Questions – Allows you to pose a question and collect responses from viewers. This is an awesome way to start a conversation with users, and you can even share responses to keep the topic going and create a sense of community.
Screenshot of Stories stickers for Instagram Marketing
Adding text to video Stories is wise because many people watch videos without their sound on, so adding captions to summarize the content is key for getting the message across and reaching all your users. (Consider, too, hearing-impaired followers!
They're often left out when Stories rely on sound to get the message across.) So if you record a quick repair overview using the Hands-Free function, which recently lets you capture sequential 15-second clips without having to keep tapping, you can add some text to call out your content.
(A little goes a long way. Keep it brief and use the Typewriter font for a sleek, simple look.) You should also add hashtags, just as you would in the caption of a feed post, to categorize your content and help new viewers find you!
Looking for practical advice on using the app to create Stories? Check out this post from Later for a step-by-step guide to Stories! They nailed it.
Let's Address The Elephant In The Room
You don't have time to think about stickers, hashtags, and emojis. We get that. You're a busy professional, and social media is probably the last thing you want to focus on after a busy day of service calls and running your business.
Most home service professionals are farming out their social media marketing, and plumbers are no exception. This is a really wise delegation, as social media experts for SEO are far more capable of making the most of those efforts to increase leads and help your Instagram account boost your overall rankings.
That being said, I'm still addressing this post to you because it's important that you understand the thought process behind why SEO specialists like us do what we do. Assuming you hire this out, how else will you know the value of what you're getting (or not getting, unfortunately) if you don't have a sense of social media marketing done well?
This is our service to you, whether you call us or not. (That's content marketing, by the way. See, it all ties together!)
Tip #3: Make A Plan For Engagement In Social Media Marketing
To the point I just made, we're fully aware that you're not watching your DMs like a hawk all day long. But someone should be. Whoever you hire or delegate within your team to monitor your plumbing business's Instagram account should prioritize staying on top of the activity. Why?
The Instagram algorithm is all about engagement. You need to engage if you want to show up for more users. It's well known by now that not all followers will see every new post unless there is active engagement that lets Instagram know there is value in that content based on experience.
In other words, if you post self-serving content on the regular, overly promoting your company and being overtly "salesy," not only does this not foster a genuine community (enjoy those Spambots, though), but your posts will rarely be seen by anyone. The result is a wasted effort, all the way.
However, if you publish relevant, valuable plumbing information aligned with an overall content marketing strategy for social media that aims to serve your customer base, then you're far more likely to invite comments, receive Direct Messages, and get the kind of engagement that helps your company separate itself from the myriad of businesses that fade into the background on Instagram.
Your followers are giving you the green light to market to them regularly, so give that some respect and make sure you're delivering value and trying to cultivate a community. If you just show up to shove your brand in their face, no one is going to want to play with you.
In closing, it's important to understand how each social media platform works to best leverage them as a tool for growing your business. Showing up with the same approach across the board isn't help you fare well and could hurt the plumbing social media marketing you're working so hard to establish.
However, rocking features like Instagram Stories will make your brand memorable and worth following, fostering a loyal referral network that will allow your company to thrive!