As a small plumbing business owner, it might be tempting to brush social media marketing aside as unessential. However, the fact of the matter is that you will only be able to get so far without some social media marketing campaign in place.
Two significant factors make social media for plumbers necessary. One, it's free. While it may be time-consuming to launch and manage an excellent social media marketing campaign, unless you pay for ads, it is 100% free. Secondly, it's part of brand-building, which is the key to online marketing success.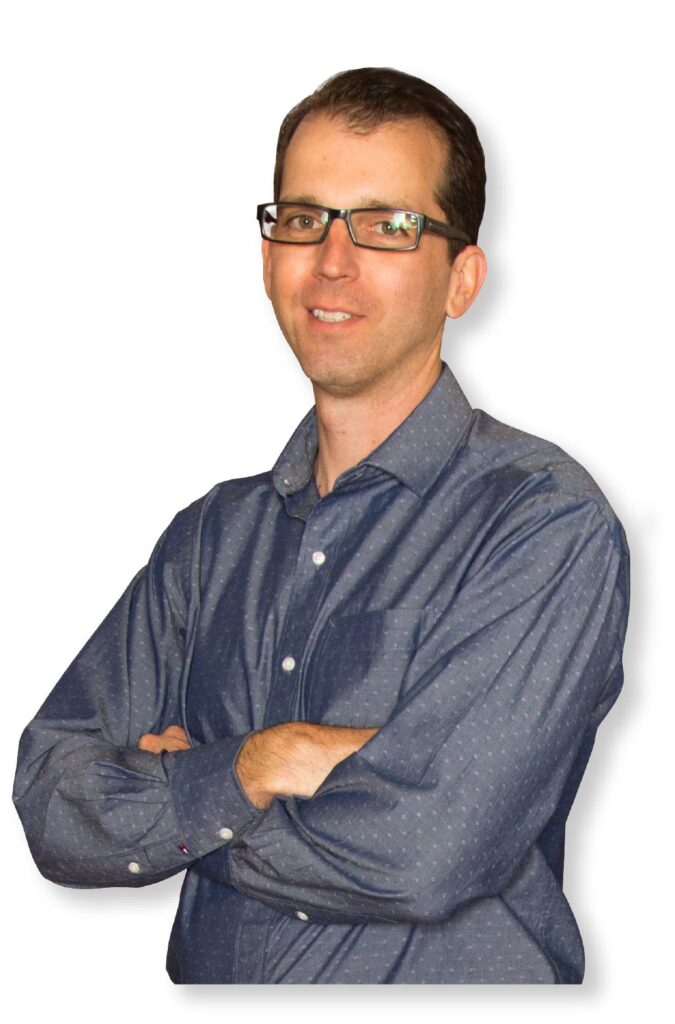 Nolen Walker's Key Takeaway
Plumbing companies always ask me about social media management, and I tell them simply that it's free and part of brand building.
Social media for plumbers is essential because plumbing is a local business, and social media allows you to reach more local customers. With the importance of social media in mind, please look at how you can implement it effectively for your plumbing business. 
What is Social Media for Plumbers?
Social media for plumbers refers to any online platform that allows plumbing companies to share ideas, articles, and media through visible posts within a network or community.
Examples of social media platforms include Facebook, YouTube, and Instagram.
How Does Social Media Help Plumbers in 2023?
Social media helps plumbers promote their business, services, and marketing materials to a large audience.
Plumbing companies can utilize social media to generate leads, attract website visitors, and develop brand notoriety.
Additionally, plumbers can announce important events and public statements on popular social media platforms.
Examples of Plumbers Succeeding With Social Media
Many of our agency clients are successful with social media and are reaping the benefits of a synergistic brand effort that combines Facebook, Instagram, Google, and Google Maps for consistent engagement.
Check out some examples below:
---

---
The Basic Rules of Social Media Marketing for Plumbers
In the following guide, we will look at the most important social media platforms for plumbers: Facebook, YouTube, and Instagram.
Why are these the most important? Well, you don't want to market to people who are too young. An 18-year-old is unlikely to own their own house and be in charge of when plumbing work gets done.
These three platforms would be most beneficial for plumbers because the average user age for each medium is right in the sweet spot of the demographic you want to market to as a plumber.
Here are the basic rules for all 3 of these platforms:
Mimic your Business Name
If possible, choose your business's name as your account name for all your social media profiles. This will help with brand recognition and make it easier for people to find you online.
If the account name is already taken, choose one close match to your actual business name as possible.
Use your Logo
When creating your social media account, be sure to use your company logo as your profile image or avatar. Once again, this is important for brand recognition.
Set Admin Permissions
Unless you are the only one managing your social media accounts, you will have to delegate tasks to team members. Make sure you set admin permissions so that different people can carry out specific tasks.
Social Media Platforms for Plumbing Companies
Mostly, people go to let their hair down on social media platforms. So, in general, it's best to take an informal, fun, or casual approach to your social media posts.
Still, it is also very effective to be informative as well. Here are some content ideas based on each platform:
YouTube
YouTube is the perfect forum for you to share informative content. Think about some simple plumbing "how-to" videos based on the kinds of questions your customers typically ask you.
Video tutorials are massive on YouTube and can garner a lot of traffic for your website.
After all, a survey revealed that 90% of its participants reported discovering new brands and products on YouTube.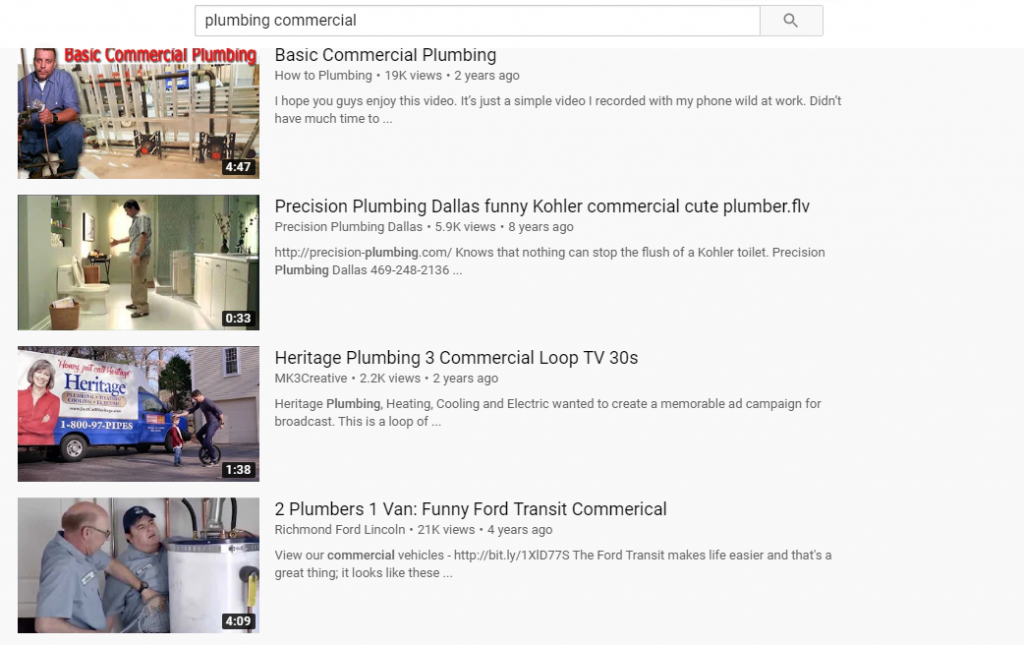 Users regularly browse YouTube for plumbing content, and you can take advantage by posting videos to your official business channel.
Facebook
Facebook is a great forum to engage with your local audience. Try posting images of you or your staff attending local events. Post pictures of jobs you've recently completed.
Try a questionnaire to send out to your followers: "What's the most annoying plumbing problem you've ever experienced?"
Of course, your audience will respond to different content, so be sure to try various things, see what works, and then keep a steady stream of compelling posts coming.
Instagram
Posts on Instagram are a great way to promote a service. You can include an image of the service being carried out, and in the photo's caption, you can explain and promote the service.
Instagram stories can be overlaid with music and are better for engagement than promotion.
Instagram stories are an excellent place to introduce yourself and your crew to your followers, showcase a recent project, or even start a poll.
How Often Should Plumbers Post on Social Media?
Post frequency is tricky because studies have come up with different answers. Post frequency that drives engagement for one type of business will hurt employment for another kind.
Many variables are at play: the specific social media platform, your audience, the size of your business, etc.
Here is a general post frequency guideline for social media for plumbers:
YouTube Posts
YouTube is a bit laxer because even if you post multiple videos a day, the worst that will happen is that your followers will get multiple emails.
That is less invasive than crowding their newsfeed with multiple Facebook posts per day.
If the videos are high-quality, offer value, are optimized for SEO, and have a call to action, feel free to post as frequently as you want.
Facebook Posts
Speaking of Facebook, you don't want to crowd your followers' newsfeeds – especially with low-value posts.
While experts disagree about how often small businesses should be posting on Facebook, the rough consensus is once a day but no more than twice a day.
Instagram Posts
Instagram is a highly visual platform, and plumbing isn't necessarily an evident industry.
E-commerce businesses may have found success by posting pictures of products to Instagram multiple times a day, but that likely won't work if you're a plumber.
You don't want to show followers a bunch of messy pictures of ongoing plumbing projects. You'd probably find more success by showing them images of the completed project.
With that in mind, 2-3 Instagram posts per week seem reasonable. Just remember to be consistent with your post frequency.
Social Media Advertising for Plumbers
Like SEO and PPC on Google, social media empowers plumbers to reach customers through organic marketing and paid advertising.
The latter becomes appealing on platforms like Facebook since the algorithm makes organic reach for brands nearly impossible.
Instagram is part of Facebook's ad network, so any advertising campaign run through Facebook can also reach Instagram users.
YouTube also provides advertising, though it's far easier to get users organically than other social platforms.
Facebook Ads for Plumbers
Facebook advertising is one of the most popular ways to attract new customers in 2023. You can target demographics that are likely to buy your plumbing services.
You can even allow Facebook to target lookalike audiences based on their data and algorithms.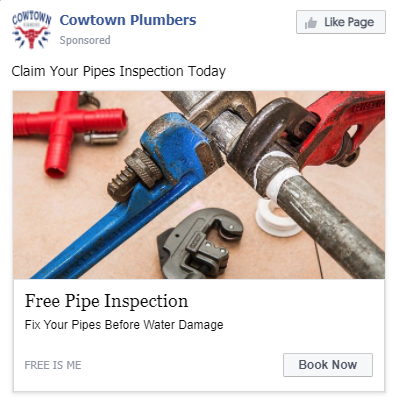 Facebook even features Lead Ads, which contain a form that captures the user's information on the spot. As a result, you can start getting new plumbing customers quickly in 2023.
Instagram Ads for Plumbers
As we mentioned, Instagram is part of Facebook's ad network, which allows plumbers to target Facebook and Instagram users with the same ad campaign.
Of course, the ad manager will alter the ad visual to meet Instagram's standards, but the ad's content will remain the same. In addition, you can target IG users through Stories and Posts, respectively.
YouTube Ads for Plumbers
YouTube is an excellent platform for advertising because so many people consume videos daily.
As we noted, you can easily reach YouTube users through regular videos, but ads can help you get even more people.
Like Facebook, plumbers can target specific demographics through YouTube, allowing them to maximize their advertising budget. YouTube ads appear to users as they watch videos with similar topics.
Social Media Challenges for Plumbers
It's easier to talk about the benefits of social media marketing than to execute them. As a long-time digital marketing agency for plumbers, we understand that some business owners are uncomfortable with the social media process.
We talked about this on our podcast Social Media for The Anti-Social Plumber.
Identifying Front-Facing Staff Members
As a business owner, you may not be comfortable presenting yourself on social media. However, you can ask your staff members if they feel comfortable. You might find that younger members of your staff are eager to participate in front-facing social media content such as Facebook Rells and Instagram Stories.
Highlighting The Right Content
If you are concerned about sharing mundane content on social media, those fears are valid. The goal is to focus on specific things like jobs that can properly reflect your business acumen while keeping followers engaged.
Consistently Posting Content
Plumbers are not expected to post with the frequency of a social media influencer or even an e-commerce business. The fear of inconsistent content publishing is mostly unfounded for plumbing social media content. The goal is to establish your brand on social platforms, contributing to brand synergy.
---
Download This Social Media Checklist for Plumbers
---
Other Social Media Considerations for 2023
Facebook Considerations
Social media for plumbers should be strategic. It would help if you also were doing your keyword research and finding opportunities to insert keywords into your social media posts – as long as they are organic to the content.
YouTube Considerations
It's crucial to develop an attention-grabbing title for your YouTube videos – preferably ones that include a related keyword.
Also, don't forget to include a link to your website and socials in the video's description. You can consist of specific keywords in the descriptions as well.
Instagram Considerations
Don't forget to add trending hashtags related to your posts on Instagram to make them more visible. Also, it can help to write thoughtful yet brief captions for your posts.
Comprehensive Social Media Service for Plumbers
It's important to realize that social media for plumbers is one facet of the grander digital marketing picture. When done effectively, though, it can make the other aspects easier. As a digital marketing agency for plumbers, we are transparent that we offer social media marketing services.
So for everything you need to market your plumbing company in the digital age, including local SEO, PPC ads, content marketing, web design, and social media marketing, work with the experts here at Plumbing Webmasters.