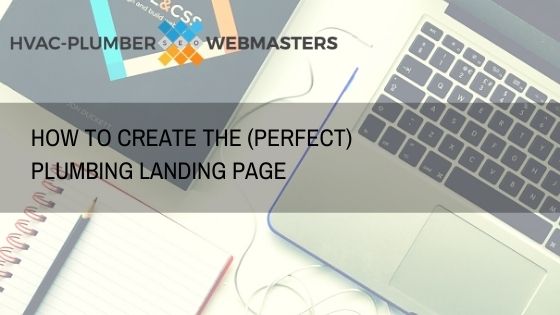 What is a Landing Page for Plumbers?
A landing page is the single-page destination URL a user reaches after clicking on a PPC advertisement or other digital promotion. In online advertising, a landing page aims to convert the user into a prospect by inducing a completion of an action, such as a form submission.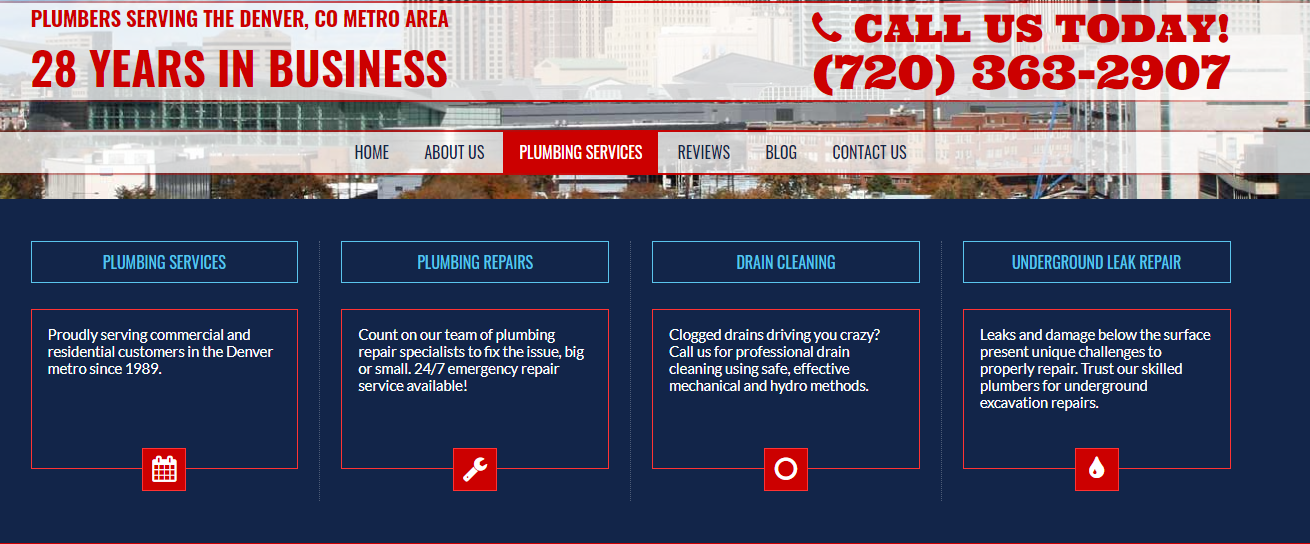 How to Optimize a Plumbing Landing Page
Define a clear purpose
Craft a compelling headline
Insert intriguing CTAs
Keep the page design minimalist
Showcase NAP (name address phone)
Think mobile-first
Create The Perfect PPC Landing Page
A pay-per-click advertising campaign is only as effective as its landing page. A landing page is the destination users reach after clicking on your paid advertisement. It can also refer to any URL destination a user is linked to, be it paid advertising or otherwise.
Well-optimized landing pages possess these crucial qualities:
Call to Action: A piece of content that induces the user into taking action, i.e., phone number, email, or subscription link.
Measurable Conversion: A defined objective that can be measured and modified
Site Speed: Fast loading times to hold the attention of a busy internet user
Visual Appeal: A well-designed and visually engaging web page
Landing page optimization goes hand and hand with conversion rate optimization. You can launch the most detailed PPC campaign and target the perfect keywords, but it will all be for nothing if users lose interest after clicking the ad.
Since ads cost per click, maximizing each click's lifetime value is critical to producing a positive return on investment in 2023.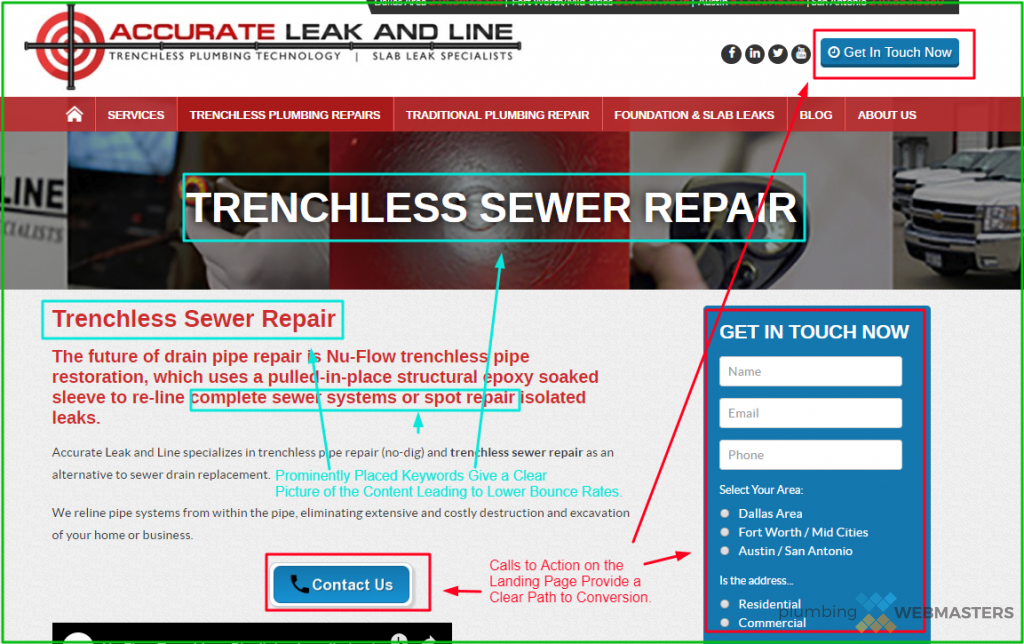 Plumber Landing Page Optimization in 2023
Plumbing landing pages can be tricky. Besides the standard content you have on your main website, you have to optimize landing pages that can number in the hundreds. The more services you offer and the broader your service area, the more landing pages you will likely need. 
So it's easy to skim over some details as you compose each one. And it's even easier to overlook optimizing them after they have gone live. But make no mistake about it; your landing pages are crucial to your business.
They introduce some of your most popular services to the audience that is most likely to need them. Your plumbing landing page should be inviting, enticing, and have a clear message. There's a lot that goes into landing page optimization, so let's dive right in.
Define a Clear Purpose
Many people get mired in the pitfall of forgetting the purpose of a landing page. And you may be having to compose hundreds of them, so it's an understandable phenomenon. Nevertheless, it would help if you always remembered that any landing page's purpose is to convert the customer.
Your plumbing landing page is your chance to hype one of your services up to your customers and focus on the specific merits of a single service. It's an opportunity to narrow your focus and spotlight one thing your company does well.
So when you are coming up with the copy for your landing page, remember to concentrate on the service you are promoting. Think about something unique that makes it special. Think about how it may stand out among other services offered by different plumbers.
Remember that your plumbing landing page's job is to convert the customer. Think about things that would make you want to hire a home service member, then put those things into words.
Craft Compelling Headlines
A landing page is essentially a specific service page. So why not just make the headline the name of the service itself?
Not necessarily. Again, it would be best to remember that your landing page's point is to convert. Remember that anyone who clicks on your landing page link has likely done so because they are ready to invest in a specific service.
Your headline has to engage them right from the jump. One very effective method for composing a compelling headline that helps convert is thinking about the customers' needs.
If your landing page is for leak repair, your landing page headline should convey that your service will solve their leak problem. A compelling headline for the leak repair example may read something like, "Your Leaks Fixed Fast."
A headline like this speaks to the customer's need (Your Leaks) and offers a solution (Fixed Fast). And remember, 90% of people who read your headline will also read your call to action (CTA), which segues nicely into the next topic…
Insert Compelling Calls to Action
Your call to action must be as compelling as your headline. The good news is that you can apply the same principle to your CTAs as your headlines. Again, consider the problem the visitor may face based on the landing page itself.
Your CTA should convey that by taking action (clicking another link, making a phone call, etc.), you can solve their pressing need. Again, using the plumbing link example, your call to action may read something like, "Get your leak fixed now."
CTAs like "Call today" or "Contact us now" aren't as compelling because they don't compel the reader. You have to make the CTA personal and dynamic. Here's another CTA bonus tip: switch the perspective of the CTA to the first person.
One study found that switching the CTA to a first-person perspective increased click-through rates by an astounding 90%. The reason for this is that a lot of people are merely trying to get to the point. They want to know where they can click to get them to the next step.
And when a statement is attached to a link that resolves their issue or will take them to where they want to go, they are more likely to click. Using the leak repair example yet again, your first-person CTA may read something like, "Fix my leak now."
Focus on Minimalism for Your Plumbing Landing Page
Adding lots of photos and text to your landing page may be tempting, but remember that people who visit your pages want to solve a problem quickly.
So sometimes, it helps to reduce visual and textual clutter. Also, minimizing visual clutter will make it easier for your call to action to stand out. Consider including a single high-quality image, your company logo at the top of the page, and a single paragraph of text followed by your CTA.
In many cases, this is all you need. Please keep it clean and concise because most people who are clicking on a landing page aren't doing so because they want to read a novel or be inundated by images.
Make NAP / Contact Information Visible
NAP stands for name, address, and phone number. We know it should be NAPN; we don't understand why they omit the last N for number. At any rate, your NAP info should be on all your landing pages for a couple of fundamental reasons.
The first reason is that NAP listings can help with SEO. They signal to Google and other search engines that your business is legitimate, but only the listings are consistent. You must ensure that your company name, address, and phone number are 100% compatible across all websites, social media platforms, and landing pages.
Secondly, NAP information is vital because not all visitors to your landing page will be at the point in the sales funnel where they're ready to spend money. They may be interested in your services but may have some questions about them before purchasing decisions.
NAP info, preferably in the form of a contact link, will make it easy to find out how to get in touch with you.
Think Mobile-Friendly
More than ever, people are using their phones and mobile devices to search for home services. So it would be best if you optimized landing pages for mobile users. Test your pages on multiple platforms to ensure that every device can easily read and take action on your landing pages.
Keep image files small, so they still load quickly on phones. Make sure that mobile users don't have to scroll too long or far to see your CTA.
Mobile Landing Pages for Plumbers
Most users accessing your website will do so on a mobile device. For this reason, your landing page must be mobile-optimized. Plumbing Webmasters designs each of our client's landing pages with responsive design, allowing them to display optimally across all mobile devices. Elements of a mobile landing page should include:
Click to Call: A phone number link that connects the user's cell directly with your office is known as click-to-call functionality
Condensed Material: Concise copywriting ensures users can view all the necessary information on their mobile screen
Location Specific: Mobile landing pages should target users in your geographic service area
Simple Navigation: Users should be able to navigate your mobile page seamlessly with their thumb
Attention spans on mobile are even shorter than on desktop. Users on the go like to stay moving, and any detriment to their fast-paced lifestyle will cost your company in revenue. The more quickly you can urge the user to complete a call to action, the more efficiently you will convert them into new plumbing leads.
Measuring and Improving Plumber Landing Pages
We talked briefly about measuring your landing page conversions. To expand on that concept, consider the benefits of collecting data. By defining a goal and measuring that goal in real-time, we can continuously improve our landing page. With Google Analytics and Google Search Console's help, we can measure the funnel that starts on a PPC ad and ends with a call to action.
The more precisely we can break down points within the conversion process, the better chance we can make useful corrections. Although SEO for plumbers generally provides a better long-term ROI, Google Ads with well-crafted landing pages can supplement organic traffic and help grow your plumbing company. Plumbing Webmasters is a one-stop shop for all your plumbing internet marketing needs.
Landing Page Optimization Services
When you need some help with plumbing landing pages, talk to us here at HVAC-Plumber SEO Webmasters. We can help you build as many compelling landing pages as you need. We offer many more web development and SEO services. Start converting more customers today.