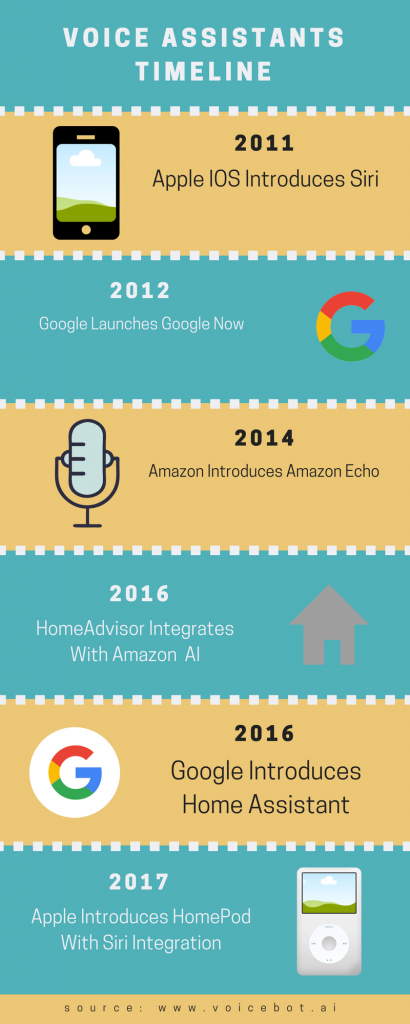 A 2018 trend that will impact plumber SEO is voice recognition. Though the technology has been around for decades, voice assistants weren't readily available (Until 2011 at least), and they were never reliable enough to prompt regular usage. The accuracy and subsequent popularity of this technology improved around 2016, and the trend has been growing ever since. Voice assistants are now common in households, and users are relying on these assistants to perform search queries. Plumber SEO will be significantly affected by this new technology, as lead generation platforms like HomeAdvisor have already partnered with voice assistants to help homeowners easily find plumbers through voice search. There are 3 major players in the voice assistant market:
Amazon Echo (Alexa)
Apple IOS (Siri)
Google Assistant
When voice assistant hardware spiked in 2017, Amazon Echo was at the forefront of the revolution. Its integration with smart appliances, including refrigerators, ovens, light bulbs, and security systems made speech commands virtually limitless. Apple IOS was the first major brand to introduce virtual assistants to the masses, way back in 2011. Because the error rate was still fairly high at that time, it lost momentum and never ascended as expected. Today, the technology is much more accurate and was recently added to Apple HomePod to compete with the other industry giants. Google Assistant focuses more on its namesake, Google, and is extremely reliable for vocal search queries. Whichever assistant consumers are using, plumbing companies must adapt to this new technology.
The Influence of Voice Assistants on Plumber SEO
SEO is the process of generating organic traffic to your website through search engines. Now that search engines are integrated with virtual assistants, plumbing contractors must adapt their strategy. There are several things to consider when formulating a strategy that accounts for this new technology. User intent is a major function of organic search results in 2018, and should be the basis for your new strategy. To adapt plumber SEO to voice assistants, focus on the following:
Featured Snippets: Users often pose questions to voice assistants such as "who, what, where, when, etc." and answering these questions on your website can earn you a featured snippet, something that Google Assistant and others will read back to users
Knowledge Graphs: Ensuring your website is marked up for knowledge graphs ensures that your business information is pulled on search results for relevant keywords
Local Optimization: An optimized Google My Business page, and regular social media activity, can really boost your chances of being referenced by voice assistants
Long Tail Keywords: Users speaking tend to elaborate more than they would if typing, meaning longer tail keywords could become more valuable to search optimization
With accuracy rates now well over 90% on major platforms, the trend of voice assistant technology isn't going away any time soon. In fact, voice search will more than likely continue to ascend, and become even more of an influence on plumber search engine optimization. The good news is that the SEO experts at Plumbing Webmasters can help you adapt to the latest technology. We offer Plumber SEO services to contractors across the United States. Our team is constantly evaluating the latest trends to put your company in the best position to succeed. Call (877) 388-9884 for plumber SEO services.