We all love to hear underdog success stories, especially when the underdog is a startup plumbing company! In today's True Client Story, we explore the shocking rise of a water heater specialist who began with no brand or online history to speak up, and ended up a top ranking dynamo with outrageous success!
The best part: This plumber did it all in less than six months.
Jason and Nolen share how this clever professional managed to top local search results in such a short time. If you've been struggling to break into page one search results – you'll have to be willing to work a bit – be sure to listen in! Let's get started.
Key Takeaways From This Podcast:
Local search results are more fluid than they used to be, thanks to Google updates.
Geotagging can quickly elevate your brand above surrounding competitors.
Google My Business (GMB) is essential for local ranking.
Righteous Reviews only works if you use it.
A Chattanooga Plumber Story
One day, a fresh-faced plumber – We'll call him "Rob" – came to us from Chattanooga, Tennessee. Bob shared his dreams of opening up a plumbing business that specialized in water heater services. Chattanooga was no small town, so he would be facing quite a few established competitors in his local search arena. In fact, when we took a look at Bob's local community, we discovered a veteran company with hundreds of glowing reviews. This Chattanooga plumber had his work cut out for him!
Less than six months later however, Bob's water heater service company ranked in the local map pack for almost all of his top service keywords.
That's right! A brand new plumbing business was beating out long-time champions to dominate the local market. With the power of exceptional search marketing and geotagging, this plumber quickly found himself swimming in business for a premium plumbing service.
Let's dig into how Bob did it…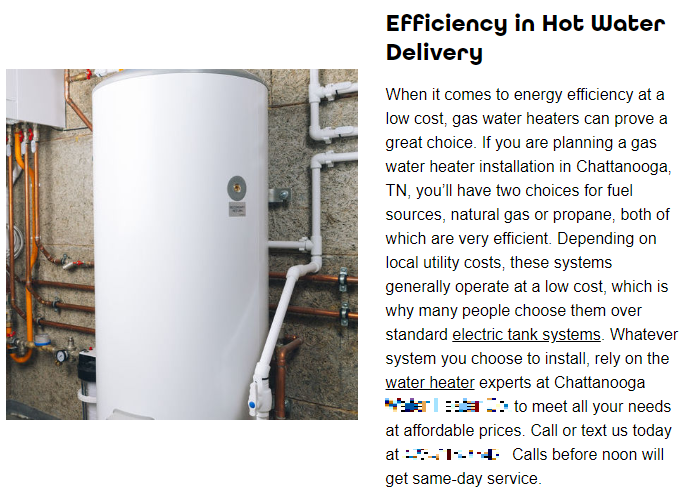 Step #1: He Optimized His Website
Given the substantial revenue potential of water heater services, our Chattanooga plumber faced substantial competition entering the market. Bob's decision to specialize however, actually made it easier to thoroughly optimize his website. Instead of a handful of pages getting optimized for a handful of generic terms, Bob's website exclusively optimized for a wide variety of water heater keywords terms from his local area.
When we wrote the site, our team also made sure to tailor the service pages specifically to Bob's target city. A lot of plumbing contractors make the mistake of targeting a massive area (such as the entire state) before they've managed to gain a foothold in their immediate community. We made sure that all of Bob's service pages specifically contained the Chattanooga, TN keyword tail, which makes it so much easier for local consumers to find his business.
Once we mixed in these localized keywords into the conversational writing and engaging photos, Bob's site was ready to start kicking butt. But there was still more work to do beyond the site.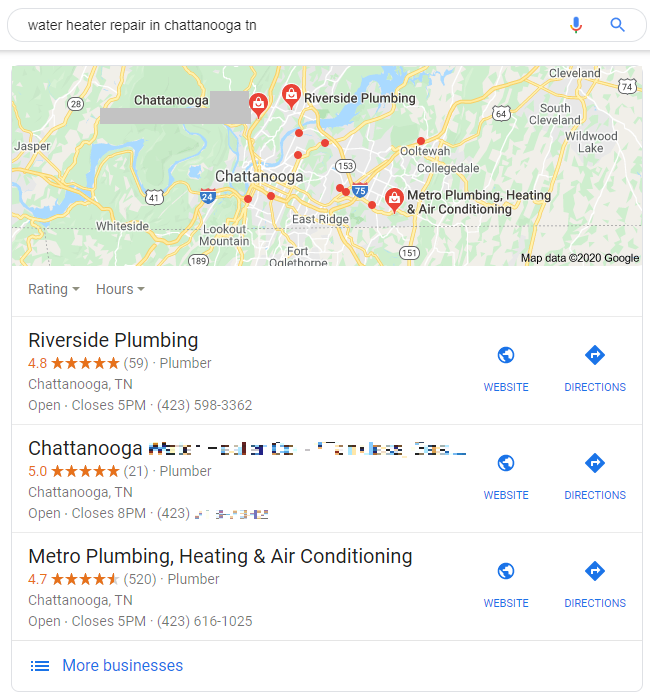 Step #2: He Optimized His GMB
Google My Business plays an integral role in local search. Once claimed, filled out, and verified, this free listing service identifies your industry for consumers in your community. Google Maps listings heavily depend on GMB accounts to provide the best possible results for local homeowners. In other words: if you haven't claimed your GMB account yet, you're missing out on free traffic!
We gladly handled Bob's GMB account optimization, making sure his company was specifically designated as a water heater business. This greatly increased his chances of popping up before general service plumbers whenever a nearby homeowner or business Google searched for water heater repairs. Bob automatically bypassed numerous competitors in his service area.
Step #3: Bob Used Geotagging
Geotagging is the process of attaching GPS data to online content. In Bob's case, he utilized the Righteous Reviews software integrated into all of our custom-built websites.
Every time the water heater specialist finished a repair visit or an original installation, he checked-in to the jobsite and asked for a review. He also used the software's automatic review function to automatically request reviews from clients following each service visit.
In just a couple months, Bob collected scores of new online reviews for his company.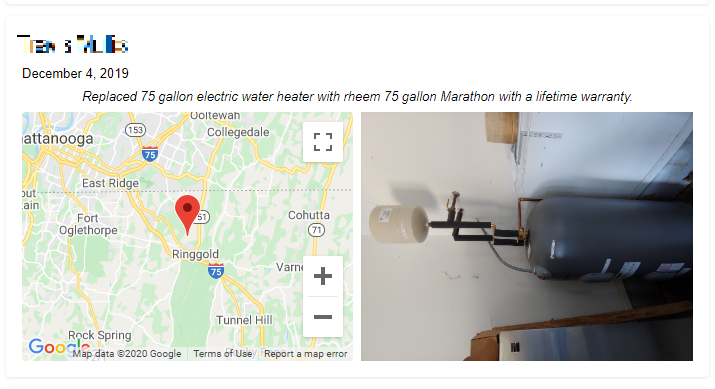 Better still, all of these check-ins and reviews came with GPS data attached. Pins started popping up all over the digital Chattanooga map where Bob provided water heater services. The Righteous Reviews software connected the check-ins and reviews to the associated service pages on Bob's website. In other words, Bob was creating undeniable proof of his work for local search.
And Google took notice…
Our Story Ends
In less than two months after launching his brand new website, Bob earned a top slot in his local map pack for his most crucial industry keyword. Fast forward to today, and Bob's website will pop up on local maps for almost all of his top keywords.
While the Plumbing Webmasters played a key role in his initial success, this Chattanooga plumber also takes an active role in his continued growth. He actively utilizes his Righteous Reviews tool with each service call, and he continually provides exceptional customer care wherever he goes.
Way to go, Bob!
If you'd like to learn more about Bob's story of aggressive growth, or if you'd like to see how your business can break out through local search, our team is happy to help. Call us today at (877) 388-9884 and ask about search marketing through Plumbing Webmasters. See what sort of amazing growth your business can achieve!
Podcast: Play in new window | Download
Subscribe: RSS